ArcGIS Solutions sit at the intersection of business and technology and provide industry-specific configurations maps and apps that help our users leverage the investment they are making in ArcGIS and location-based data.  These extensive capabilities come with ArcGIS and are fully supported much like other capabilities we deliver.
In 2020, we have been working very hard to simplify how users take advantage of ArcGIS Solutions in their organization.  On November 10, 2020, we launched a new solutions experience that includes an updated ArcGIS Solutions product destination and improved documentation.
The new experience helps public agencies, utilities, and private businesses discover industry-specific configurations of ArcGIS that improve operations, drive new insight, and enhance services.
New destination
The new ArcGIS Solutions site is designed to help you discover and deploy ArcGIS Solutions.  As you browse the site, you will quickly learn how ArcGIS Solutions help you maximize the investment you are making in ArcGIS.  Discover how ArcGIS Solutions work and inspire positive change across a series of industries or business needs.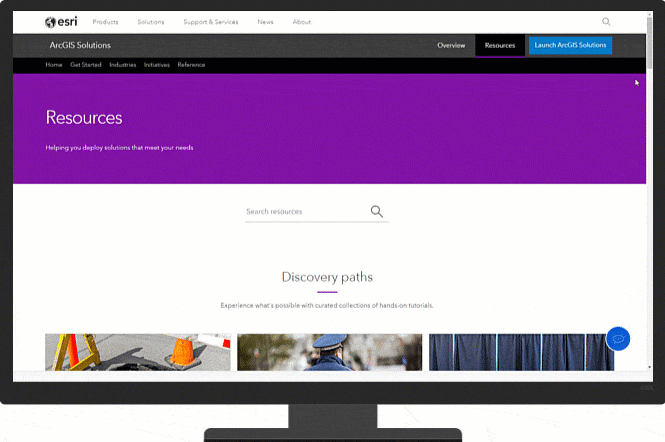 Explore the resources available to assist with your implementation and find documentation that helps you complete the implementation of an ArcGIS Solution in your organization.
Improved documentation
The documentation included with each ArcGIS Solution is dramatically improved in this release.  The new documentation will help you get started with ArcGIS Solutions and learn what's new in each release.  Browse the collection of solutions available for each industry and initiative or search for a specific solution you are interested in.  When you locate a solution you are interested in, read more about the capabilities included in the solution, the business value it provides, and the software or user types required.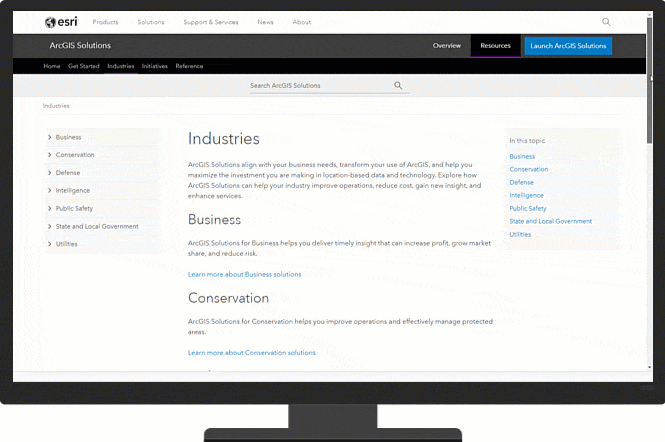 Launch the ArcGIS Solutions app when ready and quickly deploy the solution in your ArcGIS organization. Then review key topics that teach you how to use the information products included with each solution and configure the ArcGIS Solution to meet specific needs in your organization.
Additional solutions for your organization
Earlier this year, we released the new ArcGIS Solutions app to make deploying ArcGIS Solutions even easier.  You will find the ArcGIS Solutions app in the app launcher when you log in to your ArcGIS Online organization. Browse the collection of solutions, search for a specific solution, or filter the gallery to quickly find a solution.  Select a solution, review details on the information panel, and deploy it.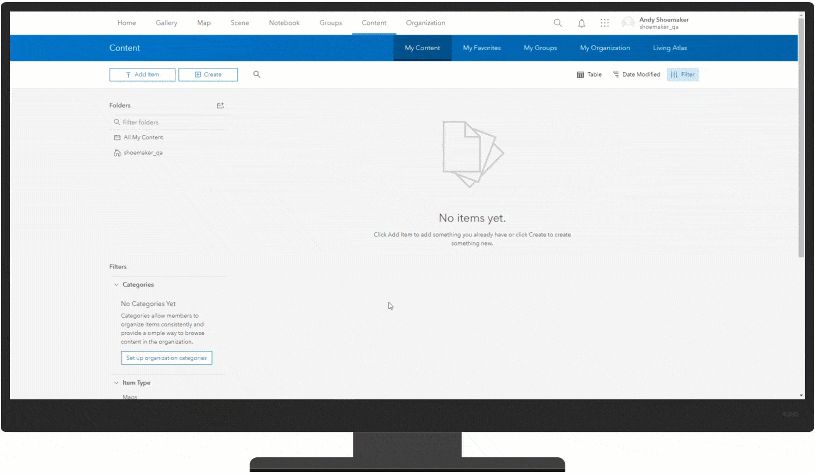 In the November 2020 release, we doubled the number of solutions available in the ArcGIS Solutions app. We also included several new ArcGIS Solutions that help you manage utility assets, improve police transparency, conduct community health assessments, and manage threats that impact business operations. See What's new in the November 2020 release for additional details.
So, whether you are just starting your GIS implementation or have been using GIS in your organization for years, ArcGIS Solutions help you address key business needs and maximize the investment you are making.  And with the new product destination and ArcGIS Solutions app, deploying ArcGIS Solutions has never been easier.