Health and human service agencies have learned community health goes beyond just access to healthcare services. Improving public health requires a robust and transparent public education campaign that provides accurate healthcare information, progress on key healthy community initiatives, and guidance needed to access assistance. Health and human service agencies are challenged with providing necessary information during emergency events like the COVID-19 pandemic, vaccines as well as issues such as homelessness, addiction, and obesity. Often times the key initiatives a health and human services agency will focus on are a direct result of a Community Health Assessment and identified areas of need.
The Community Health Outreach solution delivers a set of capabilities to help health and human service agencies launch a healthy communities web destination, provide an authoritative inventory of healthcare services available to the community, and serves to create engagement with community members to take part in key health initiatives that increase the quality of life for all. The new solution includes a collection of maps and apps designed for health agencies, and the general public and can be deployed as part of healthy community program.
Engage the public
A key aspect of any healthy community campaign is a web destination that helps the public access important information, ask questions, and volunteer to help. The Community Health Outreach solution can be used to launch a healthy community web destination, share key health initiatives with the public, promote health resources, and enlist volunteers committed to improving health outcomes.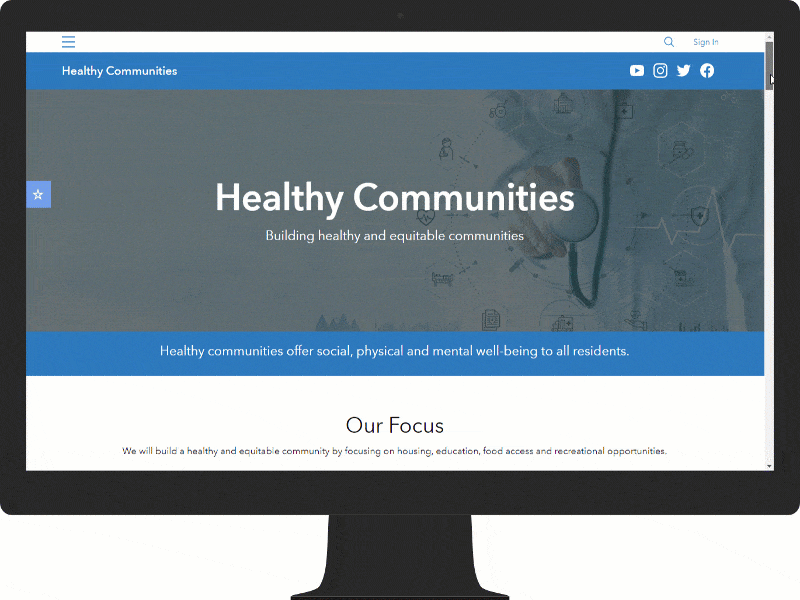 The Community Health Outreach solution leverages an ArcGIS Hub site to promote health initiatives and build public confidence. The site includes a responsive, and accessible, website that serves as a destination for a health community campaign. From this destination, community members can review key health metrics, pledge to live a healthy lifestyle, locate health resources nearby, and volunteer expertise to assist with health initiatives.
When you add an ArcGIS Hub Premium subscription, community members can follow your health community initiatives and get updates about new events scheduled to help the community improve outcomes.
Inventory health resources
Health resources in a community change frequently. Clinics will open and close and operating hours will change, especially in times of need. Building a comprehensive inventory of health resources can be a challenge and having an efficient way to curate health resources is critical.
The Community Health Outreach solution includes a Health Resource Inventory app that can be used by health and human service agencies to inventory all health resources in their community. Health resources include medical facilities, public health facilities, specialized care (such as hospice, dialysis, etc.), mental health, addiction and more. A new resource can be added quickly to the map or data can be loaded from an existing from an existing spreadsheet.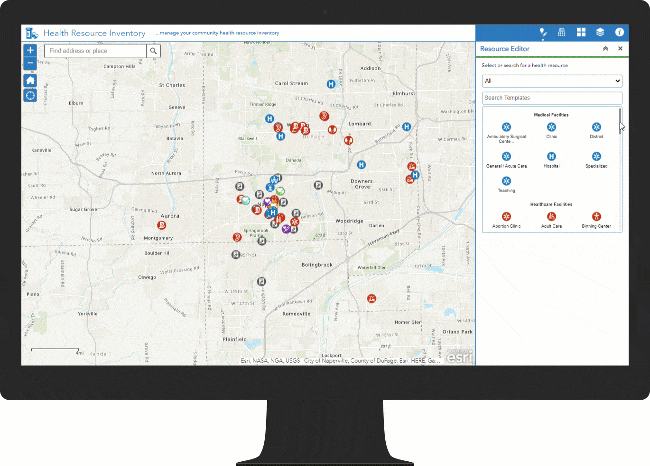 The solution also allows the public or providers to report missing health resources or corrections to existing resources. Feedback will be shown in the Health Resource Inventory app so it can be reviewed and added to your resource inventory.  All this information is automatically shared to the Health Resource Locator and available the Healthy Communities Hub.
Additional resources
Learn more about the Community Health Outreach solution and how you can quickly deploy it on the ArcGIS Solution site.  For questions and feedback, chat with us on Esri Community or contact Esri Support Services.