Ah, summer! Family road trips, camping, spontaneous jaunts to the beach! Aaaaand…traffic jams, road construction, and detours of the less-enjoyable variety. Gah.
Long winters and inclement weather paired with a chronic lack of routine road maintenance have led to an increasingly bumpy ride for travelers and commuters. The recent injection of road-improvement funding is good news, but the associated increase in construction work means more roadblocks, closures, and detours. Not helping matters is the uptick in community events that come with warmer weather—summer music festivals, farmers markets, craft fairs—fun stuff but road-closure nightmares. Short of flying cars (an invention that's still more Jetsons than not), the best defense we have against construction zones and other road closures is information and communication. That's where the Road Closures solution comes in.
Road Closures includes the tools you need to maintain a road closure inventory and share it with the public on both your organizational website and through popular consumer mapping apps. Here's how the solution helps you pave the way to a smoother ride:
Maintain an inventory of road closures and detours.
Information about roadblocks, road closures, and detours that you add to the Road Closures app appear instantly on an interactive map, helping you gain an understanding of how road closures and related detours affect the roadways in your community.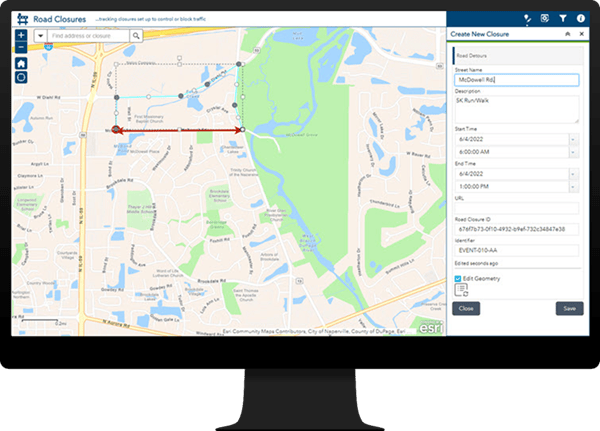 Share road closure information with the public.
When you embed the Road Closures map in your public works website, community members have immediate access to current road-closure and detour information.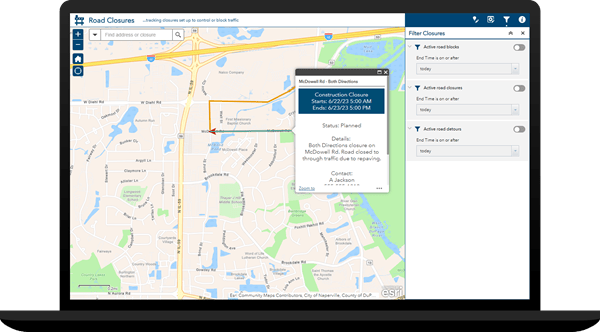 Share your info with travelers through Waze and other consumer mapping apps.
Your road closure info can be shared as Open Data that can then be used by consumer mapping apps like Waze. Individually, users benefit from up-to-date travel and commute information. Collectively, the information helps minimize road closure impact, eases congestion, and enhances driver safety.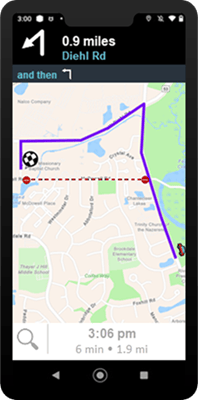 For public works and public safety departments, maintaining an up-to-date inventory of road closures makes operational sense. For the rest of us, information from the inventory helps make summer road trips fun again. Just don't forget to pack your sunscreen!
Resources
For more information about the Road Closures solution, check out the following resources: