ArcGIS Image Dedicated is a deployment of the ArcGIS Image suite for serving tiled and dynamic imagery and enabling processing and analysis of large image datasets from the Amazon Web Services (AWS) or Microsoft Azure cloud. As a managed software-as-a-service (SaaS) offering, Esri manages dedicated servers and compute infrastructure next to your public imagery datasets so you can reduce egress costs and ensure scalability. 
In our latest release in May 2023, we are introducing improved user experience to the ArcGIS Image Dedicated site to simplify the automated standing up of new servers, enhancements to the Pro Machine that can be spun up to run ArcGIS Pro on cloud infrastructure as well as additional processing and analysis services.  
Improved User Experience
The ArcGIS Image Dedicated site will introduce a user-friendly interface with a calcite style and clearer access tiles and structure. With an updated API, we are also introducing improved input parameter validations and stricter authentication checks for enhanced security.  
Additionally, as of this release, users can view the status of their ArcGIS Image Dedicated credits and reference the Credits Update report to view their current credit limit. Other minor enhancements include bug fixes in creating dynamic/tiled imagery as well as resolve some details in reports.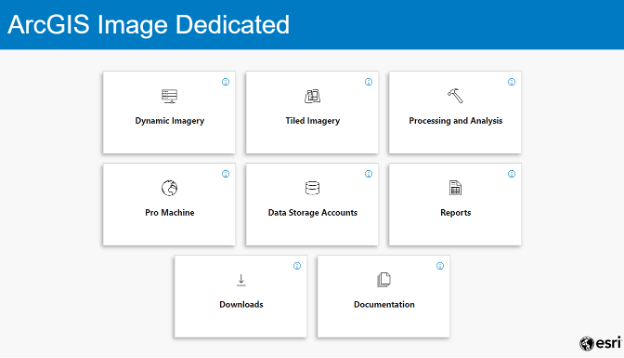 Pro Machine Enhancements
In this release of Image Dedicated, Pro Machines preinstalled with ArcGIS Pro 3.1 are now available. These machines will also have ArcGIS Reality for ArcGIS Pro and ArcGIS Reality Studio preinstalled. These machines can be used to easily invoked to manage imagery for serving, directly perform a wide range of analysis on imagery or run ArcGIS Reality for creating True Orthos and 3D Mesh. 
Additionally, an enhancement was also made to the timer tool which automatically shuts down a machine after a defined time so that it can now automate the back up for data, prior to shut down. 
Templates with preinstalled workflows are also now available. For example, the new lidar template includes a tool to work with lidar data. These tools allow you to quickly create ArcGIS Scene Layer Package on ArcGIS Online from the datasets of 3DEP that is available on AWS Public Dataset. You can also create and publish industry standard scene layers (I3S) from a range of sources. The template for the ArcGIS for Microsoft Planetary Computer includes tools to quickly create mosaic datasets from Sentinel-1 radar data that can then be used for analysis or the basis for dynamic imagery services.  
Dynamic and Tiled Imagery
This release introduces a simpler way to manage server machines as well as manage data storage and access control. This means that dynamic and tiled imagery users can now easily start new machines in any region and can also easily update data storage accounts details which simplifies security. 
The range of storage deployments has been increased, including support for Public datasets in Image Definitions. This enables you to publish mosaic datasets that reference public data buckets, and the access credentials are maintained.  
Processing and Analysis
We have added new reports that provide both summary and detailed usage reports on processing and analysis credits, for better cost determination. 
Additionally, a new processing tool to persist an image definition to Cloud Raster Format (CRF) was added. This enables a mosaic dataset that references a large collection of images and defines any form of processing to be persisted as tiled imagery for further analysis or streaming. The processing applies the required raster function and is highly scalable as the task is distributed over multiple machines.  
Want to learn more?
Check out our resources below to help you get started: