ArcGIS Business Analyst users often ask, "approximately how far are customers willing to travel to visit my location?" At ArcGIS Pro 2.7, the Business Analyst development team introduced the Generate Approximate Drive Times tool to help answer this question. The Generate Approximate Drive Times tool uses two pieces of information – where your store is, and where your customers are – to create a polygon showing average travel times to your location.
Business Analyst users regularly use rings to depict a trade area for a business or organization. The Generate Approximate Drive Times tool offers further insight into the ring and how people move about within it. For example, Figure 1 shows a five-mile ring around Esri's Vienna, VA office: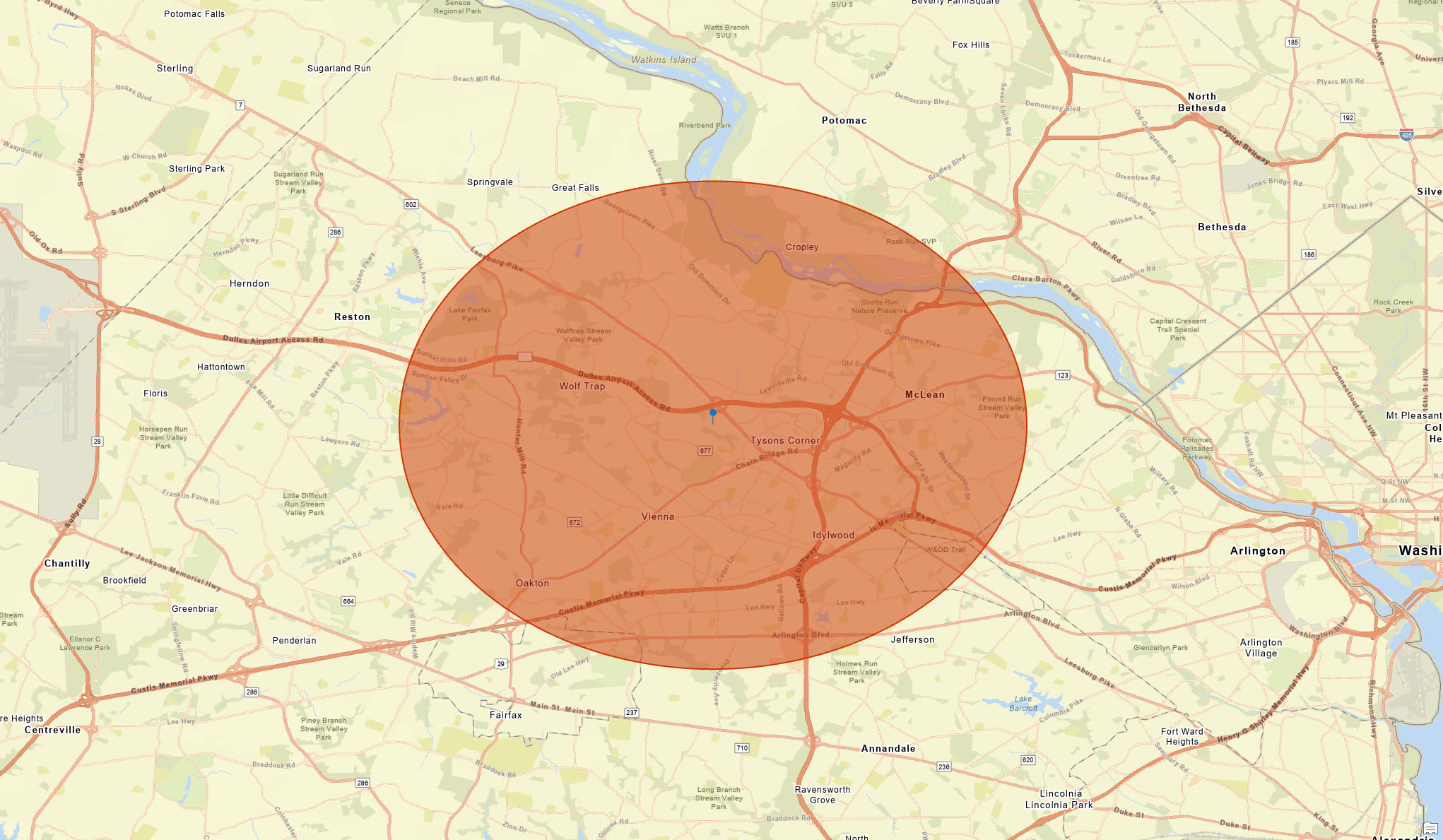 However, human movement in a region is never uniformly predicted by a simple radius. Roads improve transit time, while vehicular traffic and landforms (such as rivers) impair it. When we run the Generate Approximate Drive Times tool, we get a more complex picture of the ring around the Esri office – the new trade area factors in roads, rivers, traffic, and other features that aid or obstruct travel (Figure 2). This information can help determine where to market your products and services. It can also be used as a benchmark when considering additional locations for a business. The results will vary greatly between urban and rural locations, as roads tend to be more diffuse in less populous areas.
The video below shows you how to better understand the willingness of people, customers in this example,  to travel to your location. All you need is a point layer or geocoded addresses, Generate Customer Derived Trade Areas and the new Generate Approximate Drive Times tool, released in December's Business Analyst Pro release.
If you have ever wondered how far customers will travel to visit your location, or just have a polygon on hand and want to know what kind of drive time it represents, give the Generate Approximate Drive Times tool a try. In ArcGIS Pro, find this tool in the Trade Areas toolset in the Business Analyst toolbox.
Additional information about these new features can be found in the ArcGIS Pro documentation for Generate Approximate Drive Times. We're very excited to share these new capabilities with you and invite you to incorporate them into your workflows. Please reach out and let us know if you have any questions about these two new tools or any other capabilities in ArcGIS Business Analyst.
Email the team: businessanalyst@esri.com
Below you can find some links for Business Analyst that you may find useful.