The May 2021 release of ArcGIS Business Analyst Pro has some exciting new features in Territory Design.
This article is the third in a four-part blog series highlighting the performance and productivity improvements for the ArcGIS Pro 2.8 release. Below we'll focus on the improvements related to scenario planning and manual map editing in Territory Design.
Check out this video to see a quick review of the enhancements in action…
Assign pane enhancements
As the video shows, a key enhancement to the Assign pane is the ability to select territory elements to view the statistical impact before reassigning them. This allows for interactive "what-if" scenarios when working with the map.
The video also shows the new Copy Territory Solution tool.  With this tool you can make a backup of your solution and then examine different scenarios, without overriding your original solution.
Here are some of the other new Assign pane features to try:
Show Updated Values – This shows the total new value if a territory is reassigned.
Show Differences – This shows the total change taking place when a territory is reassigned.
Show Forecasted Values – This shows both the total value and change for all territories.
View the attribute table to analyze selected territory elements.
Search for any territory name.
Filter the map to only show selected territories.
Zoom to, pan to or flash any selected territory.
Below is a look at the Assign pane in the ArcGIS Pro 2.8 release. A territory element is selected on the map, and the positive/negative statistical impact is shown before one or more territories are transferred.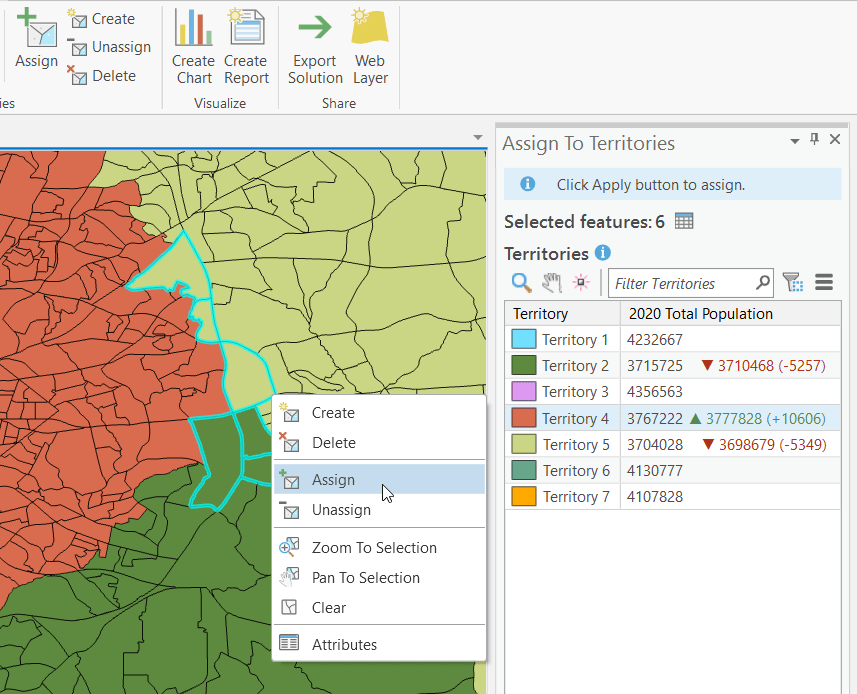 Additional information about enhancements for ArcGIS Pro can be found in the What's new in ArcGIS Pro 2.8 blog article.  Reach out and let us know if you have any questions about Business Analyst.
Send an email to the team: businessanalyst@esri.com
Below you can find some useful links for Business Analyst.