Once again a great CityEngine user-story has fallen into my hot little hands and I really need to tell this story to the people of the online world.
You may have been living under a pretty large rock if you have not heard of the ridesharing company, Uber. This company has revolutionized the way many travel and has disrupted the transportation industry.
However, alongside changing how people travel, Uber has increasingly been scrutinized for the challenges that come with disruption to the current paradigm.
What challenges?
One of these challenges is with respect to how, when, and where Uber picks up and drops off their passengers. Passenger loading demand, especially in busier parts of the city where a moderate to high level of drop-offs or pickups are done per day, may disrupt the activity of other modes of transport like buses, private vehicles, bikes etc. This is because cities don't always provide adequate amounts of curb supply to meet the demand.
That's not entirely on them, as the rideshare revolution has happened so quickly.
Ridesharing pickups and drop-offs are adding to the many use cases for safe and efficient curbside access for passengers and drivers. This is most evident in urban areas, where the demand for curbside access competes with the largest variety of other uses such as vehicle parking and commercial loading. In response to the growing competition for space, some cities are calling the curbside "flex" space and are starting to be more intentional about defining curbside uses.

What this essentially means is that a strategy is needed to help develop the future of transportation to assist cities to best accommodate the increasing adoption of ridesharing platforms…and this is where Fehr & Peers come in.
Fehr & Peers' mission is to empower every employee to develop effective and innovative transportation solutions that improve communities. Specifically, they often provide transportation planning and engineering services to public and private sector clients. This includes focusing on applying innovation to disciplines like: Transportation Demand Management, Travel Behavior and Forecasting and Transit Planning to name a few.
With a repertoire like this it makes perfect sense that Uber would contract them to help develop templates that would lead to safer, more efficient and productive curbs and streets.
Uber and Fehr & Peers set out to observe several locations around San Francisco with moderate to high passenger loading activity and a mixture of adjacent land uses/neighborhoods and roadway characteristics. Observations were used to identify common trends and behaviors, and to develop broad strategies to improve curb space productivity for a variety of roadway typologies.
Fehr & Peers applied a data-driven approach by leveraging Uber data to both inform their own data collection, and to provide supplemental data to inform their analysis.
To create and visualize the existing conditions, the experts at Fehr & Peers turn to CityEngine.
We used CityEngine to develop our existing cross-sections in San Francisco so we could create realistic context and experiment with developing a generalized workflow for developing curbside allocations in any city in 3D.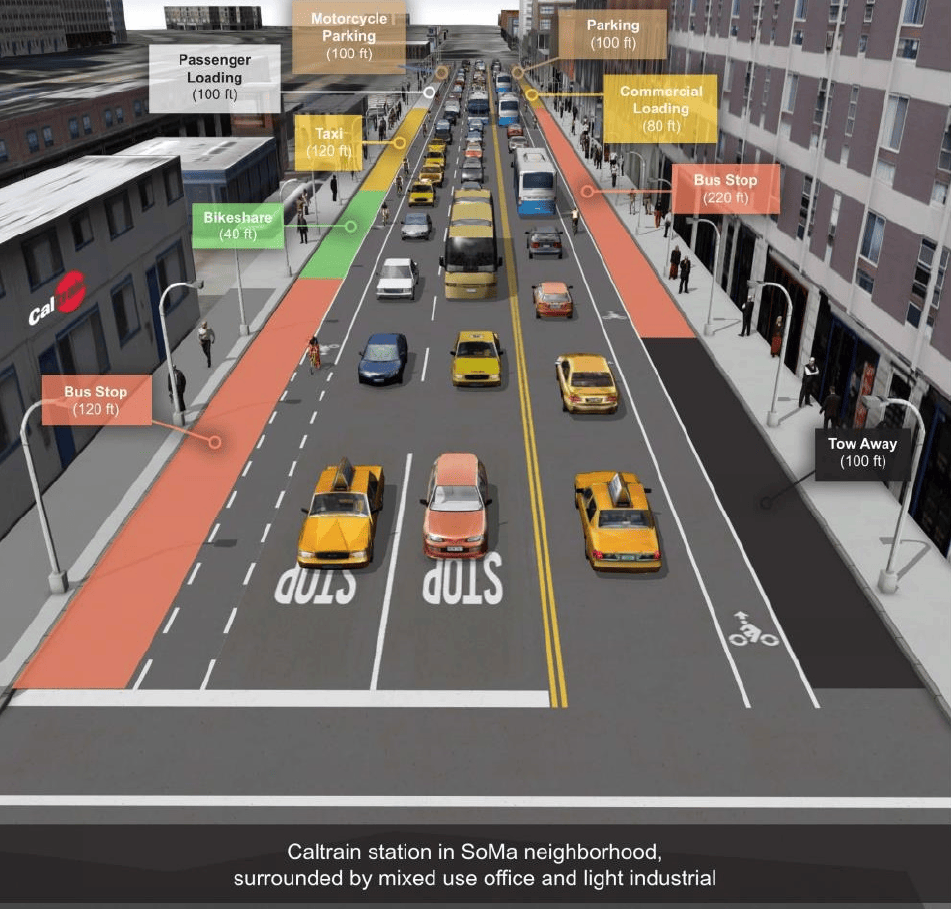 With a foundation in data, applied thinking and the visualizations in CityEngine, Fehr & Peers were able to validate assumptions and make new statements.
For example, they were able to highlight the fact that in this scenario:
• Bus passenger loading has the highest curb productivity. Scheduled activity and allocated space are well-matched.
• Passenger loading activity for other modes is higher than the existing curb space designation can accommodate during peak passenger loading demand times.
• The largest amount of curb space is dedicated to parking, which limits passenger throughput by other modes by way of the curb.
Using CityEngine to create a realistic initial situation makes it significantly easier to understand the status quo.
So how were these initial environments generated?
Fehr & Peers used a combination of CityEngine and Photoshop to create the initial renderings of the study corridors. CityEngine provided the ability to import buildings from OSM, and generate streets quickly by using the Complete Street Rule. After initial renderings were prepared from CityEngine, they were brought into Photoshop for editing and labeling of key curbside features.
In the future, Fehr & Peers hopes to build dynamic dashboards directly into CityEngine that would enable cities to simultaneously visualize and analyze trade-offs between different curbside management strategies. For example, already the Complete Street rule is being updated to include basic curbside management reporting and dashboards that enable users to see how reallocating parking to other potential allocations can occur.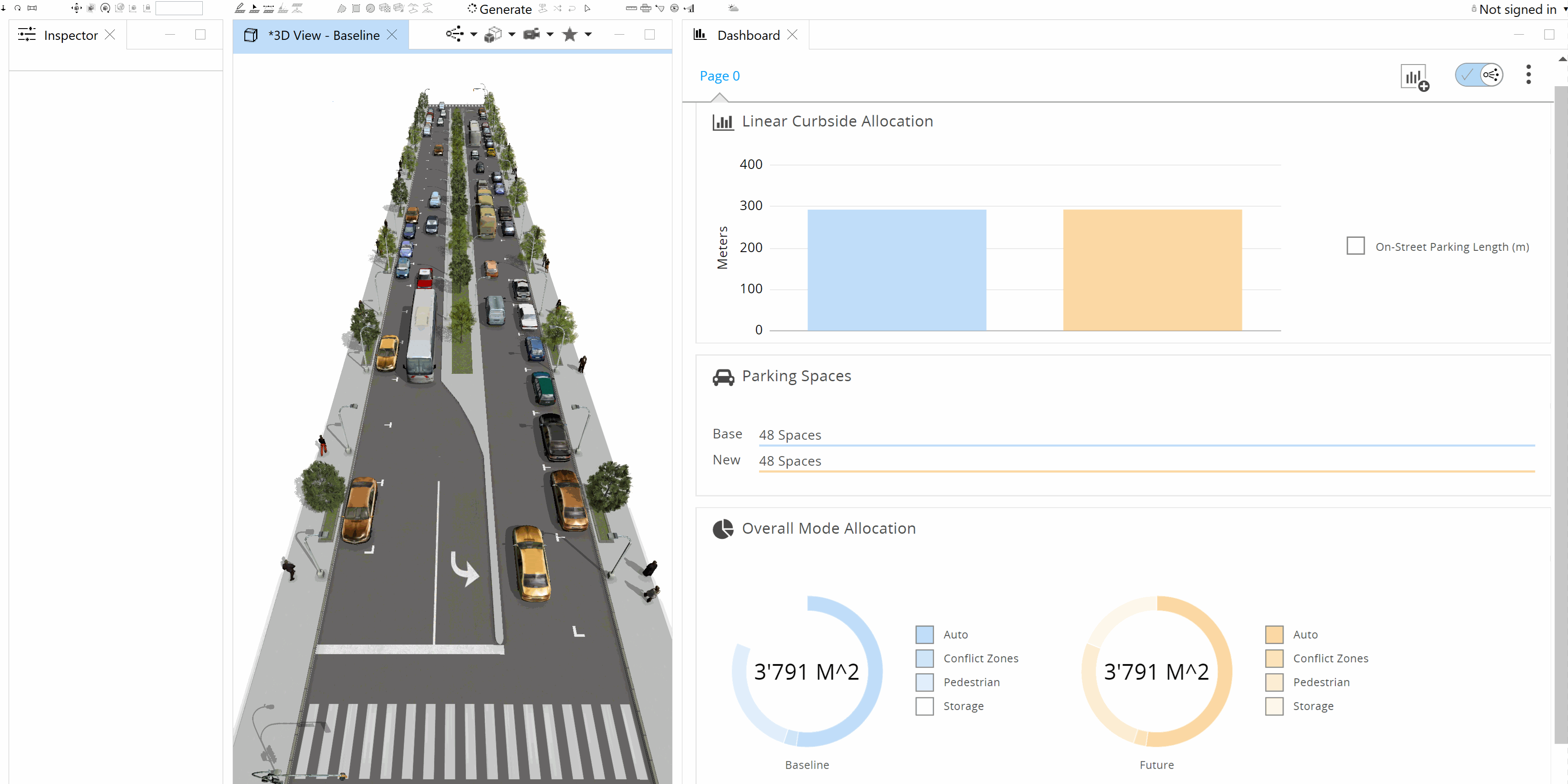 You can find out more about Fehr & Peers' curb case-study here and Uber's motivation for the study here.
Commenting is not enabled for this article.