Land ownership is something many of us take for granted. For those who own property, a legal document exists that proves the definition of ownership and  boundaries of the property.  However, it is widely stated that an estimated 75% of land ownership globally has not been mapped or formally documented.
A five decades civil war displaced over eight million Colombians has left Colombia as one of many countries in need of an efficient solution to collect boundary and ownership information. Impacted by cartels and internal conflict with rebel groups for decades, a vast number of rural parcels are not yet mapped and recorded.
Colombia has a deeds-based land administration system with a history of sporadic approaches to establish reliable cadastral records. "A couple of years ago, the official estimate was four million parcels that need to be regularized," said Mathilde Molendijk, Kadaster International's regional manager for Latin America. "The real number now is at least 12 million, and probably several millions more. Only five percent of the country's land has an up-to-date cadaster, and nearly 30 percent has never even been part of a cadaster. So this is a huge task for the Colombian government."
The Netherland's Land In Peace project is a joint effort with the Colombian government to survey, map, and register small rural plots. The scale is massive. Cumaribo, just one of the municipalities covered by the project, is home to the indigenous Sikuani people. It alone covers an area 1.6 times the size of the Netherlands.
Fit-for-purpose – a new approach
While traditional surveying methods remain a common way to capture and document land parcels in developed countries, the expense and time constraints for this large-scale initiative required a different approach. To address these challenges, Kadaster International developed a new methodology to collect parcel data in Colombia. Balancing cost, simplicity, and requirements, a fit-for-purpose (FFP) model for data collection was selected to meet the country's objectives of having the country's parcels mapped and ownership documented.
In recent years significant improvements in mobile device and GNSS receiver technology has provided new opportunities to streamline the data collection process at larger scales. In response, Javier Morales of the ITC Faculty of University of Twente worked with Kadaster International to develop an innovative method to capture parcels and ownership information quickly using these maturing technologies. Balancing the field requirements for the Land Administration Data Model (LADM) with the capabilities available in Collector for ArcGIS, this new approach lowered costs, increased simplicity, and enabled those without extensive training to collect parcels in the field.  Maintaining and documenting an acceptable level of accuracy and collection information was of equal importance.
Pilot projects
Kadaster International had used Collector for ArcGIS in several pilot projects in Colombia. Working closely with Esri-Colombia, these projects were successful – Collector had addressed many of the key objectives: efficient data collection that eliminated the need for paper-based methods, support for GNSS receivers using real-time corrections, and full support in disconnected environments common in rural Colombia.
However, a few improvements were identified to ensure the success of the project.
Through a collaboration with Kadaster International, Esri-Colombia, and Esri, three key improvements were outlined to address the shortcomings from earlier pilot projects.  The key enhancements to this workflow included:
Ensure that workflow remained simple enough to enable local residents or grassroots surveyors to collect property boundaries and ownership information with minimal training
Capture GPS information based on real-time corrected positions for each location defining the parcel
Allow landowners to verify their parcel during and after collection
Enabling a new workforce
Part of the challenge Javier faced was ensuring the solution was simple, repeatable, and robust, particularly for those with minimal training.  In Colombia, local young residents are often invited and trained to aid landowners in the collection of parcels. Collector's simple user interface and streamlined workflows for capturing parcels proved very easy for them to learn and become proficient in collecting data in the field.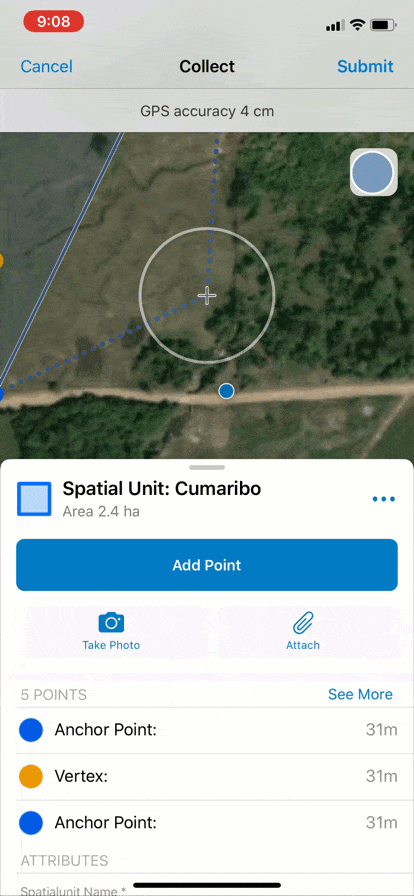 Capture GPS information for the parcel
Because each landowner walks around their parcel and documents its boundary alongside the grassroots surveyor, capturing the GPS information for each location that comprised the parcel was critical to the success of the project.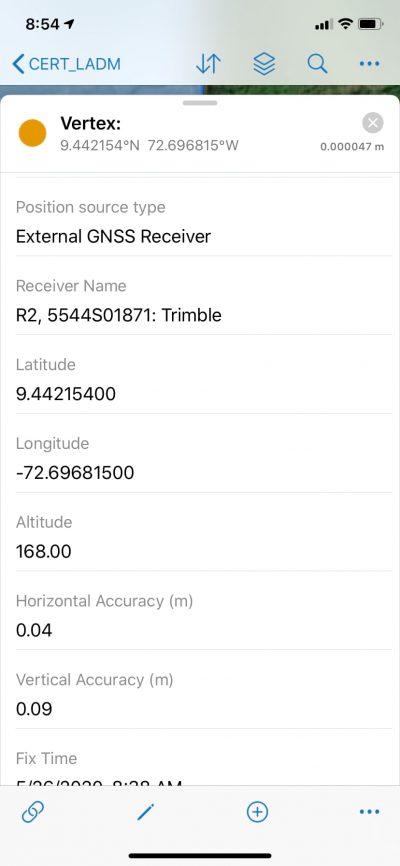 GPS information for each point is captured automatically while the parcel boundary is collected. This GPS metadata (i.e. accuracy, point type) is a fundamental component of the automated process to resolve minor differences between adjacent parcels. Traditionally, the quality of the surveyed data is determined only by the spatial accuracy of the observations made. In contrast in this new approach the resulting representation of land ownership is also reviewed with and agreed upon by the landowners and community leaders at a public meeting.
Landowner participation and review
Having the landowner's participation in defining the parcel was already part of Javier's workflow with Collector, as was collecting information about the landowner.
Using Javier's method with Collector, the landowner could also capture other identifying information such as a road or stream to provide context for the parcel's definition.
Collector now allows the landowner to see the parcel after collection as well as verify the final parcel boundary on the map along with any notable features like streams or roads. In addition, the parcel's calculated area is displayed in hectares.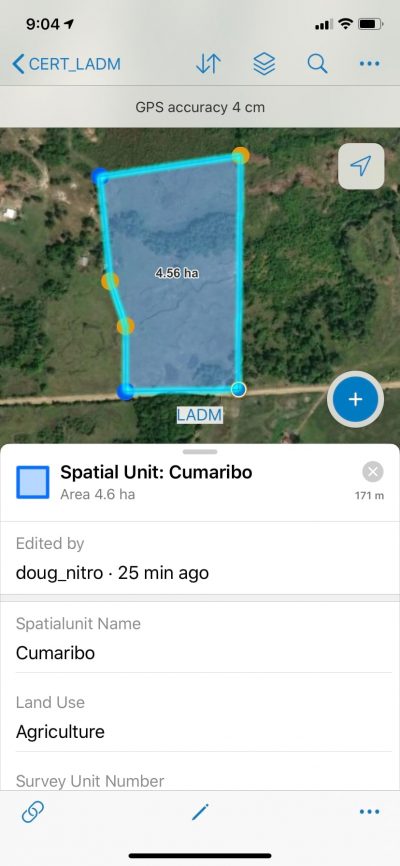 Having the ability to review this information ensures transparency in the data collection process and builds confidence with the landowner.  At the same time Collector quietly stores all the information required by professionals to process the parcel boundaries according to the rules of the underlying land administration system.
"We now have an application that can be configured to seamlessly address the requirements of land administrators, surveyors, and landowners, enabling the fast and reliable execution of all those societal process that depend on up-to-date land inventories," said Javier Morales. "What is also really great about the Collector app is that it builds up citizens' trust on the procedures, organizations, and technology being used to address their needs."
An effective solution using ArcGIS field apps
Several pilot projects have been completed in Colombia using this new approach with positive feedback from the landowners, those involved in facilitating the field data collection process and the government.
As a result of this close collaboration with Kadaster International, Collector, a commercial-off-the-shelf app when paired with a GNSS receiver, is well-positioned to support this flexible, standards-based approach to fit-for-purpose data collection for large-scale initiatives.
Colombia is just one country that needs to develop or improve their system to map and document land ownership.  The ability of Collector to be easily configured to comply with the LADM ISO standard and combined with workflows developed by Kadaster International ensures that this solution can be easily adapted to support other countries as well based on their specific requirements and realize the vision of fit-for-purpose field data collection.
A future article will outline how to deploy and adapt this solution to efficiently capture and manage land parcel information in developing countries using the land administration domain model.