Here we are, just into the 5th month of the year, and we're announcing our 3rd release of Collector this year.
Following our March launch of the new Collector app on the Android platform, we are back and adding a number of key new features that close gaps in parity with Classic version of Collector. If you've been waiting for these features to move to the new version, now is the time.
Here is what's inside:
GPS Averaging
95% confidence interval
PKI support
New app link capabilities
GPS Averaging
GPS averaging is a means for improving the accuracy of data you capture using GPS by analyzing positions over a period of time to correct for systematic errors in range calculations. Within Collector, you can turn on GPS averaging from your profile settings. Turn on the GPS averaging switch and then tap on it to adjust the number of positions to capture over time.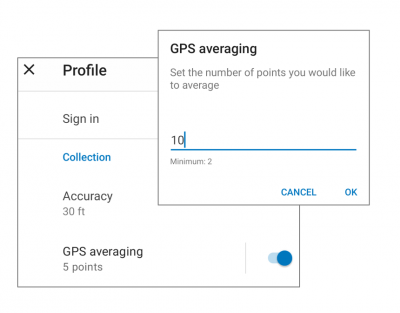 Once averaging is enabled, all use of GPS for data capture will average positions. This applies to the capture and update of point features like the bench below or the vertex of a line or polygon.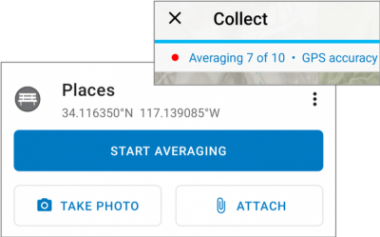 With averaging turned on, the button to collect locations enforce averaging and you will see each valid position acquired count up in the GPS bar.
Confidence Interval
There is always a probability of error in every measurement, and GPS is not immune. By default, Collector uses a standard method for measuring error that has a 63-68% confidence level using DRMS. However some organizations require that the probability of error be measured using a 95% confidence level. Now within Collector you can have the best of both worlds.
Now, when setting GPS accuracy, you can switch to the 95% method.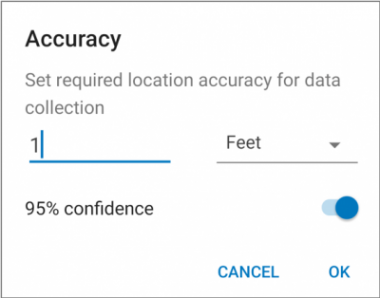 PKI Support
Organizations that utilize a Public Key Infrastructure (PKI) for authentication, can now use Collector on both their Android and iOS devices.  When Collector discovers that the ArcGIS Enterprise portal is using PKI, the user will be prompted to choose a certificate (.pfx).
With the Android platform, you will need to connect your device to a computer or use a file-sharing app such as Box or Google Drive and copy the certificate file first.
App Link Capabilities
Using app links, you can streamline your data collection workflows. App links are not new to Collector, but the ability to open the map and search for an address, place, coordinate, or feature (asset or observation) using the following parameters is:
itemID

referenceContext=search

search
Using the new search capability, you could construct a URL with the search capability, send it to your field worker by email or text message and it would open the Collector app and search for a street address, coordinate, or even a feature by its ID.
In addition to the new capabilities mentioned above, we have addressed a number of quality and performance issues.