Esri is proud to release 2020/2025 demographic forecasts for the U.S. in the June ArcGIS Online release.
This data represents Esri's annual updates of demographic and socioeconomic characteristics… and includes many "11th hour" adjustments due to the COVID-19 pandemic. The Data Development team at Esri revisited many characteristics in order to make adjustments based on what was known about the effects of the pandemic in March, April, and May 2020. The 2020/2025 forecasts were finalized in May and reflect a July 1, 2020 and July 1, 2025 point-in-time forecast. You can read more about the approach in the 2020/2025 Esri Updated Demographics Methodology Statement or join us at the 2020 Esri User Conference at the Esri Demographics and Census 2020: What's New in the U.S. session.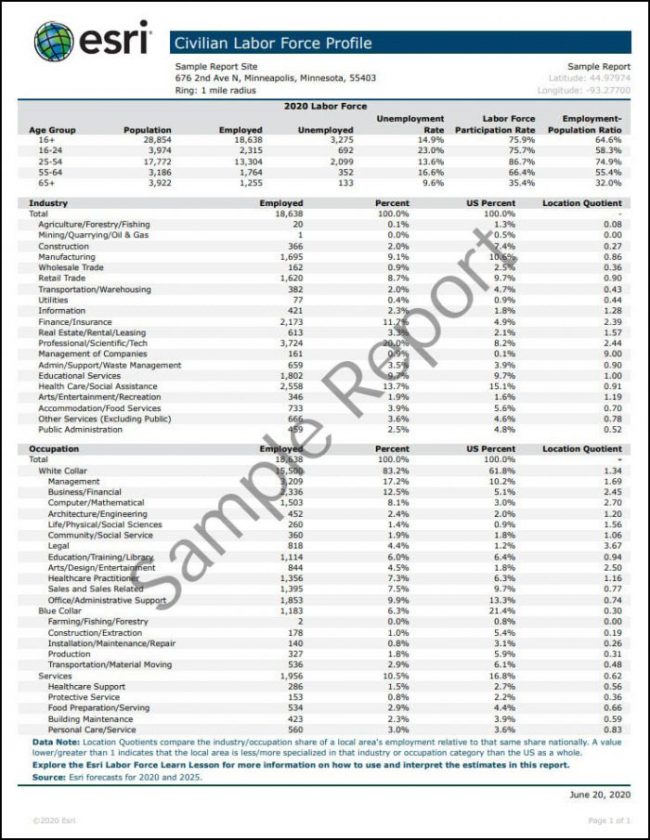 The Esri 2020/2025 data release includes new data and a report describing Labor Force by Age and Location Quotients by Industry and Occupation.
The Labor Force by Age data variables enable understanding of the labor force share and include estimates of civilian labor force, employed, unemployed, and unemployment rate for ages 16–24, 25–54, 55–64, 65+.
Location Quotients (LQ) by Industry and Occupation compare the share of a local area's employment relative to that same share nationally. LQs over 1 indicate that the industry or occupation has a higher concentration in the local area compared to the U.S. LQs less than 1 indicate a lower concentration compared to the U.S.
The Esri 2020/2025 data release also includes updates to the following datasets:
2020 Tapestry Segmentation – incorporates Esri's latest demographic forecasts.
2020/2025 Consumer Spending – incorporates the latest Consumer Expenditure Surveys (CEX), 2017-2018, from the Bureau of Labor Statistics (BLS).
2020 Market Potential – incorporates the latest Doublebase 2019 survey data from GfK MRI which includes 54 new data variables including Smart/WI-FI connected homes, participation in genealogy, attitudes to mobile device use, and more. In addition, 33 data variables are no longer available. Learn more about these changes in the 2020 Market Potential Variable List.
2020 Business Summary – incorporates Infogroup business data from January 2020, summarized by SIC and NAICS categories.
Business Locations – from Infogroup, April 2020.
Traffic Counts – from Kalibrate, Q1 2020.
Visit the Esri Demographics documentation pages for more information on these datasets and start using the data in applications including: