ArcGIS Excalibur is a web-based app that allows image analysts to access and work with imagery for daily decision-making. Nowadays organizations are looking to make their operations more efficient with remote inspection. This October 2022 release includes new and enhanced features that help users to continue to work on imagery remotely. Analysts can more easily make observations on images from anywhere and then add them to a report that can be shared with executives and stakeholders.
In this release, ArcGIS Excalibur will be expanding to support additional service types to perform more enhanced visualization on imagery. There will be new canvas tools to help analysts stay organized and cut down on manual work.  Finally, we have streamlined the observation tools to make collecting and editing observations more intuitive.
Support for Additional Service Types:
ArcGIS Excalibur will now support Tile Layers, Tile Image Layers, and Map Image Layers with the October 2022 Release. Users can continue to work remotely by analyzing imagery off-site with a larger set of layer types. The newly designed "connect by URL" or "Analysis Layers" interface provides quick access to tiled or map imagery layers when performing remote inspections on, for example, an area impacted by weather or activity at a construction site.  To learn more about all the layer types that ArcGIS Excalibur supports, read this documentation.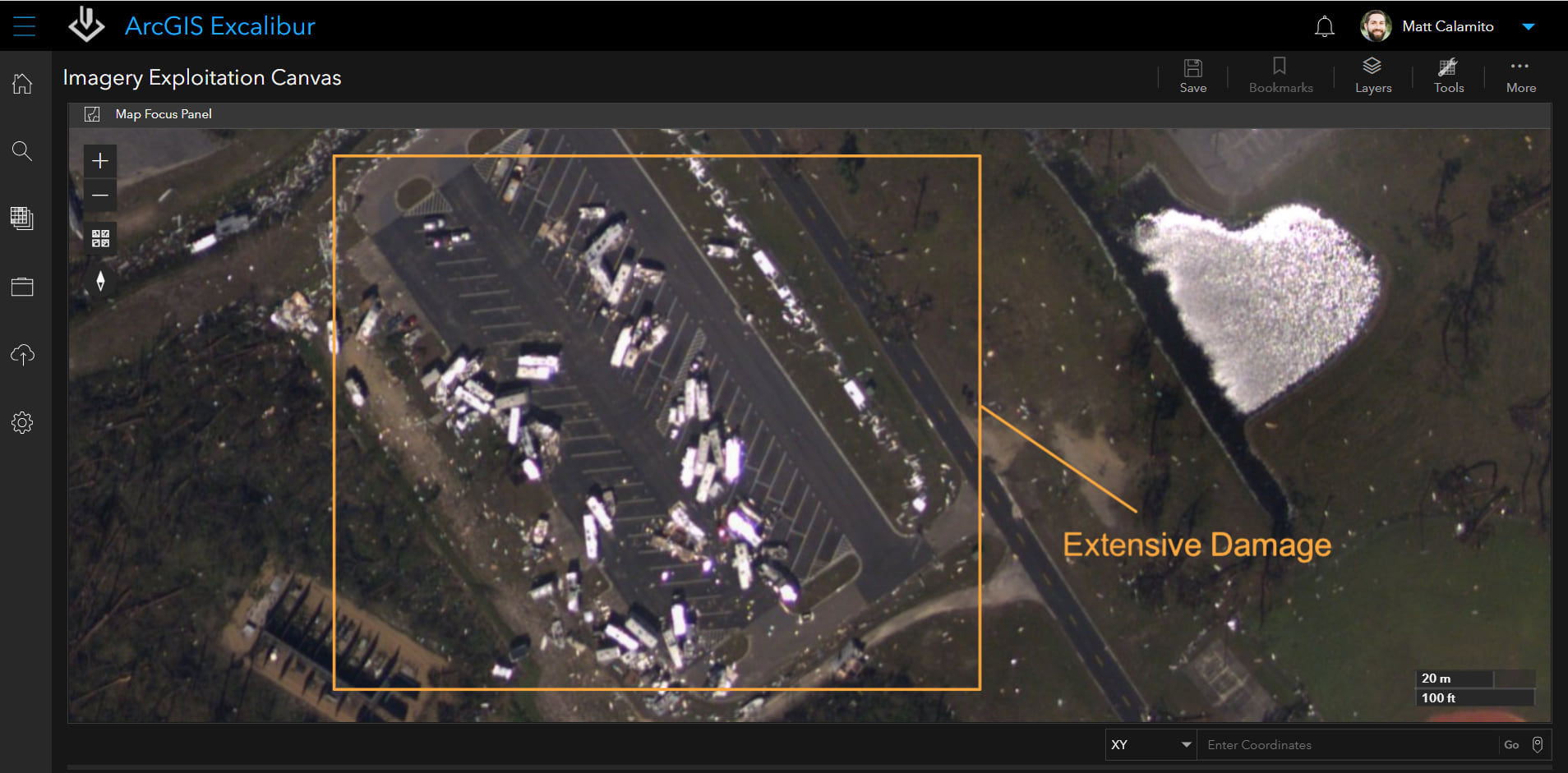 Use tiled services like WMTS to conduct damage assessment analysis
New and Enhanced Canvas Tools:
The new Count Tool allows analysts to count objects on images to quickly calculate a total. Objects are labeled with a number in sequential order – eliminating the guess work and margin of error that comes with manually counting.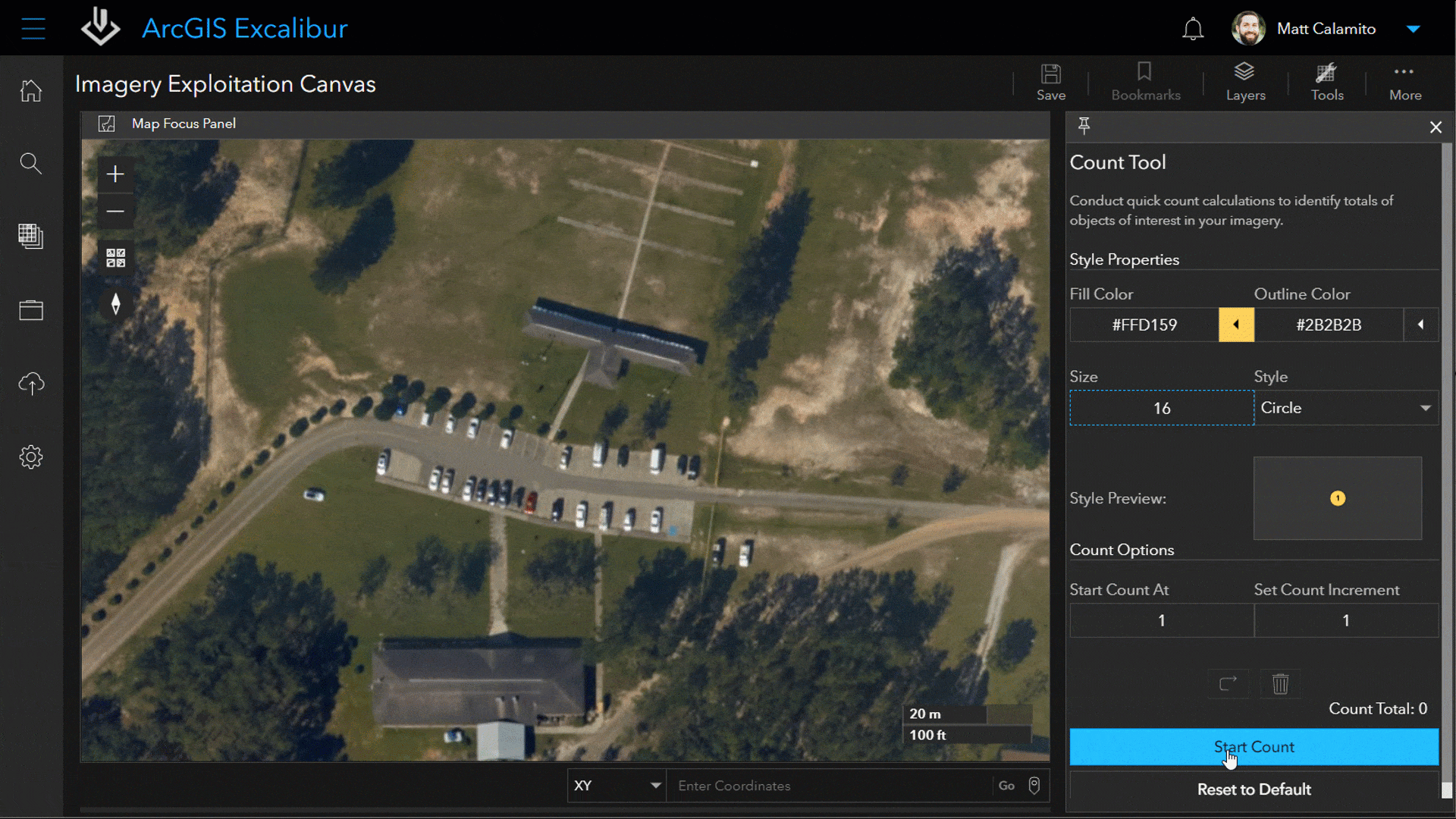 To help keep analysts organized and save on time, we're releasing a new Bookmark Tool that will allow them to save shortcuts to specific locations within a project and quickly navigate to them throughout their analysis.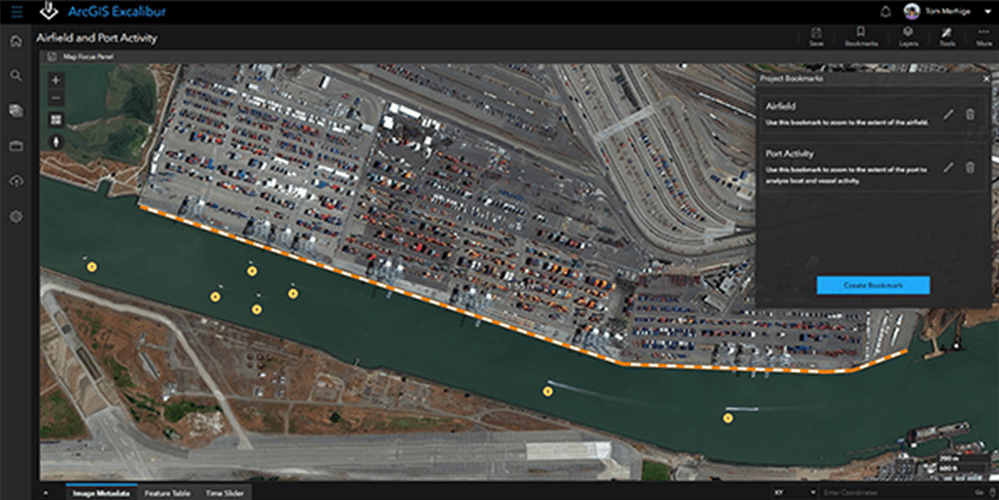 The new Screenshot Tool will allow users to view or save a defined area on their images as a jpeg. They will be able to take a snapshot that can include layers such as markups, measurements, and count tool graphics. With these screenshots, users can more easily share their analysis with key stakeholders for seamless decision making.
Streamlined Observation Tools
We have also streamlined the observation tools to make collecting and editing observations more intuitive. There is now a single tool to collect one or many observations. We've simplified the way analysts can edit an observation to three easy options: Edit, Delete, or Copy.
Stay in the Know
We're here to support you. To learn more about how ArcGIS Excalibur can add value to your imagery workflows, get in touch with an Esri representative at go.esri.com/excalibur, visit the Esri Community page, and explore the new Resources Page.