Over the past few years, we've experienced tremendous growth in use of our mobile apps and this past year received very positive feedback with our decision to consolidate functionality into one-app, ArcGIS Field Maps. With the December 2020 release, ArcGIS Field Maps includes the advanced map viewing and markup capabilities of ArcGIS Explorer, high-accuracy GPS data collection capabilities of ArcGIS Collector, and the battery-savings location tracking capabilities of ArcGIS Tracker.
The inclusion of ArcGIS Tracker capabilities within Field Maps provides a unique, all-in-one solution for map viewing, data collection and location tracking that improves operational awareness.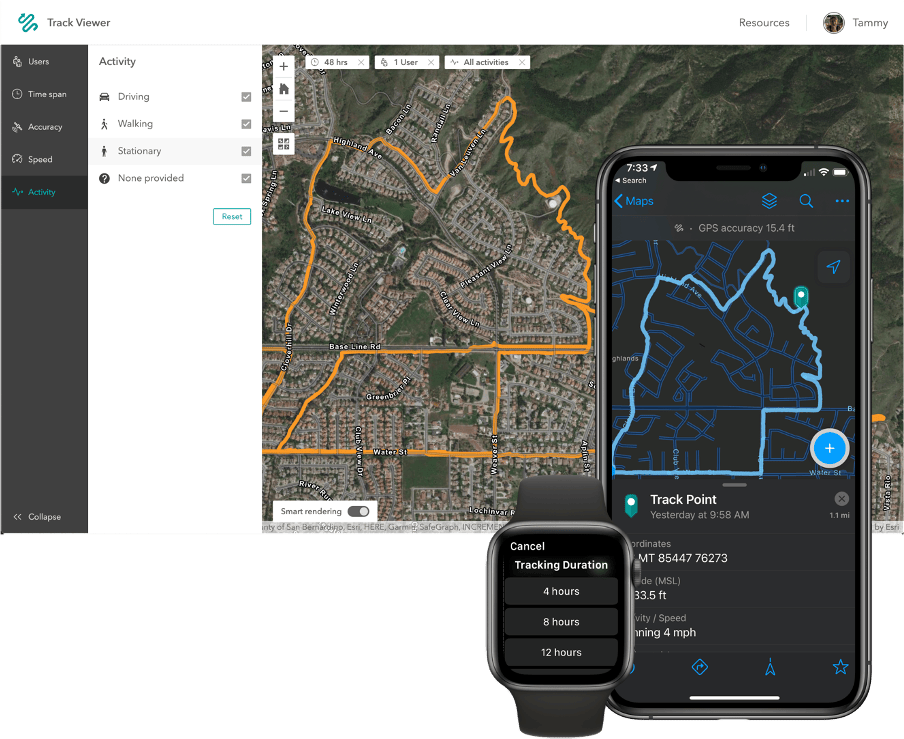 A premium capability, location tracking requires an additional add-on license that can be applied to any member user type.
Until now…
With the April 2021 update to ArcGIS Online, we are pleased to announce that members assigned a Field Worker user type will no longer require an ArcGIS Tracker premium add-on license.
Within the administrative experience of your ArcGIS Online organization, ArcGIS Tracker is now included with the Field Worker user type (similar to Explorer, Collector, Survey123, and Workforce). You can enable the organization-wide location tracking extension without the need to provision ArcGIS Tracker add-on licenses, and mobile workers can turn on tracking to record and share tracks at no extra cost.
This change is unique to the Field Worker user type. Members assigned any other user type (Viewer, Editor, Creator and GIS Professional) will still require purchase of an ArcGIS Tracker add-on license.
The changes described above will be coming to the ArcGIS Enterprise 2021 release. Esri will retroactively make ArcGIS Tracker licenses available for Field Worker user types in My Esri. Administrators of ArcGIS Enterprise 10.7.1, 10.8.x, and 2021 Q2 systems will be able to edit their license files, add the new ArcGIS Tracker licenses, and assign them to users. This script can help with bulk assignment of licenses.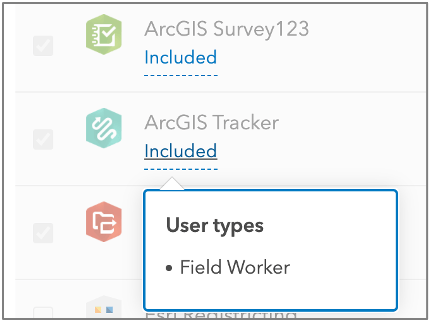 If location tracking is a new capability for your organization, here are 4 key benefits to consider:
Know where everyone is – enable field personnel to securely share their locations with supervisors who benefit from seeing where their workers are. Knowing the precise locations of your field workforce helps you to verify work, monitor safety, and better coordinate personnel and resources in response to unplanned events.
Review where people have been – store location tracks so you can access and review them later. You can use stored location tracks to analyze the places workers visited during their shifts. This helps prove work was conducted at a specific location, measure whether contractors met service level agreements, and even derive new datasets using the tracks collected.
Improve efficiency in the field – analyze the location behavior of your workforce, improve operational insight and boost efficiency. Find patterns that contribute to efficiency gains or losses, spot areas where you aren't meeting compliance requirements, and identify potential process enhancements or corrections.
Support field personnel – enable personnel to see where they are and where they have been, so it is clear whether the intended territory has been covered.  When the day is done, the Tracker mobile app can be easily turned off by the user.
We hope that you will take advantage of this exciting new opportunity to improve field workflows with the power of location. To learn more about location tracking, read Track location with Field Maps and watch this video.