In case you missed it, ArcGIS Collector, ArcGIS Explorer, and ArcGIS Tracker (iOS and Android platforms) are deprecating on December 31st, 2021. Please read our deprecation notice for more information.
ArcGIS Field Maps is a powerful mobile app solution that streamlines field workflows for exploring maps, collecting and updating authoritative data, and recording where mobile users have gone, all within a single location-aware mobile app. Included with ArcGIS Online and ArcGIS Enterprise, the Field Maps web application can be used to configure maps, forms, and mobile app settings to provide a focused experience for your mobile workforce.
Initially released in November 2020, the December update introduces some exciting new capabilities for mobile users and map authors.
Map viewing
ArcGIS Field Maps has the most advanced map viewing capabilities on smartphone and tablet devices. Built upon the latest ArcGIS Runtime SDKs for iOS and Android, maps in the field support the same rich cartography you are used to in the office. We've added a few new mapping capabilities that will improve your overall experience exploring maps:
A new measure experience that improves the accuracy of your measurements with the same location target approach used when collecting data.
Favorites, formerly My Places, is now available within the Search tool so you can easily find places you've marked.
Maps built using ArcGIS Indoors now fully support floor-awareness in Field Maps.
Searching for assets by scanning a barcode (new on Android).
Improved handling of secured layers (new on Android).
Dark theme support (Android).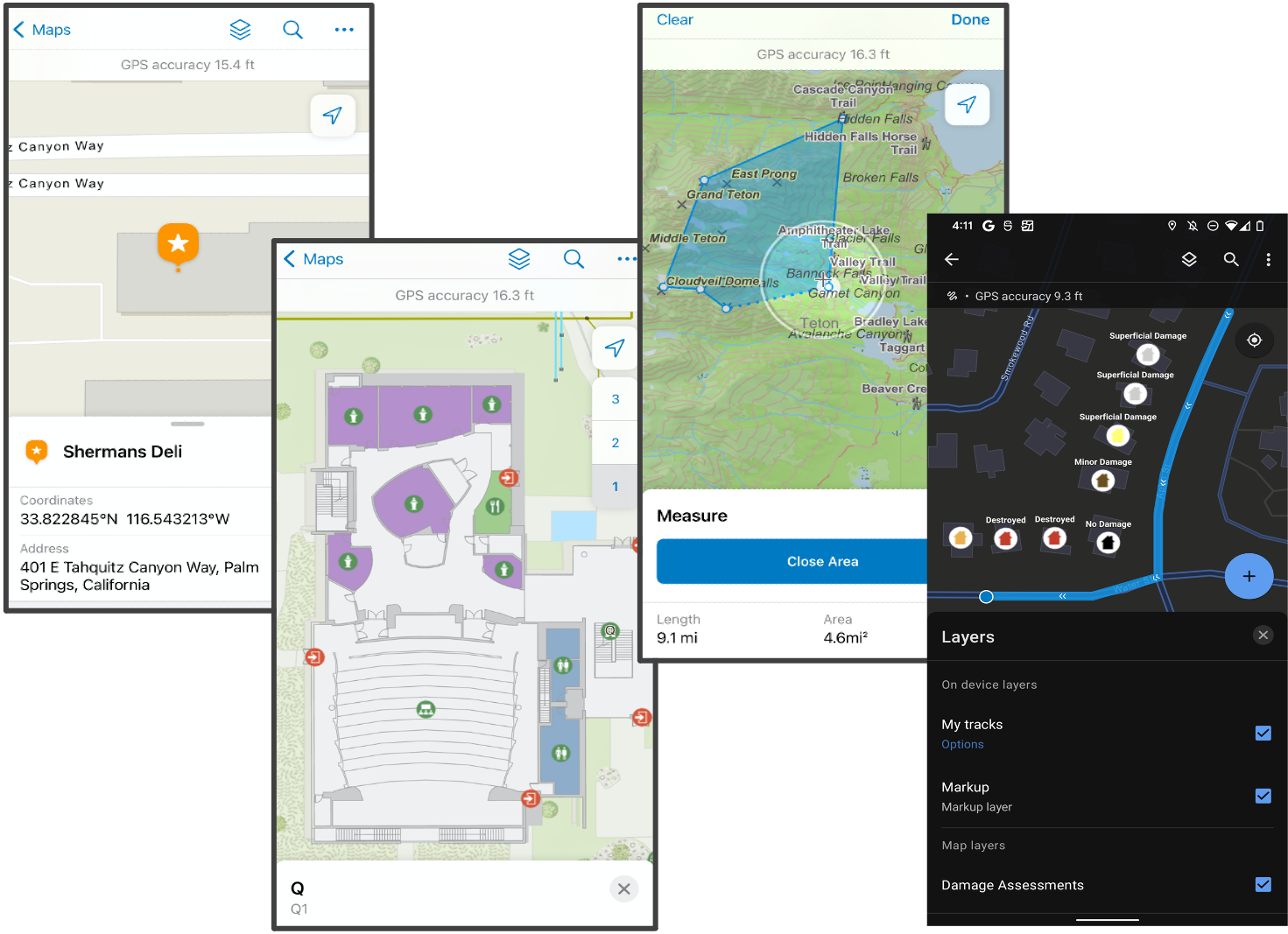 Data collection
ArcGIS Field Maps supports efficient, rapid, and accurate data capture. Field Maps has the unique ability to leverage high accuracy GNSS receivers and extend data capture capabilities with partner solutions. New in the December release:
Streamline repetitive data collection tasks with access to recently used feature templates.
Support for the Trimble DA2 GNSS receiver.
Attach multiple photos, videos, and files to features (new on Android).
Capture and play audio recordings (new on Android).
Download grid-based transformations from ArcGIS Online.
Offset capture with Spike laser measurement device (iOS only).
Offset and height capture with Bad Elf Flex GNSS receiver (new to Android).
Decide whether GPS location is automatically used when collecting new features.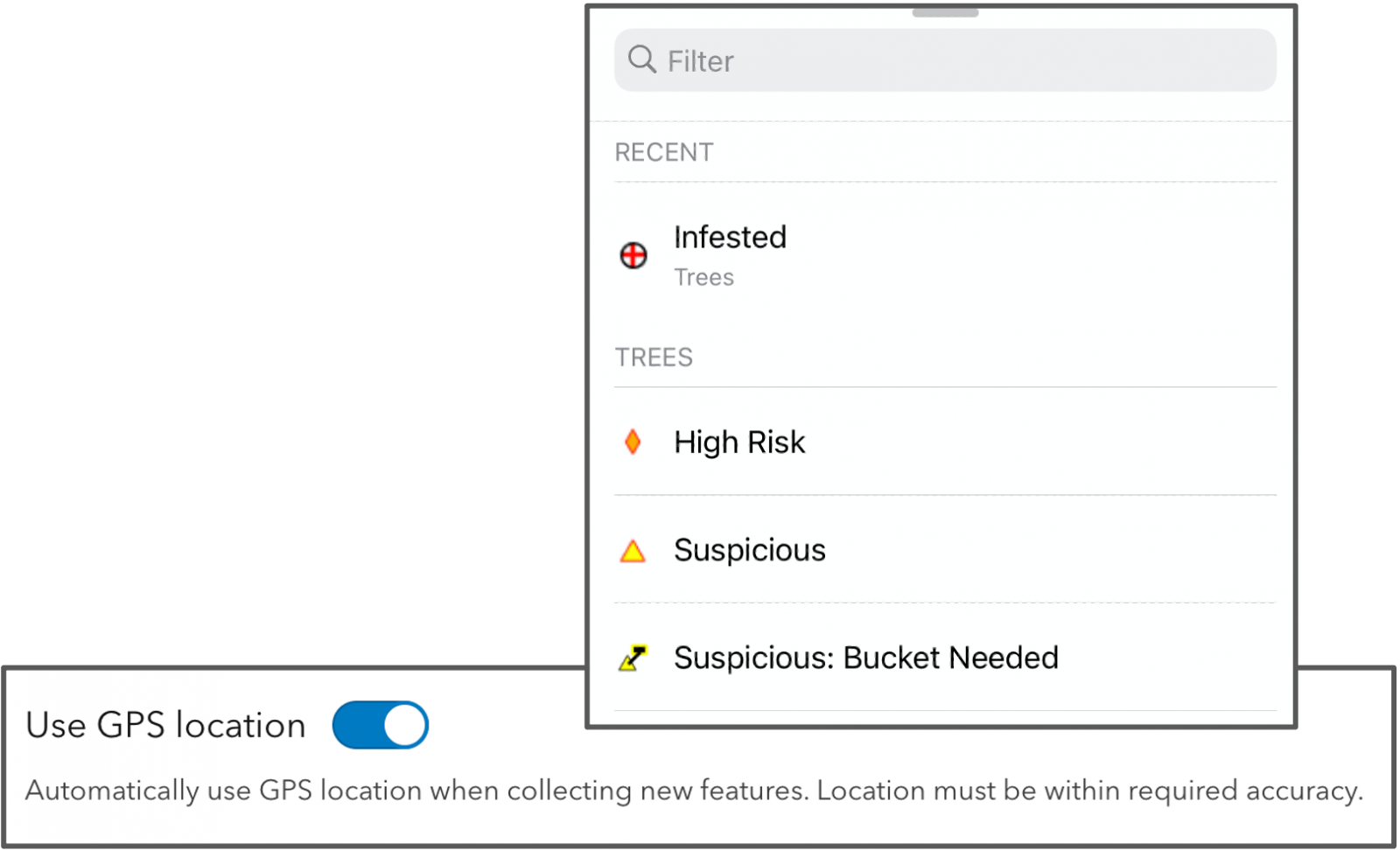 Forms
With each update, Field Maps continues to improve form authoring and data entry capabilities. The forms you author are stored inside of the map itself and can be used in the Field Maps mobile app and in web applications that use the JS API edit widget. With the December release, the following new form capabilities were added across ArcGIS:
Create conditional visibility expressions using a simplified experience in the Field Maps web app. You no longer need to know the Arcade expression language to create a conditional visibility expression. This new experience will guide you to the visibility expression you need and write Arcade expressions automatically!
Form authoring is now available within the Map Viewer. The same components used to author forms in Field Maps web are now available in the Map Viewer as well!
Edit forms in the office using web apps built with Experience Builder.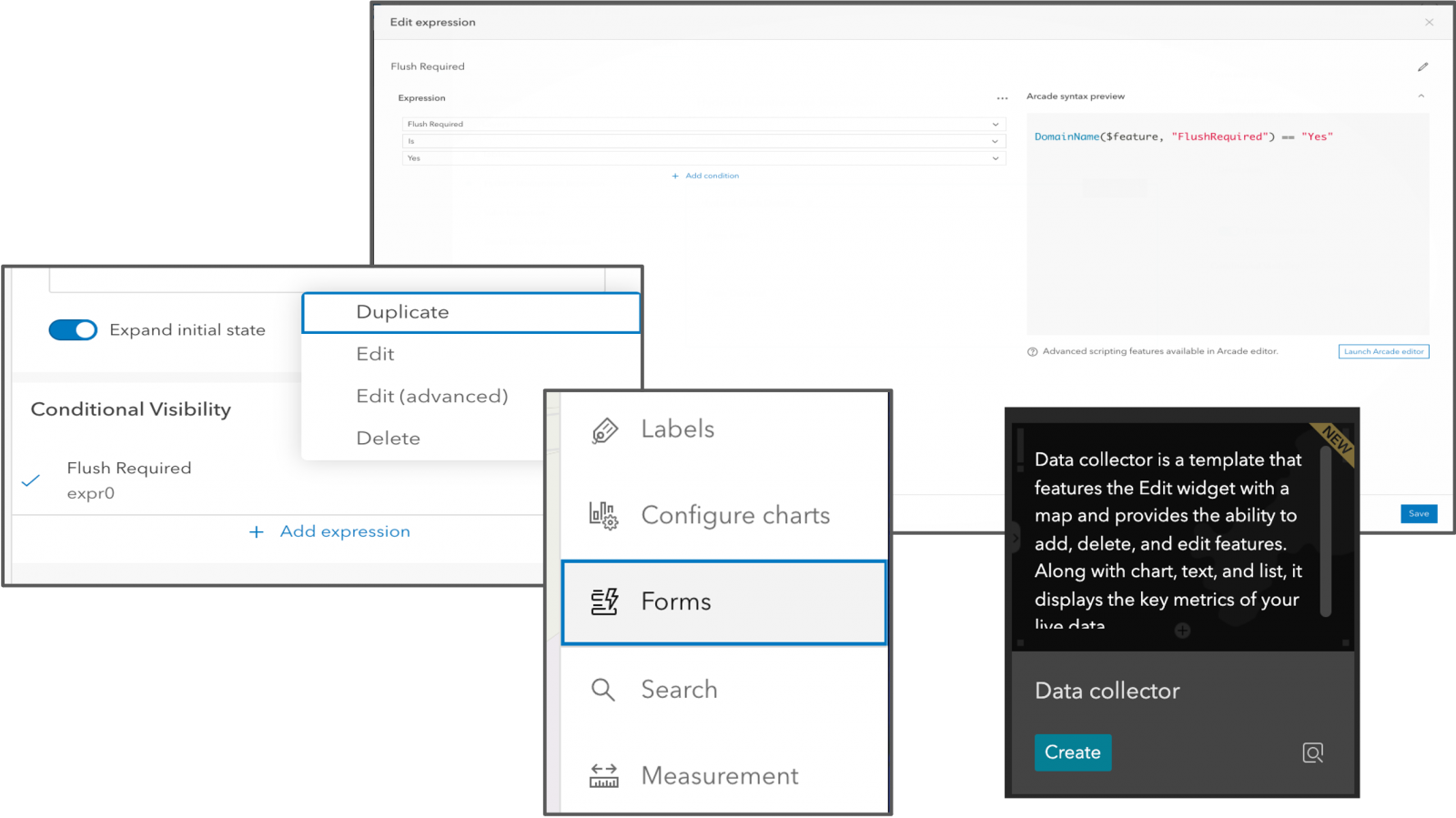 Location tracking
With the location tracking capabilities included in ArcGIS Field Maps, you can improve operational awareness. Field Maps support all user types. If you sign in with a Field Worker user type, location tracking is included at no cost, but you can also purchase a Tracker add-on license and apply it to a Viewer user type (or any other user type) if you like.
Here is what's new in the December release:
Add track categories to filter and symbolize location tracking data outside of Field Maps.
Turn off battery optimization to consistently record locations at 1 meter intervals regardless of motion.
Leverage new visualization capabilities for track views:

Track views are now group layers with preset symbology and scale dependency.
Discover track information that matters most with custom pop-ups.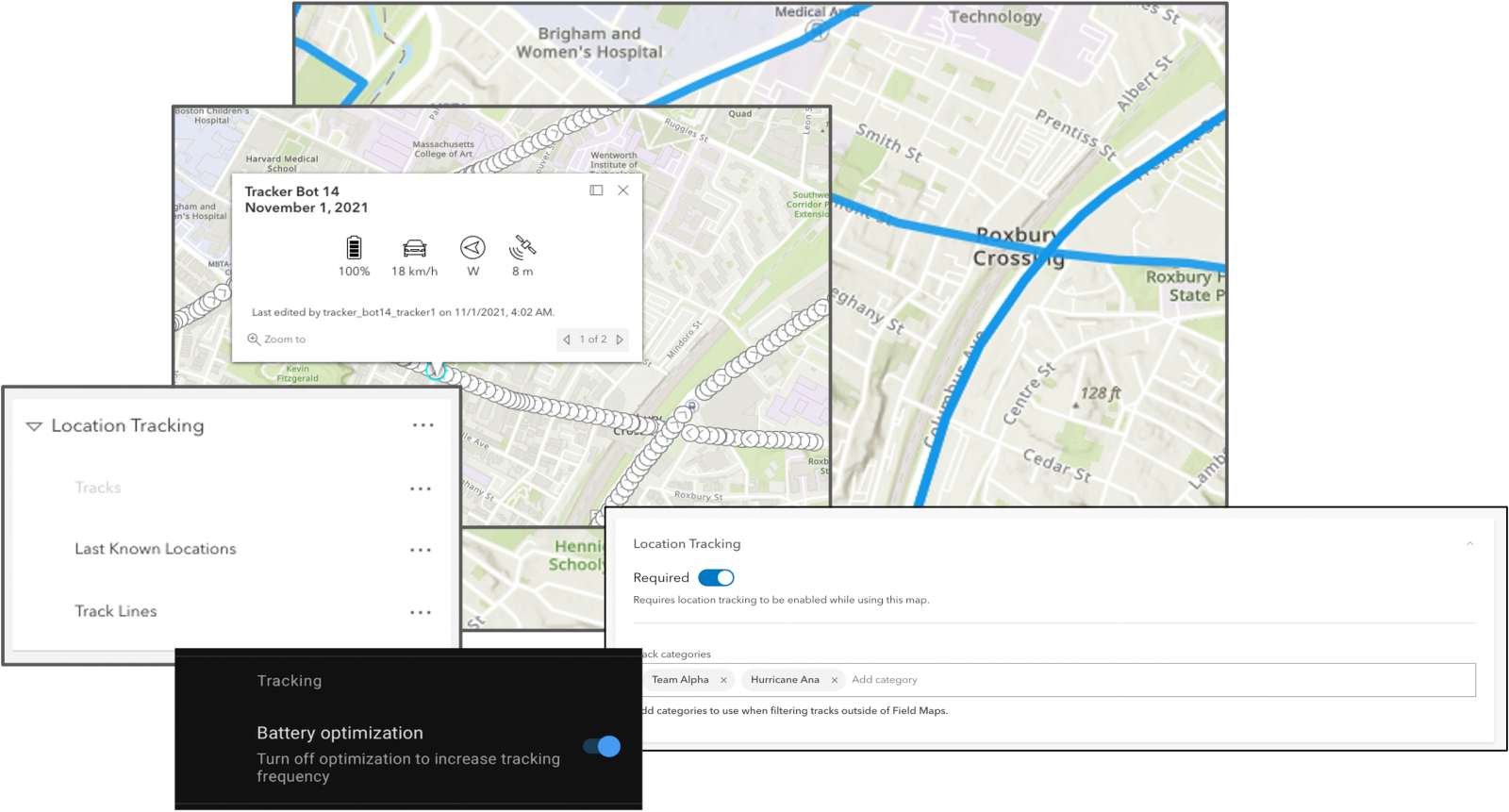 Working offline
Field Maps works where and when you need it to. Quite often that may be in a remote location, void of network connectivity. To optimize offline map use, you can configure map settings using the Field Maps web app. We've added several capabilities to optimize the use of maps in remote locations  used offline and Using the Field Maps web app to configure offline map settings, the way features and attachments are delivered to devices, and manage map areas.
You can configure offline settings, determine the way features and attachments are delivered to devices, and manage map areas.:
In the Field Maps web app, you can now set the level of detail mobile workers are allowed to use when creating map areas in the mobile app.
The user experience for packaging and scheduling managed areas inside of the Field Maps web app provides additional information.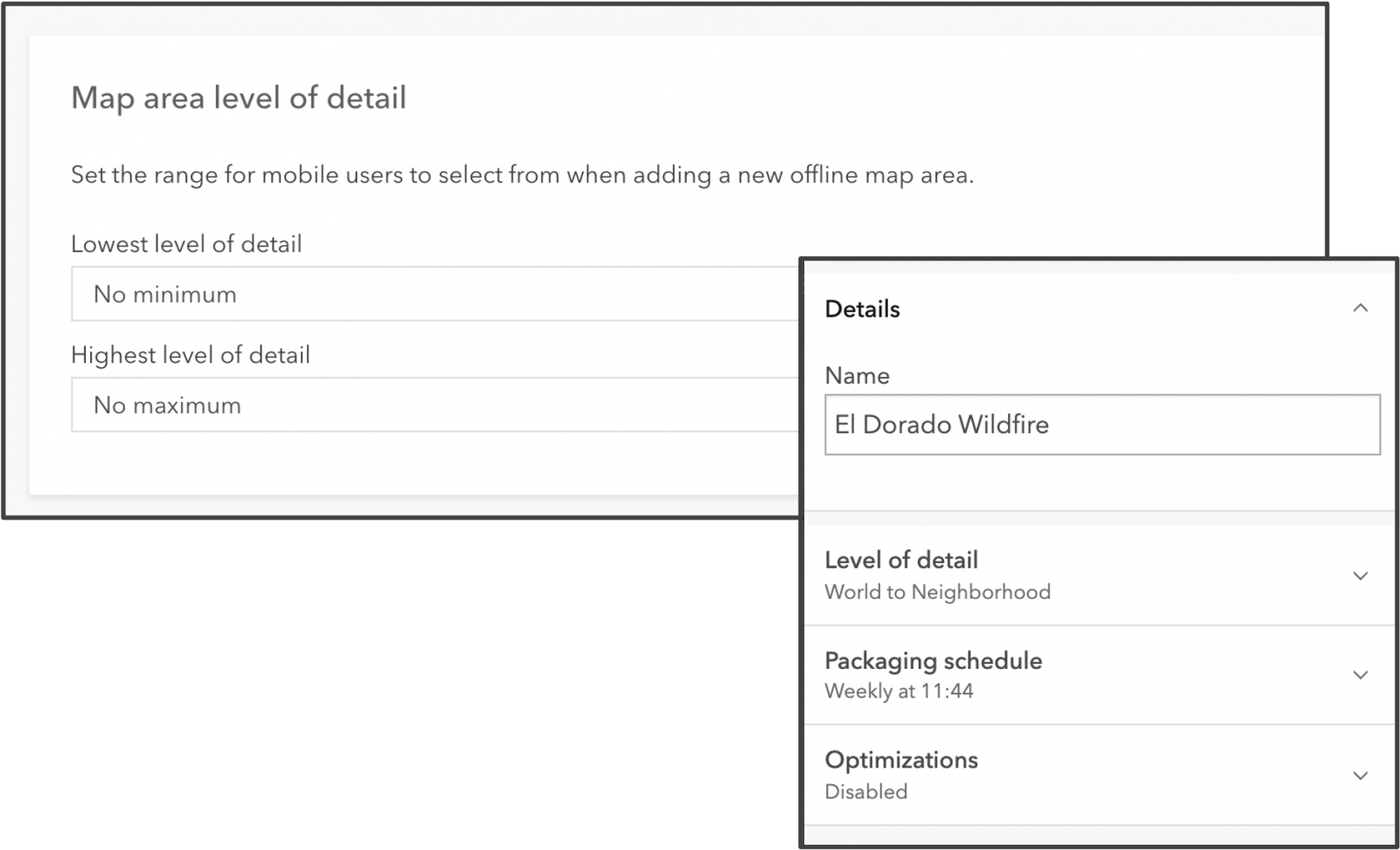 What's next
Looking ahead to 2022, the Field Maps team has an aggressive road map with a rich set of new capabilities coming early in 2022:
Form calculations – leverage the Arcade expression language to calculate form elements. This is an extremely powerful new capability that will propel the use of forms in Field Maps to new heights. Fully supported offline, you can apply simple equations to form values, decode a barcode scan and populate a collection of form values, use FeatureSets to pull and store values from other feature layers or tables or query and store portal information.
Contingent attribute values – make values in one form element dependent on values in another form element. For example, choice of a manufacturer may constrain the list of materials available to choose from.
Utility networks – in Q4 2021 the Field Maps team added the utility network viewing and tracing capabilities and you can expect to see Android join the beta program early in 2022. Field Maps will add utility network support on both the iOS and Android platforms in the first six months of 2022.
Indoor positioning – now that Field Maps supports Indoor maps, we'd like to teach it to support Indoor positioning systems as well.
Linear referencing – linear assets like highways, railroads, pipelines, and water or electric utility lines are managed as routes within a linear referencing system. Field Maps will add support for finding and locating measurements within a route.
Geotriggers – mobile users need to be notified in the field when they enter, exit, or approach a geofence. Geofences can represent boundaries, hazards, or other other areas of importance. Geotriggers can enhance operational awareness by notifying mobile workers based on their proximity to geofences.
Workforce coordination – mobile workers need to manage the work they need to do each day and coordinate with both the office and the field.
These are just a handful of features the Field Maps team are planning to add in 2022. We'd like to hear from you on your needs and priorities. Please post to our Esri Community Ideas site!