ArcGIS Insights combines data visualization and analysis to accelerate decision making. From interactive charts and maps to advanced analytics, Insights offers a wide array of capabilities to help you understand your data, answer important questions, and create interactive reports.
The Insights 2023.1 release (April 2023) includes a new report designer, a streamlined publishing workflow, and a map view in data engineering. Keep reading to learn more about these new features so you can try them out the next time you use Insights.
Report designer
The report designer is used to create layouts for interactive and printable reports. Interactive reports (previously called shared pages) can be configured for desktop, tablet, and phone layouts. Printable reports can be configured for common paper sizes and published to create a PDF file.
Learn more about the report designer
Publishing workflow
The workflow for publishing reports, models, and themes has been updated to streamline the experience. The Publish window (previously called the Share as window) can now be opened using the Publish button on the workbook toolbar.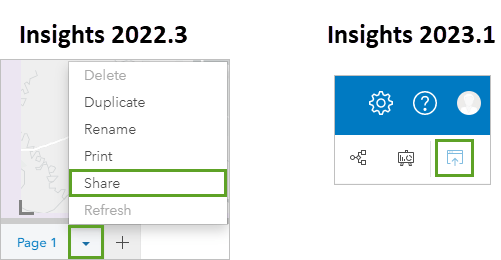 The Publish button is available from the page view and the report designer. If you publish a report from the page view, the report will appear exactly as it does in the page view. If you publish the report from the report designer, the report will use the layouts created in the report designer.
Map view in data engineering
Spatial datasets in data workbooks can now be visualized on maps. Mapping your data allows you to understand the spatial attributes in your data and verify results of spatial tools in your data engineering workflows.
Selections on the map are reflected on the table view and column summary and vice versa.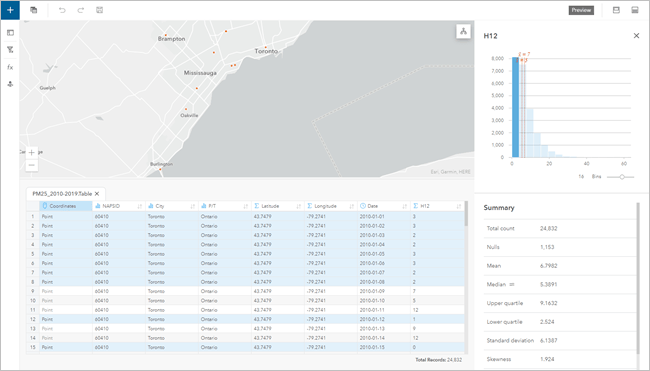 Other updates
More resources
You can now access these and several other enhancements in ArcGIS Insights. For a full list of new features, visit What's new in the Insights help documentation.
We love hearing from you! Visit Esri Community to ask questions, access resources, and submit ideas for new features you want to see in Insights.