What if you could access free data directly from your graphic editor software program? ArcGIS Maps for Adobe Creative Cloud© has made this possible! I built this Mount Baker Wilderness map all inside of Adobe Illustrator using ArcGIS Maps for Adobe. All the data were added with this same tool: The newly available USGS data, some transportation data from the Washington State DOT, and a DEM hillshade layer available to Maps for Adobe users.
During my very first cartography course at the University of Wisconsin-Madison, my professor told the class that one of the biggest challenges we will have as map makers is finding the right data for the maps we intend to make. This data-finding obstacle is the reason we map-making professionals celebrate open data collaborations like OpenStreetMap and free & accessible government data developed and maintained by the the U.S. Geological Survey (USGS). The USGS maintains valuable geo-data like Geographic Names Information System (GNIS) data, federal lands, contour lines, hydrography, and woodland tint (and more!).
Since its initial Alpha version, Esri's ArcGIS Maps for Adobe CC extension (M4CC) has offered Adobe Illustrator & Photoshop users access to Esri's geospatial cloud of data. This simplifies adding map layers to an Illustrator file or Photoshop document by giving users access to map data directly from Adobe's programs. Following this initial introduction of geo-data access, the M4CC team created a group of popular map layers configured specifically for designers and cartographers making maps with this extension. In this curated group of map data, map makers can find popular vector basemap layers like our Vector Street Map, and Natural Earth maps, both of which offer complete sets of global map layers. Read more about these layers here.
What new data?
Beginning this week, M4CC users can find newly added valuable datasets in the extension's Maps for Creative Cloud group.  Among these new datasets are three of OpenStreetMap's most popular layers: Building footprints, roads, and points of interest.  We've also added USGS data from The National Map (TNM), including woodland tint, GNIS points, federal lands, and contour lines (and more!). To locate this new data – as well as all the M4CC-curated data –  click the "Add Content" button in the extension's compilation window, and select the Maps for Creative Cloud location. From there you will find the all the newly available USGS and OSM data by clicking on that group from the drop-down menu. Read more about adding data to your map here.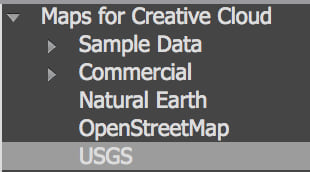 GNIS Point data & NHD Hydrography data
To simplify the layer-adding process, the GNIS & NHD map data is organized into the following comprehensive categories:
National Hydrography Dataset Plus version. flowline, area, waterbody, sinks, catchment and watershed boundaries.
National Hydrography Data Set. rivers, streams, lakes, waterfalls, gauging stations, wells and other water features.
Physical Points. Peak, valley, ridge, beach, meadow, and other prominent natural geographic features across the entire United States. This data comes in point format, along with the official GNIS names for each feature.
Cultural Points. This wonderful dataset includes point locations for bridges, populated places, schools, hospitals, parks, and more! Each of the data has its official name for ease of labeling each point appropriately.
Hydro Points. Some of this data is also included in the NHD Hydrography data set (non-plus version). This point dataset includes locations and official names for ponds, lakes, marshes, bays, creeks, rivers, springs, and any other USGS hydrographic locations.
Structure Points. This dataset includes building locations for fire stations, schools, commercial and real estate, banking, energy, weather stations, and much more. Note that there is some overlap within these datasets.
To label these GNIS points, use the "FEATURE_NA" field; the Structure Points layer uses the "NAME" field for labels.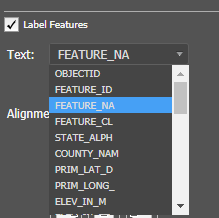 Woodland Tint
USGS topos have a beloved and easily recognizable look. Part of this style comes from USGS' woodland tint, which shows areas that have significant tree coverage. When you add this data layer to your map using M4CC, it loads quickly, providing map makers with an easily workable and gorgeous woodland tint layer.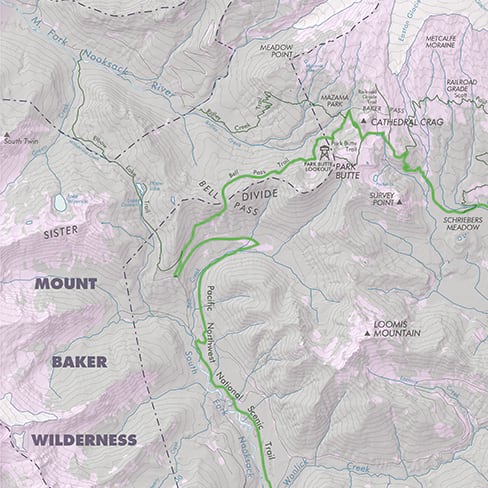 Contour Lines
The USGS contours, now available in the mapping extension, are best utilized when your map is large scale (very zoomed in; smaller than 1:100,000). More information about how the USGS maintains and creates these contour lines can be found here. Note that for this Mount Baker Wilderness map, the 100-foot contour lines were added for demonstration only.
USGS Governmental Units
In the USGS Governmental Units (GU) datasets, you can find useful polygon boundary map layers for the entire U.S. This Mount Baker Wilderness map (seen in full below) uses all the GU polygons available for this map's extent, which are the national forests, national parks, and federally designated Wilderness lands. Read more about the USGS GU data here.
USGS Major Trails
This dataset includes the United States' major trails, like the Pacific Crest Trail, the Appalachian Trail, and others in the federal trail system. You'll notice that the Mount Baker Wilderness map below includes a trail from this dataset; check out the bright green trail! The Pacific Northwest National Scenic Trail stretches more than 1,200 miles across Washington, Idaho, and Montana.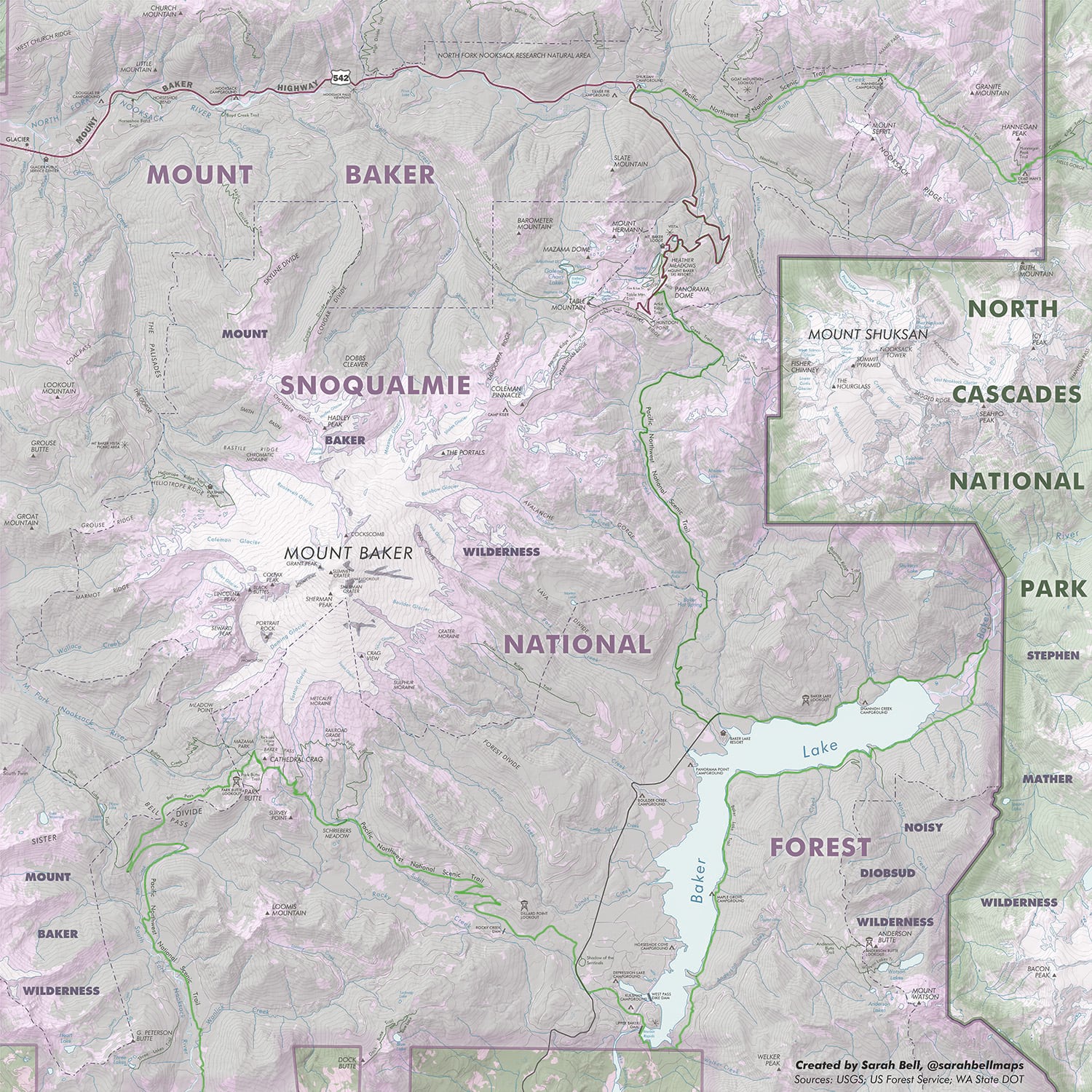 For step-by-step tips on how to make a recreation map similar to this one using the M4CC extension, check out this helpful post. Be sure to take a look at the M4CC help documentation, where you can read all about the mapping extension's components. If you prefer videos, we have a YouTube channel that we are continually adding to as well.
Commenting is not enabled for this article.