The 2020 Esri User Conference is a completely virtual event designed to give users an interactive, online experience with Esri and its community. Register today to unlock hours of technical workshops, keynote sessions and much more. Connect with our team of industry experts, available via live chat throughout the conference to guide you through it and answer all your questions.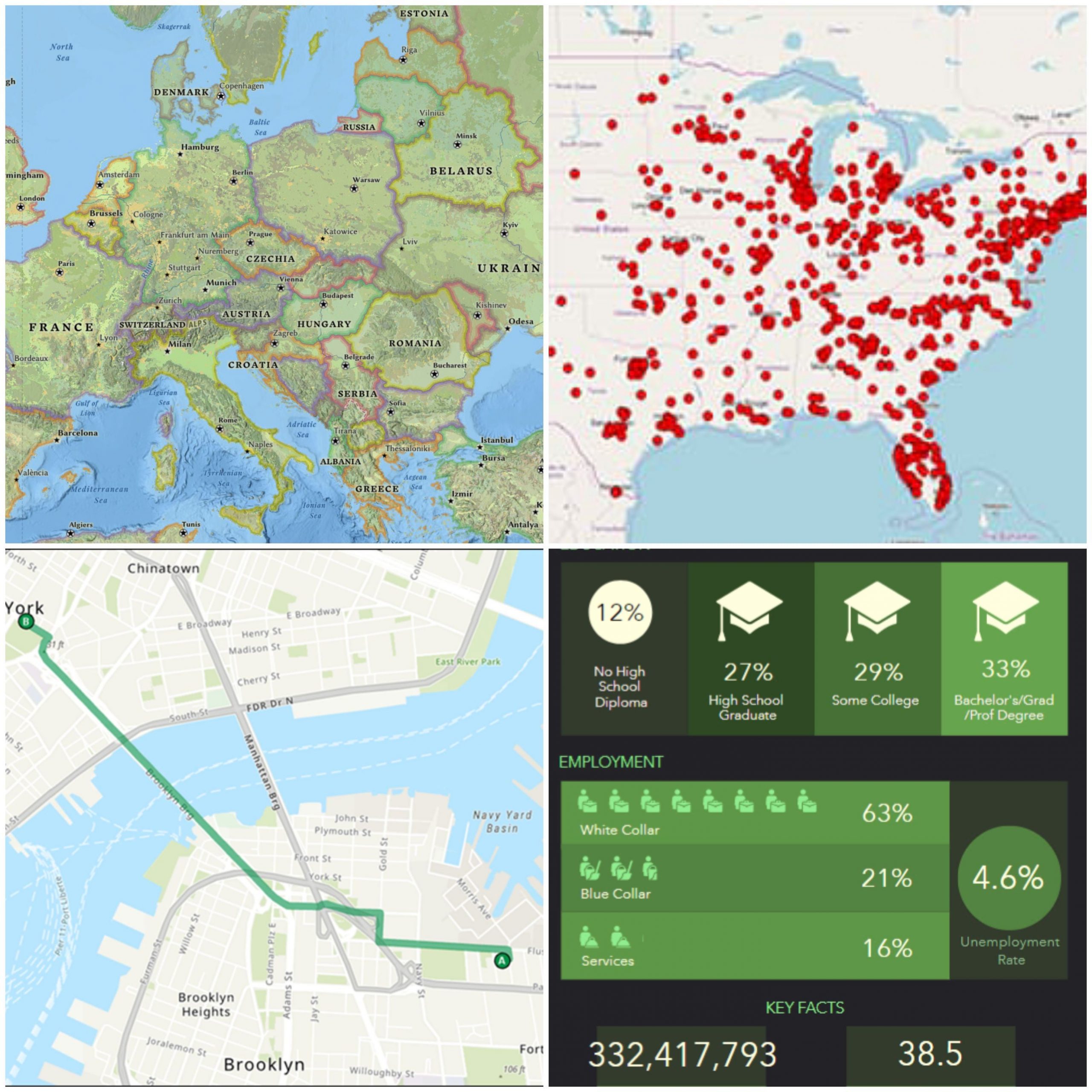 Introduction to ArcGIS Location Services:
ArcGIS Location Services help you visualize, question, analyze, and interpret data to help you to understand patterns, relationships, and trends. Add location intelligence to your applications and workflows with ease and simplicity. Build solutions with map, search, routing and enrich capabilities that perform and scale as your needs grow. Access ArcGIS Location Services anywhere, anytime and on any device to build, manage and deploy innovative solutions for web, desktop and mobile devices.
Here are some of the virtual sessions and tech workshops that you don't want to miss at the Esri User Conference.
Featured Sessions and Tech Workshops:
Esri Data and Location Services: An Overview
Streaming Live | Monday, July 13 | 2:50 pm – 3:50 pm (PDT)
Make better decisions with Esri's Data and Location Services collection and discover an in-depth look into the people, behavioral preferences, and places around the world. Come to this session to get an overview of what Esri offers and learn which sessions to attend throughout the conference.
So Many Amazing Basemaps! But Which is Right for You?
Streaming Live | Tuesday, July 14 | 08:40 am – 09:40 am (PDT)
Basemaps are the foundation for your maps and apps. In this session we'll consider basemaps as the stage for the story you're trying to tell. We'll break out of the defaults and review the options available to you through ArcGIS Living Atlas of the World, guide you through the selection process, show why some are designed for certain use cases over others, and dive a bit deeper into Esri's vector basemaps. Additionally, we will create, modify, and in general revel in the customizable fun of vector basemaps with the Vector Basemap Editor.
Build, Manage, and Customize Vector Basemaps in 60 Minutes!
On-Demand Session | View Anytime
You've got data and maps. We've got data and maps. Learn how to create and customize vector basemaps from team members who build and style them for the Esri platform. This is the best place to pick up tips, tricks, and tools to be successful with vector basemaps and have fun throughout the process. By the end of the session, you'll be equipped to transform your map's appearance in support of your brand or application's focus.
Geocoding: What's New
Streaming Live | Wednesday, July 15 | 8:40 am – 9:40 am (PDT)
This session will review the latest advancements in ArcGIS Geocoding. We'll touch on topics such as Geocoding with ArcGIS Pro and ArcGIS Online, interactive geocoding, batch geocoding, address re-matching and building custom locators. This session provides an introduction to new features, and highlights other workshops and sessions where you can learn more about each of the topics presented.
Enterprise Geocoding: Tips and Tricks
On-Demand Session | View Anytime
In this session we'll demo common ArcGIS Enterprise and ArcGIS Online geocoding workflows. We'll provide tips and tricks to enhance your geocoding workflows. We'll also go over different geocoding solutions to determine the best fit for your organization.
Introduction to Geocoding in ArcGIS Pro
On-Demand Session | View Anytime
This session is intended for beginner-level users either new to geocoding or new to ArcGIS Pro. We will cover a broad range of introductory geocoding topics and demo these functionalities in ArcGIS Pro so that users can leave with a solid foundation on which to begin their geocoding-related work.
Network Analyst: An Introduction
On-Demand Session | View Anytime
This session is for newer users of ArcGIS Network Analyst, an extension designed to model road networks and solve transportation-related problems. Network Analyst is often used to route fleets of vehicles, generate service areas, and perform site selection analysis. The presenters will discuss using the ArcGIS World Routing and Analysis Services, your own network analysis services, and local network datasets to solve transportation analysis problems.
Network Analyst: Creating Network Datasets
On-Demand Session | View Anytime
This session will discuss best practices for preparing your data for use with Network Analyst. This includes modeling network datasets that contain one-way streets, hierarchies, turns, and signposts. Considerations for building network datasets using travel modes will also be discussed. for building network datasets using travel modes will also be discussed.
Network Analyst: Optimize Your Fleet of Vehicles with the VRP Solver
On-Demand Session | View Anytime
This session introduces the capabilities of the Network Analyst vehicle routing problem (VRP) solver. We'll focus on modeling and solving real-world problems, incorporating complex constraints such as multiple-capacity routing, incremental assignment, multiple-day routing, time windows, and specialties. We will also discuss a workflow from planning to the distribution of routes to drivers.
Add Demographic Context with ArcGIS GeoEnrichment Service
On-Demand Session | View Anytime
Reveal facts about the people, places, and businesses in a specific area with GeoEnrichment Service. Query and display information from a large collection of global authoritative datasets, enrich your data, and generate beautiful infographics. Come to this session to learn how GeoEnrichment can help you to add spatial context to your work.
Other sessions can be found in the full agenda for the conference. Be sure to register! We can't wait to meet you at the virtual 2020 Esri User Conference!