ArcGIS Enterprise was a hot topic in the ArcGIS StoryMaps booth at the Esri UC this year. Many people stopped by to learn about the latest features in ArcGIS StoryMaps, but then asked, "What do I have available to me in ArcGIS Enterprise?" Since it's really dependent on your organization's version, the answer was undoubtedly, "It depends."
The good news is ArcGIS Enterprise 10.8.1 or higher includes Esri's professional storytelling tool, ArcGIS StoryMaps. However, the storytelling features available at each release change quite significantly. This blog captures what is included in the latest version, provides resources to help you determine what is available in previous versions, and gives a heads up about Esri Story Maps if you're still using the classic templates.
ArcGIS Enterprise

 11.0
Esri released ArcGIS Enterprise 11.0 in July for Linux/Windows and for Kubernetes in September featuring many new enhancements and functionality. If your organization is on that version, it contains the most robust features of ArcGIS StoryMaps available on ArcGIS Enterprise including:
New storytelling features and enhancements
An enhanced experience for working with text, including superscript and subscript, nested lists, formatting shortcuts, easier hyperlink configuration, the ability to drag text blocks and reorder them, and more
Customize the title, description, and thumbnail shown when a story is shared on social media
Disable updates to a story's ArcGIS item details during publication
Entire immersive blocks, as well as sidecar and slideshow slides containing an express map, can be duplicated
Audio clips and buttons can be added to map tour place descriptions
The block palette and many other builder components have an updated design
Mapping
Express maps can be used with map actions and in swipe blocks
3D mode is available for map tours
A new map tour can use a basemap in any projection
The legend can be pinned open
A time animation widget is available for time-enabled maps
Themes
Published themes can be kept private or shared to your organization and groups
Browse and use themes that have been shared to you through your organization or groups
It's easier to set and work with approved themes
Collections
Images, videos, and PDFs can be added to a collection
Add a story, app, or web page to a collection using its link
More improvements
Stories, collections, and themes can be shared through distributed collaboration
Action buttons on StoryMap item pages indicate whether the item is a story or collection
StoryMap Theme item pages have a 

Share

button and action buttons to create a new story or collection
Language support for Bulgarian has been added
You can learn more about each of these features in our What's New in ArcGIS StoryMaps blogs.

Features Available by Release
Understandably, not everyone is on ArcGIS Enterprise 11.0 yet. If you are on an earlier release, you can review a detailed list of the capabilities of ArcGIS StoryMaps by release here.  Better yet, the team compiled a comparison chart allowing you to see which features are available in ArcGIS Enterprise by release.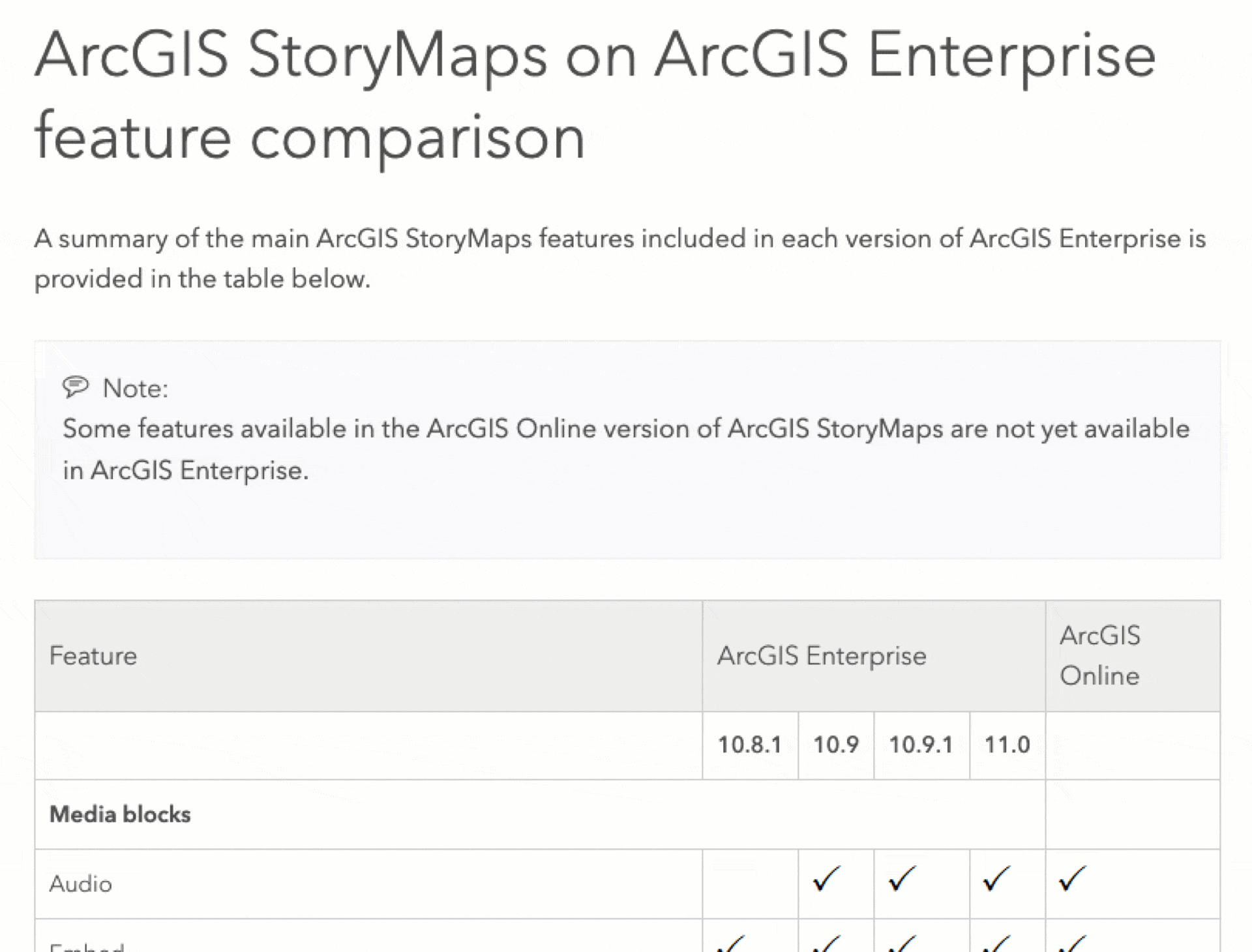 Esri Story Maps templates
In case you missed it, ArcGIS Enterprise 11.0 no longer includes the ability to create new classic Esri Story Maps stories nor view existing stories created with the classic templates. To clarify, ArcGIS Enterprise 10.9.1 is the last version to include classic Esri Story Maps templates for both authoring new story maps and for viewing existing story maps created using these templates.
If your organization uses one of the classic templates, please upgrade your stories to current-generation products prior to upgrading.  For classic stories that are still in active use, we recommend recreating them with ArcGIS StoryMaps.
Several resources exist to help you make the switch to ArcGIS StoryMaps:
Please note: If you upgrade to ArcGIS Enterprise 11.0 with a classic Esri Story Maps template present, the item will show up in your Content with a "Retired" badge. Though you can view the item, you will no longer be able to access the application.
Special thanks to Jill Edstrom-Shoemaker and Philip Heede for providing the content above in a previous ArcGIS blog.