ArcGIS StoryMaps is updated regularly with new features and capabilities. Read on to learn about what's been added this month.
Customize social metadata and item details
Promoting and socializing your content is an important part of storytelling. One thing that ArcGIS StoryMaps does to help in this area is to make the external view of your content look good without you having to think about it. By "external view" we mean the image and details used to represent a story when it appears in a list of content such as a social media feed, a group or other list of items in ArcGIS, or on your My Projects page in ArcGIS StoryMaps.
Initially, the builder uses information from your story (its title, subtitle, and cover image) to generate the external view. The same information is also used to populate the ArcGIS item details, and the item details are kept up-to-date on every publish. That means when you update the title, subtitle, or cover image in your story those changes are reflected in the external view of the story.
Having the internal and external views of a story in sync works well in many cases, and it's nice and easy because it doesn't require any additional work. However, there are cases where you might not want these views to be the same, and for those situations you now have the flexibility to customize a story's external view.
Go to Story settings and then to the new Share card tab. Initially, you'll see your story's current cover image, title, and subtitle. You can replace the image with a different one and edit the other details, if desired. If your story has already been published, any changes made to these share card details won't be visible until the next time you publish.
We've heard from ArcGIS power users who have specific requirements for how they want item thumbnails or other details to look in ArcGIS. These authors wanted additional flexibility to manage the different external view of their stories in different ways. The new Share card settings also comes along with a checkbox that lets power users unhook the link between the story and its item details so you can manage each independently. So, if you want to edit the item details and not have those overwritten each time you publish a story, simply uncheck this box at the bottom of the Share card tab!

Use Python with StoryMaps
The ArcGIS API for Python is a powerful library for mapping, spatial analysis, data science, geospatial AI, and automation. The API was just updated to version 2.0, and there are a lot of new capabilities and improvements. One of our favorite additions, of course, is the new module that enables you to work with StoryMaps!
The new module enables you to use python to create new stories and edit stories in a variety of ways. This means you can do things like automate the update process for a story that needs new charts or maps based on the latest data or create a series of similar stories with different text and maps. See the release notes for the Python API for more detail.
Design updates
Our team has been working on a design refresh for ArcGIS StoryMaps to improve usability, visual consistency, and the overall experience. We've rolled out the first in a series of updates that will continue over the next releases. In this round, you'll notice a sleeker, more compact block palette and updates to the buttons and badges around the builder and your My Projects page. We hope you like these changes that make things look and feel a bit more crisp and snappy.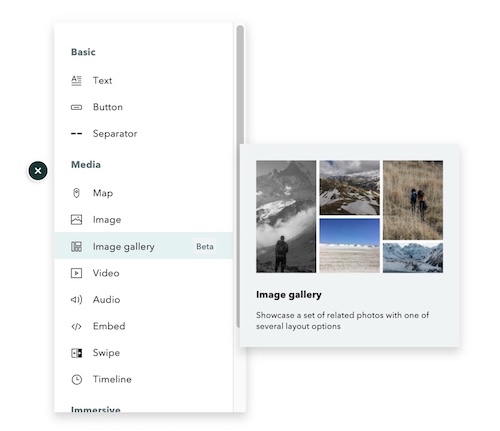 Easily reuse images
You can now reuse images you've already added to a story without having to re-upload them or find the link again. When inserting an image in a story you'll see a new tab called This story and it's where you can go to pick from any of the images you've added so far.
New embed option
Based on feedback from our community, we updated the options for immersive media panel embeds to include the option to show or hide the "Open in new tab" button. This panel was also updated to more clearly indicate which options apply to how your embed appears on large vs. small screens.
Accessibility and usability enhancements
Several improvements in the area of accessibility have been added this month including a "Skip to content" button, which is a useful element that many websites include to assist people who are using keyboard navigation. This button allows readers to jump over the header and navigation buttons to get right to the main page content. For more about the accessibility of ArcGIS StoryMaps, see the accessibility FAQ.
More updates this month:
Add longer attribution text (the limit was increased from 100 to 125 characters)
A new keyboard shortcut (:) to convert text blocks to a paragraph (see last month's what's new article for more about these shortcuts)
And more…
We've also made dozens of updates to the ArcGIS StoryMaps documentation and FAQs including several new topics and many updates to improve clarity and provide more detail about using ArcGIS StoryMaps. NOTE: Documentation updates will be available on February 24, 2022.
For more detail about the rest of the additions and fixes to ArcGIS StoryMaps this month, see the release notes.
Thanks to StoryMaps editorial team member Will Hackney for his contributions to this post.
Banner image by Geralt on Pixabay