ArcGIS Survey123 is a complete, form-centric system providing sophisticated data collection, workflow automation, analysis and reporting capabilities. Organizations around the world use it to replace paper forms and obsolete data collection workflows. Survey123 excels at a wide range of uses from online research surveys to field asset inventories and inspections.
We are excited to present our September 2021 release. Read on to learn what's new:
New Address question type
Image support in the ArcGIS Survey123 field app inbox
Calculations in the Survey123 web designer
XLSForm improvements
Other enhancements
New Address question type
The user experience you choose for users to submit data, dictates the quality of the data you get.  In many scenarios, an address, not a map, is the simplest and most natural way to describe the exact location of something. With the new Address question type, you will help users enter an address into a Survey123 form easier and faster than ever before.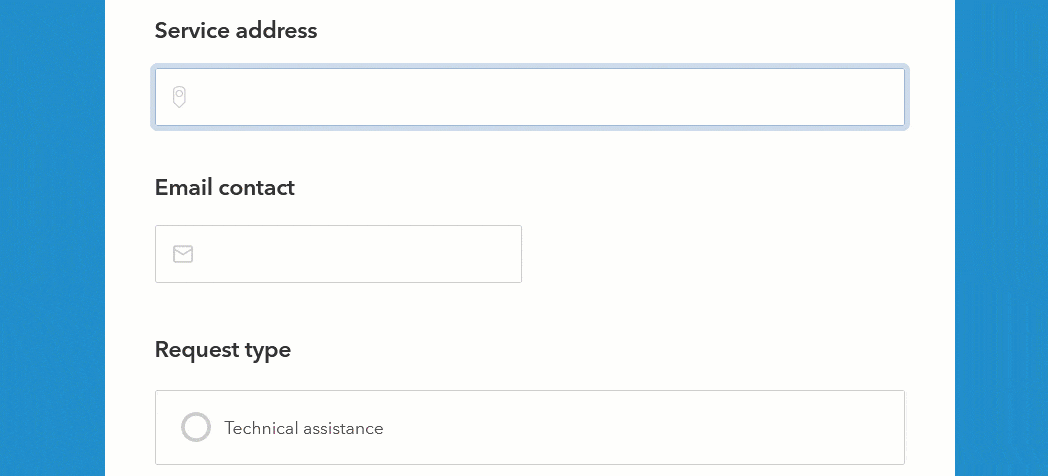 When it comes to collecting the location of something, the new Address question is a great alternative to the Map question type. It can simplify and accelerate data capture, while boosting the quality of your location data.
Read these two blog posts to learn more about the new Address question:
Image support in the Survey123 field app inbox
The inbox is a powerful feature. It lets you download and edit your data in the Survey123 field app. The inbox is commonly used to support routine asset inspection workflows and to manage field work assignments.
Up until this release, records in the inbox included geometry and attributes as well as related features, but not attachments. Starting with version 3.13, the Survey123 field app let's you dynamically download images associated with records in your inbox.
The animation below shows a hydrant inspection workflow.  A hydrant record previously downloaded into the inbox is opened showing its location, attributes, and information about previous inspections. Note that the inspection log includes photos as well.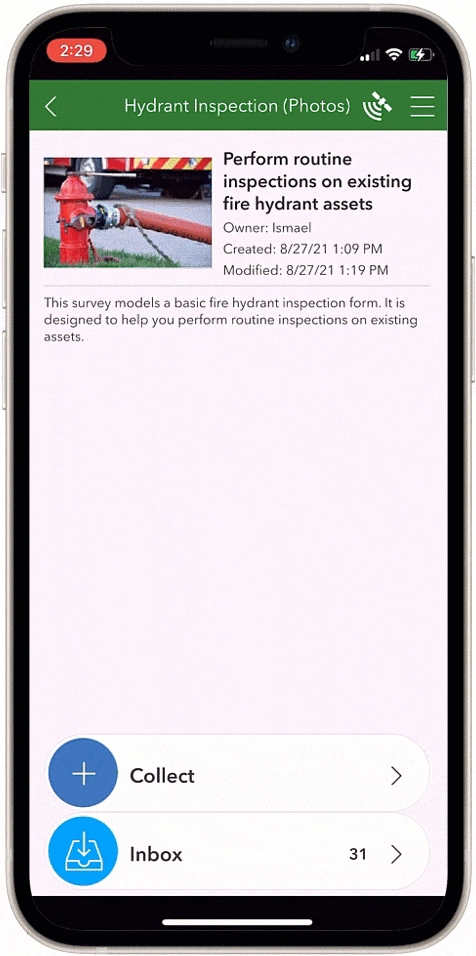 Support for images in the inbox has been a popular ArcGIS Suvey123 Idea for a while, so we are pleased to make a good start on this one!
Calculations and hidden questions in the Survey123 web designer
Authoring forms with the Survey123 web designer is as easy as dragging questions into your design and visually configuring their look, feel and behavior. All from your web browser! With the Survey123 web designer you can intuitively build powerful smart forms in minutes, distribute them and immediately use the collected data to support decision making.
In addition to the new Address question, this release introduces support for calculations in the web designer. Through a calculation, you can populate a question using previously entered data from your form. For example, you can take values from two numeric questions and automatically calculate their average in a third question.
A well-designed smart form uses calculations to enrich your data while minimizing user input. In the animation below, for example, a calculation is used to automatically extract the postal code from an address question.  The postal code value is stored in a separate field and hidden from the user to avoid distraction.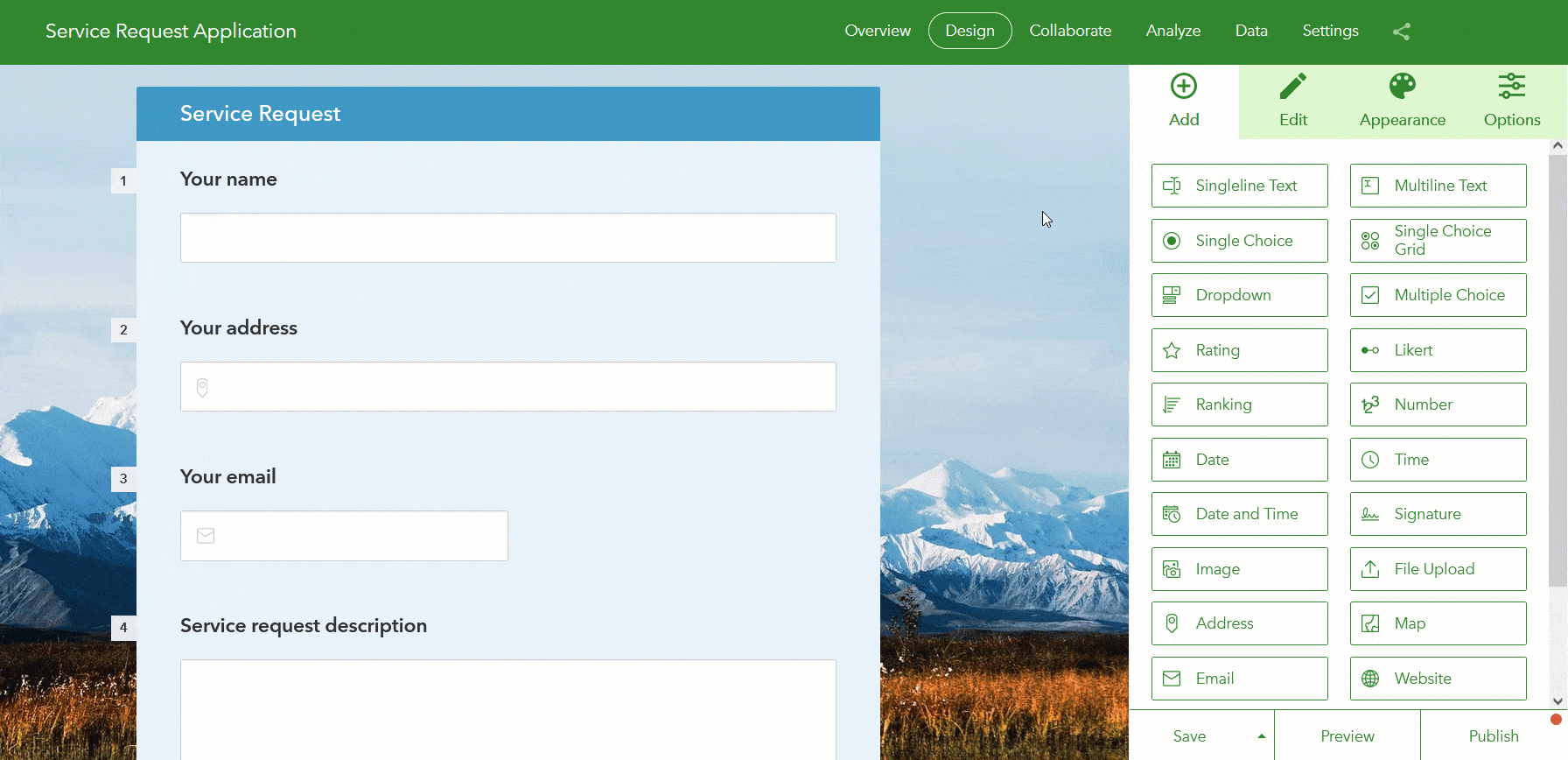 XLSForm improvements
XLSForm is the language of smart forms. Survey123 adheres to this powerful industry standard. Survey123 Connect is a desktop application that you can download to author and publish Survey123 forms using the XLSForm specification.  With every release, XLSForm support in Survey123 grows. Here is what's new:
Dynamic lists: Use the search appearance to dynamically populate a choice list from a query to a feature layer or CSV file. To learn more, read this blog article covering dynamic lists  in Esri Community.
The new body::esri:visible column lets you use an expression to control the visibility of a question while preserving its current value.
Use the body::accept column to control which file extensions can be uploaded to a file question in your form.
Guidance hints, external CSV files and input masks are now supported by the Survey123 web app.
A new URL parameter lets you force the recalculation of a question when the form is opened in edit mode in the Survey123 web app.
To learn more about XLSForm, check our XLSForm essentials help.
Other enhancements
Finally, this update brings many other enhancements including:
Survey123 & Field Maps form comparison: Did you ever wonder what smart form capabilities Field Maps and Survey123 support? Check out the Form Comparison help topic for the whole rundown.
Streamlined annotation tools user experience: Did you know you can annotate photos, maps and diagrams right from within the Survey123 field app? Even if you already know, you should check the massive UX improvements added in this release.
Enhanced web accessibility in the Survey123 web app: This update adds support for screen readers among other things, but for the details check our recently updated web accessibility conformance report and this best web accessibility best practices blog for Survey123 authors.
Survey123 report service: The creation of reports with many maps and images is now faster. We are confident you will be able to tell the difference! We also added options to help you format numbers better and to specify custom symbology for Survey123 features in the map. Check our Survey123 report syntax help.
Do you love Python? Then you will love our new ArcGIS Survey123 Tools Github repo. It includes many scripts and tools to help you automate common Survey123 tasks: cloning surveys across organizations, downloading data, automating reports and much more. Best of all? All scripts are shared under the Apache 2.0 Open Source license and the repo is open for your contributions.
More resources and next steps
To learn more about what's new in this and previous releases, check out the What's new help archive.  Through the Survey123 group in the Esri Community, you will have access to more detailed blogs and an open forum where you can post your questions. You can also find more Survey123 content in the ArcGIS blog.
We are already working on our next update. Join the Survey123 Early Adopter Community to get access to the latest version of the software, read documentation on upcoming features an participate in the early adopter user forums.