The Esri User Conference is back at the San Diego Convention Center July 11 to 15, 2022!  For those who can make it, it's going to be so nice to see you in real life as we explore this year's theme: GIS – Mapping Common Ground.
Registration is Open
You can attend the UC live or register for digital access. Please visit the UC registration page for full details.


ArcGIS Survey123 UC 2022 Sessions
We understand navigating the various sessions may be a bit of an adjustment after two years of virtual attendance from the comfort of your home. Hopefully, this overview will make it a bit easier for you to plan your time, so you don't miss any important ArcGIS Survey123 sessions.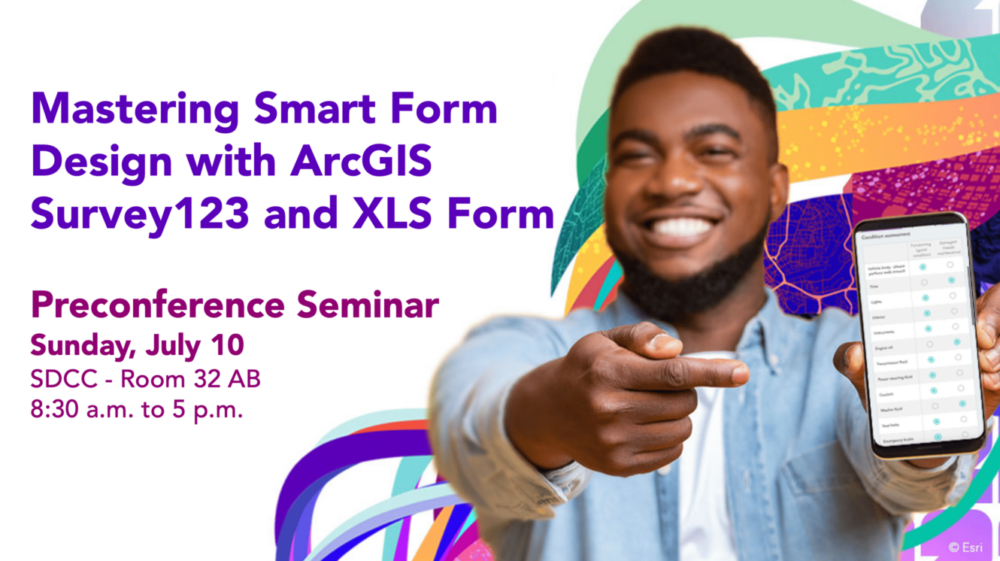 Preconference Seminar
Mastering Smart Form Design with ArcGIS Survey123 and XLSForm
This seminar requires a separate registration Learn More >
SDCC – Room 32 AB
8:30 a.m. to 5 p.m.
The learning begins before the conference starts! Join this hands-on preconference workshop to learn how to design smart forms using Survey123 and XLSForm. Topics include: XLSForm basics, working with lists, calculations and data validation constraints, multi-lingual surveys and more. Bring a Windows laptop with Survey123 Connect and Microsoft Excel (or equivalent spreadsheet editor) software installed, and a mobile phone or tablet (iOS or Android) with the ArcGIS Survey123 app installed.
Instructors: Philip Wilson, Brett Stokes, James Tedrick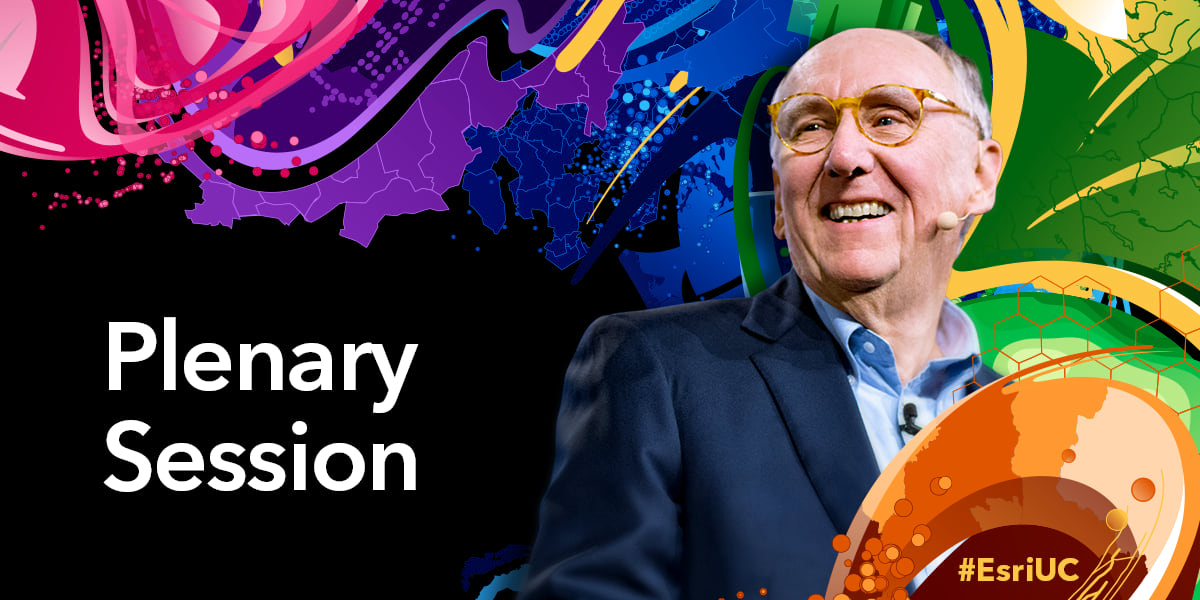 Plenary Session

SDCC – Exhibit Halls FGH
8:30 a.m. to 3:30 p.m.
You won't want to miss seeing Jack Dangermond, Esri Founder and President, on the main stage. He will share his vision of the future of GIS, explore maps from our global community and introduce the latest ArcGIS system innovations. Throughout the captivating Plenary, Jack will be joined by various industry experts who will share real-world successes and Esri experts who will provide world-class demos.

On Tuesday, you will have opportunities to see Survey123 in action and meet the team.
ArcGIS Survey123 Booth Location
Visit our team on the Showcase floor in the ArcGIS Apps area to learn more about ArcGIS Survey123, see some demos, and speak with our technical experts.  We'll be in the booth Tuesday to Thursday. Come by and say, "Hi!"

Spotlight Session
Working with Addresses in Survey123
11 a.m. to 11:25 a.m., ArcGIS Apps booth
Learn tips and tricks to get the best out of the Survey123 address question type.
Instructor: Ismael Chivite

User Presentations
You can also attend three engaging user presentations throughout the day including:
1. Community and Youth Engagement
8:30 to 9:30 a.m., SDCC – Room 29 D

"Steps to Equity" will share how their organization used Survey123 to create a walkability assessment of a Cleveland neighborhood in collaboration with John Carroll University students and neighborhood residents.
2. Supporting Indigenous Conservation and Restoration with GIS
10 a.m. to 11 a.m., SDCC – Room 24 B
This session will explore how using GIS tools, including Survey123, are helping indigenous communities use their traditional ecological knowledge to conserve and restore their lands many of which include the ecosystems that are being hit the hardest by climate change.
3. ArcGIS: Empowering Small and Rural Systems
2:30 p.m. to 3:30 p.m., SDCC – Room 24 C
Join this session to learn how small utilities are digitally transforming using web maps and field applications, including ArcGIS Survey123, resulting in improved efficiency and collaboration.
Whether you're a novice or expert, you can join a session or demo on Wednesday to learn how to build forms with ease using ArcGIS Survey123.  And yes, we're in the booth, too!
Technical Sessions
ArcGIS Survey123: Modelling Inspection Workflows
SDCC – Expo Demo Theater 12
10 a.m. — 10:45 a.m.
This session will provide a step-by-step guide to help you efficiently model asset inspection workflows using Survey123.
Instructors: Zach Sutherby, Ismael Chivite

Spotlight Session
Survey123 Smart Camera and Markup Tools
11:30 a.m. to 11:55 a.m., ArcGIS Apps booth
The Survey123 camera hides many secrets. Learn how you can leverage built-in AI features to augment your data collection experience. We will also cover the new camera markup tools.
Instructor: Jim Moore, Philip Wilson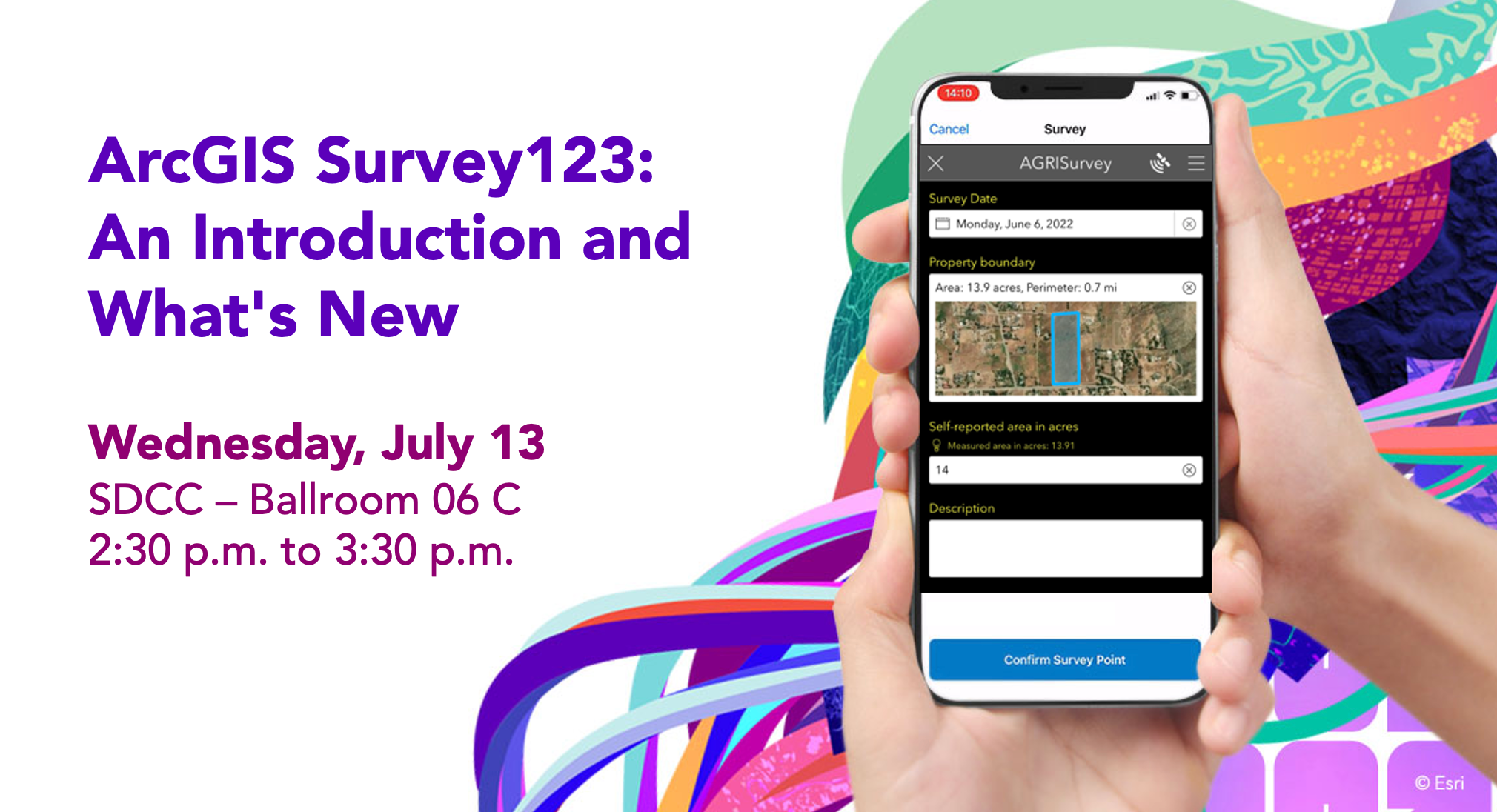 ArcGIS Survey123: An Introduction and What's New
SDCC – Ballroom 06 C
2:30 p.m. — 3:30 p.m.
This session provides a high level overview of the different components of ArcGIS Survey123 including its smart form authoring tools, web and mobile applications as well as the Survey123 report services and automation tools.
Please note: This is a hybrid session and will be available to digital attendees.
Instructors: Zach Sutherby, Ismael Chivite

Spotlight Session
New streaming tools in Survey123
4 p.m. to 4:25 p.m., ArcGIS Apps booth
Learn how the NASA Harvest program used the new Survey123 streaming tools to document land ownership, and how you can use these tools, too.
Instructor: Zach Sutherby, Brett Stokes

User Presentations
You can also attend several interesting user presentations that include Survey123 including:
1. Field Data Collection for AEC with GIS
8:30 to 9:30 a.m., SDCC – Room 25 C

ArcGIS field data solutions, including Survey123, help mobile workers perform data collection and editing, find assets and information, and report their real-time locations as outlined in the projects throughout this session.
2. Supporting Resilience: Collecting, Managing, and Sharing Data
1 p.m. to 2 p.m., SDCC – Room 24 B
See various data stories including how ArcGIS Survey123 provided a one-stop shop for collecting, storing, and sharing data in an engaging format.
3. Collecting and Sharing Field Data
2:30 p.m. to 3:30 p.m., SDCC – Room 24 B
Learn how HRWC converted its paper-based volunteer data collection systems with mobile data collection using Survey123 and Field Maps to collect info offline, provide a centralized data repository, and gain a better understanding of the water supply system.
4. Paper to Digital: Streamlining Workflows with Maps and Apps
2:30 p.m. to 3:30 p.m., SDCC – Room 24 C
Gain insight into how water utility professionals are digitally capturing their work, including field data collection, asset management, and data analytics, using ArcGIS Survey123 and Field Maps.

We'll wrap up our educational sessions on Thursday with a variety of user presentations, technical workshops and demo theater presentations. It's also our last day in the booth, so be sure to get your button or sticker if there are any left!
User Presentation
Innovations in Land Records
8:30 to 9:30 a.m., SDCC – Room 24 A

Learn why GIS is critical to good land administration by enabling new capabilities and providing new insights. The ArcGIS system, including Survey123, helps with collecting and sharing land information in challenging environments and managing a million acres in a highly developed state.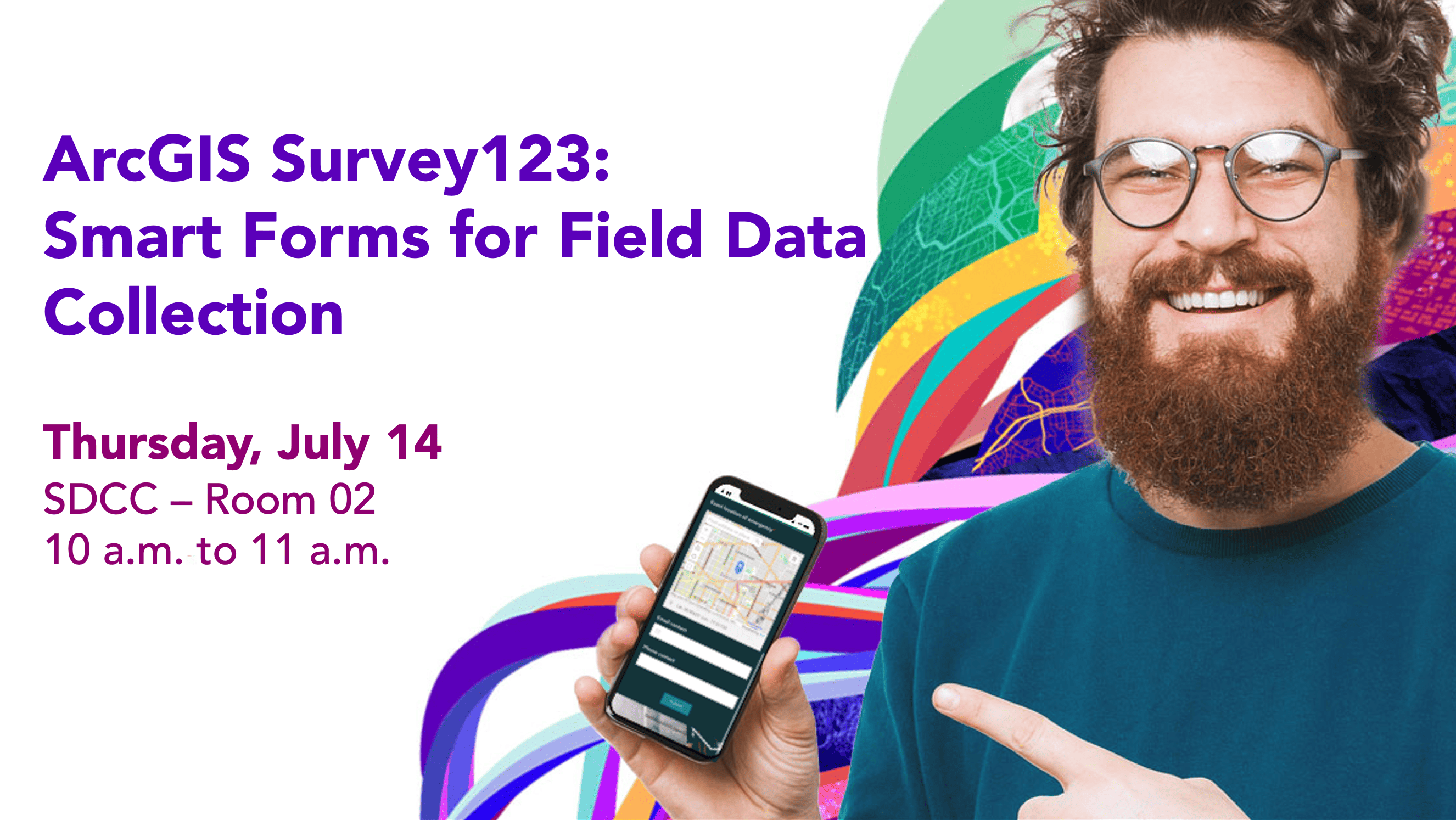 ArcGIS Survey123: Smart Forms for Field Data Collection
10 a.m. to 11 a.m.
SDCC – Room 02
Using ArcGIS Survey123, you can deliver the most sophisticated smart form capabilities to your field crews. In this session we will explore a handful of topics to help you get the best out of the Survey123 field app, including: configuring and linking maps for offline, working with image annotation tools and connecting the app to external GNSS receivers.
Instructors: Ismael Chivite, James Tedrick

ArcGIS Survey123: An Introduction to Reports
SDCC – Expo Demo Theater 03
11:15 a.m. to 12 p.m.
Join this session to learn how you can generate high quality PDF reports from your Survey123 data. Include tables, photos and maps in your reports. Decide how to organize information in your report and how to style it to follow specific requirements.
Instructors: Barbara Webster, James Tedrick

ArcGIS Survey123: Tips and Tricks Using Python
SDCC – Expo Demo Theater 11
12:15 p.m. to 1 p.m.
Join us to learn how Python can help you manage and automat common Survey123 tasks: Move surveys across organizations, download data (including attachments), automate Survey123 reports and more.
Instructors: Zach Sutherby, Marika Vertzonis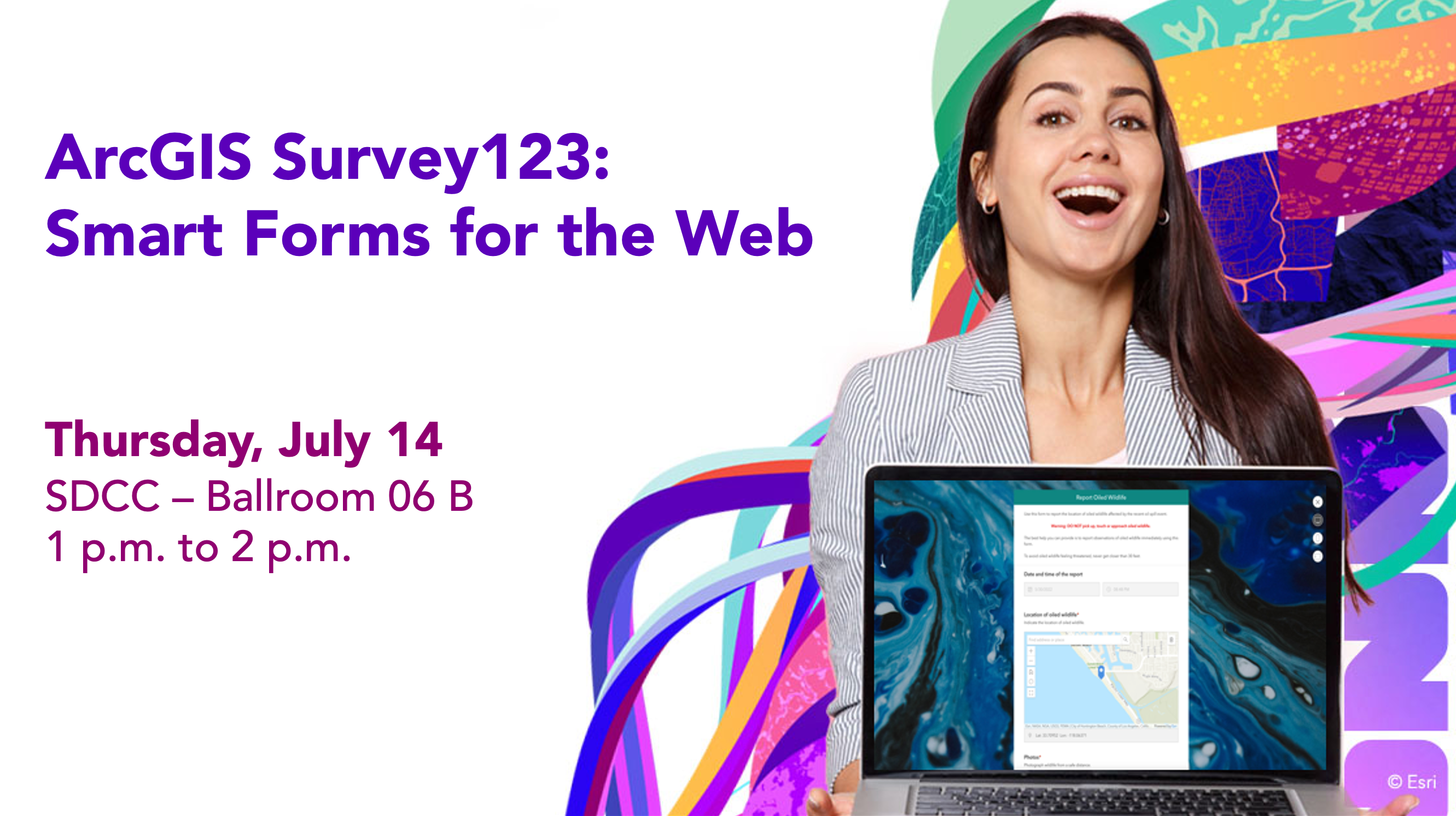 ArcGIS Survey123: Smart Forms for the Web
SDCC – Ballroom 06 B
1 p.m. to 2 p.m.
In this session, you will learn how to design Survey123 forms for the web. We will share security best practices and demonstrate how to effectively share your surveys though your own website, ArcGIS Hub and social media.
Instructors: Barbara Webster, Ismael Chivite

ArcGIS Survey123: No-Code Workflow Automation
SDCC – Expo Demo Theater 12
1:15 p.m. to 2 p.m.
Learn how to automate email notifications and other tasks using the Survey123 connector for Integromat and Microsoft Power Automate.
Instructors: Zach Sutherby, Marika Vertzonis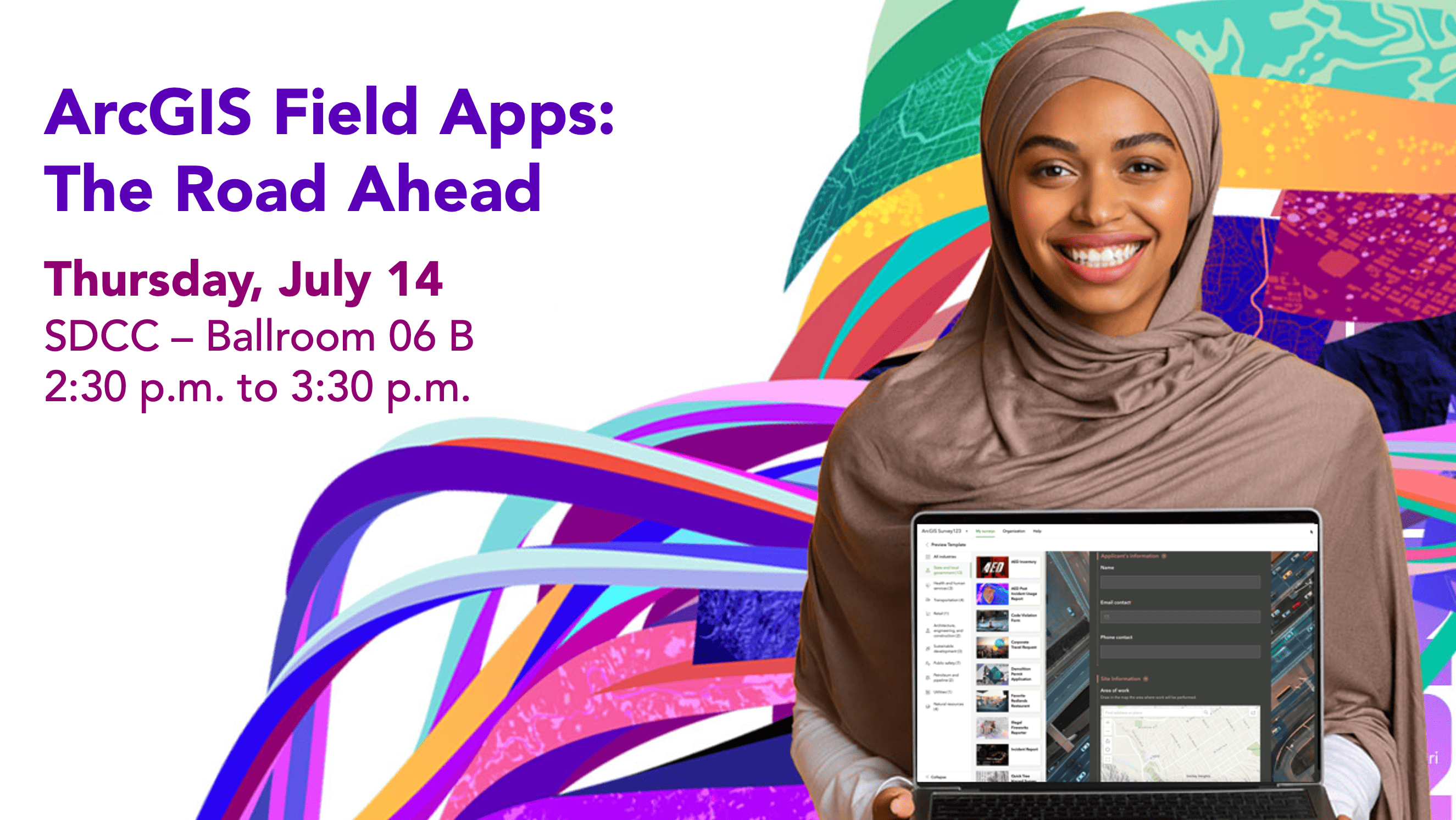 ArcGIS Field Apps: The Road Ahead
SDCC – Ballroom 06 B
2:30 p.m. — 3:30 p.m.
Join this session to hear the field apps team discuss what's new and what's coming to Esri field apps. This session will cover the entire field apps suite which includes: Field Maps, Navigator, QuickCapture, Survey123, and Workforce.
Instructors: Liz Armstrong, Sarah Saint-Ruth, Jeff Shaner, Ismael Chivite
If it's your first year at the UC, fear not. It's my first year (in person), too!  And if you're a veteran UC attendee, we'd love to hear your UC pro tips in the comments. I look forward to speaking with you (and learning with you) all.