Since the Clean Water Act was enacted in the 1970's, industry, environmentalists, litigators, and politicians have fought over its semantics. To an outsider looking in, it is perhaps one of the most fascinating and contentious pieces of environmental legislation in our country's history. When it was first enacted, few state or local governments had water regulations of their own, and once it was enacted, many governments have continued to rely on federal oversight to manage their water resources.
We have also learned a lot about the role that clean water plays in our health and the health of the environment since the 70's. Wetlands play a significant role in buffering the impacts of flooding, filtering harmful pollutants and protecting sensitive plants and animals. The products of a healthy wetland impact our communities' economies positively, with benefits to local GDPs, home values and providing outdoor recreational opportunities.
This latest ruling by the Supreme Court is already making waves amongst regulators and the regulated community, alike. Federal permit determinations are at a standstill while federal agencies seek guidance on what this latest ruling means for their regulatory programs, and some states are fielding calls from landowners about what this means for them. According to the Environmental Law Institute, only 19 states have varying levels of regulations beyond that of what the definition of "Water of the United States" covers.
While the full impact of this ruling remains to be seen, one conclusion is that communities and states will play a larger role in protecting their communities' wetlands and water resources. Many viewed Phoenix's announcement the same week as the SCOTUS ruling as evidence of this.
Fortunately, since the 1970's, geographic technology, or GIS, has vastly improved our ability to quickly respond to and deploy the tools necessary to understand intersectional issues of the environment, the economy and our social systems and make data-driven decisions that balance our needs in harmony with our environment.
Let's examine how GIS is already being used to help us facilitate a variety of workflows related to wetland protection.
Digital Tools for Collecting Field Observations
Wetland delineation is a critical step in understanding how a given development project may or may not impact water resources in the project area. Wetland delineation is conducted by trained scientists who understand the hydrologic, floristic and soil characteristics that define a wetland's boundary. To document these observations quickly, environmental scientists use tools like ArcGIS Survey123 and ArcGIS Field Maps. These tools provide organizations with the capabilities to configure data collection to meet regulatory requirements and standards, while the end-user is given an intuitive interface that walks them through collecting the right information. This reduces the overhead time required to train new staff, while ensuring all staff are entering information consistently and accurately, on or offline.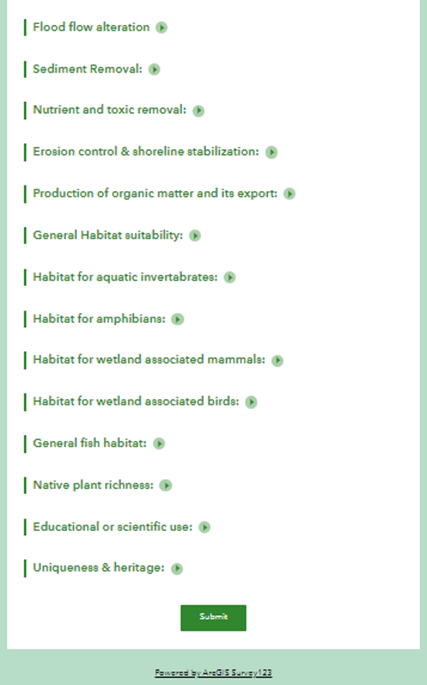 Washington State Department of Ecology publishes two wetland rating systems to account for unique conditions found in the western and eastern part of their state. These rating systems allow stakeholders to understand the value a given wetland may provide, whether that is ecological, economical, recreational, aesthetic or some combination of these. The Washington State DOT converted these system ratings to an ArcGIS Survey123 tool that can be used to help scientists in the field collect this information in a standard way.

Environmental consultants are also using GIS tools to facilitate this work. For example, Fisher Associates, an AEC consulting company, uses ArcGIS Field Maps to accurately depict conditions in the field while also ensuring their data collection processes are up to the latest regulatory requirements, which can change often and vary across a landscape. This use allows their staff to review field information on the fly and correct jurisdictional attributes as necessary on wetlands and other biological and environmental information.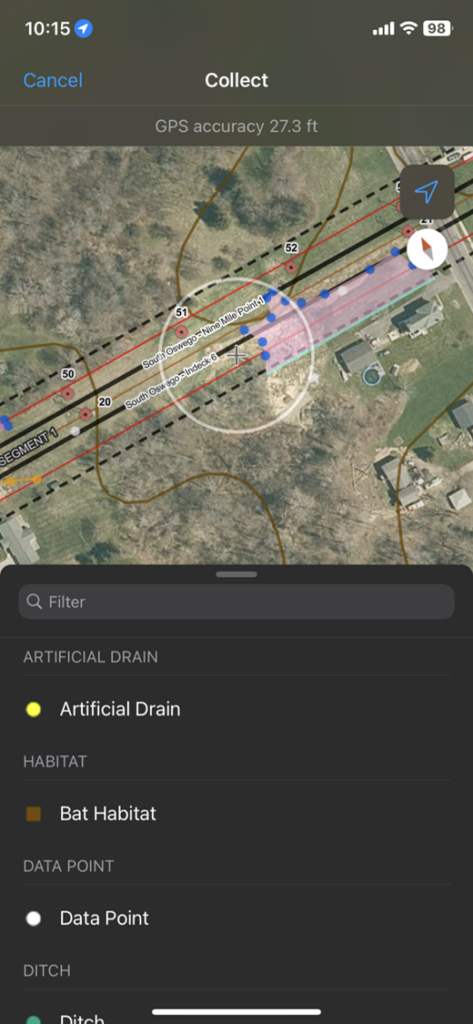 Streamline Applications and Reviews
Geographic tools can also facilitate pre-project review and application processes. For example, Survey123's capabilities, like being desktop or mobile friendly combined with its ability to enforce conditional logic and business rules, makes it invaluable for facilitating application processes.

Rhode Island Department of Environmental Management was tasked with providing statewide standards that municipalities must meet when assessing wetland impacts. Out of this standard, the Department created a new permit type for certain eligible projects that have little to no wetland impact, with the intent to streamline the permitting process. They used Survey123 in a desktop setting to facilitate the application process. Applicants are given an intuitive interface that walks them through the required fields and leverages conditional logic to ensure they are eligible for the general permit. Once the permit application is submitted, it automatically generates a formatted email to the applicant to review and finalize the submission.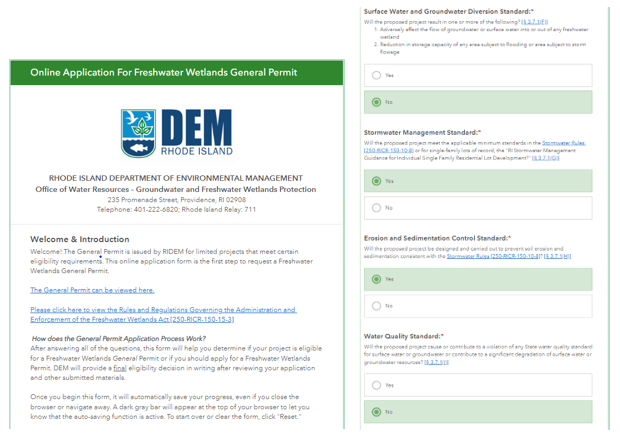 South Carolina Department of Natural Resources leverages their Enterprise GIS to facilitate environmental review for sensitive species through a public-facing portal. Hierarchical access to datasets ensures that collaboration can occur for all stakeholders at the appropriate level. Environmental professionals can submit reviews and receive automated reports, with more complex reviews being sent on to internal staff for a more thorough review. Staff biologists are no longer overburdened with hundreds of manual reviews and can reallocate their time to other valuable business processes they are responsible for. Stakeholders have more trust in the processes because reviews are now consistent and standard across the program. You can read their case study here.
Better Planning with Better Data
Because data that has been collected using ArcGIS field mobility tools comes into a centralized location with consistent standards and structure, it can easily be leveraged in artificial intelligence (AI) models to predict where else wetlands may occur. This provides all stakeholders with greater insight earlier on in the process, reducing time and costs during pre-construction planning. Widely available datasets, like LiDAR, satellite imagery, and other remotely sensed data, can be combined with the wetlands delineated by environmental scientists to develop these AI models with Esri technology.
Arc Hydro is a free extension for ArcGIS Pro that contains the Wetland Identification Model (WIM) toolset. WIM transforms LiDAR elevation data into hydrologic patterns that indicate wetland formation. These elevation-derived indicators can be combined with other remote sensing data to develop either machine learning or deep learning models.
The results of these outputs can be shared to the public so that communities, planners and prospective developers can understand ahead of time where wetlands may or may not exist, which reduces time and cost during the design phase of project planning.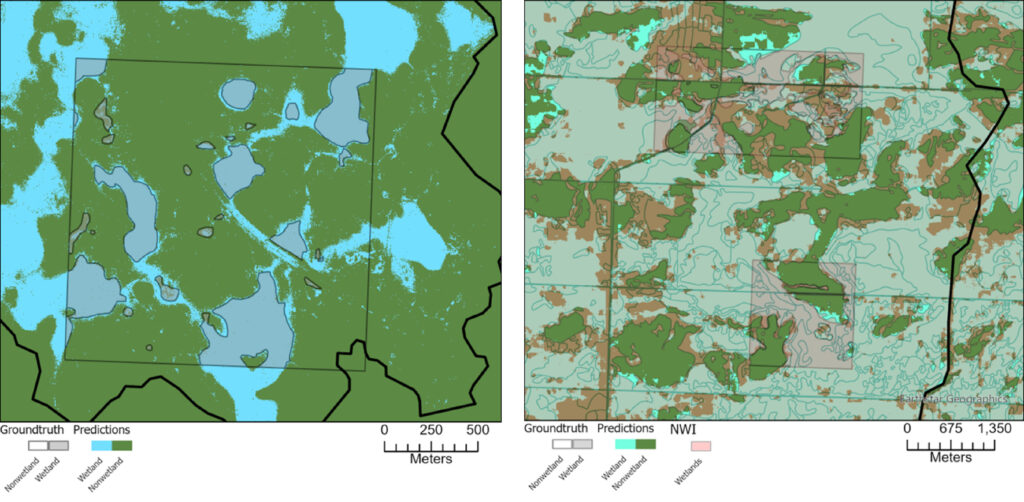 Engaging and Educating Stakeholders on Water Quality Benefits
The same data leveraged in a regulatory workflow can be used to illustrate the benefits of these healthy resources to all stakeholders. Gaining public support for projects that have multi-perspective benefits can be made easier by visualizing these relationships on a map and allowing stakeholders to explore these virtually. Maps are intuitive and the audience can immediately imagine themselves as part of the project and provide valuable feedback that helps inform and improve upon project outcomes.
This ArcGIS Hub from the Sapelo Islands National Estuarine Research Reserve (SINERR) combines ArcGIS StoryMaps, Dashboards and Instant Apps to tell a rich story of wetlands on barrier islands along Georgia's coast.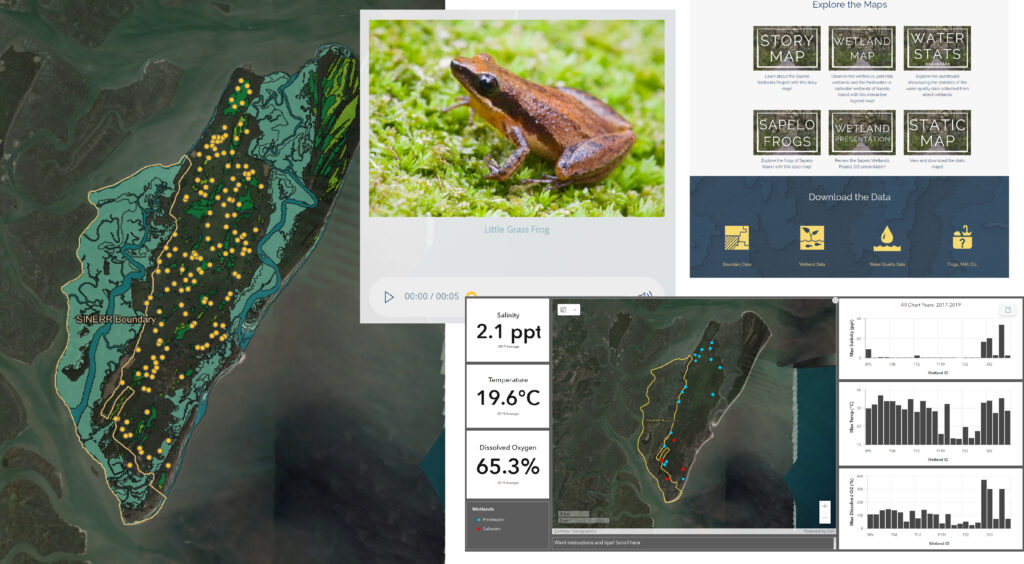 West Virginia Department of Environmental Protection, Division of Water and Waste Management is working with Ducks Unlimited to help update their wetland maps that contribute to the National Wetland Inventory. As part of this effort, they have a simple but effective ArcGIS Hub that communicates high level metrics related to the project status, as well as a status map. Interested stakeholders can follow the initiative to stay up to date on project events and milestones.
Tools such as ArcGIS Dashboards can be used to communicate a wide variety of summary statistics, such as this interesting example out of Saint Mary's University of Minnesota that depicts both wetlands and streams in the Upper James River Watershed relative to their protected status under the 2020 definition of Waters of the United States.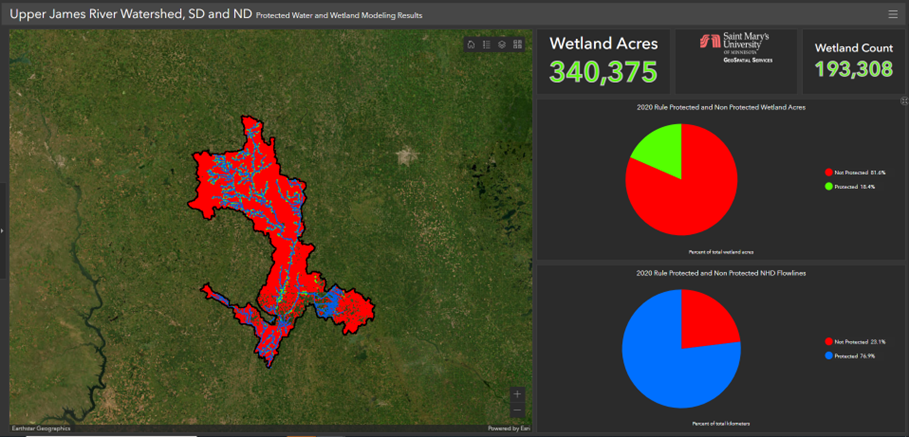 These examples from our user community illustrate how states and local governments can leverage the science of geography and a geographic approach to strengthening or implementing wetland programs. Field mobility tools such as ArcGIS Survey123 and Field Maps can be shared to the scientific community to ensure that standards and guidance are followed and quickly captured in the field. These same tools can be used to facilitate application processes for permits or other requirements. Valuable data collected during these processes can then be used to predict where else wetlands may occur for targeting mitigation actions or pre-screening purposes. Finally, visualizing our natural resources on a map allows us to understand their relationship to ourselves and how wetlands play a vital role in the health of our communities and our economies.
To learn how Esri GIS supports other environmental workflows, visit our Environment and Natural Resources Industry Page.