Introduction
Since its inception in August of 1968, the Township of Lower Municipal Utilities Authority (LTMUA) has been committed to improving the quality of life for the residents and summertime visitors of Lower Township, New Jersey. LTMUA strives to provide the highest-quality drinking water and efficient wastewater disposal services. It achieves this goal by using sound management principles, modern scientific practices, and effective planning to maintain the infrastructure and safeguard public health while imposing minimal environmental impact. With a workforce of 20, LTMUA operates and maintains six water production facilities, 29 sewer pump stations, and 20 trucks. LTMUA takes great pride in reducing spending, implementing green alternatives, and streamlining procedures to operate as efficiently as possible to satisfy the water and sewer needs of the entire community.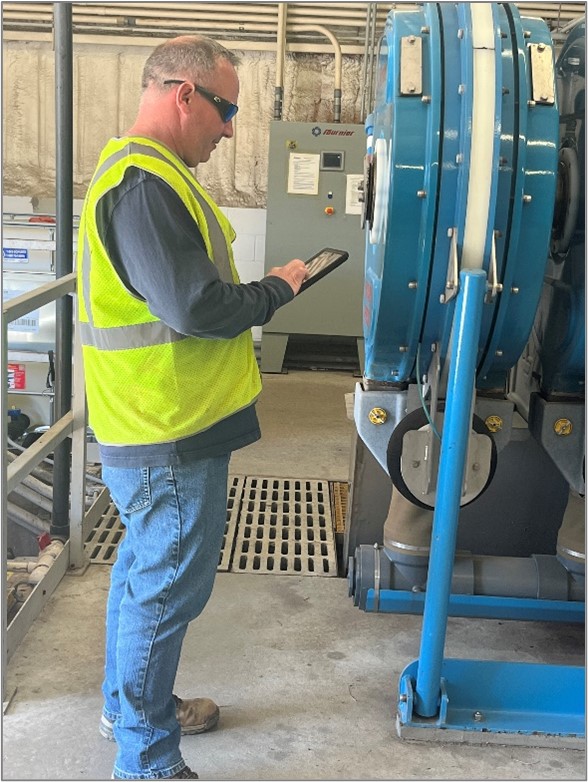 Challenge
Responding to asset work orders is essential to operating and maintaining water and wastewater utilities. LTMUA processes presented a challenge because it used disparate IT systems to manage asset work orders, staff, and billing. Furthermore, address data was not standardized across systems, leading to duplication of work and data input errors. Most LTMUA assets require work orders, but there was no process for automatically scheduling them.
While the systems in place were technically working, LTMUA identified the need to enhance those systems to work more fluently to save time, money, and data fidelity. The strategy was to leverage existing technology investments while enhancing the system intraoperatively to create measurable operational efficiencies. The specific areas that were identified for improvement included the following:
Create automatic work orders for specific assets based on a schedule.
Enhance the Workforce Dispatch map so that pop-ups on each asset/address will show previously completed work order information along with ArcGIS Survey123 information that was collected.
Integrate more than 40 years of historical work orders with ArcGIS Workforce.
Create automated backups of feature layers hosted on ArcGIS Online to increase disaster recovery preparedness and provide a backup repository for open records requests.
Create a centralized hub for managing and understanding the work order system.
Partner
Data Vision Group (DVG) https://www.dvginteractive.com/ was founded in 2002 based on the promise to deliver quality IT services by listening to and understanding customer business needs. DVG has broad application development experience, including expertise in the Esri ArcGIS ecosystem, cloud computing, mobile/web application development, UI/UX design, data analytics, reporting, and technology strategy development.
DVG has been a trusted advisor to many government agencies, commercial clients, and nonprofit organizations over the past 20 years, developing and supporting mission-critical enterprise solutions and delivering high-quality management services. Whatever the solution, DVG strives to develop trusted long-term relationships and always focus on its customers' needs.
Solution
DVG consulted with the LTMUA team to understand its business processes, which allowed DVG to provide a tailored solution organized around the intuitive interface, usability, and effectiveness. The central piece of the solution was ArcGIS Workforce, since it was already being used and met the requirements for LTMUA work orders. The solution was designed with a COTS-first approach. DVG used the no-code/low-code ArcGIS system as the preferred solution, limiting the need for customizations. Microsoft Azure services were used for the automation and storage portions of the solution. Microsoft Azure cloud technology offers high security, availability, data durability, and low to no maintenance.
Work Order Scheduling Application
Solving the challenge of managing routine work orders, DVG designed and built an automated work order scheduling system (using ArcGIS Web AppBuilder) that eliminates the need for manually scheduling recurring work orders. Azure Logic Apps was used to automatically read the work order schedule (nightly) and create a Workforce assignment for any work orders scheduled for the upcoming day. The GIS manager receives an email summarizing all the work orders scheduled for the day.
Enhanced ArcGIS Workforce Dispatcher Map
DVG enhanced LTMUA's existing ArcGIS Workforce project Dispatcher map to provide historical work order and survey information to the dispatcher. This was achieved by using a custom attribute display pop-up that includes information from previous Workforce assignments at each of these locations, as well as data from the Survey123 forms conducted as part of the assignment. Twenty thousand work orders spanning back to 1981 were integrated into ArcGIS Workforce from a third-party system using ArcGIS API for Python to enable dispatchers to view this critical information.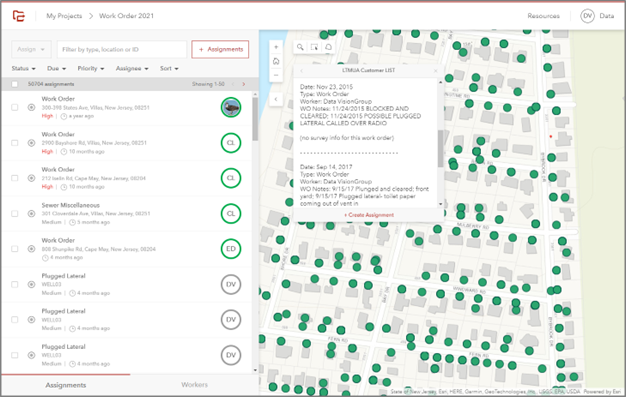 Automated Backups
DVG created an automated process that creates backup copies of critical work order, survey, and asset data from ArcGIS Online. The process uses Azure platform automation tools to create point-in-time snapshots of these important GIS layers. These layers are stored in Azure Blob Storage, which provides a high service-level agreement at a low cost. Life cycle management policies are used for cost-effective storage over the short and long term. These backups ensure that LTMUA is protected from data loss and complies with local public records laws.
Project Documentation Hub Site
DVG built a hub site using ArcGIS Hub to serve as the end-user guide and an administrator portal for an LTMUA Work Order Automation project (see figure 2, above). While traditionally used for community engagement, ArcGIS Hub technology is perfectly suited for this purpose. The site was developed in LTMUA's ArcGIS Online organization along with the other project deliverables, so hosting the user guide there provided a seamless and efficient way to integrate the user guide with dynamic content.
LTMUA Facilities Editor Application
DVG developed a map-based application using ArcGIS Web AppBuilder to help LTMUA GIS administrators maintain the newly created LTMUA facilities point layer and its related tables. This web application enables the LTMUA GIS administrator to update the LTMUA facilities data in a visual interface with an easy-to-use editing panel, and it also preserves the integral relationship fields.
Result
The project was completed in June 2022 and resulted in a successful solution implementation that has met all of the targeted challenges and has a positive return on investment (ROI). LTMUA uses the hub site as a jumping-off point for managing the apps and data backups for the system. LTMUA dispatchers are successfully using the enhanced dispatch map and enjoying a streamlined user experience, which saves time and reduces asset search time. For every new asset or dataset that is added to the automation processes, LTMUA achieves a higher ROI through an economy of scale.
In addition to the intangible benefits (e.g., better user experience), LTMUA has saved actual work hours that can be reallocated to other tasks. For example, during the first 9 months of operation, the new work order system has saved approximately 580 work hours (73 work days). As LTMUA adds more assets to the scheduling app, it anticipates a savings of over 900 hours (113 work days) by the end of the first year. By enabling all the data to have relational integrity and be routinely backed up, LTMUA can more easily search for historical data, achieve data compliance by using data life cycle policies, and better serve the public and staff by archiving data that falls under open records request laws.
The project demonstrated that small municipal water utilities can inexpensively and quickly leverage their existing Esri investments to improve operational efficiency. Furthermore, this solution, or parts of it, can easily be implemented at other utilities in a short amount of time.
The solution created by DVG has increased efficiency and data integrity and has resulted in better user experience overall. Since we built the solution on top of our existing Esri investment, the project was implemented quickly and affordably.
Stay Connected with Esri's Water Team
ArcGIS is an extensive information system that enables modernization of workflows with easy-to-use applications for the field and office. Strengthen your organization with smart water solutions that will increase efficiency and provide insight for decision-makers. Visit the Esri Water Utilities web site for more information.
Join the Water Utilities Community
Follow #EsriWater on social media: Twitter | LinkedIn
Subscribe to the Water Industry newsletter "Esri News for Water Utilities and Water Resources"