During the USC 10th Annual global supply chain Summit, I had the pleasure to host the panel "Corporate Responsibility and Sustainability" with industry innovators and advocates Rakhi Agarwal, Sanofi – AVP of Supplier Diversity, Procurement Sustainability and Risk Management; James Schaeffer, Higg – Chief Strategy Officer, and Christian Piller, Project 44 – VP of Research and Sustainability.
In this panel, we wanted to rigorously discuss how organizations can move beyond being interested in sustainability and corporate responsibility to Substantial Action – and in particular as it relates to the global supply chain of goods and materials for the expansive body of products that are consumed by our communities, individuals, businesses, etc. We discussed the value of collective action and collaborative partnerships to scale the innovation and change needed to meet aggressive goals to reverse climate impact.
A second key factor in scale is the future of the workforce – both today's business leaders and the next generation of supply chain professionals – who have a pivotal role in reversing the impact.
To open the panel, I assembled a few critical facts to set the stage for the discussion (link to slide presentation).
The impact of the supply chain of finished goods is often misunderstood by the average consumer or business professional. Impact is a result of compounding contributions across the value chain of the final products and services produced – it's wildly complicated and hard to grasp the magnitude of volume of "stuff" that goes into finished goods consumed globally – everyday.
Up to 90% of an organization's environmental impact lies in the value chain(Carbon Trust)
80 to 90% of greenhouse-gas emissions are "Scope 3": indirect emissions that occur across the company's value chain (McKinsey & Co)
This diagram is well-known in sustainability circles (this version from Sustain Lab) indicates the broader impact of upstream and downstream Scope 3 (Indirect) – and this is the most troubling contributions of supply chain traceability and transparency – as most of the world's brands can't trace materials much beyond the first tier of their supply chain. The further away from the reporting company a supplier or provider is, the less likely their impacts are being accurately incorporated into an organization's reporting or understanding of their impact.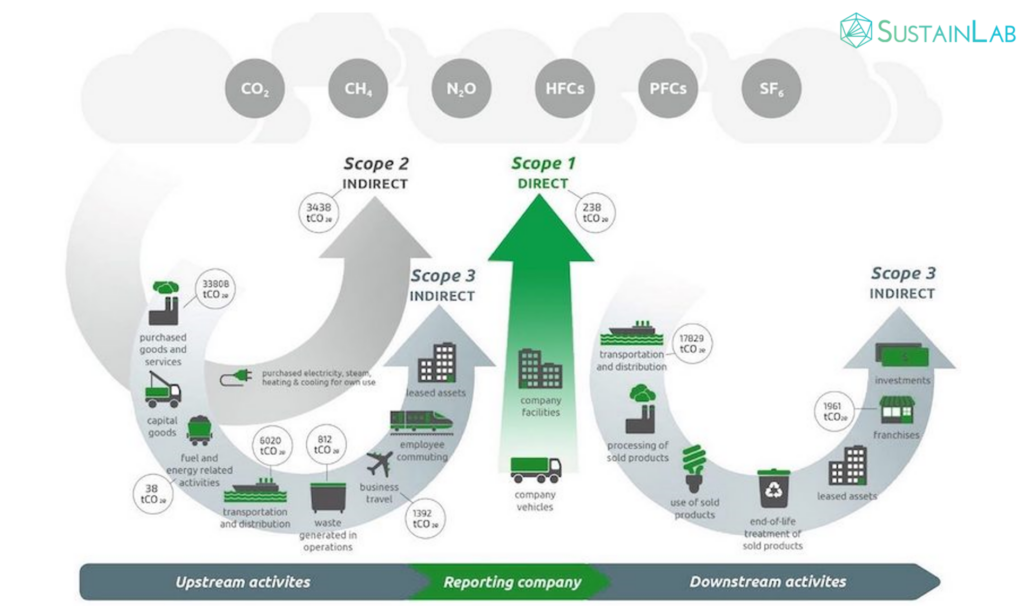 Scope 3 emissions impact widely varies based on industry, as shown here in this diagram by Envizi (an IBM company). The more the goods and services of a brand or industry depend on multi-tiered suppliers and distribution channels, the higher the percentage of Scope 3 comes from supply + value chain. Easily recognized is the impact specifically from the sourcing of "Purchased Goods and Services" – indicating the substantial Scope 3 impacts from materials that are grown, assembled, distributed and disposed throughout a product's lifecycle – which could be from days (ie: food products) to many years (ie: HVAC).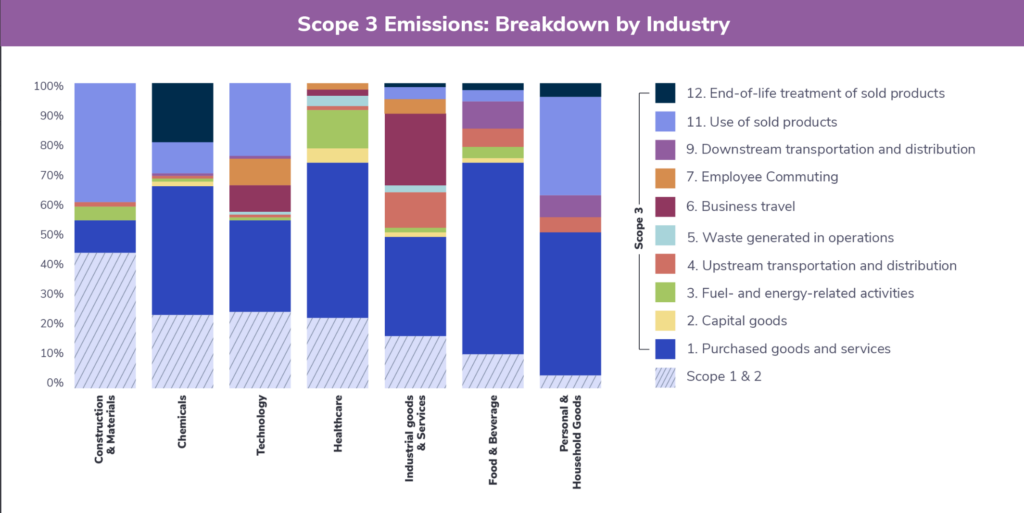 The impact to the environment because of the supply chain is not the only concern. The societal risk posed due to climate risk is equally catastrophic. In a recent Accenture report, Supply Chain is Key to Winning Climate Change Fight (Date), their research indicates that up to 40% of the labor force will be disrupted due to climate change and environmental degradation. Meaning that as farmers, suppliers, transportation and factories are faced with severe weather incidents – such as fires, tsunamis, floods, droughts and others – and/or overall loss of natural resources – biodiversity, safe water or good air quality and/or geopolitical and public health risks – those organizations and their workforce and their communities will be severely disrupted causing ripple effects of lost jobs with demise of the community well-being overall.
The Accenture report reinforces that the more organizations operate sustainably and responsibly throughout its products lifecycle, the better the outcomes for society, the planet and the longevity of the company overall.
In closing, there are many variations of this Venn diagram, but I chose this view of the S-E-E (Society, Environmental and Economic) Model to demonstrate that the most viable and high performing organizations will embrace the collective strategy to equally prioritize the business metrics that strengthen all pillars of the S-E-E Model.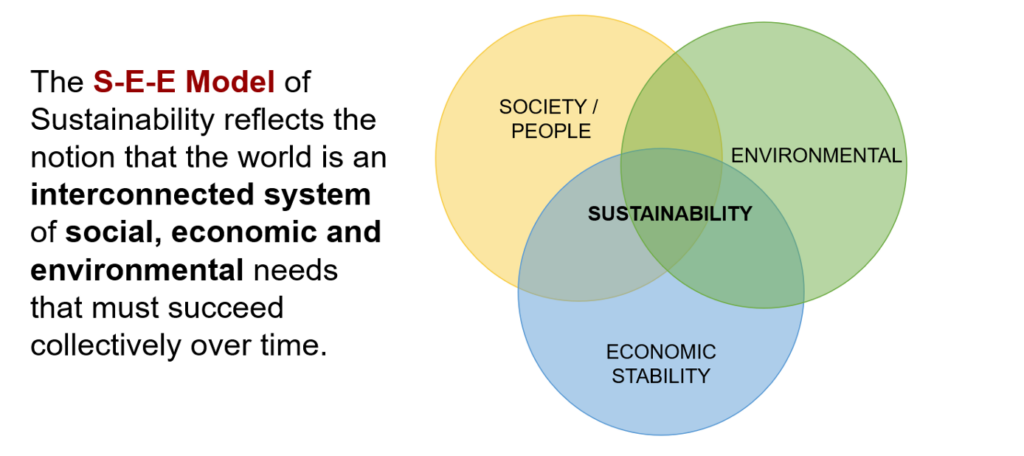 Today's leaders and developing professionals uniquely have the ambition and innovative capacity needed to adapt business practices to address and reverse climate impacts – by onboarding new skills and technology, but also with partnering and collaborating across industry, associations and others. To contextualize their networks – people and places, measure outcomes and outputs for areas for improvement, and model out 5 or 10 years to know where to prioritize adjustments needed. Businesses truly have to adapt and redesign business processes. Adapting business will help leaders discover what can be done to create more sustainable and regenerative practices, help consumers better understand the sources of their goods, and to lessen and/or repurpose overproduction and discards (waste).
See below to watch the full panel discussion!