Can your résumé paint a visual picture of your traits like passion, drive, tenacity, and initiative? Sometimes it just can't—a single page can't detail every aspect of ourselves. This is why you should seek out other avenues to show how you go above and beyond to recruiters, your network, and potential employers. Displaying your Esri Young Professionals Network (YPN) member badge on your email signature or social profile will do exactly that. How so? Allow us to explain.
What Sporting an Esri YPN Badge Will Convey to Recruiters
When your affiliation with a well-established community such as Esri YPN is showcased in your LinkedIn banner or email signature, recruiters instantly recognize the embodiment of the community's core values within you.
This is absolutely crucial! This serves as a contextual cue for recruiters, signaling your commitment to ongoing learning, your enthusiasm in networking with peers within the geographic information system (GIS) industry, and your potential to emerge as a distinguished leader within the GIS community.

Leverage these available resources to propel yourself into the career you've always envisioned, and set yourself apart from the rest!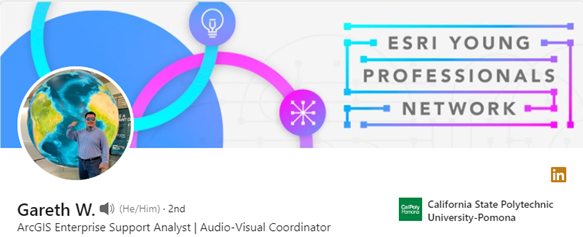 How to Get Your Hands on an Esri YPN Member Badge
It's simple and free! Follow these six steps:
Go to esri.com/YPN.
Scroll down and click the button under Request your Esri YPN digital swag.
Fill out and then submit the form.
Check your inbox for an email from Esri Young Professionals Network.
Open the email and click on the image next to Member Badge for Email Signature to download it to your device.
Insert the image on your email signature or post it to your social network.

Benefits of Being Part of Esri YPN
To start, Esri YPN is a network of over 20,000 GIS professionals, students, mentors, and subject matter experts. Whether you're just starting your GIS career or a seasoned professional, Esri YPN is a place for all GIS professionals to connect and collaborate with one another, learn or educate others on new and trending topics, and it's a platform to help promote leadership among our community.
We provide support to this community through the following:
Networking events—Esri YPN hosts online and in-person networking events (virtual meetups, forums on YPN Esri Community, and social events at Esri User Conference and Esri Federal GIS Conference).
Curated blog posts—We publish regular blog posts—on topics like career growth, mentoring, training opportunities, professional development, and leadership skills development—on YPN Esri Community.
Faces of YPN—This web page highlights various GIS professionals, what they do with GIS, and their best advice to young professionals. Submit your own profile to be featured on the Faces of YPN web page.
Local Esri YPN Chapters—Esri YPN is expanding to a region near you. Connect with any of the local Esri YPN regional chapters for an opportunity to attend social networking events.
The Esri YPN LinkedIn Group—Connect and converse through social media via our private LinkedIn group.
Webinars—We conduct quarterly webinars on various topics like cultivating a relationship with a mentor, finding your career path, and marketing yourself in GIS careers.
Our partners—We connect you to our partners—such as URISA, USGIF, and AAG—for mentoring and internship opportunities.
Newsletters—We stay connected with you through email after you've joined the network so that you don't miss any events, blogs, training resources, and other career growth opportunities.
Even More Esri YPN Digital Swag
When you request your Esri YPN digital swag, you will receive an email linking to your member badge. In that same email, you'll find links to download more digital swag, highlighted below:
Esri YPN Social Media Assets
Replace your LinkedIn cover photo with these fun YPN-branded images. You can also create a post on LinkedIn or other social networks using these images. Don't forget to tag us!
Here are a couple of examples:


Esri YPN Backgrounds for Zoom and Teams
There are four different Esri YPN backgrounds—choose one and use it as your customized Teams or Zoom background or desktop wallpaper. You're sure to get compliments!

Overall, the Esri YPN team created the member badge and digital swag to give you a creative way to demonstrate your commitment to growing your career and expanding your network.
Send us a comment or a screenshot of you sporting your Esri YPN digital swag!