With the release of AppStudio for ArcGIS version 4.2, we have improved our templates by adding exciting new features, enhancements and bug fixes to help you create cross-platform native apps easier and faster. Visit the What's New post to learn about all the updates. This blog post is about the enhancements and improvements now available in all the four templates currently available with AppStudio. These updates to the templates in this release include: 
Map Viewer  
Support for offline Map Areas – With Map Viewer's 4.2 release, we have extended your ability to take maps offline by supporting preplanned map areas, in addition to the previously supported Mobile Map Packages (MMPKs). Map areas allow you to package data from specific areas of a web map to make it easier and faster to download maps for offline use. You can use ArGIS Online or Enterprise to easily create offline map areas and then download the map areas in the Map Viewer app to view layers and features when you are disconnected from the internet.  
This feature will only be available for webmaps which have offline map areas enabled. When map areas are enabled, a download button becomes available while viewing the webmap. Pressing this button will give you an option to download one or more Map Areas for offline use. Not only can you download and view an offline map area, you can also perform a sync operation if there is an update available to your previously downloaded offline map area. Please remember to have the "Show Both" option selected for the Maps to Show in Gallery property in your template app's Settings tool if you plan to use these downloaded offline map areas in a disconnected environment. 

Here is a quick illustration on how to download offline map areas in the Map Viewer template application for users. We are looking forward to any feedback regarding this new feature.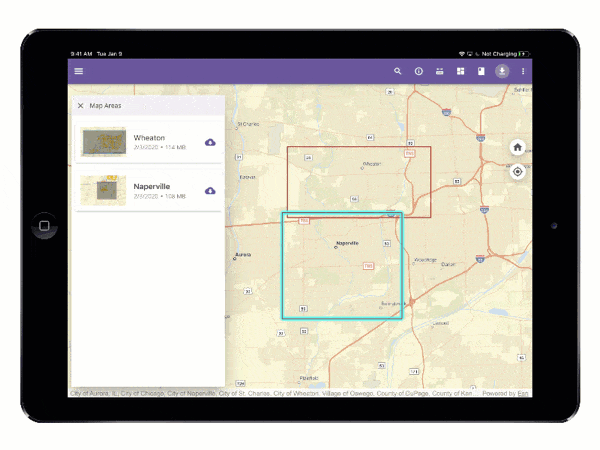 Other updates within the Map Viewer template include the following bug fixes and performance improvements:  
[BUG-000126914] Map Viewer template does not show in Gallery view when one web map is in a referenced group with MMPKs

 

 

[

BUG-000095190

]

 Related records in web map popups do not fully appear in the 

MapViewer

 application (

AppStudio

 for ArcGIS app), only the field headers are present

 
 Translation issues  
D

ialog button titles when downloading mobile map packages in the app

 

now

 get translated in all supported languages

 
Quick Report 
 This release has multiple bug fixes and improvements:  
Quick Report now 

allows attachments for

 

feature 

layers in

 

which 

full 

editing

 control

 is 

restricted

 and 

editors can only add 

features  but

 can't see those features

. 

 

However, for 

attachments to work you must configure

 the

 

feature layer 

with

 Global IDs 

property in your template app's Settings

 tool

 

T

h

e

 gallery and draft page

s

 

now honor

 font size settings

 

Fixed draft title – for 

example,

 

if the user saved four drafts, the titles are 

Draft 1, Draft 2, Draft 3, Draft 4

. When 

Draft 2

 

is deleted

, t

he new draft title 

would now be Draft 5 instead of Draft 2

 
3D Scene Viewer 
This release has the following bug fixes and improvements:  
Fix

ed

 

bugs that caused

 inconsistencies in reporting 

the 

number of 

offline 

scenes when

 signing out and clearing caches

 

Camera info translation 

has been 

fixed for Arabic and Hebrew

.

 
For more information about specific bug fixes and additional details about this release, please see the what's new in AppStudio online documentation and this ArcGIS Blog post.
We hope you like the new features and enhancements added to this release. Please provide any feedback and suggestion to appstudiofeedback@esri.com or leave your comment on GeoNet.
Become an AppStudio for ArcGIS developer! Watch this video on how to sign up for a free trial.
Follow us on Twitter @AppStudioArcGIS to keep up-to-date on the latest information and let us know about your creations built using AppStudio to be featured in the AppStudio Showcase.
The AppStudio team periodically hosts workshops and webinars; please click on this link to leave your email if you are interested in information regarding AppStudio events.