The ArcGIS Enterprise team would like to introduce some new features and enhancements in the portal for 10.7, which was released yesterday! Here, I'll highlight some of the biggest new features in content management and administration at 10.7. If you're interested in hearing about what's new in mapping and analysis, check out this blog post.
For the comprehensive list of new features, see the What's new in the ArcGIS Enterprise portal help topic.
Content management
New enhancements to content management in your organization makes it easier for your users to find and work with data.
Offline map areas
Map authors supporting offline field work can now create map areas from web maps. Map areas allow you to package data from specific areas of a web map, making it easier and faster to take maps offline. Map areas can be used in Collector for ArcGIS and ArcGIS Runtime SDK custom apps.
Build a layer templates
The feature layer template gallery now includes templates that allow you to build empty hosted feature layers and define the layer schema, rather than use predefined schemas. These new templates are in the Build a layer category in the template gallery. Choose a template to create a point, line, or polygon layer, and add fields, define lists or value ranges for the fields, and configure feature types and templates.
File upload
How files are uploaded through your browser has been improved, significantly decreasing the time it takes to add or update files in your organization. In addition, the 1 GB file upload size limit has been removed. You can now upload files up to 200 GB in size.
Create imagery layers
Use Create imagery layers to create imagery layers using supported raster data file types. Created image layers can be written to a raster store and published as image services. The imagery data you use as input can come from a local folder or from a data store. The output can be hosted imagery layers or imagery layers that reference the registered data source.
Search Living Atlas content
ArcGIS Living Atlas of the World content is better segregated from interfaces and searches specific to your portal organization. This makes it easier to find the content created by members of your organization without having to sift through all the Living Atlas content.
Administration
Below are a few of the new administrative features in the portal that will allow you to manage and monitor licensing and provide a better user experience for members of your organization.
Managing licenses
Starting at ArcGIS Enterprise 10.7, the way you manage licenses in your organization has changed. There is a new user type licensing model which allows more flexibility to match your organization's workflows and requirements. You can find more information about user types in ArcGIS Enterprise here.
The licenses page has been redesigned. Two tabs provide information about your organization's add-on licenses and user types, including compatibility tips that help you make decisions when managing licenses. You can still see how many add-on licenses are assigned and available, and assign or unassign them as needed.
When searching for and managing members in your organization, you can now see and select several members at once. The selected set of members is maintained while you search for and filter all the members in your organization, even across multiple pages. The redesigned members page also includes new options for managing add-on licenses and user types, either for a single member or for a selected set of members.
Redesigned organization page
The organization page has been redesigned to help you access information about your organization quickly. View the assignment of user types and add-on licenses, and manage members or licenses with the click of a button.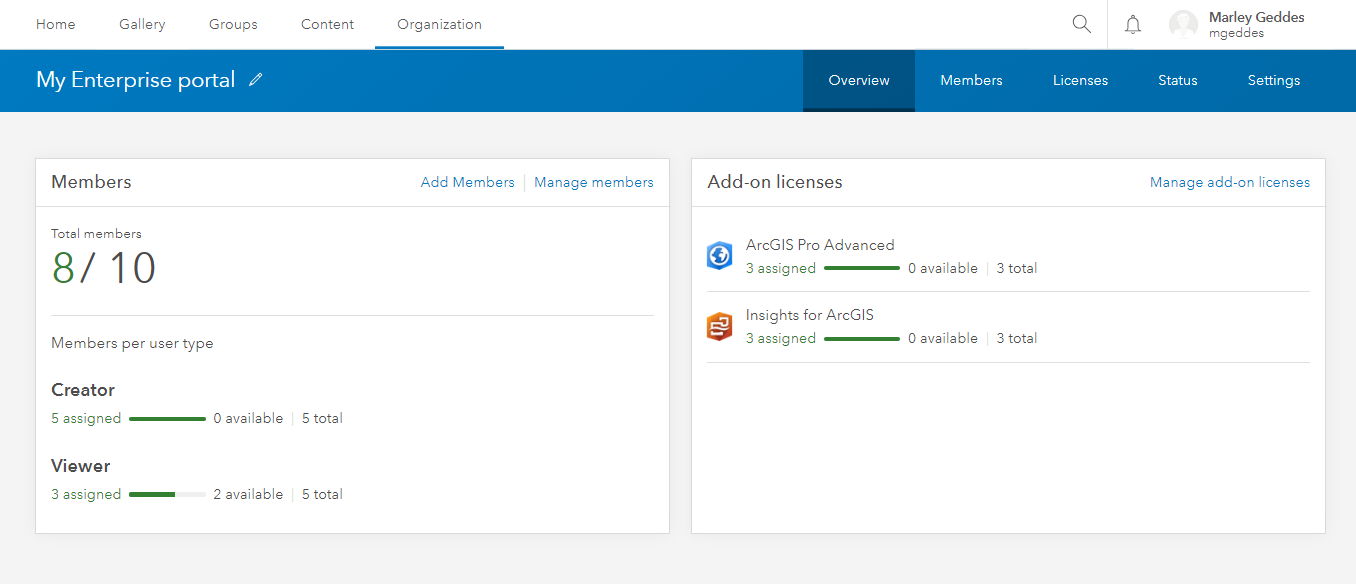 Administrative contacts
You can now provide contact details for administrators of your portal. The contact information will be visible to all non-administrator users on the Organization page.
Webhooks
Webhooks is a new feature at 10.7 that you can use to set up notification systems within your organization. At 10.7, webhooks can be set up for three types of administrative actions: users, groups, and items. For example, you might create a webhook to trigger each time an item is added to your portal or when a user is created.
See the webhooks documentation for complete details.
Location tracking
Location tracking is now available as an organization-wide capability in your portal, providing the ability to record where users are and where they have been. The location tracking feature service stores tracked locations as point features in the scalable and highly performant spatiotemporal big data store. The tracks are secure within the location tracking service; users only see their own tracks, with additional permissions required to view the tracks of others.
The tracks can be used for situational awareness and for analysis to answer questions related to where users have been. To take advantage of location tracking, use Tracker for ArcGIS.
Apps
Our apps teams have been hard at work bringing you new features and enhancements. Enhancements to the site editing experience in ArcGIS Enterprise Sites makes building custom web pages for your users as simple as ever.
It's even easier to access your organization from your mobile device. In addition to the mobile browser option (just use your URL), you can now access your organization using ArcGIS Companion, a new mobile app for iOS and Android. Access your organization anytime, anywhere to explore content, view groups, edit your profile, and more.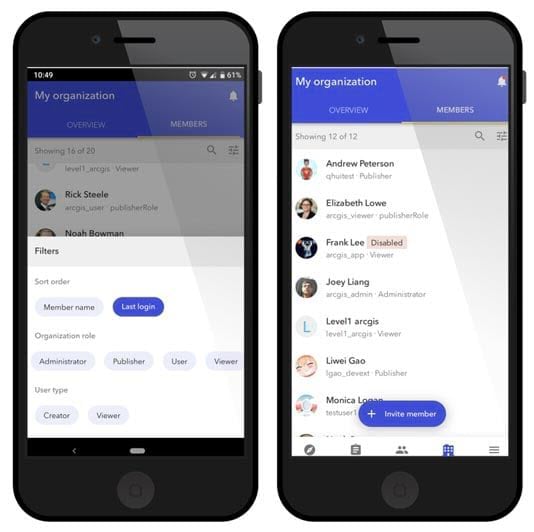 For the full list of new apps and enhancements, see the portal help.
If you've come to the end of this post wanting to learn a bit more about what's new in portal, specifically in mapping and analysis, check out this blog post.
As always, a comprehensive list of new features can be found in the What's new in the ArcGIS Enterprise portal help topic.
Commenting is not enabled for this article.