The 2019 Esri User Conference is just around the corner and the ArcGIS Hub​ team is excited to meet you there. We will be hosting a variety of sessions, a Special Interest Group (SIG) Meeting, as well as open hours in the UC Expo where you can meet with us to get all your questions answered.
Stop by the ArcGIS Hub Area to:
Learn how to use a "hub" initiative-based approach to take your open data further by connecting it directly to community priorities.
See how to setup hub websites, initiatives, apps, and events.
Discover ways of partnering with residents, non-profits, business, and universities.
We created the flier below to help you find your way to the ArcGIS Hub, open data, and community engagement focused sessions at UC.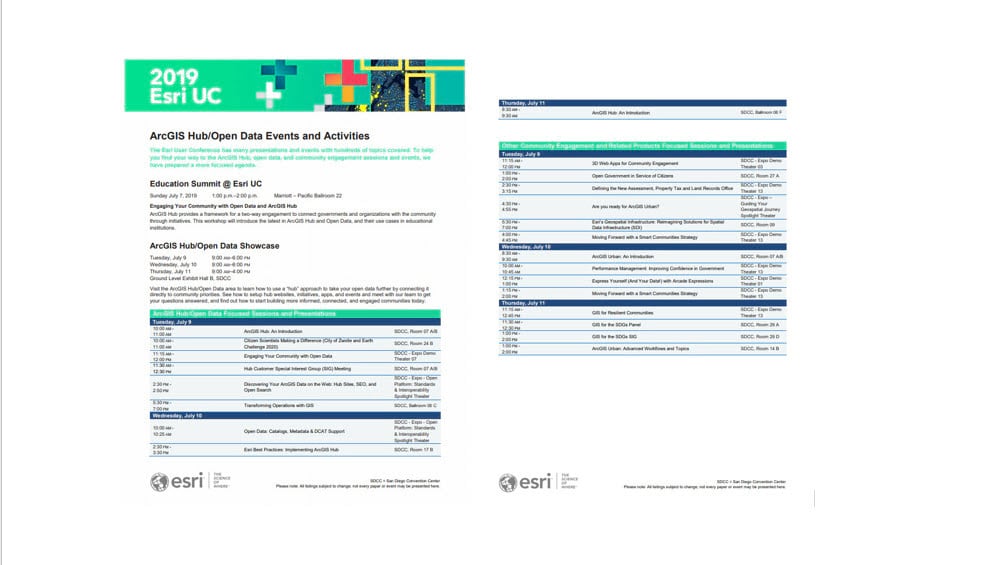 Here are a few of the sessions (including a special ArcGIS Hub customer success story featured in the plenary session) that you won't want to miss:
User Conference Plenary Session – Part II
SDCC – Exhibit Hall F
Monday, July 8, 10:30 am-12:00 pm
City of Zwolle, Netherlands
Climate Adaptability and Involving Citizens with ArcGIS Hub
The City of Zwolle, Netherlands, recognizes that they will likely face challenges resulting from climate change, and they are undertaking efforts to improve their ability to adapt to changes as they occur. In order to understand those changes, they must first be able to monitor them, and so the city established a sensor network to track weather and air quality, connecting this sensor network to the ArcGIS platform. To gain support from citizens, the city is using ArcGIS Hub to publicize and provide information about the project, leading to greater citizen involvement. Learn how citizens in Zwolle are developing their own inexpensive groundwater monitoring devices, connecting this all to the Hub.
Presenter: Marcel Broekhaar
ArcGIS Hub: An Introduction
Tuesday, July 9 10am-11am, SDCC – Room 07 A/B
Thursday, July 11, 8:30 am-9:30 am, SDCC-Ballroom
ArcGIS Hub provides a platform for two-way community engagement. Attend this session to learn how to use ArcGIS Hub to rally internal staff and external collaborators around initiatives. You will learn how to activate and configure initiative websites, apps and content that engage your community. With ArcGIS Hub, every members of your community can have their own unique identity that enables them to follow initiatives, register for events, share data, take surveys, provide feedback, and join your initiative teams.
Presenters: Brenda Wolfe, Andrew Turner, Alan Cassidy
Esri Best Practices: Implementing ArcGIS Hub
Wednesday, July 10, 2:30 pm-3:30 pm, SDCC – Room 30 A
A Smart Community is about creating a hub of innovation that connects people with information and tools to make better decisions and improve quality of life. We will highlight the best practices for transforming your organization into a Smart Community by implementing a Hub of innovation. During this session, we will focus on the people and processes required to be successful.
Presenters: Nick Giordano, Eric Apple
Engaging Your Community With Open Data
Tuesday, July 9, 11:15 am-12:00 pm, SDCC – Expo Demo Theater 07
While Open Data itself can be about transparency, at a greater scale it's about building a better and more informed society. Come learn how organizations around the world engage with their communities to turn data into knowledge, after unlocking the data they work with every day.
Presenter: Graham Hudgins
Discovering Your ArcGIS Data on the Web: Hub Sites, SEO, and Open Search
Tuesday, July 9, 2:30 pm-2:50 pm, SDCC – Expo – Open Platform: Standards & Interoperability Spotlight Theater
Presenter: Adam Martin
Be sure to check out all the other community engagement focused and related product focused sessions and presentations listed on the back of the flier.
For more information about ArcGIS Hub please visit our product page, or subscribe to our new monthly e-newsletter to stay current on what's coming, what's new, and best practice news.
See you soon in San Diego!
P.S. Are you looking for things to eat, and do, and explore while you are in San Diego?
Look no further. Our very own ArcGIS Hub team design lead, Justin Prather, shares some of his favorites in this San Diego-ing during 2019 Esri UC story he created using ArcGIS StoryMaps. Stop by and meet Justin at the ArcGIS Hub area in the UC Expo. He'll be the one wearing the checkerboard sneakers.
Commenting is not enabled for this article.