ArcGIS Hub allows organizations to create sites to help achieve their initiatives, share & download data, and build collaboration with their communities.
Every year around conference time I am always surprised by how many people didn't know they had a basic version of Hub as part of their ArcGIS Online subscription. I find myself teaching people about the great things they can do with Hub. However, as a product-minded person, this teaching has always bothered me. If a product requires a person to tell you about it, then something probably isn't as intuitive or obvious as it should be. That's why this year we've focused on making the Hub a lot easier to start using.
Starting with the summer release of ArcGIS Online, access to ArcGIS Hub will no longer depend on your organization's Open Data settings. While we still encourage you to enable open data and launch open data sites using Hub, this capability is no longer required to use the app. We've made this change so that you can take advantage of ArcGIS Hub for your private audiences…like users in your organization or members of a specific group.
Speaking of groups, we've also heard a lot of feedback about the overall Hub Administration Team (the Team tab) that's in the product today. This group is managed in the Hub admin app and its members can create or edit all sites created using ArcGIS Hub. Many of you expressed issues with this—concerns around others in your organization accidentally making changes to your work. So, with the summer release, we are phasing out the Hub Administration Team and in its place giving you a core team per site. This allows greater flexibility and full control of who can edit your content. If you had a site that was already hooked up to the existing Hub Administration Team then fear not—your site will still be editable by all of those people. …and if you are an administrator? You still get full control and visibility of all activity in your Hub.
Finally, in the spirit of making the app easier to use, we are renovating the administrative experience of Hub. If you are a regular Hub user, you may have noticed a number of changes over the last 6 months: We launched a new edit navigation system. We gave you more header styling options and launched a global navigation system. The final piece of this new design is something called Hub Overview—a simple way to get around your Hub and create new content.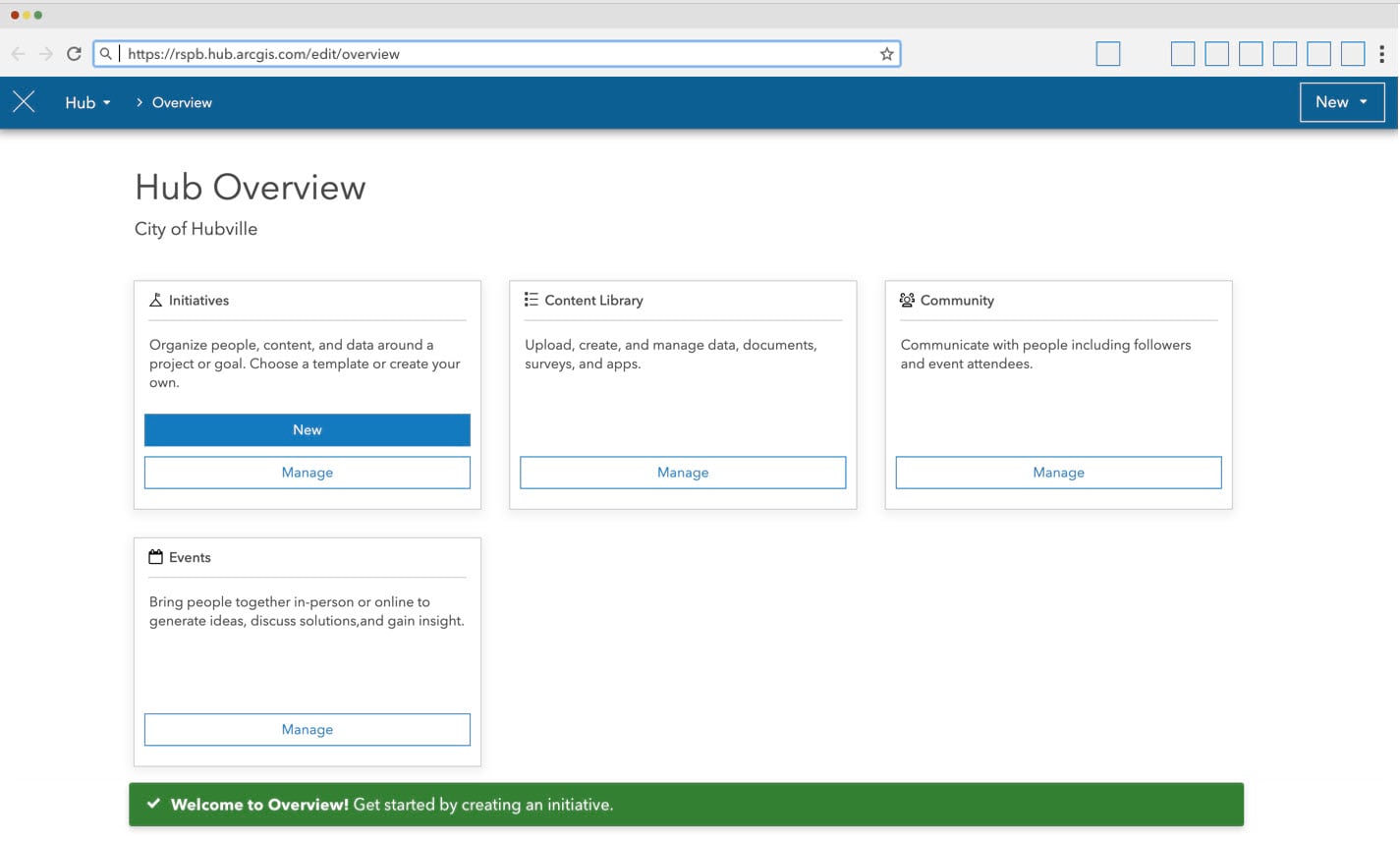 Overview allows quick access to your existing work via the "Manage" button for Sites (Basic Hub that comes with ArcGIS Online) or Initiatives (Premium Hub). Overview also features a simplified new content flow that gives quick access to content templates if you have licensed Hub Premium. We have a lot of plans for Overview to help make it even easier to administer and use Hub. Later this year, Overview will allow you to administer Hub Settings for your community & employee organizations. Overview will also be the future home to a Hub-wide dashboard to track high level activity. We're hoping you find it easier to onboard new colleagues to Hub using Overview, the new Site editor, and global navigation. While we transition to this new user experience, the older admin app will remain accessible in a variety of places.
If you are coming to our User Conference in San Diego and want to get a hands-on demonstration, please attend our tech session & demos or find us on the showroom floor near the ArcGIS Online banner. For those who are unable to make it, we look forward to hearing from you on Geonet.
Have a great summer (or winter) solstice! We hope to see you at User Conference!