ArcGIS Living Atlas of the World is the foremost collection of geographic information from around the globe. It includes curated maps, apps, and data layers from Esri and the global GIS user community that support your work. Visit the ArcGIS Living Atlas of the World website where you can browse content, view the blog, and learn how you can contribute.
Here's what's new since the last ArcGIS Living Atlas News (July 2020) and the ArcGIS Living Atlas update in What's New in ArcGIS Online (September 2020).

ArcGIS Living Atlas apps
Content from ArcGIS Living Atlas of the World is used to make valuable apps for visualization and analysis. These apps can be found under the apps tab at the Living Atlas website.
World Imagery Wayback
Wayback imagery is a digital archive of the World Imagery basemap with more than 80 different versions of imagery captured over the last 5 years. World Imagery Wayback app lets you browse for changes in your area of interest and lets you make a map with versions of interest. Swipe mode is a newly added capability that makes it easy to compare selected imagery.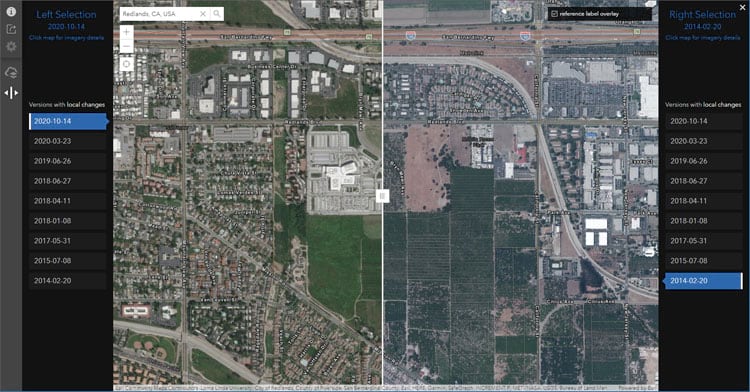 When in swipe mode, you can click share to copy and paste the URL to save the selected imagery and geographic location with others. For example:
For more information, see Do the Wayback swipe.

New maps based on ACS
The American Community Survey (ACS) is an ongoing survey by the U.S. Census Bureau that provides vital information on a yearly basis about our nation and its people. A new set of maps has been produced based on ACS data and are available in the Living Atlas as well as Esri Maps for Public Policy.
Where were native persons (US citizens at birth) born relative to current residence?
What year did foreign-born population most commonly naturalize?
Where do Black or African Americans not have an internet subscription at home?
Where are youth who don't have access to internet?
Where are youth who don't have access to a computer?
Where are children with a single working mother?
What is the relationship between households without internet or vehicles?
What is the relationship between households without internet or smartphones?
Do Black or African Americans own or rent their housing?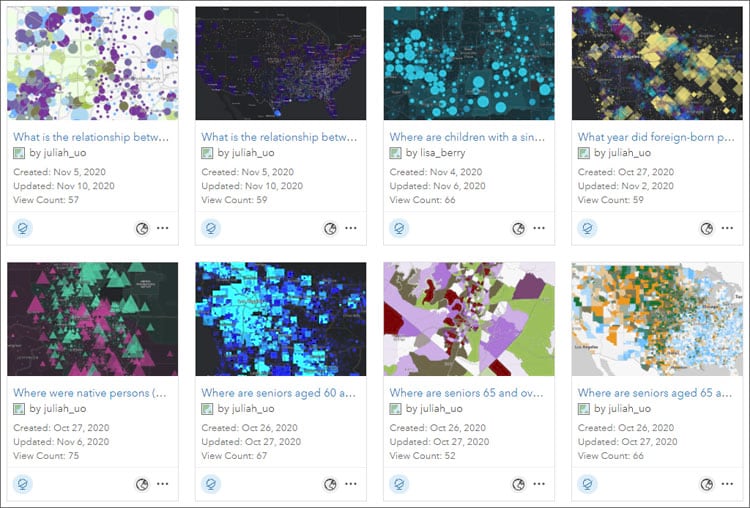 View the entire collection of ACS content in the Current-Year ACS Map and App Examples group.

Environment
NOAA Storm Events Database 1950-2019 is a new feature layer of all severe weather reported to the National Weather Service for the United States from 1950-2019. The storm reports are aggregated and archived by NOAA's National Centers for Environmental Information.

With over 1.5 million records over 70 years, the Storm Events Database is the most comprehensive, official record of severe weather in the U.S.

Community Maps
The Community Maps Program enables community contributions of authoritative data to help build the ArcGIS Living Atlas. You can provide feedback, create detailed features, and share data layers and services, contributing to Esri basemaps that anyone can use.

The Community Maps Editor lets you edit parts of the Esri Community Maps basemap to add detailed features for universities, schools, parks, landmarks, and other special areas of interest. The editor has been updated with new features and capabilities. For more information, see Community Maps editor updated.

More information
For more information on what's new in ArcGIS Living Atlas, see the following:
Commenting is not enabled for this article.