All eyes are fixed on the fires burning in California – both in the north near Sonoma and in the south near Los Angeles. Strong winds are only making conditions worse. Luckily for those looking to tracking these rapidly changing conditions, ArcGIS Living Atlas of the World provides access to some of the most authoritative data for keeping up-to-date on the situation.
Here are some of the Live Feeds layers that may be useful for fire weather tracking. A more comprehensive list of Live Feeds is available here.
National Weather Service weather watches and warnings. I prefer to use the Events Ordered by Size and Severity layer. You can add a filter/definition query to select only wind and fire related events using the "Type" attribute. This layer updates every 5-minutes.
National Weather Service wind and gust forecasts from the National Digital Forecast Database. These layers update each hour. There's also a wind vector (arrow) version for each available.
Current Weather and Wind Station Data for the world, which has temperature, dew point, wind speed, and many other variables. This layer updates each hour.
USA Wildfire Activity that has both the fire location and perimeters. This layer updates every 15-minutes.
Satellite (MODIS) Thermal Hotspots and Fire Activity  that displays the latest potential fire locations from around the world. The data does not distinguish between fires and other sources of heat, however. This layer updates every 15 minutes, though the satellites only pass over the U.S. around 10 and 1 am/pm PST.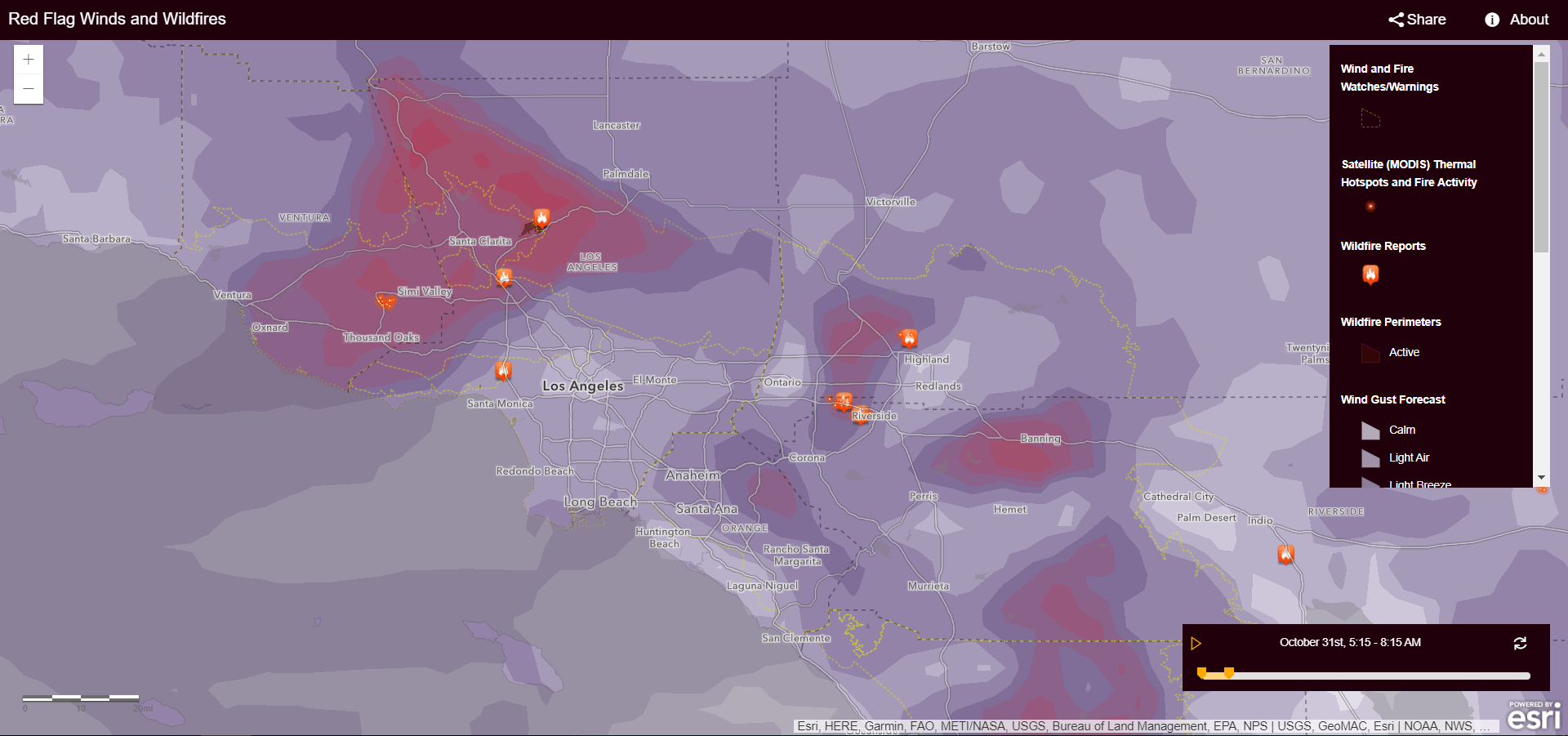 I have built some of these layers into a shared web map and Time Aware application. If you're using the web map, you'll need to edit the time settings so that that wind gust forecast displays properly.
Also, don't forget to update your maps with the latest versions of Live Feeds that were released in summer 2019.
Commenting is not enabled for this article.