col·lab·o·ra·tion
the action of working with someone to produce or create something
Many different groups are involved in measuring and planning for the impacts of Sea Level Rise.  This is an opportunity to bring them together and demonstrate how the models, maps and real-time monitoring stations can be used to better understand and visualize the associated impacts.
This spring, NOAA CO-OPS, Old Dominion University and Esri worked together to produce a new story map focused on coastal flooding and the associated risks with sea level rise.
This was not only an external collaboration but also an internal one leveraging ArcGIS StoryMaps and the ArcGIS Living Atlas of the World to raise awareness and demystify the topic of coastal flooding.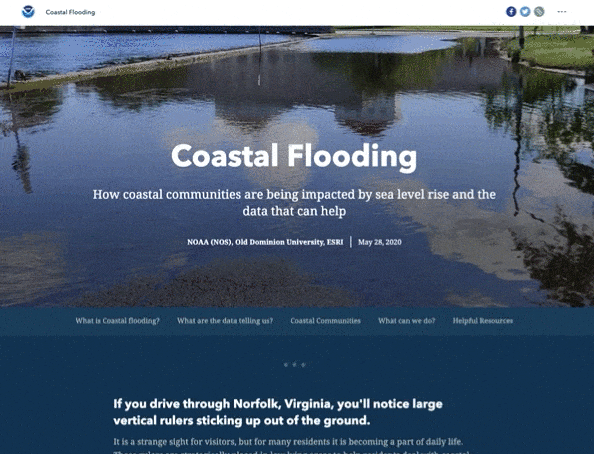 The Coastal Flooding Story Map describes how coastal communities are being impacted by sea level rise and identifies resources and actionable data that can help. The story profiles the work of NOAA's National Ocean Service and Old Dominion University to monitor and forecast sea level rise. This data helps coastal communities understand which areas are most vulnerable to flooding and how to adapt to the increased risk from sea level rise. Old Dominion University's – Commonwealth Center for Recurrent Flooding Resiliency (CCRFR) has taken the modeling from NOAA and extended it to the Commonwealth of Virginia to identify and map infrastructures at risk at certain projections (years 2040, 2060, 2080).  More information can be found in the "Future Sea Level Rise and Recurrent Flooding Risk for Coastal Virginia" report. The story map takes advantage of the latest enhancements of ArcGIS StoryMaps with the new swipe block and the Tidal theme. These features make it easy to visualize data and have the visual design match the content of the story map.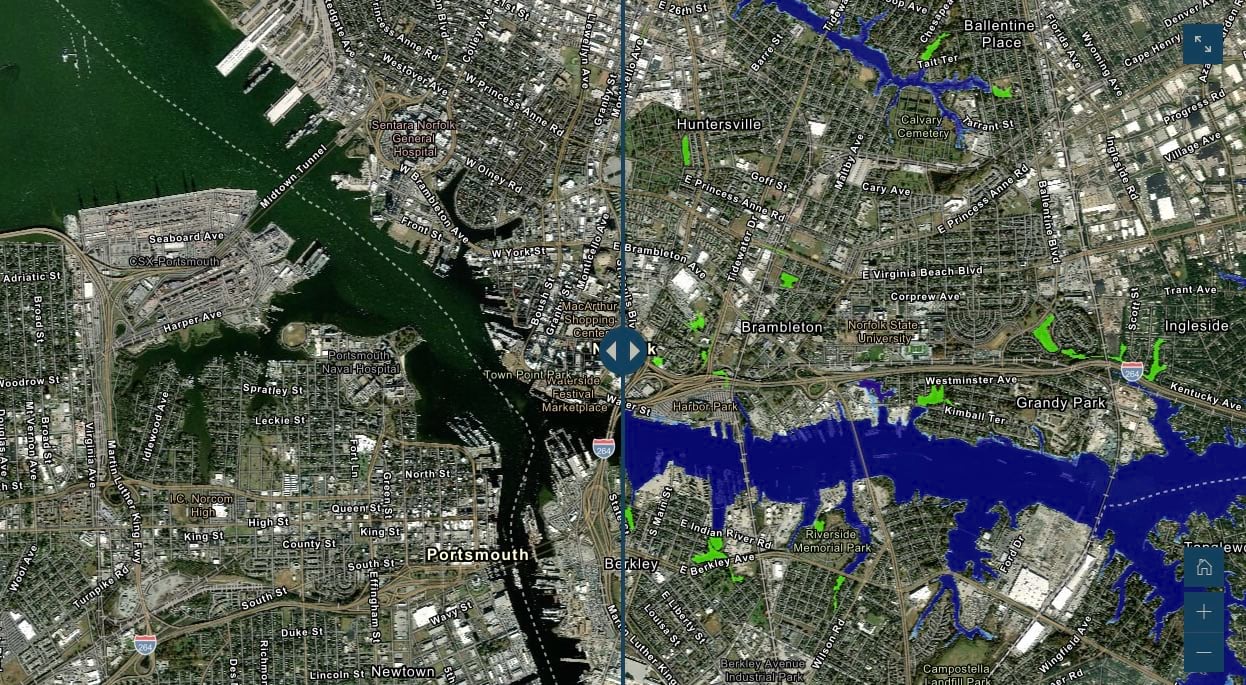 Resulting from the collaboration, there were significant contributions to the ArcGIS Living Atlas of the World that include NOAA's Sea Level Rise Inundation maps and CO-OPS Water Level Stations.  These layers have been used widely to describe Sea Level Rise within the United States.
Having a project that brings together the Federal, academic, and private research communities served as a catalyst to highlight this important topic.  The ArcGIS Living Atlas of the World is the foremost collection of geographic information from around the globe. It includes maps, apps, and data layers to support your work.  These content additions now available to our user community will help Coastal Planners, Engineers and researchers better understand and plan accordingly for the increasing phenomena of Coastal Flooding.