The ArcGIS Mission product team is excited to connect with you at the 2023 Esri User Conference to showcase how ArcGIS Mission fuses your organizational data in ArcGIS Enterprise with real-time updates, from the field and the command center, to streamline mission management and security operations. 
Our team has curated a list of ArcGIS Mission experiences you will not want to miss, read on to learn more.
ArcGIS Mission Sessions
Join the ArcGIS Mission team to learn more about what is new, what is coming, and explore a geographic approach to command and control. Don't forget to add these sessions to your calendar on the session details page.
Technical Demonstration: Taking ArcGIS to the Edge with ArcGIS Mission  
Sunday, July 9, 2023 | 3:30 PM – 3:50 PM PDT  at the 2023 Safety and Security Summit
ArcGIS Mission is an all-inclusive command and control tool that helps organizations operate more effectively in dynamic environments. ArcGIS Mission improves your operational capacity in several ways. We can connect to real time feeds, track users in the field, perform field data collection, plan, and monitor events, and more. ArcGIS Mission enhances response efforts for daily operations, special events, and incident response. This session will show how ArcGIS Mission improves operational coordination between the command center and the field. We will also take Mission to the edge by deploying Mission on an Amazon Snowball and work across a mesh network.  
ArcGIS Mission: An Introduction  
Wednesday, July 12, 2023 | 4:00 PM – 5:00 PM PDT  
ArcGIS Mission creates an integral connection to your operational data to facilitate command-and-control communication, team situational awareness, and after-action review for operational and tactical objectives across your entire organization. ArcGIS mission accelerates the decision-making process by fusing different sources of information with a geospatial lens to turn it into real-time actionable intelligence for teams of people centered around a common goal. In this workshop, you will learn how to leverage your organization's operational data and push that intelligence into the field.  
ArcGIS Mission: Leveraging your Organization's Operational Data to Enhance Mission Success  
Thursday, July 13, 2023 | 10:00 AM – 11:00 AM PDT  
A Commander needs to be connected to the sources of information in which responders are concerned.  These resources include files, equipment, personnel, video, sensors, personnel, field units and much more.  ArcGIS Mission creates an integral connection to your data facilitating command, control, and communication across your enterprise.  In this workshop you will learn how to take advantage of your organization's operational data with ArcGIS Mission's newest capabilities to enhance situation awareness, facilitate real-time collaboration, and accelerate the decision-making.  
Get Ready With a Few Resources
We are excited to connect with all of our users, virtually and in person. Get ready for the Esri User Conference with a few key resources below: 
Register today,

if you have not already.

 

Check out the ArcGIS Mission UC Q&A .
Follow the ArcGIS Enterprise Twitter account for the latest and greatest on ArcGIS Mission.

Check out the 

detailed agenda

 to learn more about what sessions are taking place for all Esri products.

Check out who will be joining Jack Dangermond this year at the 

Plenary Session

 on July 10

th.

The 

UC Event Map

 is now available to allow you to get familiar with the convention center and view locations of sessions and activities before you go. You can also generate a route and directions between two locations and view the estimated travel time.

 

Visit the ArcGIS Mission Kiosk in the Showcase for some one-on-one time with the product team. Our area is outlined in red below.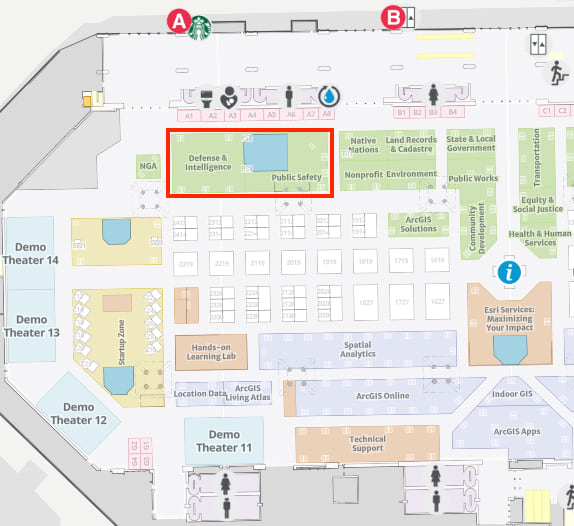 Commenting is not enabled for this article.