It's been nearly a year since the public beta for ArcGIS Notebooks in ArcGIS Online began.  Since that time, we have listened to your use cases, gathered your feedback, and worked hard to keep improving and evolving the ArcGIS Notebooks experience.
In the December 2020 release of ArcGIS Online, we introduced the new and improved home page experience.  Here, you can search for, filter, and view your own notebooks, the shared notebooks in your organization, as well as Esri sample notebooks. From this landing page, you can also create new notebooks specifying the runtime of your choice, and manage the currently running notebook containers.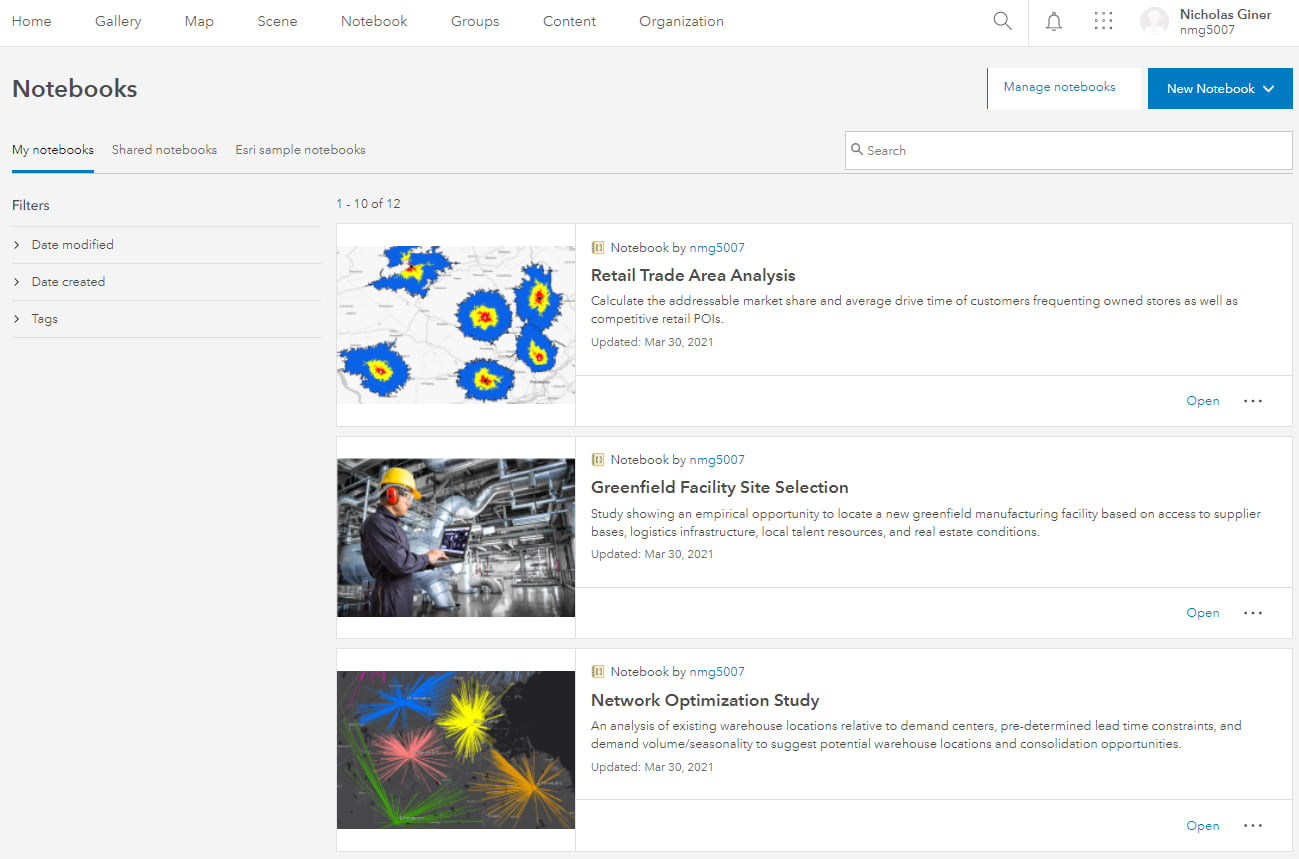 With the April 2021 release of ArcGIS Online, we have some exciting new capabilities to share with you.
Built-in Scheduling (Scheduled Mode)
You now have the ability to schedule notebooks to run automatically at a set time or on a recurring basis.  This is exciting to many users who may want to automate routine tasks, execute large or lengthy processes outside of work hours, or regularly update datasets.  You can also pass parameters into notebooks on a schedule, which may be useful for security purposes or for different analytical scenarios.
For more information and a step-by-step walkthrough of scheduling a notebook, see the "Scheduled Mode for ArcGIS Notebooks in ArcGIS Online is here!" blog.
See the "Use Parameters in your Scheduled Notebooks" blog for more information on parameterization in notebooks.
Notebook Snapshots
Notebook snapshots allow you to save and restore point-in-time copies of your notebooks while you develop them.   Think of them as a "snapshot" in time, which you can use to save your work at specific phases of a project such as prior to running a risky operation, or after running a lengthy one.  Being able to restore your notebook at any point in which you saved a snapshot of it can help you save time, stay organized, and prevent against data loss.
For more information and a step-by-step walkthrough of creating notebook snapshots, see the "Save and Restore your Progress with ArcGIS Notebook Snapshots" blog.
Increased file size limits in the User Workspace
Each ArcGIS Online Notebook has access to the user workspace, where you can upload items to use in your notebook (e.g. CSV, zipped file geodatabase, zipped shapefile), or download them to your local machine.  The user workspace also contains the data used in the Esri sample notebooks, which are completed notebooks that demonstrate common workflows in data science and analysis, GIS administration, and content management.
Prior to the April 2021 release of ArcGIS Online, there was a 20MB limit to the file size you could upload to the user workspace.  In this release, we've enhanced the data upload experience by removing this file size limit, allowing you to upload large files into the user workspace.
Join the GeoNet Community
Whether you want to talk about ArcGIS Notebooks in Online, Enterprise, or Pro, please join the ArcGIS Notebooks community . Ask questions, share ideas, and get help from your fellow notebook users. You can also visit the ArcGIS Notebooks product page for product level information and quick links to resources.