As part of the ArcGIS 2021 Q4 release, ArcGIS Pro brings an all-new set of GIS capabilities to your already advanced toolkit. Experience new features, performance improvements, and productivity enhancements all inside ArcGIS Pro today. To catch up on all the new features within this release of ArcGIS Pro, view the What's New in ArcGIS Pro 2.9  video below, or please continue reading to uncover a few highlights of this recent update. Did you by chance miss our What's Coming in ArcGIS Pro blog? Feel free to catch up here on what you missed.
Cloud data warehouse support
ArcGIS Pro 2.9 now supports access to cloud data warehouses to allow you to view, analyze, and publish subsets of data. You can connect to Amazon Redshift, Google BigQuery, or Snowflake.
After connecting, you can enable feature binning on tables in 

Google BigQuery

 or 

Snowflake

 to draw aggregated features at different scales. This makes it possible to view large numbers of features in a usable format.
You can create a query layer to add data to the map for deeper analysis. When you create a query layer, you can create a materialized view to store the SQL query in the data warehouse to improve query performance.
You can also publish a map image layer to share the subset of data defined in the query layer with others in your 

ArcGIS Enterprise

 organization. When you publish, you can reference the query layer, create a materialized view that the layer will reference instead, or create a snapshot that will copy the data to the portal's relational data store.
Knowledge graphs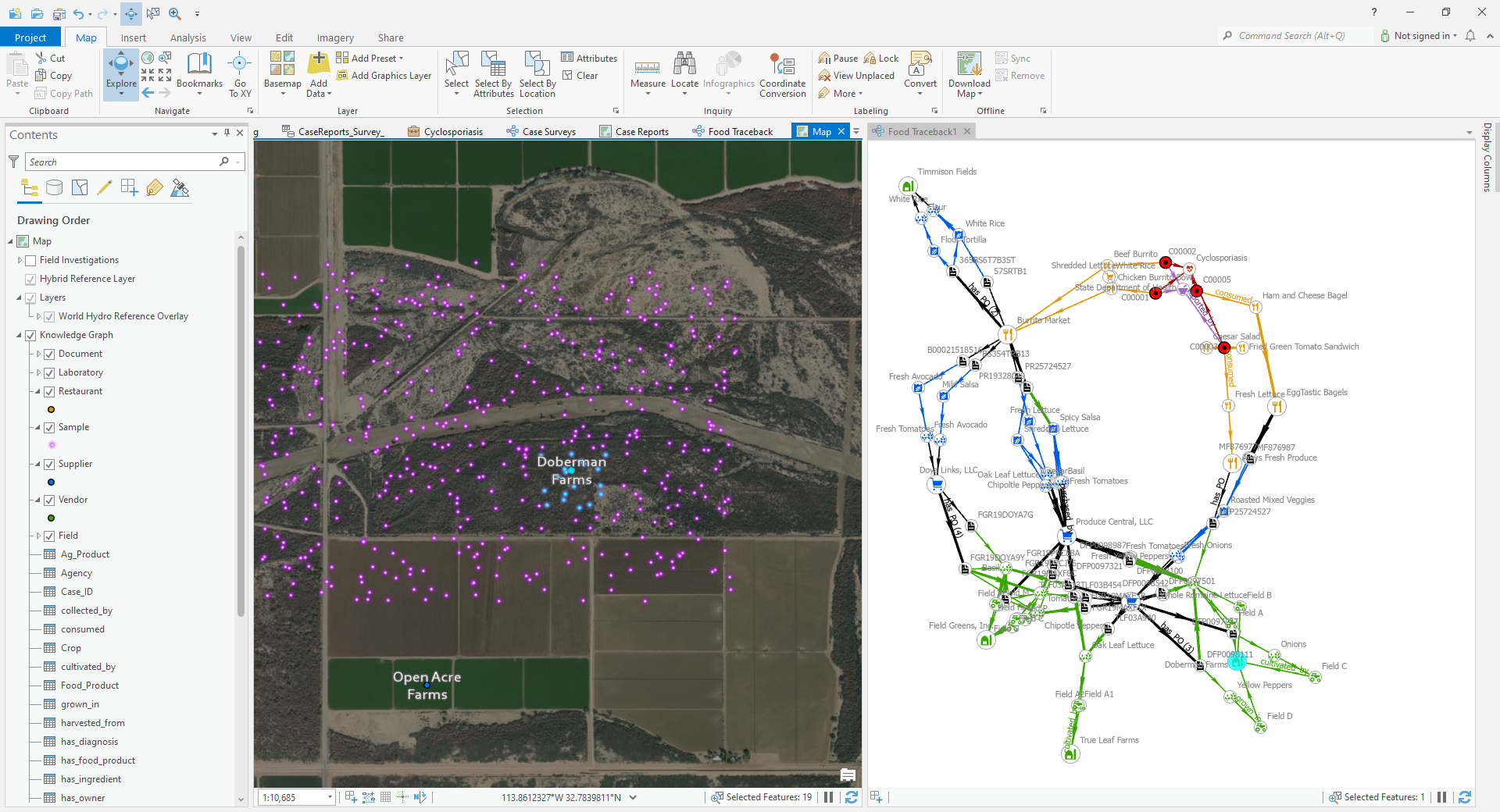 ArcGIS Knowledge connects ArcGIS Pro to the enterprise graph store, enabling users to explore and analyze spatial, nonspatial, unstructured, and structured data to accelerate decision-making. Developed to seamlessly connect analysts to the data they need and the analytical tools they trust, ArcGIS Knowledge empowers collaborative all-source investigations and sharing of information across the enterprise. Analysts can visualize information through multiple perspectives like maps, link charts, histograms, and entity cards to solve spatial and nonspatial problems. ArcGIS Knowledge is a cost-effective and flexible way to add enterprise knowledge graph analytics to your existing ArcGIS investment.
Data Engineering
Export the statistics in the fields panel to a single table or separate tables for each field type (numeric, text, and date) using the Field Statistics To Table tool. The tool can be accessed from the 

Menu

button in the statistics panel.
Open the Data Engineering view from a layer attribute table or its Fields view.
Access attribute table fields directly from the fields panel.
Cancel the calculation of statistics.
Drag one or more fields from the fields panel into geoprocessing tool parameters that accept input fields.
The fields panel displays a count of the number of fields in the layer, as well as a count of the number of fields matching a filter or search criteria.
Now…I could continue to tell you about what's new, what's exciting, what's there to discover in ArcGIS Pro 2.9…but what's the fun in that. Catch up on everything "Pro" through the recent What's New in ArcGIS Pro 2.9 video today. Visualize how you can start mapping like a Pro today.
Not Yet An ArcGIS Pro User?
That's fine, feel free to try ArcGIS Pro for yourself through our ArcGIS Pro Trial below.