In ArcGIS Pro 2.8 you are now able to view route measures using the explore tool. Measure values are used in asset management such maintaining, managing, and valuing pipe segments, roads and highways, and rail signs.
When working with route feature classes, you have probably been interested in knowing the measure of a feature at a particular location. For example, you may have asked yourself…How far is it to the next monitoring station? How long will it take me to reach this destination? You may also have business rules that require a value at each vertex. Viewing measures allows you to answer these types of questions.
How to view measures in ArcGIS Pro?
For those who are migrating from ArcMap to ArcGIS Pro the experience will look a little different. In ArcMap, viewing measures was accomplished with the Identify Routes Location tool. To access the Identify Routes Location tool, users needed to enable the routes editing toolbar.
To view measure information in ArcGIS Pro 2.8 all you need to do is identify a linear feature of interest that contains measures using the Explore tool. After a feature is identified, all measure related fields appear in the pop-up.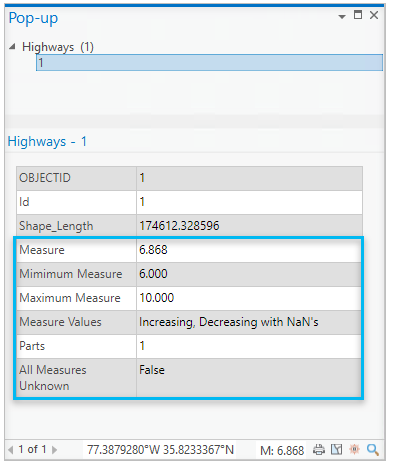 By default, six fields display when a linear feature that contains measures is identified. Those are:
Measure
Minimum Measure
Maximum Measure
Measure Values
Parts
All Measures Unknown.
To learn more about viewing measures see View route measures. You can also configure your pop-ups to modify the default display of your measure fields. To learn more about configuring pop-ups see the help documentation (Configure pop-ups) and associated blogs (The New and Improved Pro Pop-up, Top 5 tips for configuring pop-ups in Pro 2.7, The Power of the Pro Pop-up, and The Quest for the Missing Identify Tool).
What's coming next?
Over the next few releases the team we will be hard at work chipping away at linear referencing equivalency items and providing an improved user experience.
Banner image by José Martín Ramírez Carrasco on Unsplash.