A common question that we get from users is, when should I use the core linear referencing tools and when do I need to upgrade to the Location Referencing (Roads and Highways and Pipeline Referencing) extension? This blog is dedicated to tackling some of the common scenarios when you might want to consider upgrading to Location Referencing.
But to start off let's go over what routes are and why you might want to use relative positioning. Routes are made up of a unique identifier and a measurement system. You can provide a position using a measure instead of explicitly stating an x, y location. In ArcGIS Pro, there are several capabilities that allow you to manage, model, and visualize your linear referenced data.
What can I do with the core linear referencing tools?
The linear referencing tools come included with a basic license level. While there are many things you can do with the core tools, some common workflows include: creating routes, inspecting your data, visualizing your data, and performing analysis. The core tools use simple features to model routes and route event records. Users are required to ensure that their route identifiers are unique. Also, measures do not need to monotonically increase.
Create routes:
Inspect your data:
You can inspect your data by viewing m-values for each vertex in the sketch properties page, view route measures using the explore tool, and finding routes by providing m-values.
Visualize route events:
Perform analysis:
You can transform route events from one route reference to another, overlay route events between two event tables that represents of the union or intersection, and you can locate features along routes that meet certain conditions.
To learn more about linear referencing see Introduction to linear referencing.
What are some common scenarios when I may want to consider getting the location referencing extension?
For users interested in extending linear referencing use within their organization, the Location Referencing (Roads and Highways and Pipeline Referencing) extension provides additional linear referencing capabilities and tools. Like the core linear referencing tools, Location Referencing tools utilize m-enabled polylines to represent one or more network of routes that have point and line events linear referenced on them. Location Referencing extends linear referencing to support an enterprise LRS, allowing the editing, visualization, and analysis of linear referenced data in ArcGIS Pro and across the web. Additional capabilities that Location Referencing provides includes:
REST services to extend linear referencing to the web
ArcGIS Location Referencing for Server includes a set of REST services to extend editing of linear referenced data to the web. Users can utilize these web services to access their linear referenced data in custom apps for editing, visualization, and analysis. Additionally, ArcGIS Location Referencing for Server includes a web app called Event Editor that supports editing point and line events on the web.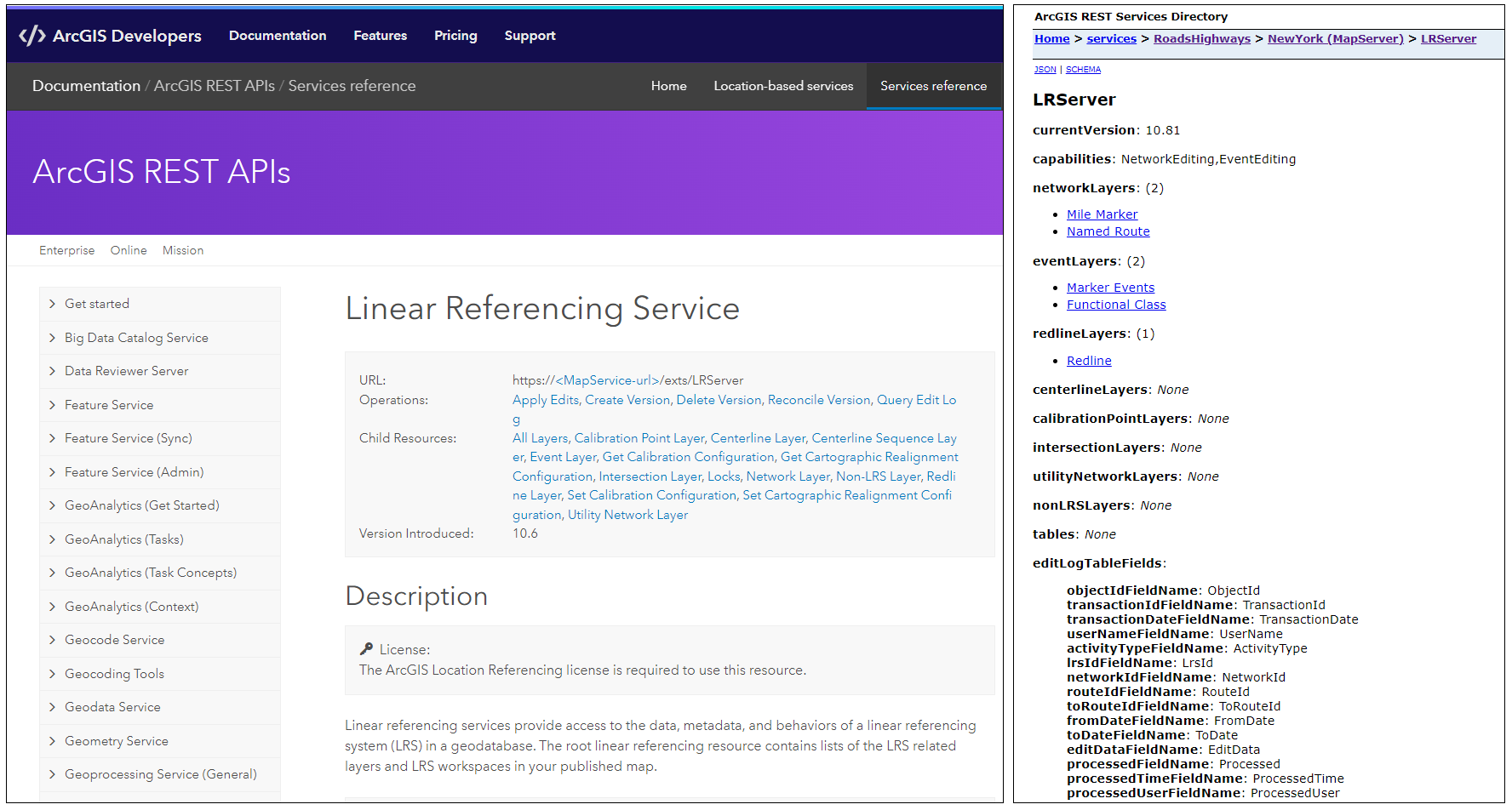 Event Behaviors
Event behaviors are user configured rules for how point and line events should react when the route they're linear referenced against changes in measure or shape. Event behaviors can be configured to ensure that events maintain their location, maintain their measure, retire, or snap to a concurrent route at the same location after the associated route is edited. These behaviors are automatically applied to all events associated with a network of routes, eliminating the need to update individual event records one by one anytime the underlying route changes.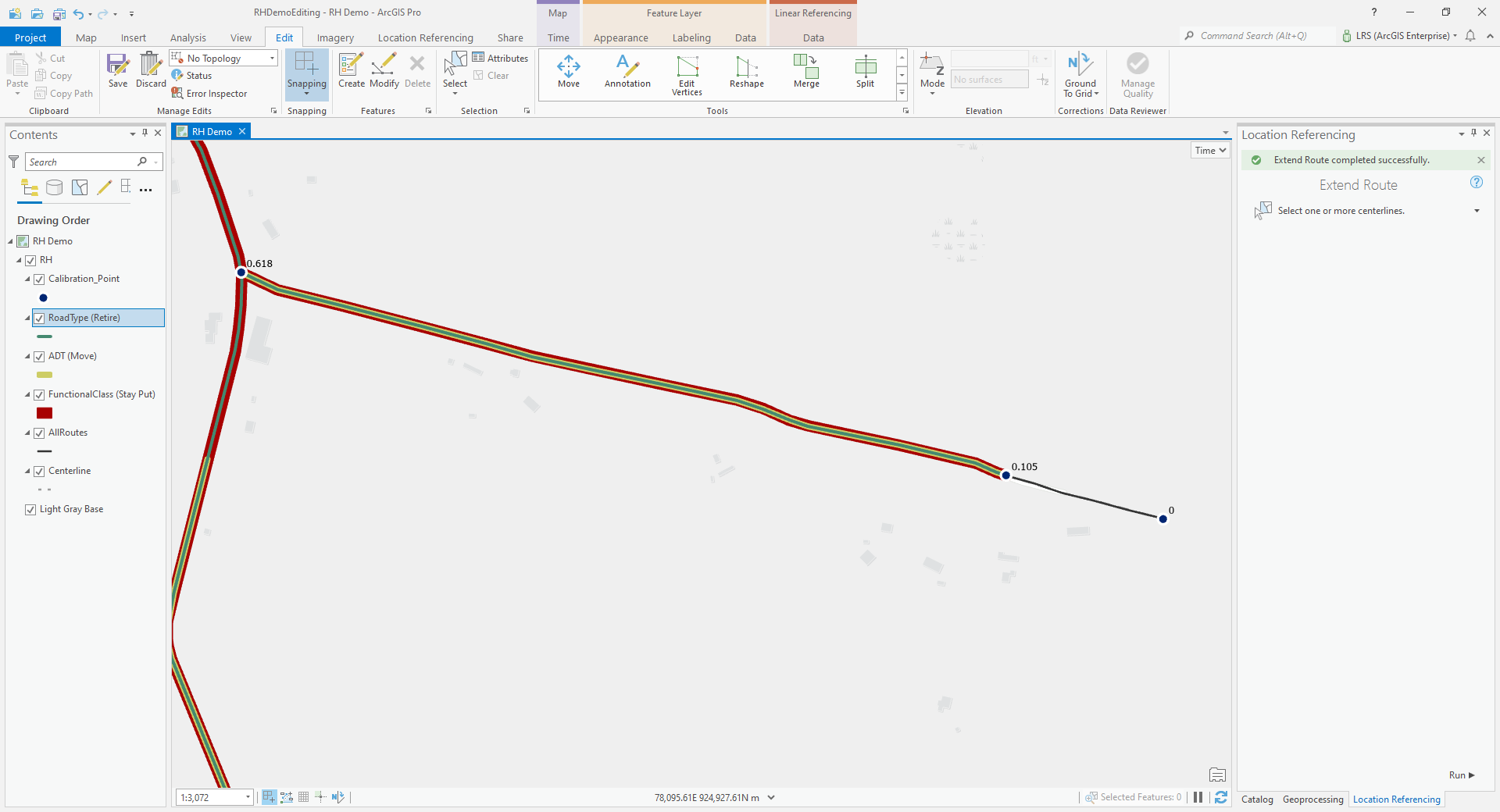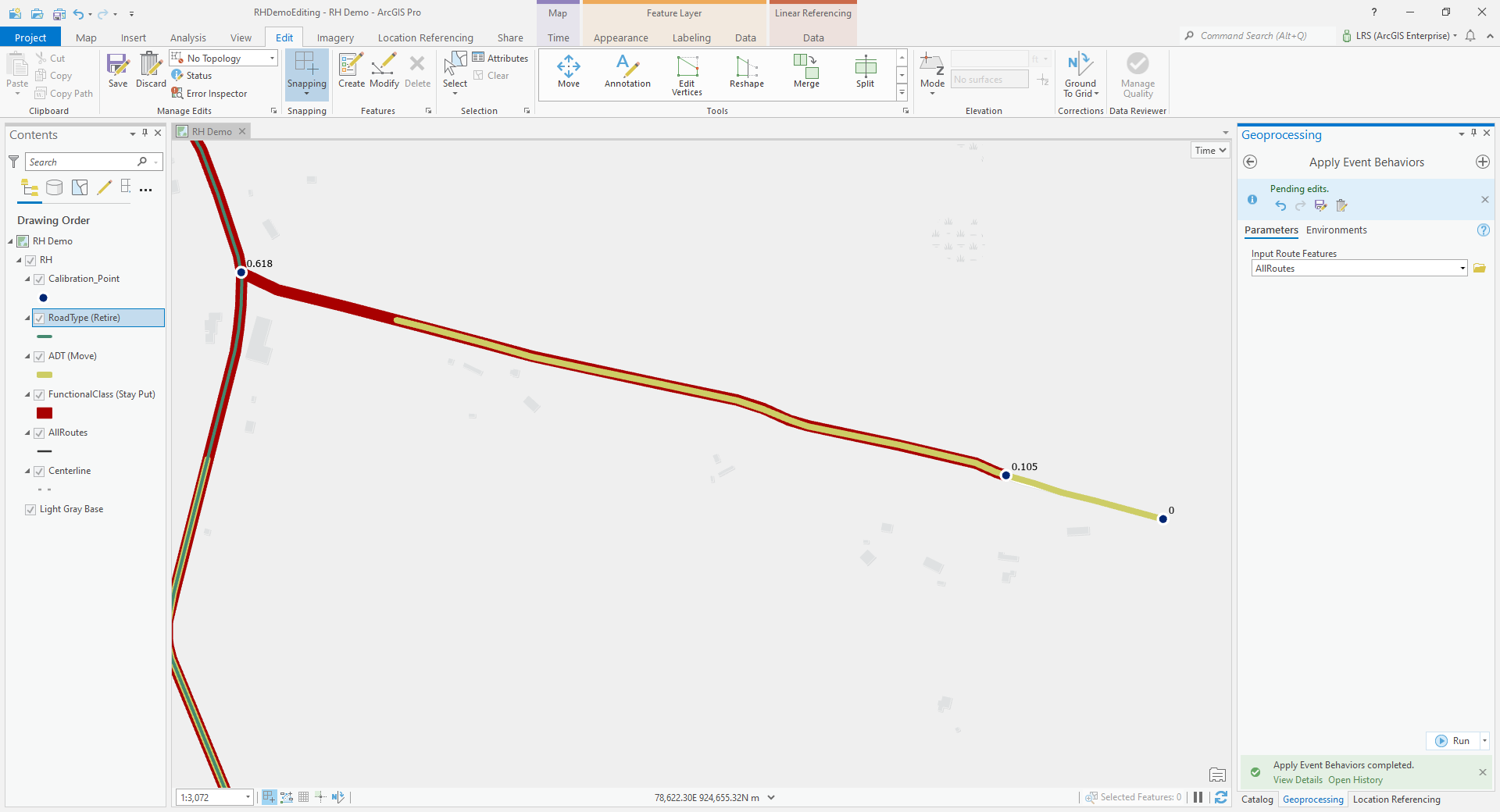 External System Integration
For many organizations, other systems, such as asset management, pavement, or bridges, depend on linear referencing to maintain accurate measure and location, resulting in multiple linear referencing methods (LRM) being used throughout the organization. With Location Referencing, users can sync these external systems with the Location Referencing linear referencing method, so as the routes and their measures change, the changes are pushed to these external systems keeping them in sync with Location Referencing. This allows organizations to move to a single authoritative LRM within their organization, maintained by Location Referencing, while keeping other systems throughout the organization in sync.
Multiple LRM support
Location Referencing has a defined information model that allows the support of multiple networks of routes. Each of these networks can have a different linear referencing method (LRM) based on the needs of each organization. Users can easily translate routes and measures in one network with another network via translation REST services and geoprocessing tools, reducing the need to duplicate data across different LRMs.
Events that span routes
Location Referencing supports the concept of events that span across one or more routes to minimize unnecessary segmentation in events. This event type is useful for events with characteristics that don't change along a road or pipe. Events spanning routes also minimizes the need for events to split where equation points are present as they can span across the equation point along more than one route as a single event record in the geodatabase.
Time Awareness
Linear referenced data that is managed by Location Referencing is time aware. When changes occur to routes and events, the software will store a before and after record of each feature, allowing users to visualize this data at various points in time and perform time series analysis to identify trends in the data over time.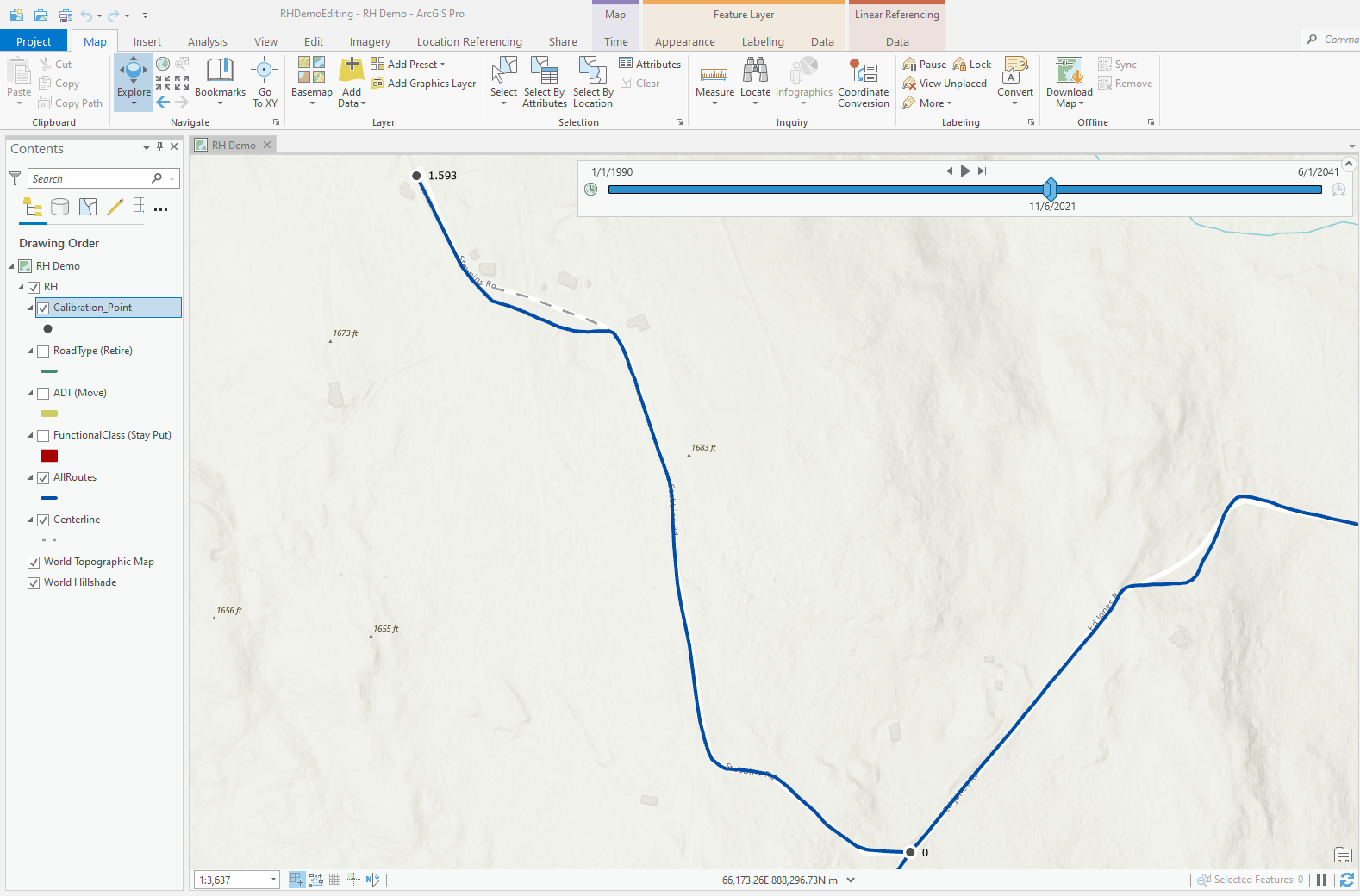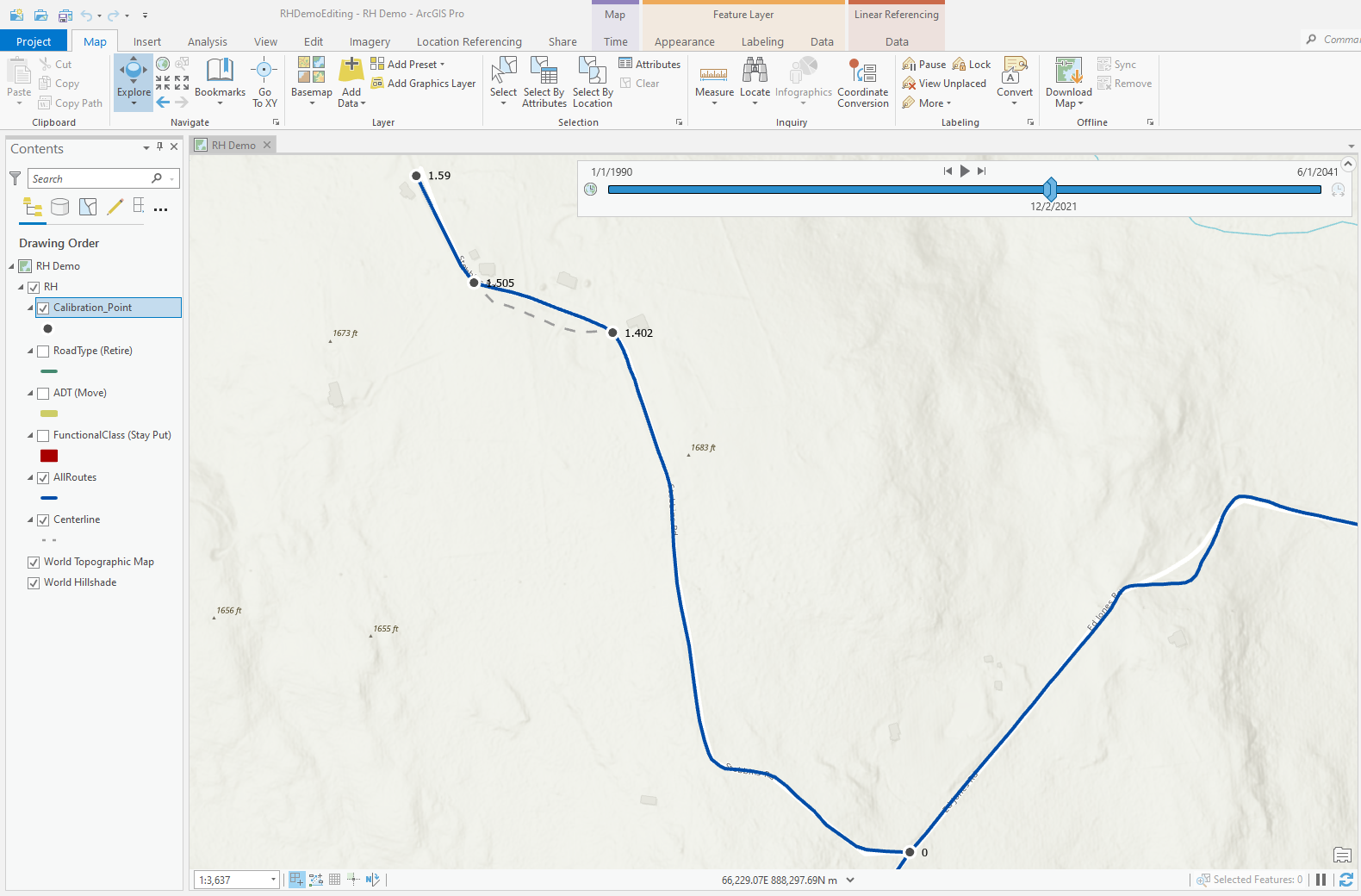 Integration with the Utility Network
Location Referencing also integrates with the Utility Network within a single geodatabase. This integration allows users to take advantage of the linear referencing capabilities of Location Referencing along with the connectivity, tracing, and other analysis capabilities of the Utility Network in the same dataset. This is especially helpful for users in the utility and pipeline space, as they can now manage their data in a single geodatabase and utilize a single set of tools in ArcGIS Pro to maintain this data.
Summary
Linear referencing has been supported by Esri for years. For many users, the core linear referencing tools have provided the capabilities needed to manage their linear referenced data in a GIS. With the core linear referencing tools now available in ArcGIS Pro, users can continue to take advantage of these tools along with many of the new capabilities in the next generation desktop product.
For other users, there may be a need for additional linear referencing tools and capabilities along with the need to expand the use of linear referencing within their organization. For these users, Location Referencing is the answer as it expands linear referencing throughout ArcGIS and provides additional tools and capabilities for an enterprise LRS throughout your enterprise.
Making the move to Location Referencing doesn't mean the core linear referencing tools can't have a place in your organization. Users of Location Referencing are still able to utilize the core linear referencing tools side by side with those from the Location Referencing extension as needed based on their data and workflows.
Banner image by Kyle Glenn on Unsplash.