The Getting to Know ArcGIS Image Analyst guide gives GIS professionals and image analysts hands-on experience with the functionality available with the ArcGIS Image Analyst extension.
It's a complete training guide to help you get started with complex image processing workflows. It includes a checklist of tutorials, videos and Learn Lessons, along with links to additional documentation, for each of the capabilities provided with the ArcGIS Image Analyst extension.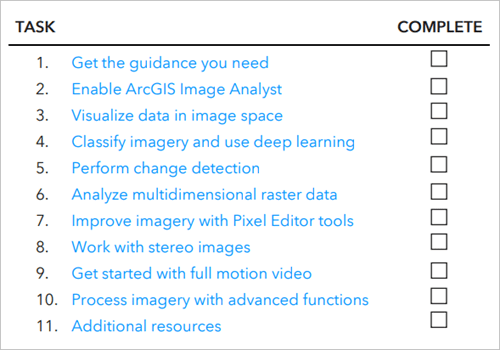 This guide is useful to anyone interested in learning how to work with the powerful image processing and visualization capabilities available with the ArcGIS Image Analyst. You can use it to get up to speed on image analysis capabilities in ArcGIS Pro, or educators may use it in the classroom for training and learning.
Complete the checklist provided in the guide and you'll get hands on experience with:
Setting up ArcGIS Image Analyst in ArcGIS Pro
Visualizing data in image space
Extracting features from imagery using image classification and deep learning methods
Detecting change between two images or across a time series of images
Analyzing time series imagery for trend analysis, prediction, and anomaly detection
Modifying imagery by editing pixels directly
Visualizing and creating data in a stereo map
Working with motion video data in your map
Processing imagery quickly with advanced raster functions
Download the guide today and get started!