Signs are one of the most common assets found along a roadway. They are critical assets that communicate rules, warnings, guidance, and other road and highway agency information needed to navigate roads safely and efficiently. Properly maintained road signs save lives, prevent injuries or property damage, and improve traffic flow.
While most of nation's roads are managed by state and local governments, the Federal Highway Administration (FHWA) Manual on Uniform Traffic Control Devices (MUTCD) sets minimum standards and ensures uniformity of traffic control devices across the nation.  Public agencies rely on the MUTCD for uniformity, and non-compliance or missing signage can result in the loss of federal funds and a significant increase in liability.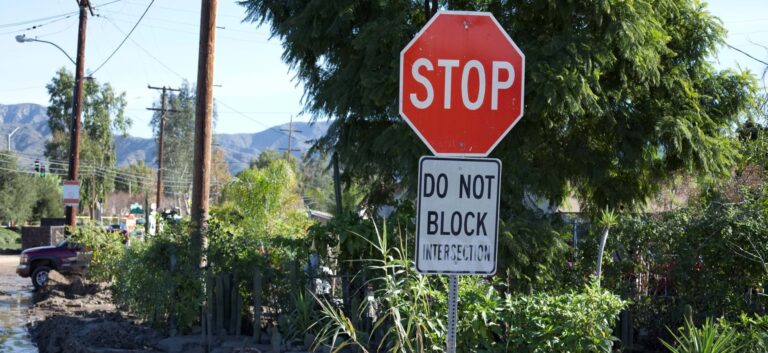 Over time, signs degrade with sunlight, weather, and environmental damage.  Signs and poles placed too close to the roadway can also become a hazard when struck by a vehicle.  As a result, road maintenance organizations routinely inspect and replace signs and poles and use these routine inspection programs to reduce maintenance costs and identify safety issues before an incident occurs.
The Sign Management solution delivers a set of capabilities that help state and local governments collect roadway signs and poles, conduct routine inspection and maintenance activities, and understand asset conditions.
Create sign collection
The first step an organization must take is to create an authoritative collection of signs and poles.  In this collection, signs and poles are treated as separate, but related, assets.  Each can be visualized and filtered in the information products deployed with the solution.
To simplify the creation of a sign collection, the Sign Management solution includes nearly 150 pre-configured editing templates, symbols, and default values for signs and their respective MUTCD codes.  This set of common signs and poles can be configured to support additional pole types, MUTCDs, or local sign codes your organization needs.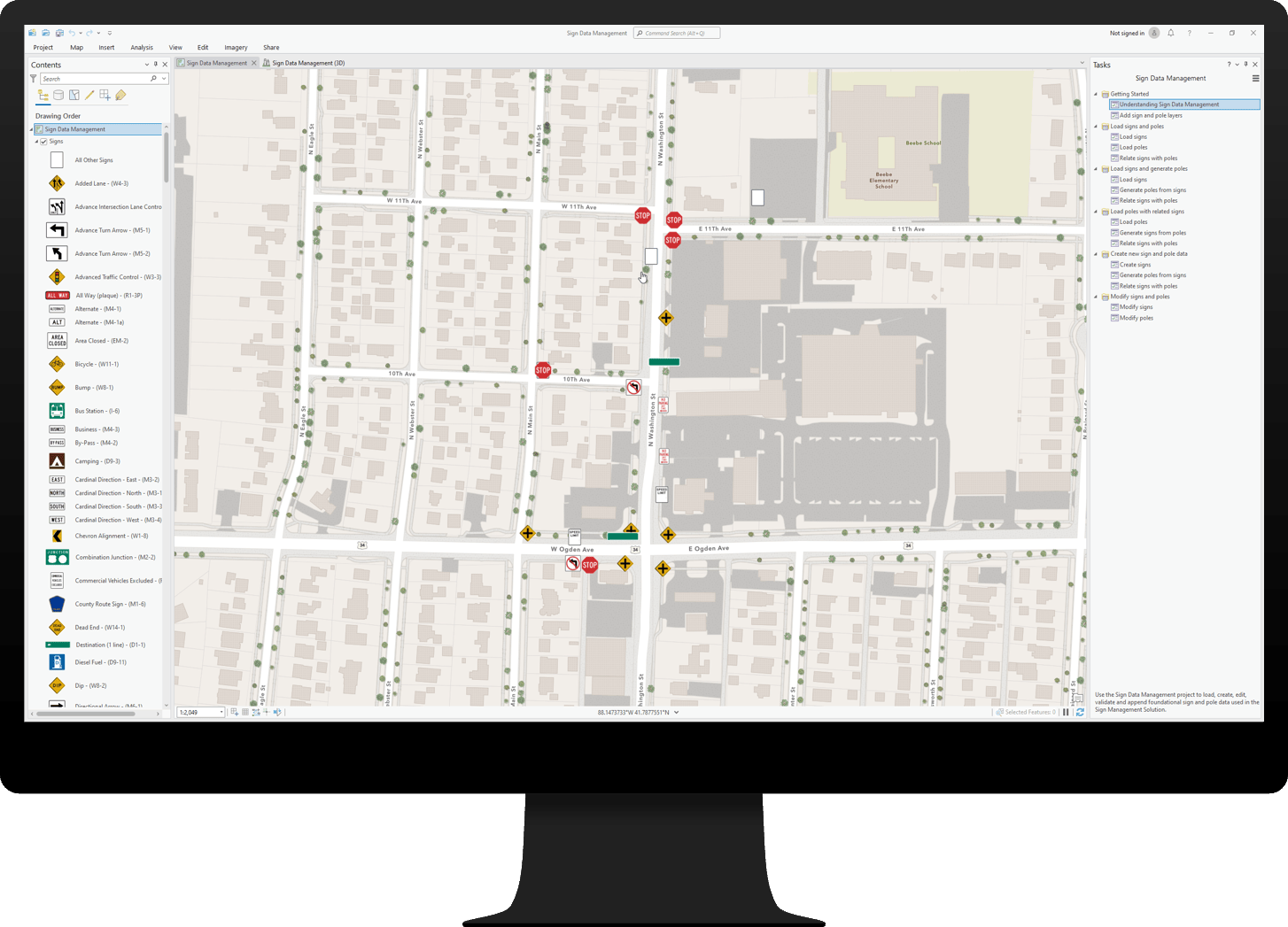 Using predefined tasks in the Sign Data Management ArcGIS Pro project, existing sign data can be loaded into the layers provided with the solution and modified appropriately.  New signs can also be captured from record drawings your organization maintains.
In many cases, mobile data collection of signs and poles may be the most efficient way to develop an authoritative collection for your community.  The Sign Field Map can be used to collect asset information and record inspection and maintenance activities.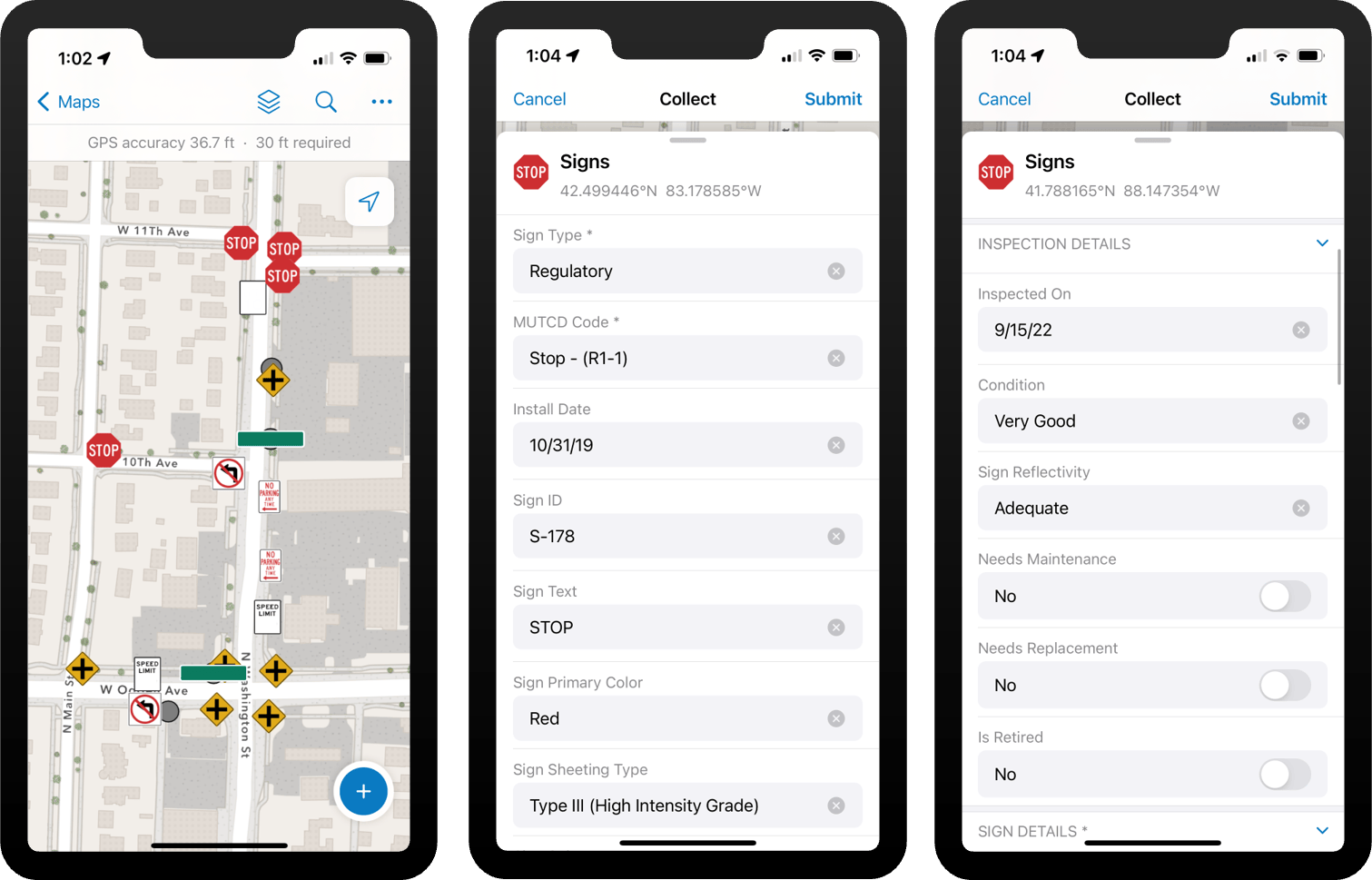 While you are in the field, you can enhance existing sign information and capture new signs and poles missing from your collection.   You can also access inspection and maintenance assignments and update office staff as you complete each assignment.
Manage sign operations
The Sign Management Center can be used to monitor sign and pole conditions, manage requests for service, and create work assignments.  When you initially visit the Sign Management Center, key metrics help you understand your organization's sign collection.  They also highlight requests for service that need to be addressed and work that must be assigned to maintenance staff.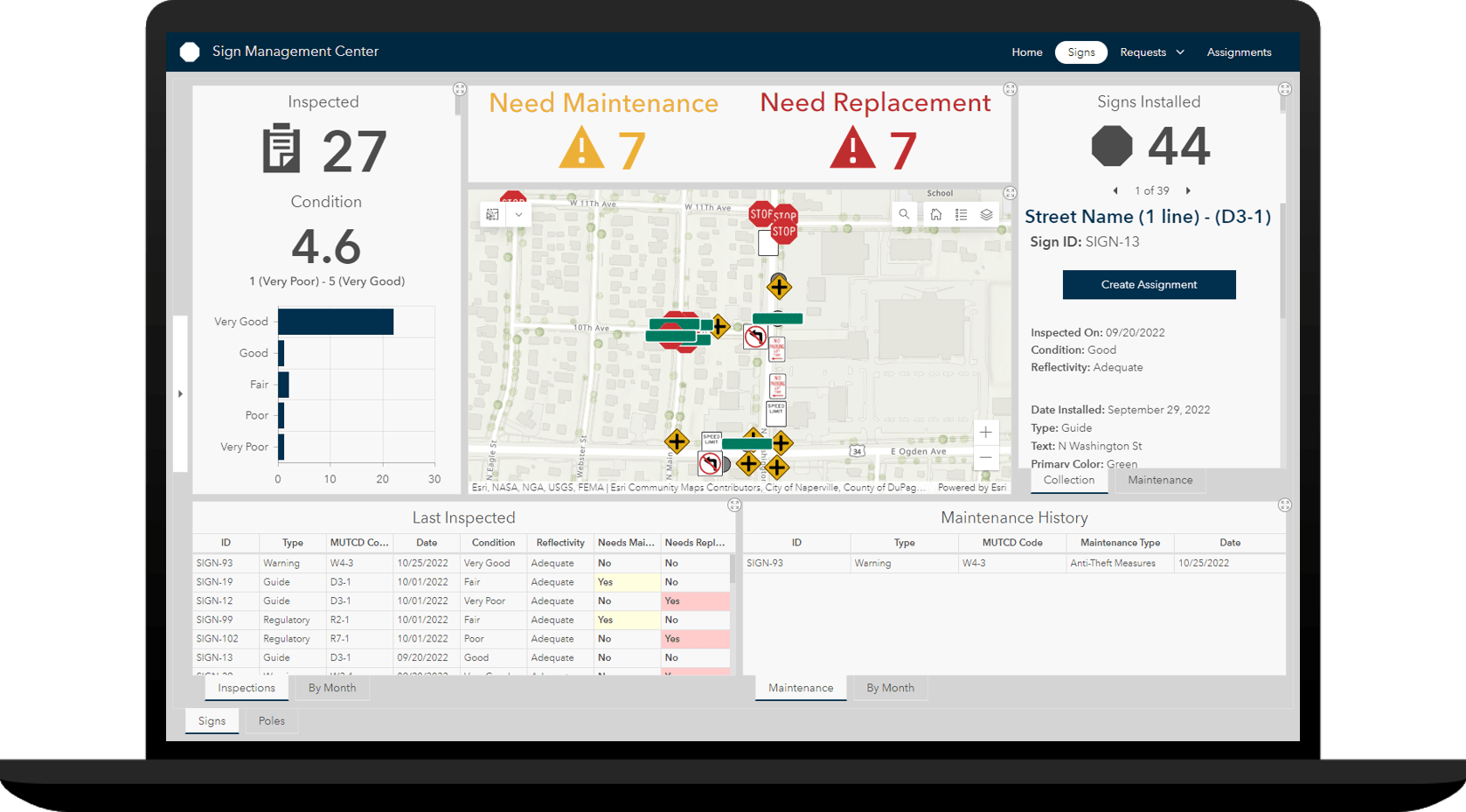 Access your entire sign collection, understand sign conditions, and view inspection or maintenance history.  To target field activities, filter the collection by characteristics such as sign type, MUTCD code, condition, or date installed.  When necessary, create a work assignment for a given sign or pole and share it with maintenance staff.
Many times, residents will see missing, or damaged, signs as they travel throughout a community.  The Sign Request form can be used by the general public to submit requests for service.
Staff can use the Sign Request Manager app to monitor, triage, and address service requests before these small issues become too big, costly, or unsafe for your community.  They can also review requests for service over time, identify any trends or patterns, and ensure requests are being addressed in a timely manner.
Finally, operations and maintenance staff manage routine sign inspection and maintenance programs that identify safety issues and reduce long-term maintenance costs.  Real-time information is critical to running operations smoothly and efficiently.
The Sign Assignment project can be used by operations and maintenance supervisors to organize and manage routine and ad-hoc field assignments. Sort assignments by priority or identify assignments in a given maintenance district on the map.  Assign the assignments to appropriate maintenance staff.  When each assignment is completed in the field, maintenance staff can close the assignment and note the work completed.
View sign collection
The Sign Viewer can be used by engineers and planners to evaluate a sign collection during routine operations or when planning a broader transportation capital improvement project.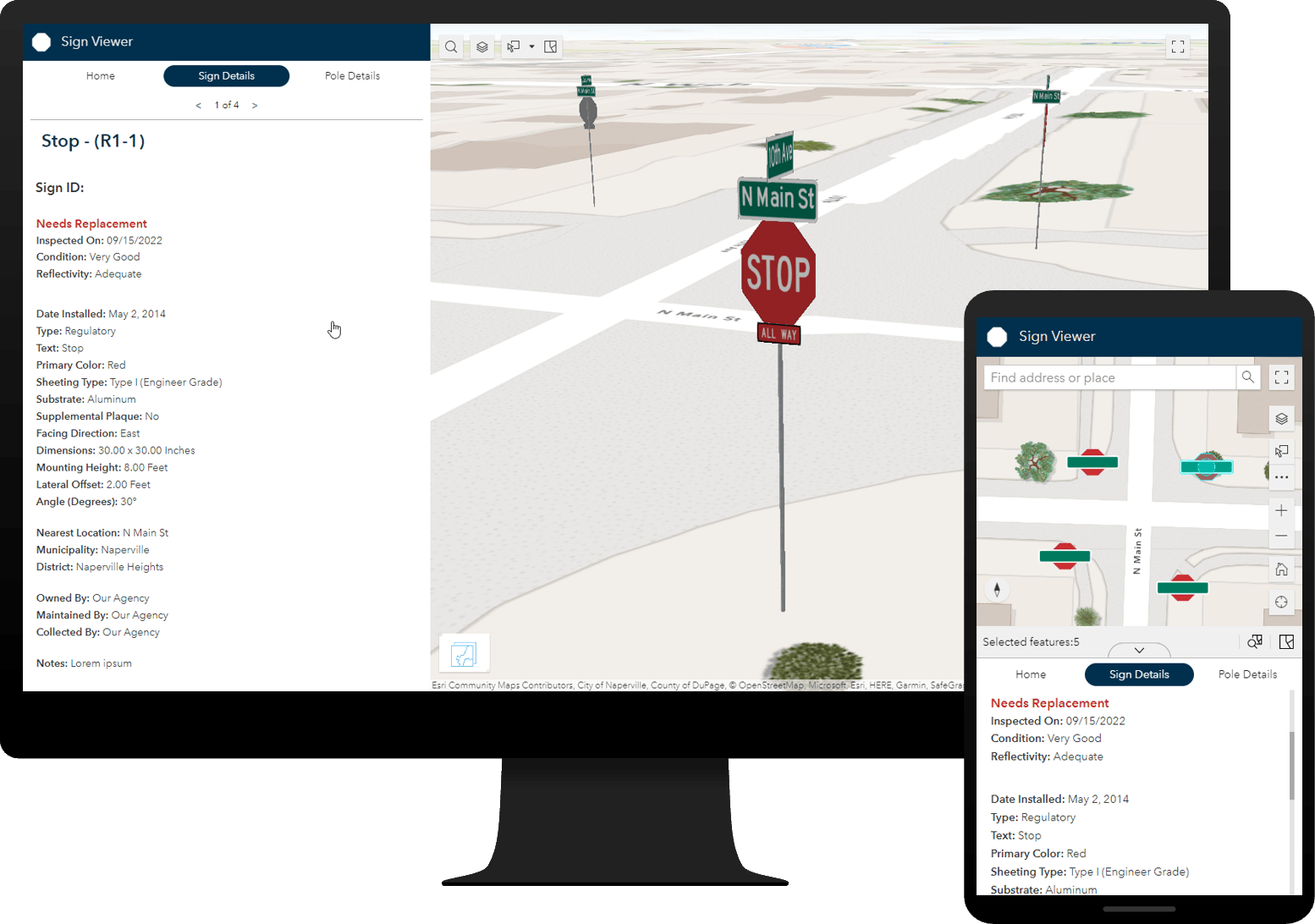 Select a particular sign and review its characteristics or condition.  Then review inspection and maintenance information collected by your organization.  Finally, view the signs and poles in a 3D representation along a roadway or at a given intersection.
Additional Resources
Learn more about the Sign Management solution and how you can quickly deploy this solution on the ArcGIS Solution site. For questions and feedback, chat with us on Esri Community or contact Esri Support Services.