What is ArcGIS Field Maps?
ArcGIS Field Maps is a new mobile app from Esri that combines data collection, map viewing, and location tracking capabilities into a single app that's easy to use and simple to deploy. These capabilities were previously implemented across three separate field apps: ArcGIS Collector, ArcGIS Explorer, and ArcGIS Tracker.
Working with multiple mobile apps poses challenges to workers—It required them to figure out which app to use to complete an assignment, download and sign into each app individually, download multiple copies of map data to work offline, and switch between several apps to complete their workflows.
With ArcGIS Field Maps, you only need to download, sign in to, and work with a single app. Field Maps is all a mobile workforce needs to conduct inspections, collect data, track worker locations, and perform other activities in the field.
See the ArcGIS Field Maps Migration Guide and Migrate to ArcGIS Field Maps to learn more about what to consider when making the transition from Collector, Explorer, and Tracker to Field Maps.
What can you do in the new Field Maps mobile app?
Collect data
Field Maps allows you to collect data on a map enabled for editing using the Add

button. When collecting data, you can select assets from a feature template and add data by filling out smart forms. See Create a map enabled for editing to learn more about preparing maps for data collection.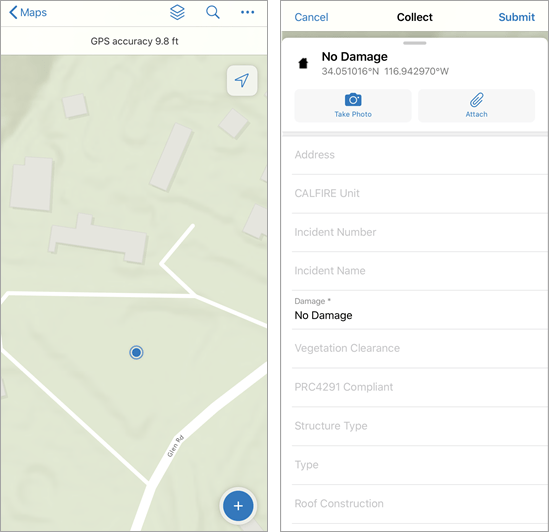 View maps
Viewing maps in Field Maps works just like it did in Collector and Explorer. You can open a map and tap Layers

to see all the layers in the map. You can toggle layers on or off to show or hide them.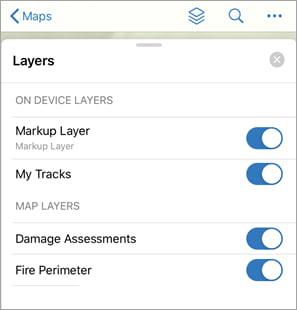 Use the Overflow

menu to change your basemap, access bookmarks, view your map legend, and even measure between points on your map. Tap Share Map to share the map with others. See Quick reference to learn more about working with maps in Field Maps.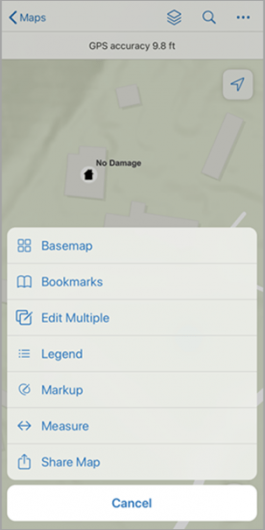 Field Maps also supports working indoors. If your map is compatible with ArcGIS Indoors, viewing a web map or mobile map package (MMPK) that contains Facilities and Levels layers will show a floor picking tool when a building centered on your screen. All the floor levels of that building will then be accessible and filterable as layers. See Create a map for indoor use to learn more.
Mark up the map
Markup allows you to capture sketches and add markers to your map. You can change the color of your sketches or add arrows to your markup. Notes and labels can also be added to communicate additional information.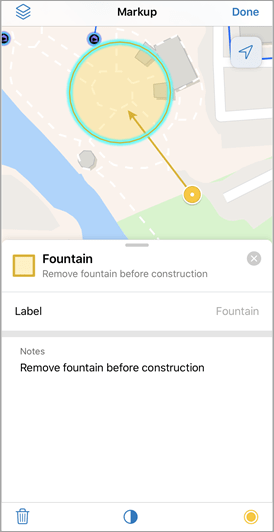 Markup is saved as a layer on your device. As a result, you can use it with any map, and updates made to maps don't affect your markup layers. Markup layers can be created, renamed, and deleted in the Markup Layers menu. You can also share your markup with others. For more information, see Use markup.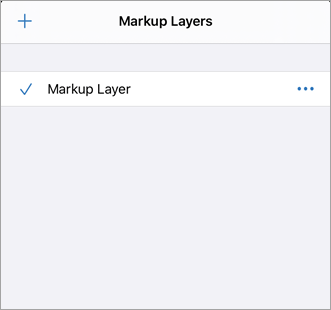 Track mobile workers
Location tracking allows supervisors to know where their mobile workers are and where they have been. Mobile workers can also view their tracks and track themselves while working in the field. To access the location tracking capabilities in Field Maps, location tracking must be enabled for your organization and you must assign an add-on ArcGIS Tracker license to each ArcGIS account that will be tracked. If you meet these qualifications, the My Tracks card will appear in the Maps list. The My Tracks map card can be used to turn location tracking on and off and view your tracks.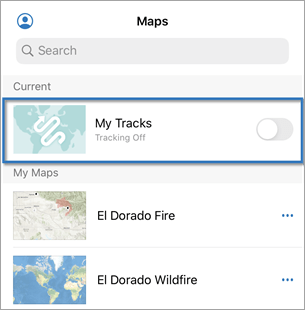 Location tracking can also be turned on or off by tapping the GPS banner on any map. The GPS banner will show a tracking icon to indicate when tracking has been turned on.
Field Maps stores your tracks on your device. If you have a data connection, up to 72 hours of tracks are kept on the device. Without a data connection, tracks are kept until the connection is available and the tracks can be uploaded.
Field maps allows you to view all your tracks in a map and you can choose the time frame to display. To view your tracks in a map, tap Layers

 and turn on My Tracks.
See Track mobile workers to learn more about the location tracking capability in Field Maps.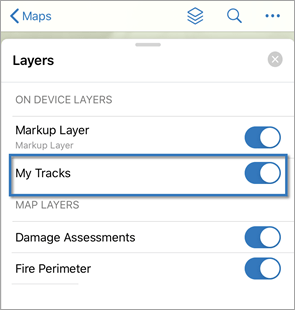 Work offline
Field Maps works where you work – even offline. You can take a web map offline by creating map areas. If you realize you'll be working in an area with an unreliable internet connection, you can create a map area that allows you to view assets and collect data while working offline.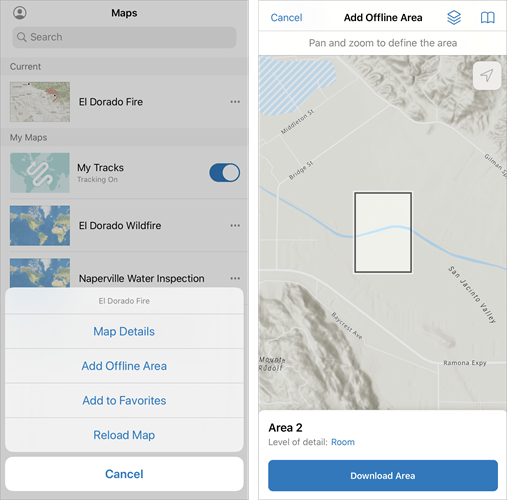 Map areas package the data, basemap, and any attachments within a defined extent of the map. This package then downloads to your device, allowing you to view assets and collect data while offline. Map areas can be defined ahead of time or in the Field Maps mobile app.
When the map area is downloaded, use the offline map just as you would with any other map. Once you are connected to the internet again, you can tap Sync

to update the map with the changes you made while you were offline.

See Prepare maps for download and Download maps to learn more about working offline in ArcGIS Field Maps.
Now that you know what the Field Maps app is capable of, check out 5 things to try in Field Maps for a hands-on guide to the app!
For more information about ArcGIS Field Maps, watch the following video: