Overview
ArcGIS GeoBIM connects teams to design and construction information across cloud systems for exploring projects and assets through a geospatial lens. Architecture, engineering, construction (AEC), and operations teams can work more efficiently with access to geolocated project data and documents from their source using configurable, easy-to-use web apps.
The December 2022 release introduces new tools for analyzing 2D/3D geospatial and building information modeling (BIM) data, as well as improvements to georeferencing performance and the app user experience.
Watch the highlights reel below to see some of the new features and enhancements as part of the December 2022 release.
Release Highlights
As part of our commitment to evolving cloud-connected capabilities between Esri and Autodesk, we listened to our user's feedback on ArcGIS GeoBIM by tackling two important areas with this release. First, we are providing app end-users with new analysis and commenting tools to enhance collaboration workflows. Second, we are delivering improvements to georeferencing and linking data across systems for technologists who configure apps.
Are you interested in driving new capabilities in future releases of ArcGIS GeoBIM? Head over to our Esri Community and add new ideas for consideration!
End-user Enhancements
New 3D analysis toolset
Visualizing design projects and construction sites in context with environmental factors is now easier in ArcGIS GeoBIM thanks to four newly added 3D analysis tools. Whether you are a designer, project manager, or facilities operator, you can quickly simulate daylight, weather conditions, shadow casts, and sightlines to validate project requirements across teams that lead to successful outcomes.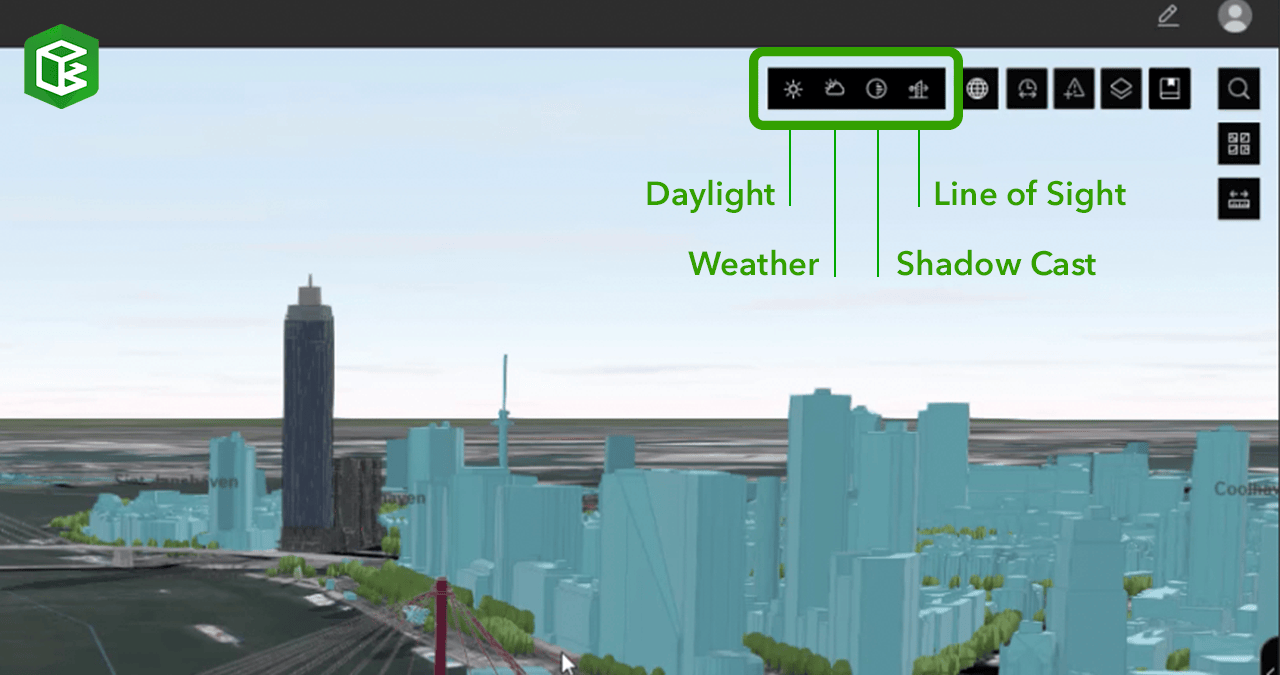 Daylight tool
Illuminate 3D scenes with simulated sunlight and shadow conditions to add a real-world view of digital models on a specified time and date. Users can analyze daylight conditions based on time of day, date, and view with and without shadows. A play button starts an animation of sunlight and shadows throughout the day.
This tool is useful for designers, architects, and program planners that can simulate daylight conditions relative to the camera's point of view and the sun's position by date and time. Daylight simulations are based on the geolocation of assets and project sites, and there is an option to factor in changes in the sun's position throughout the year.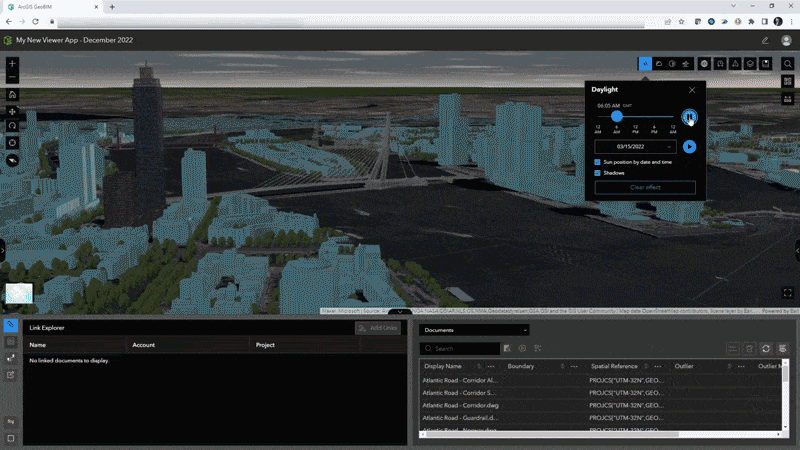 Weather tool
App users can now add atmospheric effects to visualize weather with sunny, cloudy, rainy, snowy, or foggy conditions in scenes. Each weather effect comes with settings to change amounts of clouds, precipitation, and an option to cover 3D objects with snow in the scene.
Project managers, designers, and contractors can simulate weather conditions on project sites and for planning scenarios in context to the surrounding environment. On infrastructure projects, this can improve conversations about safety coordination, plan egresses during emergencies, and help simplify the placement of equipment and crews along corridors during inclement conditions.
Visualize 3D scenes and models with light to heavy snow conditions using the Weather tool in ArcGIS GeoBIM.

Shadow cast tool
Architects, designers, and other ArcGIS GeoBIM users can leverage this tool to make better decisions about shadows cast by buildings and how designs fit into the surrounding cityscape. Modes for shadow cast analysis for BIM data and 3D object features include:
Areas above threshold for only displaying the areas that receive shadows for more than a certain amount of time within the given range (ex. areas receiving shadows 8+ hours a day).
Total shadow duration to analyze the duration of cumulative shadows using opacity.
Discrete shadows for displaying individual shadows at specific time intervals between time ranges (ex. 30-minute intervals between 9:00 – 10:00am).
Analyze areas above thresholds (red) using the Shadow cast tool within ArcGIS GeoBIM.

Line of sight tool
Within ArcGIS GeoBIM, end-users can analyze sight lines from a determined observation point to one or more target points using the line of sight tool. The generated sight lines then divide into visible (green) and obstructed (red) portions.
The line of sight tool is useful for community engagement on projects to determine what can and cannot be seen from property lines and nearby surroundings.
New Elevation profile tool for construction and inspection workflows
ArcGIS GeoBIM now offers a tool to generate elevation profiles based on paths created by drawing or selecting lines in 2D web maps or 3D scenes. Users can view and analyze statistics for slope, maximum and minimum elevation, and elevation loss and gain. Unit options are provided where users can select their preferred distance and elevation units.
The Elevation profile tool can be useful during key phases of the project delivery lifecycle when understanding site conditions is important without having to travel to the field. Prior to construction phases and before materials are delivered on-site, teams can better identify inclines that pose vehicle or logistics hazards. Inspection activities can also be better planned before arriving on-site by determining the best access to assets, particularly in difficult terrain.
New Editor tool for creating and editing feature notes for project feedback
The editor tool provides stakeholders with three new feature types for adding and editing comments within ArcGIS GeoBIM apps that show labels with each note. All project contributors with editing capabilities within their user type can add or modify:
Location notes to designate comments at a location in space
Line notes to draw comments with lines across distances
Area notes to create comments in spaces over objects and surfaces
Geometries of existing ArcGIS GeoBIM Issues, documents, and BIM project boundaries
This provides any ArcGIS GeoBIM user with editing permissions, the ability to create new features in maps and scenes to highlight coordination areas, call-out items that need to be planned, or question proposed design, construction, and assets workflows that need to be addressed with the larger team. Each feature is tracked in the table by when it was edited, and who was responsible for creating and modifying each note.
For each note feature created over document boundaries, the Link explorer will automatically show related Autodesk documents when notes are selected. This becomes an automatic way to create spatially aware links between user comments to documents stored in the Autodesk Construction Cloud®.
Create and edit location notes to comment on features with the Editor tool in ArcGIS GeoBIM.
User Experience and Performance Enhancements
New expandable views in the Explorer group
Before this release, viewing detailed information for links and tables within the Explorer group may have been a challenge for some users due to limited browser real estate. Now with our new user interface enhancement, users can decide which panel of information is critical to view by selecting the single/dual and swap options to focus on only one item like the table, or move the links to the panel's right side.
This also provides greater flexibility when using the new Elevation profile and Editor tools to help users focus on key workflows in each tool without having multiple windows block content and analysis.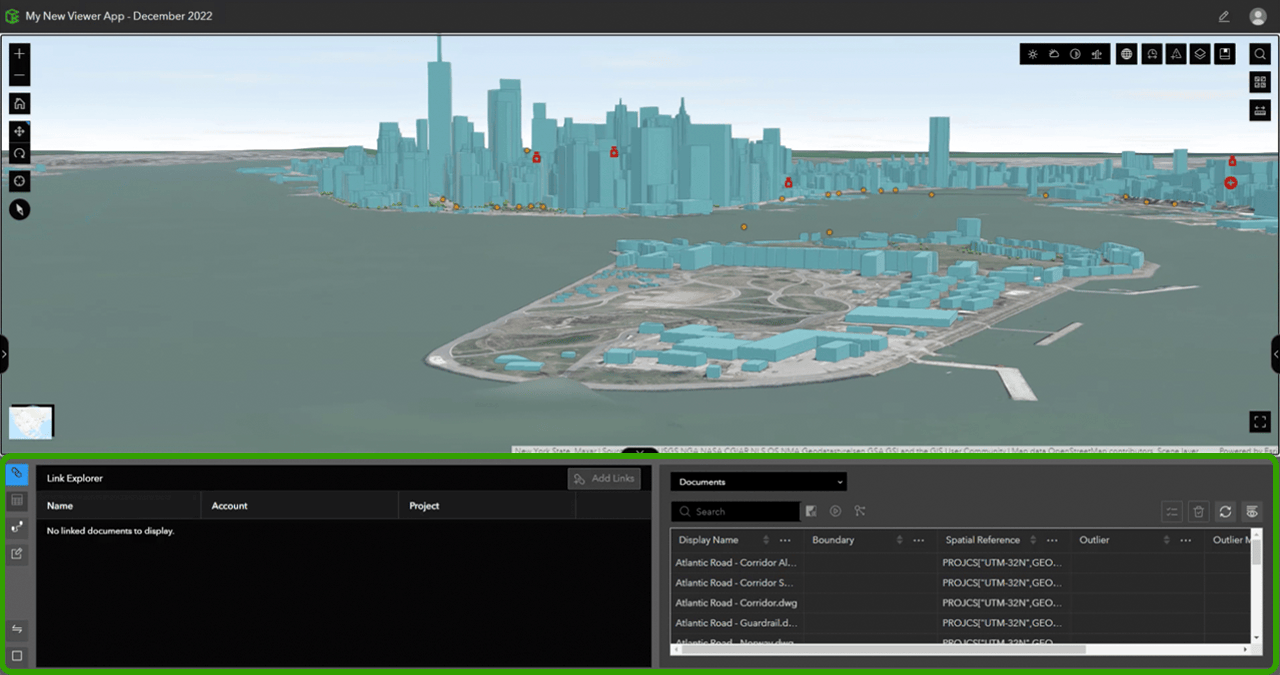 Improved georeferencing from Revit and IFC files
Based on users' model examples for IFC and Autodesk Revit, ArcGIS GeoBIM has improved our back-end processing capabilities to provide georeferenced boundaries with tighter polygons reflective of 3D model geometry spaces. This has also improved how documents and BIM project boundaries are automatically geopositioned from these cloud-hosted Revit (RVT) and IFC files with projections (PRJ) and world (WLD3) files to locate these models.
Improved chart experience for Issues reporting
This release brings a new dashboard experience through charts directly in the Viewer app template to report on project issues. Users can select this preconfigured chart option in the bottom-right side of the App editor page, as well as new color ramp options grouped by issue status, type, sub-type, and company. Once these have been enabled, the end-user experience becomes simple to use when selecting chart categories, filtering these issues down in the map experience, viewing details in the table, and removing filters to reset the view.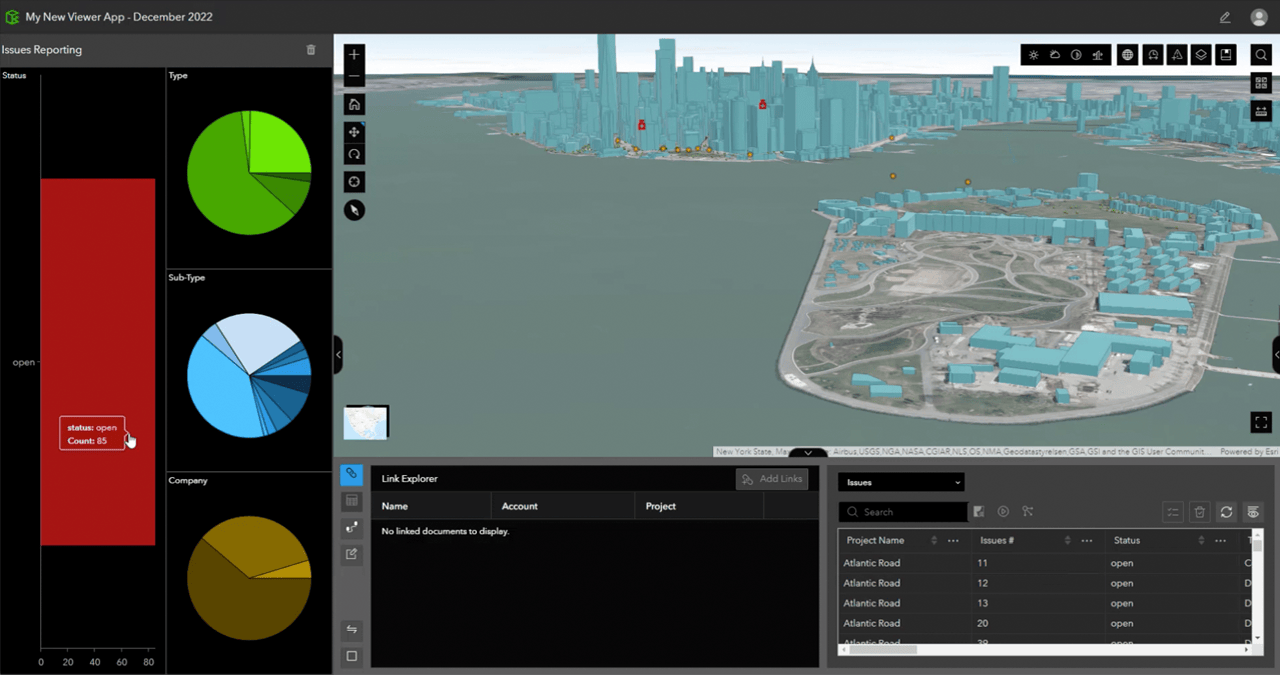 While this chart option provides a simplified way to create a dashboard experience for issues within the Viewer template, it does not have additional configurability beyond the color options. For this reason, the Dashboard template will continue to be available and supported for users who want to create ArcGIS GeoBIM apps with ArcGIS Dashboard components that can be edited depending on their desired workflow. Please be advised the optimal interrogation of issues will be through this new Viewer template, but the dashboard template is available for users wanting a more customizable approach to dashboard components.
Enhanced document linking to GIS features
Link to features
When technologists use the Link to features option within the ArcGIS GeoBIM Link page, they can now enter a text search against their Autodesk Construction Cloud project directory to link related documents by name to their GIS features.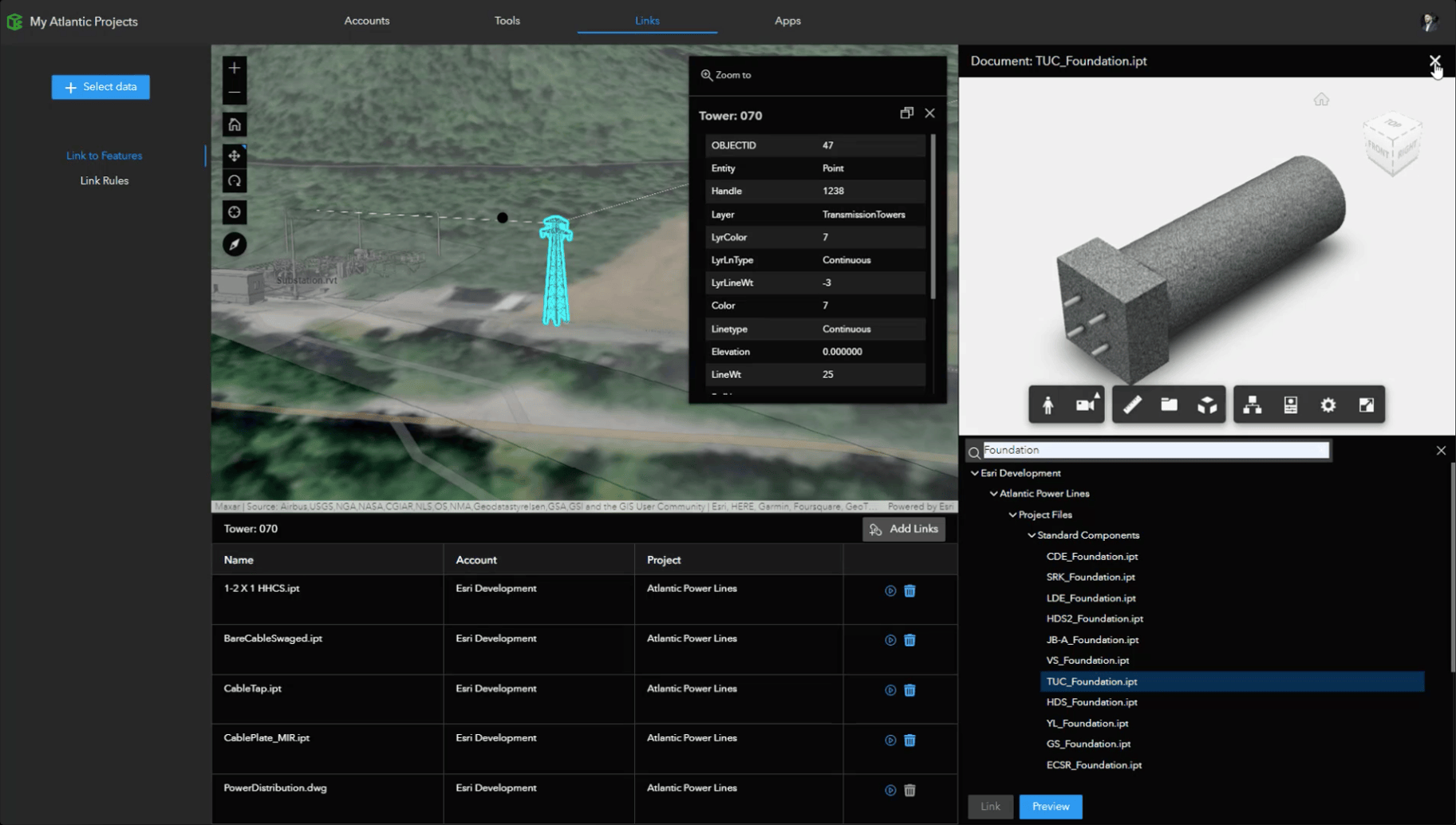 Link rules
For projects using information management standards, like ISO 19650, where their GIS feature attributes have relationships to document names stored on the Autodesk Construction Cloud, they can create a new DocumentName rule type to automate links to any file type. Using this rule and selecting an attribute from the related layer list will use the text in the attribute to automatically query files in the Autodesk file directory and appear as links when a user explores their data in ArcGIS GeoBIM apps.
For example, if a feature layer's attributes contained types of asset structures, and there were Autodesk file names using these asset types in part or all of the document name, ArcGIS GeoBIM will show these related documents in the app link explorer when these features are selected by a user.
This enhancement enables an automatic linking beyond model files, where PDFs or Images could be searched, and is particularly useful for teams delivering projects with ISO 19650-related standards.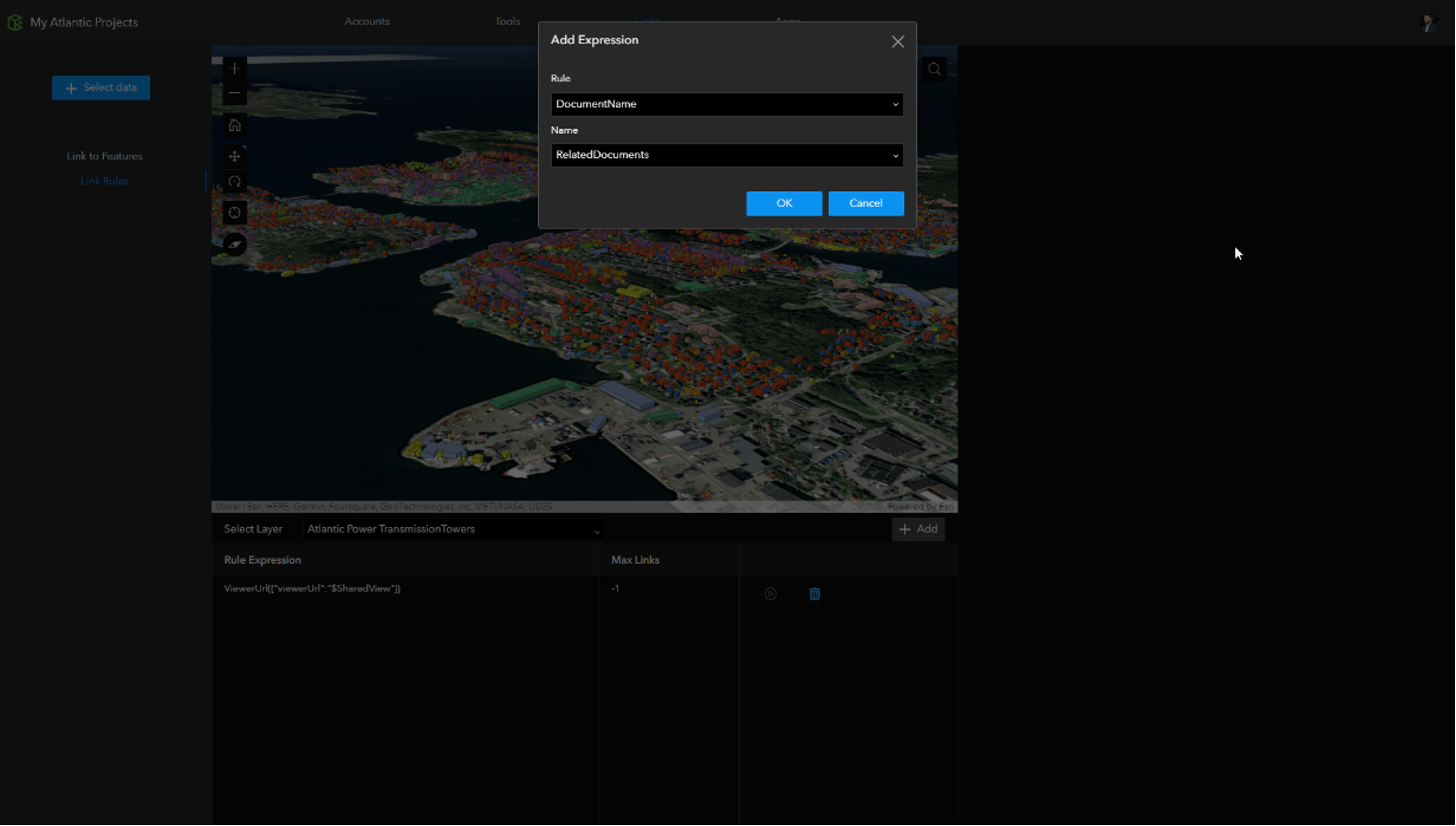 Known Limitation
Support for Autodesk Construction Cloud Issues
The Autodesk Construction Cloud (ACC) Issues API, used in ArcGIS GeoBIM, continues in development. Autodesk users are advised that issues created in ACC are limited in sharing geopositioned data with ArcGIS due to ongoing ACC API work. Learn more about these known limitations with using Issues from the Autodesk Construction Cloud API.
Additional Resources
Check out more videos and webinars about ArcGIS GeoBIM
You can find additional videos on GIS and BIM collaboration in the cloud and more by visiting the ArcGIS GeoBIM video playlist. For previous and upcoming webinars, including ones jointly presented by Esri and Autodesk, visit the ArcGIS GeoBIM webinars page.
Join the Esri Community
Have a question about this release for our GIS and BIM experts? Got an idea for improving ArcGIS GeoBIM? Join the discussion by posting your questions, successes, and feedback in Esri Community.