We're just a few weeks away from Esri User Conference (#EsriUC), the world's premier GIS conference in San Diego, CA, July 8-12, 2019. The UC is the largest global GIS event, attracting over 18,000 users, managers and developers. What can you expect?
Inspirational keynotes and content with 1000+ sessions
770+ hours of training and one-on-one support sessions
250+ innovative software exhibitors
UC Expo: The place to explore, collaborate, learn, and find inspiration
Test-drive new software solutions from over 250 Esri partner exhibits at the forefront of geospatial technology. Visit Esri industry neighborhoods, GIS product areas, and focused zones. Attend demo theaters and hear how the latest technology will transform your GIS workflows and help you overcome challenges.
Tuesday, July 9, 9:00 a.m. – 6:00 p.m.
Wednesday, July 10, 9:00 a.m. – 6:00 p.m.
Thursday, July 11, 9:00 a.m. – 4:00 p.m.
Don't miss the Esri Startup Zone (SUZ) – Hall A, Expo
Make time to see what is trending in the geospatial industry. This high energy area hosted by the Esri Startup Program, features 20 up-and-coming emerging businesses that have integrated spatial capabilities within their product offerings. SUZ exhibitors address a broad spectrum of industries across a wide array of themes, such as augmented reality (AR), Internet of Things (IoT), indoor mapping, real-time analytics, and more. Join this passionate community for demos, explore partnerships, and learn about their new offerings built to deliver value for the enterprise market. Download the SUZ flier to help plan your visit.
Startup Zone Exhibitors:
| | | | |
| --- | --- | --- | --- |
| Company | Description | Industry Focus | Booth |
| 2NDNATURE | We design and build software that simplifies water resource management. 2Nform provides a cloud-based solution for MS4 NPDES permit compliance. | Water/Wastewater/Stormwater, Local/State Government | Z12 |
| Airspace Link | Provides Drone Management Solutions for Drone Companies, FAA, State & Local Governments. | Local/State Government, Commercial | Z15 |
| Armor At Hand | IoT connected, lightweight shields, hidden in plain sight. GIS connected, one moves all light/buzz, mapped safe/danger zones, guided paths to safety. | Education, Public Safety | Z11 |
| Attentive AI | Attentive AI is helping customers build the future today by bringing speed in production and transparency in delivery of high-quality digital maps. | Electric & Gas, Telco, Natural Resources | Z19 |
| Bluefield GIS | Bluefield GIS, reinventing mobile mapping. Instead of picking and selecting, take field notes and collaborate in real time using color pencils. | Natural Resources, AEC, Electric & Gas | Z8 |
| Earthcube | Earthcube is developing monitoring solutions based on an automated analysis of geospatial information. | Defense, National Government | Z5 |
| Easy2Hike | Easy2Hike: The trails app and park management platform powered by ArcGIS. Enabling park managers to take data driven decisions. | Local/State Government, Conservation | Z14 |
| Edgybees | Understand, Instantly. Edgybees provides real time visual operational intelligence augmenting live video feeds with precise, geo information layers. | Public Safety, Military, Automotive, Telco | Z9 |
| Factal | Created by the founders of BreakingNews.com, Factal is fastest source of verified, geolocated breaking news data in the world. | Commercial, Public Safety, Local/State Government | Z7 |
| FernLeaf Interactive | Locally quantified and regularly updated climate resilience assessments with a social equity lens. Quantify climate risk, make better decisions. | Local/State Government, Public Safety, AEC | Z17 |
| FlameMapper | Ready to regain control of wildfires? See the difference in our structure focused approach to wildfires. Expose your team, to machine learning tools. | Public Safety, Fire/Rescue/EMS Local/State Government, Insurance | Z16 |
| GeoCam (GroundVu) | GeoCam supports imagery, 3d point clouds, and geo data as a service. Enterprise and professional GIS requires high quality, reliable rapid delivery of ArcGIS ready data. At GeoCam, we capture, process, and deliver high resolution imagery in 2d and 3d into organizations Portal for ArcGIS. Learn about our work with utilities, local governments, and other organizations dealing with small or large areas of interest. | Electric & Gas, Telco, Local/State & National Government, Public Safety | Z21B |
| IndoorVu | Indoor Mapping company delivering GIS ready indoor data with cm precision with a range of up to 350ft. We quickly map venues and deliver high-def, georeferenced digital building data, including a hosted, multi-tenant service for maintaining and distributing access to building content to serve the most basic or complicated building challenges. | Commercial, Real Estate, Telco, AEC | Z21A |
| iSpatial Techno Solutions | iSpatialTec built BrAEin, a geo.AI framework that transforms your business with actionable insights using predictive power of AI & location analytics. | Electric & Gas, Government | Z13 |
| Kinetic Analysis Corporation | Kinetic Analysis Corporation provides a multi-model view of deterministic and probabilistic tropical cyclone hazard, damage and loss data. | Commercial, Insurance, Government, Natural Resources | Z10 |
| vGIS | vGIS is a developer of augmented reality (AR) solutions for Esri's ArcGIS Platform. | Electric & Gas, Local/State Government, Natural Resources | Z1 |
| SafeGraph Inc | SafeGraph offers an accurate place-of-interest dataset with business listing & geospatial point/geometry data for 5M places where people spend money. | Commercial, Local/State, National Government | Z4 |
| Spatial.ai | Geosocial data organizes billions of location based social medial into 72 actionable social psychographic segments for analysis. | Commercial, Real Estate | Z3 |
| StreetScan | StreetScan provides up-to-date, accurate and cost-efficient information on road asset conditions. | Local/State Government, Transportation | Z2 |
| VERSES | VERSES is a Spatial Network Operating System that manages the information, interactions and collaboration between humans, AI and machines in 3D space. | Commercial | Z6 |
| wearabouts | Workforce bio-medical data and location in a single dashboard. Effectively manage employee productivity, efficiency, teamwork, and fatigue. | Natural Resources, AEC, Electric & Gas | Z18 |
| Esri Startup Program | A free, up-to three-year program that gives emerging businesses the tools to build mapping and location analytics capabilities into their products. Qualifying startups receive online services, software, training and support, content, and other opportunities to help them succeed. | All Industries | Demo Theater |
Startup Talk Schedule
Startup Zone Spotlight Theater – EXPO, Hall A (20 Minutes)
Tuesday, July 9
10:00 AM
Democratizing Data about Points-of-Interest (POI) & Consumer Geospatial Behavior
SafeGraph
10:30 AM
Geosocial Footprints: Capturing Communities Behaviors Through Location Based Social Media Data
Spatial.ai
11:15 AM
Breaking News: The Power of Proximity Alerts
Factal
1:00 PM
GIS & EMS, Saving Lives When Seconds Count!
Alerta Medica & GIS Routes
1:30 PM
Rapid Imagery and HD Maps for the Enterprise
GeoCam
2:00 PM
Implementing Indoor Mapping and GIS for your Buildings
IndoorVu
2:30 PM
Artificial Intelligence, A Critical Force Multiplier Enabling Information Superiority
Earthcube
3:00 PM
Centralized Navigation Solutions for Drone & UAS Operations
Airspace Link
4:00 PM
GIS & Augmented Reality (AR): Bringing Spatial Data to Life with Real-time Video
Edgybees
4:30 PM
Implement a Parks & Recreation Management Platform & Trails App with Easy2Hike
Easy2Hike
Wednesday, July 10
10:00 AM
Introducing Streetlogix: AI-enabled Smart City Asset Management System
StreetScan
10:30 AM
Quantitative & Equitable Climate Resilience on the ArcGIS Platform
FernLeaf Interactive
11:15 AM
Simplifying Stormwater Compliance Using Cloud-Based Solutions
2NDNATURE
1:00 PM
The Future of Feature Extraction
Attentive AI
1:30 PM
Real-Time Biomedical & Location Tracking for Health, Fitness & Workforce Management
Wearabouts Inc
2:00 PM
GIS & IoT Connected, Bullet Capturing Shields, Hidden In Plain Sight
Armor At Hand
2:30 PM
Build Community Consensus on Wildfire Mitigation Projects with Predictive Analysis
FlameMapper
3:00 PM
Using Multi-model Hurricane Hazard & Damage Data for Situational Awareness
Kinetic Analysis Corporation
4:00 PM
The Power of Spatial Intelligence & Industry 4.0
VERSES
4:30 PM
GIS & Augmented Reality (AR): Real-Life Use Cases
vGIS
Thursday, July 11
10:00 AM
BrAeIn – Location Intelligence & AI Based Real-time Monitoring Dashboard for Predictive Analytics
iSpatial Techno Solutions
10:30 AM
Draw Maps for ArcGIS by Bluefield GIS
Bluefield GIS, Inc
11:15 AM
Transforming Your Map Into a Communication Tool: Make Decisions Reflecting Dynamic Local Realities
Balcony.io
Today, startups do more than influence mainstream culture–they also change the way our organizations operate. With intense pressure on organizations to innovate and do more with less, Esri startups are delivering powerful solutions with intuitive interfaces that extend the ArcGIS platform.
We hope to you there!
Learn more about the Esri Startup Program and join our community: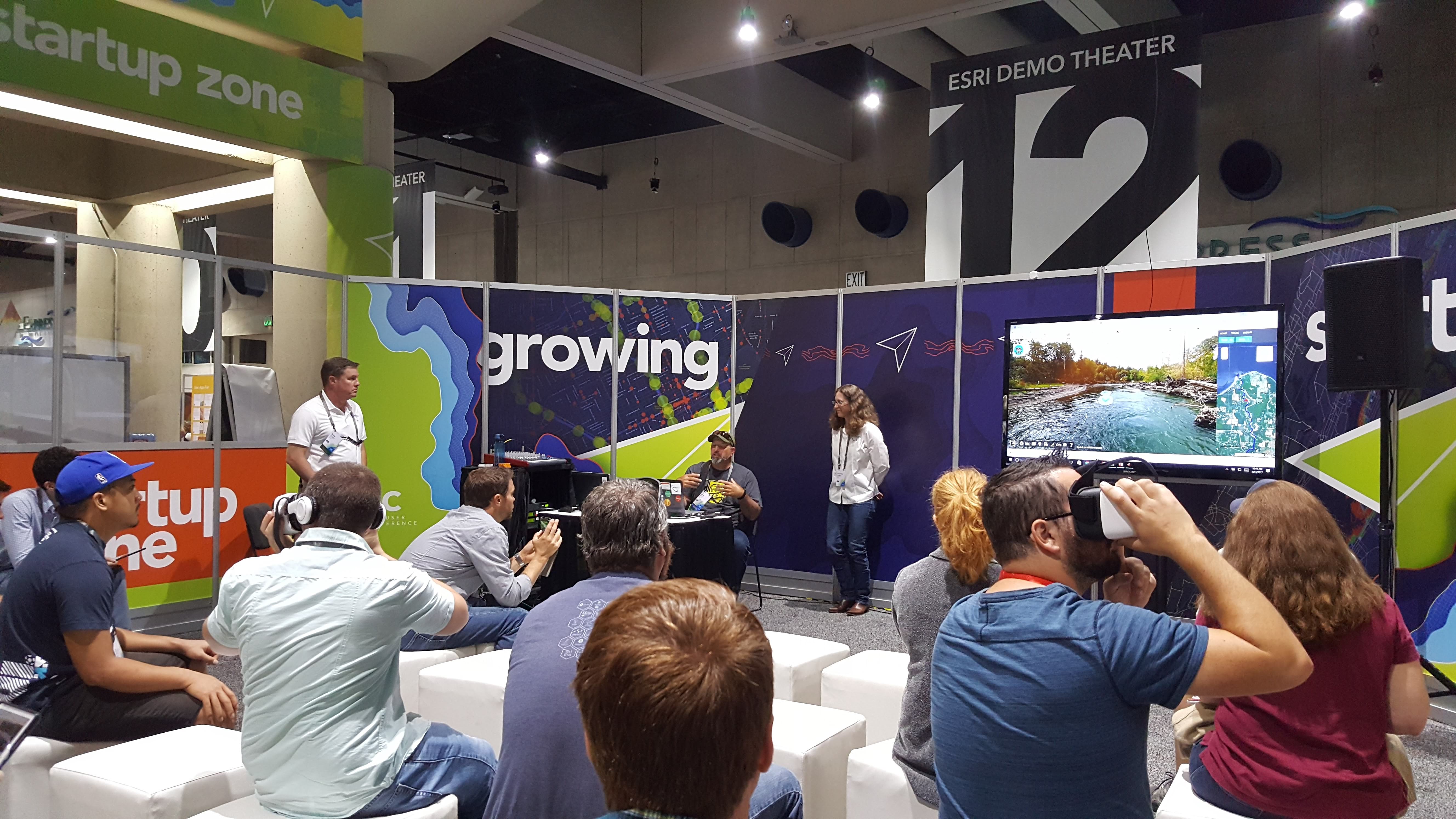 Commenting is not enabled for this article.