Around the world, people are using the latest ArcGIS software products to communicate ideas and share information.  During the 2018 Esri User Conference, Cobb County, Georgia, described how it brings ArcGIS into everything it does from water assessment to citizen engagement. Powered by big data and web apps, the county is turning staff and citizens into problem solvers. J.D. Irving described how it uses ArcGIS to help its 15,000 employees understand and communicate complex spatial connections from planting forests to bringing products to market.
The 2018 mid-year update continues to bring organizations around the world powerful tools to integrate geospatial information into everything they do. Here is a summary of what's new in this latest release.
ArcGIS Pro
Next-generation desktop GIS.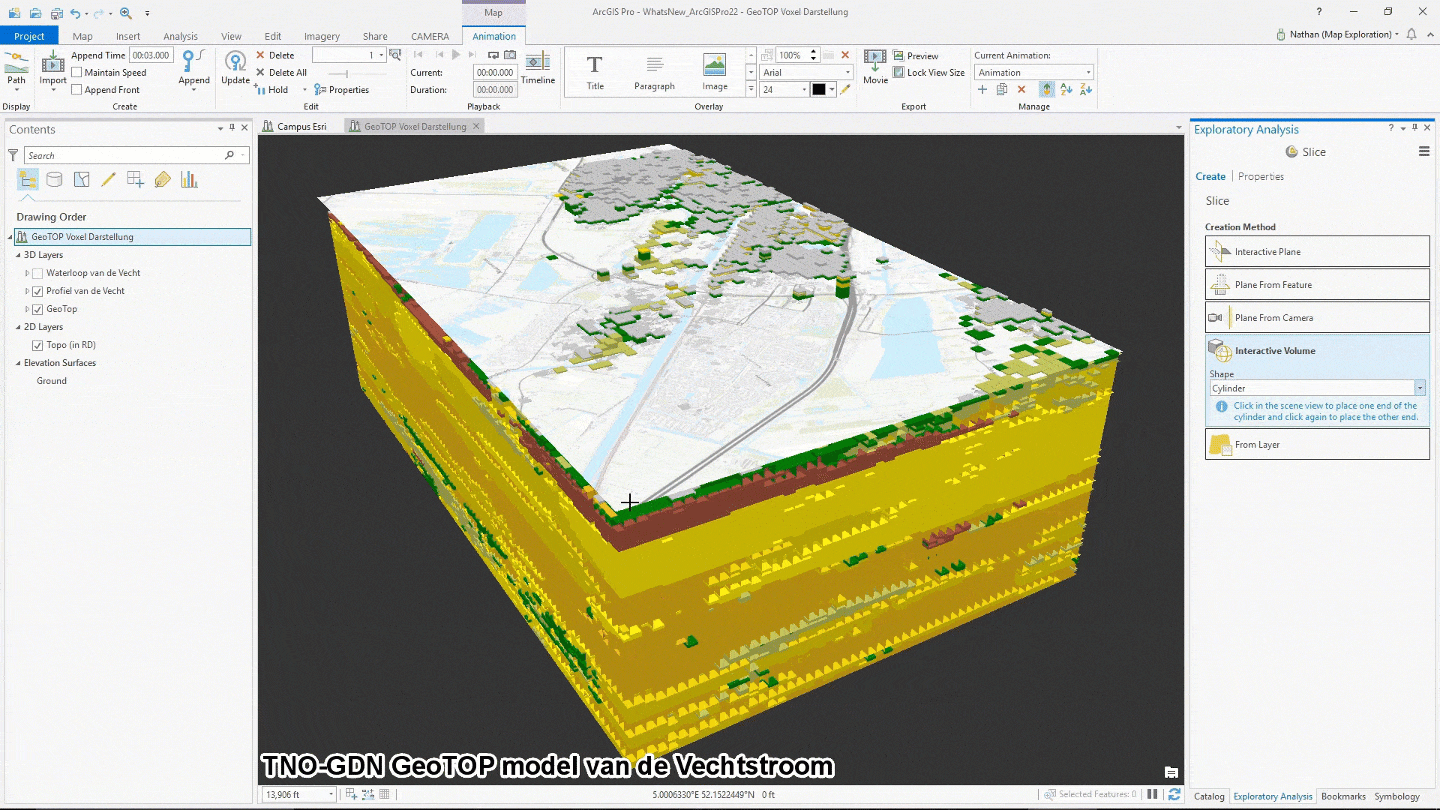 ArcGIS Pro 2.2, the latest release of Esri's flagship 64-bit desktop GIS application, continues Esri's mission to provide new and user-requested functionality. It includes more innovations for working with 2D and 3D spatial data. We've added more tools for performing advanced analytics and have enhanced support across the ArcGIS platform. Among its latest features are new symbology color schemes and slice tools for 3D exploration. You can now incorporate full motion video and UTM Zone clipping. See more enhancements for ArcGIS Pro in many of the other products listed in this announcement.
ArcGIS Image Analyst. Unlock imagery information. Achieve greater value from all forms of imagery with this expanded extension for ArcGIS Pro 2.2. The addition of full motion imagery and AI capabilities coupled with image space and stereo visualization, bring your imagery and remotely sensed data to life.
Learn about ArcGIS Image Analyst
ArcGIS Business Analyst for ArcGIS Pro. Make smarter market planning, site selection, and customer segmentation decisions in ArcGIS Pro. New Site Suitability Analysis Workflow and Territory Design and Management tools are now available in ArcGIS Business Analyst for ArcGIS Pro 2.2. Site Suitability workflow and tools support a modeling workflow that will enable you to interactively filter, score, and rank candidate sites or areas based on multiple selection criteria. The new Territory Design and Management tools have been completely redesigned to take advantage of ArcGIS Pro's high-performance architecture and modern, intuitive UI. In this initial release, users will have access to two new territory design and management workflows supported by seven geoprocessing tools in a new Toolbox as well as a supporting set of ribbon tools.
See what's new in ArcGIS Business Analyst for ArcGIS Pro:
Site Suitability Analysis Workflow and Tools
Territory Design and Management Tools
ArcGIS Data Reviewer for ArcGIS Pro. Ensure data QA/QC directly within ArcGIS. With ArcGIS Pro 2.2, ArcGIS Data Reviewer provides several enhancements and improvements to automated checks. Feature on feature check detects errors based on spatial and attribute relationships between features. The new Attribute Relationship parameter validates features that have a specified spatial relationship. Other checks, such as Feature on Feature, Duplicate Feature, and Cutbacks Checks, have been updated for improved performance, resulting in quicker validation of features. The Invalid Event check can now validate web feature layers.
Get started with ArcGIS Data Reviewer
Esri Production Mapping and Esri Defense Mapping  for ArcGIS Pro. Esri Production Mapping adds two new elements to ArcGIS Pro: Topo North Arrow and US National Grid Reference Box.  Esri Defense Mapping has added one new element to ArcGIS Pro: Elevation Guide Bar.
ArcGIS for Maritime: Charting for ArcGIS Pro. Produce and manage maritime data compliant with the International Hydrographic Organization's (IHO) S-100 series of standards. ArcGIS for Maritime: Charting provides tools for loading an S-100 based feature catalogue, ingesting S-100 data, symbolizing data, and exporting S-101 products. Symbolize S-101 data using the ArcGIS Pro 2.2 project template from Esri Hydrographic Office. The template provides an ocean basemap; maritime style and layer files; symbology; preset maritime geoprocessing environment settings; maritime geoprocessing tool favorites; and logically grouped feature layers.
Get started with ArcGIS for Maritime: Charting
ArcGIS Pipeline Referencing for ArcGIS Pro. Locate pipeline assets and events. Effectively and efficiently perform pipeline linear referencing data management. New functionality includes REST services for network editing and route editing in an LRS Network. Create, retire, realign, extend, reassign, and calibrate a route using an LRS-enabled feature service. You can now delete routes and associated features in an LRS Network along with any associated calibration points, centerlines, and events.
Learn about ArcGIS Pipeline Referencing
ArcGIS for Aviation: Airports for ArcGIS Pro. Be certain that operational data is the highest quality. In the latest version you will find support for the FAA 150/5300-13A specification as well the US DoD specifications, called Unified Facilities Criteria, for each military branch. Also, the Terrain and Obstacle Profile provides a surround view of the runway, approach surfaces, and terrain. It shows protruding obstructions that could cause a safety of flight issue. Two tools in the Aviation toolbox generate the data required for this element: Generate OIS Profile data and Generate OIS Obstacle data.
Find out more about ArcGIS for Aviation: Airports
ArcGIS Workflow Manager for ArcGIS Pro. Automate business processes. The version-update feature automatically creates versions in feature services, repoints layers in a map to a specific version, and deletes versions. Use branch versioning to author a model that reconciles and posts a branch-versioned feature service inside your workflow process. Within your workflow, you can use ArcGIS Enterprise or ArcGIS Online as a resource for template maps. Lastly, Workflow Manager now supports layouts in ArcGIS Pro.
Learn more about ArcGIS Workflow Manager
ArcMap
ArcMap 10.6.1 is a quality improvement release with a focus on geoprocessing, Python, and data management.
ArcGIS Enterprise
Geographic intelligence for organizations.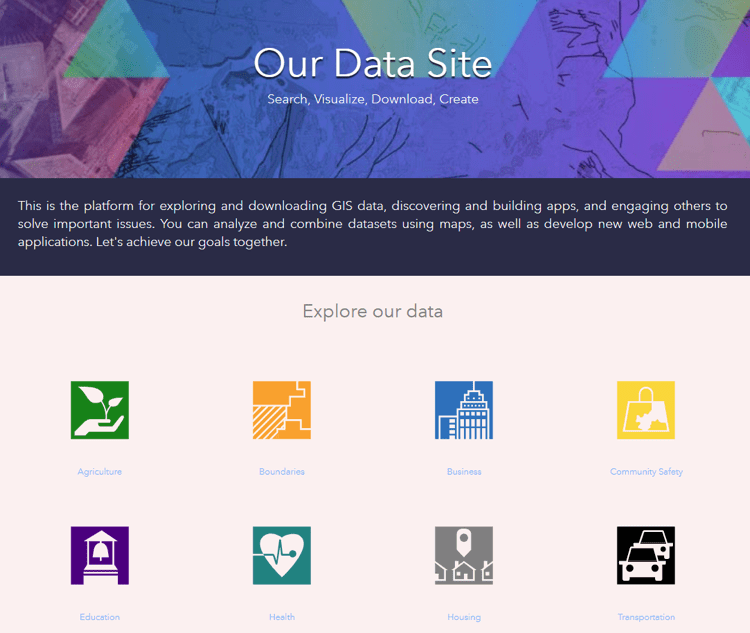 ArcGIS Enterprise 10.6.1 includes new features for data, analysis, sharing, and collaboration options. With ArcGIS Enterprise Sites, build tailored websites and pages to interactively display data, maps and apps through a customized interface. Categorize enterprise data for easier access using custom, ArcGIS, ISO, or INSPIRE themes. With distributed collaboration, users can share apps built using Web AppBuilder for ArcGIS or configurable app templates to other ArcGIS Enterprise 10.6.1 deployments and ArcGIS Online, without rebuilding work. Configure hosted vector tiles for offline apps and maps. Process drone imagery with the web app Ortho Maker to quickly create ortho images and mosaics, digital terrain models (DTM), digital surface models (DSM), and other GIS and mapping products. Standard feature analysis tools are now available in the ArcGIS Enterprise portal including Summarize Center and Dispersion, Find Point Clusters, and Find Centroids tools.
See what's new in ArcGIS Enterprise
ArcGIS Image Server. Powerful image management and analysis. Designed for organizations with large collections of imagery and/or a large fleet of drones, ArcGIS Image Server 10.6.1 is now supporting advanced ortho mapping capabilities using Esri's ortho engine. A full suite of ortho mapping services optimized for distributed and scalable image processing enable your enterprise to process, create, analyze, and share ortho images and mosaics, digital terrain models (DTM), digital surface models (DSM), and other mapping and GIS products.
See what's new in ArcGIS Image Server
ArcGIS Monitor. Optimize your enterprise GIS by monitoring the health of your ArcGIS implementations. In its latest release, ArcGIS Monitor includes new counters as well as enhancements to the ArcGIS Monitor Administrator and the ArcGIS Monitor Server.
Learn more about what's new in ArcGIS Monitor
ArcGIS GeoEvent Server. Make better decisions—at any moment. Map real-time data captured by sensors, staff, and tracking devices. ArcGIS GeoEvent Server 10.6.1 adds fields to existing spatiotemporal big data and supports multiple thread writing to the spatiotemporal big data store. Server administrators can enable or disable SSL ciphers. When connecting to ArcGIS Server and portal, strengthen security with PKI security certificate support. Add multiple machine sites more easily and stream services to those sites.
Learn more about ArcGIS GeoEvent Server
ArcGIS Workflow Manager for ArcGIS Enterprise. At 10.6.1, ArcGIS Workflow Manager fully supports branch versioning. Run ArcGIS Workflow Manager versioning steps on ArcGIS Server to create, maintain and delete feature service versions. The Workflow Manager service only supports one-machine deployment scenarios when working with branch versioned feature services.
Integrate ArcGIS Workflow Manager server technology into your Web AppBuilder for ArcGIS applications using the new Create Job widget. Now available for download on GitHub.
See what's new in ArcGIS Workflow Manager
ArcGIS for Maritime: Server. Get electronic navigational charts (ENC) via a webservice. ArcGIS for Maritime: Server automatically refreshes whenever a chart update or new version is published. The 10.6.1 release of ArcGIS for Maritime: Server enhancements include the implementation of REST in more operations. Also, the Products on Demand web app is more intuitive and has an updated Export Queue option.
Learn more about ArcGIS for Maritime: Server
Location Referencing for ArcGIS Enterprise. This is an integrated framework for linear referencing. It includes Esri Roads and Highways and ArcGIS Pipeline Referencing. At 10.6.1, Esri has enhanced Event Editor. For instance, Event Replacement tool allows for bulk replacements of events so that when event characteristics change, no LRS edit is made.
Learn more about Esri Roads and Highways
Learn more about ArcGIS Pipeline Referencing
ArcGIS for INSPIRE. This powerful and modern web GIS solution ensures that INSPIRE projects comply with European Union guidelines. ArcGIS for INSPIRE at 10.6.1 has three data themes: Area Management Restriction/Regulation, Natural Risk Zones, and Sea Regions. Users load data into the three data themes, publish INSPIRE compliant views, and download services. What's more it has a geodatabase designed for agricultural and aquaculture facilities. It also has a geodatabase template and a data dictionary for agriculture. You will have improved compliance of INSPIRE services against the new INSPIRE validator.
Learn more about ArcGIS for INSPIRE
ArcGIS Hub 
Inform, engage, and share data with the community.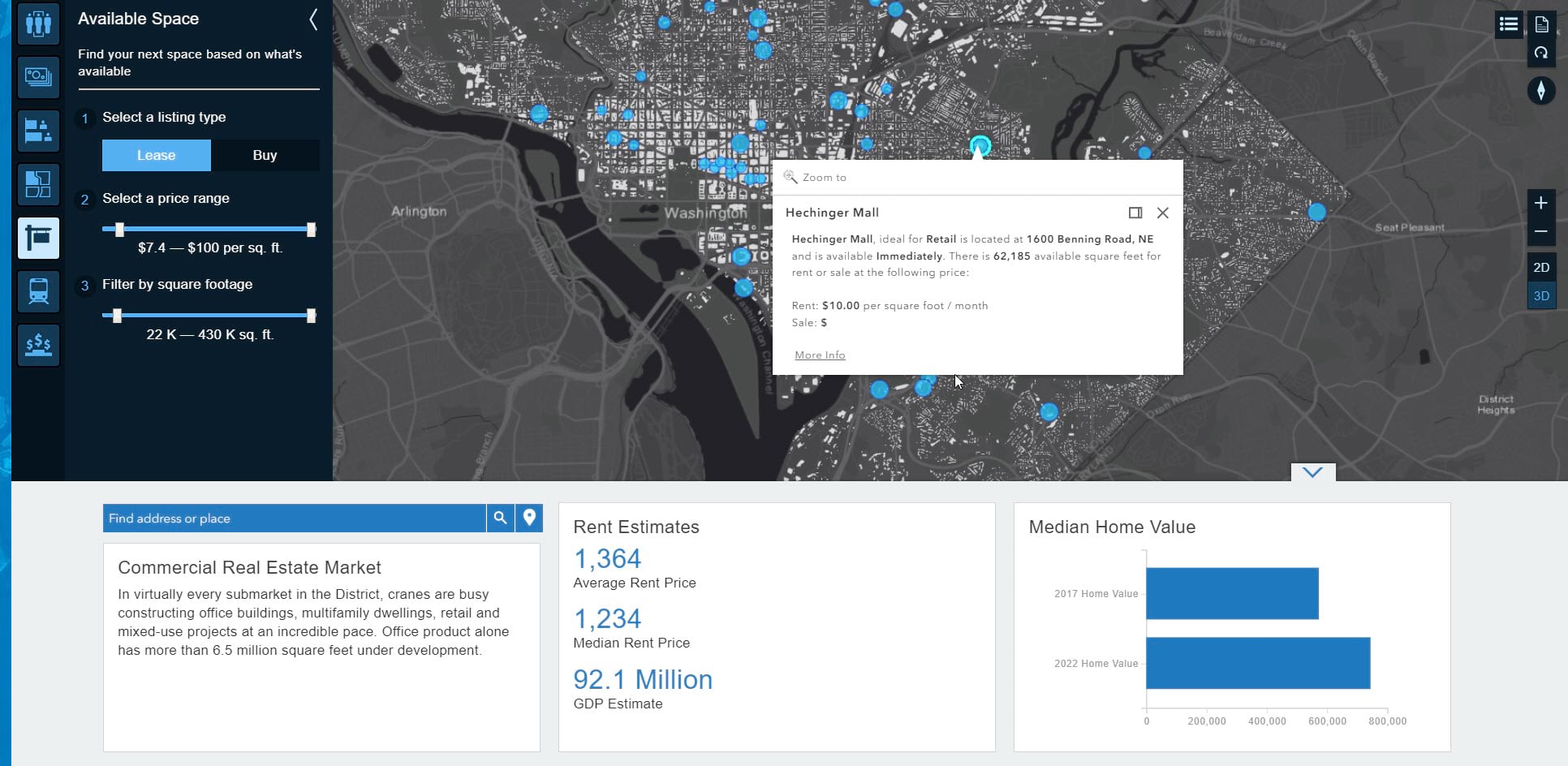 We have added three new initiative templates: Grow Your Local Economy, Reduce Homelessness, and Tackle the Opioid Epidemic. With improvements to the event management system you can bring community members together. With the messaging capabilities you can stay in touch with participants or inform them about event changes. SSL certifications for custom domains are now available to support HTTPS, and we have improved charting capabilities. ArcGIS Hub website visitors can more easily find the information they need via a search tool with relevance matching capabilities.
ArcGIS Online
Location intelligence for everyone.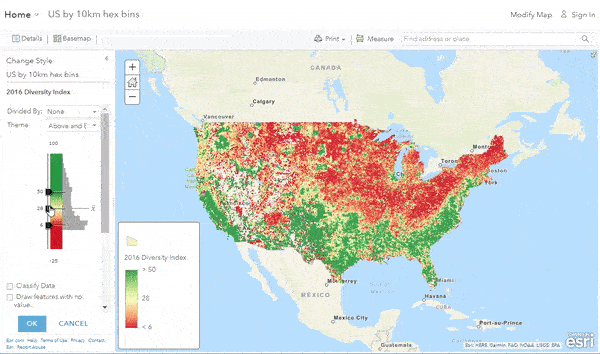 New features in ArcGIS Online make information about your organization easily accessible. Added capabilities help you share content, support offline work, and use 3D. Esri redesigned the organization page so that administrators can easily manage members and licenses.
See what's new in ArcGIS Online
ArcGIS Apps
Apps for everyone.
Insights for ArcGIS. Uncover insights in your company's spatial and non-spatial data. This web-based data analytics workbench has an intuitive, drag-and-drop interface for exploratory analysis and spatial analytics. New with the May release of Insights for ArcGIS is link and regression analysis. Link analysis uncovers new relationships in your data. Link charts and maps visualizations help you make sense of relationships. Regression analysis tools create scatterplots that show you dependent variables and help you make predictions. Coming in September there will be improved storytelling capabilities. The September release will be compatible with ArcGIS 10.6.1.
See what's new in Insights for ArcGIS
ArcGIS Business Analyst Web App. Make smarter market planning, site selection, and customer segmentation decisions. This update includes 2018/2023 demographic data for the US, a new feature to summarize nearby locations, ability to filter layers using attributes, an easier way of categorizing and using your own data, and enhancements to comparison reports and infographics.
Explore what's new in ArcGIS Business Analyst Web App
Explorer for ArcGIS.  Put maps at your fingertips. This mobile app lets you view your organization's maps and any maps that have been made available to the public. Find features such as assets or explore your area of study. Explorer now works with imagery and other raster data offline.
See what's new in Explorer for ArcGIS
Drone2Map for ArcGIS.  Diverse departments find drone collected imagery useful for a range of projects. Turn your drone multi-spectral and thermal infrared imagery into authoritative 2D and 3D products in a few clicks. Drone2Map for ArcGIS 1.3.1 lets you classify point clouds, generate improved textured meshes, view ground control points and more.
See what's new in Drone2Map for ArcGIS
Survey123 for ArcGIS. Collect survey data with either the web form or mobile app and connect it to your ArcGIS. With the latest version you can add multiple levels of related tables to your survey. Geopoint questions in the field now connect to geosearch, geocoding, and reverse geocoding functionality. The web app accommodates new single choice grid question types. It also supports WebHooks, which are HTTP callback notifications. Use the data tab to filter data and initiate batch printing. Version locking capabilities offer better backward compatibility between the website and your previously published surveys.
See what's new in Survey123 for ArcGIS
Operations Dashboard for ArcGIS. Make decisions at a glance using this configurable web browser-based app included with ArcGIS Online and ArcGIS Enterprise. View dashboards on smart phones. Dashboard authors have more control over many dashboard-level settings. Designers have improved dashboard interactivity by introducing two new actions—follow feature and show pop-up window. The value axis on serial charts now has a logarithmic scale option to better handle data that grows exponentially.
See what's new in Operations Dashboard for ArcGIS
Esri Story Maps. Engage and inspire your audience. Many Story Map templates have received enhancements that will make your stories look and work even better when embedded in websites and blogs. A new embed toolbar allows visitors to easily share the story or open it in full-screen mode without leaving the current page. Story Map Series and Story Map Cascade have new features that improve accessibility. Story Map Shortlist now has auto-play.
See what's new in Esri Story Maps
GeoPlanner for ArcGIS. Design, collaborate, and share. Recent additions include new color ramps in the Modeler that better visualize positive and negative impacts across different systems. You can access attribute table for design and operational layers. Use sort and statistics tools to rank features. Bring layers with simple, unique values, classified and visual variable symbology directly into the summary chart. Focus on the metrics that are most important to you by reordering key performance indicators in your dashboard. Perform better analysis in the Suitability Modeler widget.
See what's new in GeoPlanner for ArcGIS
ArcGIS Maps for Adobe Creative Cloud. Create data-driven maps inside Adobe Illustrator and Photoshop. In the upcoming August release you can organize frequently used maps and layers and mark them as favorites. Explore more options to define your projection. Use standard Adobe shortcut keys. Save your map to Illustrator or as a Photoshop document and come back to it later.
Learn more and download ArcGIS Maps for Adobe Creative Cloud
ArcGIS Maps for Power BI. Create beautiful, accurate map visualizations within Microsoft Power BI. Users can map data using any location value. Take advantage of a vast selection of ready-to-use ArcGIS maps, demographic data, and simple spatial tools. The latest release allows you to access your own private ArcGIS basemaps and reference layers directly in Microsoft Power BI. A new subscription structure extends location intelligence capabilities across your organizations.
See what's new in ArcGIS Maps for Power BI
ArcGIS Maps for SharePoint. The latest release of ArcGIS Maps for SharePoint allows you to tag and search Microsoft SharePoint content. Drag and drop SharePoint documents to any point, line, or polygon feature on a map to instantly geotag the content to the feature and create the association. Once the content is geotagged, users can click on the map feature to see all the content associated to it.
See what's new in ArcGIS Maps for SharePoint
Developer and Editor Tools
ArcGIS API for JavaScript. Our summer updates to ArcGIS API 3.25 and 4.8 for JavaScript are now available and packed with more ways to visualize your data and enhance your web apps with new capabilities. As with all 4.x releases, 4.8 is a balance between features already available with 3.x and new capabilities such as feature layers labeling in 2D, webscene performance improvements, heatmap renderer, enhanced underground navigation in 3D, faster feature layers, client-side LayerView queries, and more.
See what's new in the ArcGIS API for JavaScript
ArcGIS Vector Tile Style Editor.We are also pleased to announce the release of a new tool available in beta on the ArcGIS for Developers website, the ArcGIS Vector Tile Style Editor.  With this tool, developers, designers, and GIS professionals now have a fast and easy way to create a custom basemap styles that match the brand and type of app they are building. Customize the layer colors and labels of Esri vector basemaps. Edit everything from fill and text symbols to fonts, halos, patterns, transparency, and zoom-level visibility.
See what's new in ArcGIS Vector Tile Style Editor
ArcGIS Runtime SDKs. Build and deploy native applications for a variety of popular platforms (Android, .NET, iOS, mac OS, Java and Qt) and devices. Version 100.3, also known as Update 3, lets you read web scenes (3D maps), select and identify features, and measure distances. Support time with Web Map Service layers. Discover and set layer styles and use attributions. Deliver a more consistent display for mobile map packages with labels that have finer control. Query sublayers and tables from an ArcGISMapImageLayer. App-6(B) and App-6(D) have also been added to military symbology support.
See what's new in ArcGIS Runtime SDKs
Commenting is not enabled for this article.