ArcGIS StoryMaps is the professional storytelling tool that enables you to transform your geographic work into interactive content to inform and inspire others. It makes it easy to explain complex topics related to your knowledge and experience.
This month ArcGIS StoryMaps released a new mobile app and added many helpful enhancements. Here's a run down of what's new:
Briefings tablet app
A few weeks ago, the ArcGIS StoryMaps Briefings tablet app (beta) was released. This app lets you view and download briefings you've created with ArcGIS StoryMaps on an Android tablet or iPad to take them on the go!
We're currently working on a big feature that's coming to briefings and its tablet app in the future: the ability to configure offline versions of your maps! For more information about this app and for the download links so you can try it out, see Introducing the Briefings Tablet App: Access Your ArcGIS StoryMaps Briefings Anytime, Anywhere!
Easier link creation and other new link capabilities
There have been several updates to the experience and capabilities for creating links across all the ArcGIS StoryMaps builders. Anywhere you can create a link to another web page, which now includes the briefing builder, you'll notice the improved workflow. There's more space to see and easily edit the entire link, even if the link is very long. There's also a new toolbar for configured links that makes it a snap to preview, edit, or remove links you've already created.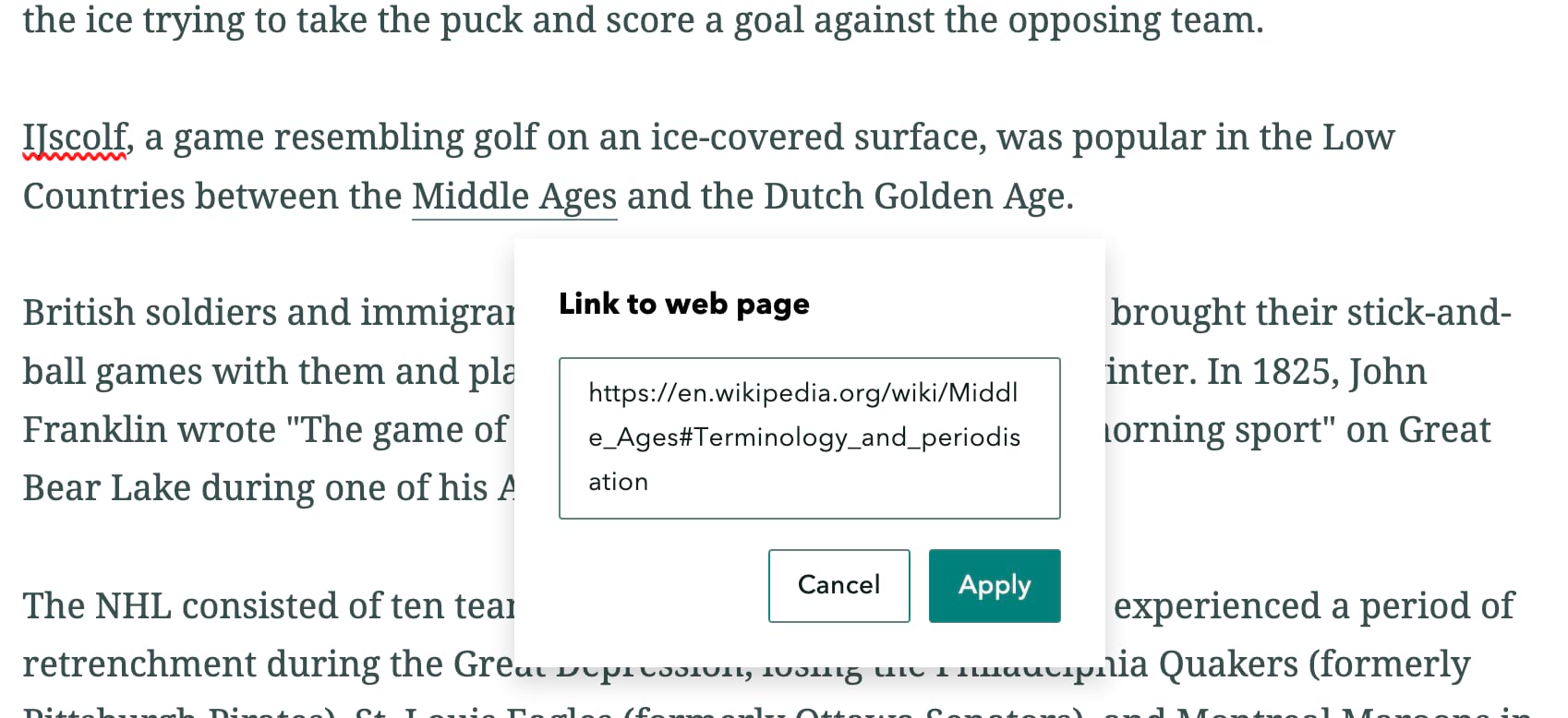 For a while now, you've been able to create links to other sections of a story. This was done by copying one of the heading links you can get while viewing a story, then going back to the builder to paste it there. Today, this workflow gets a lot easier. Now, in the story builder, you'll see a new link option that lets you link directly to a heading. When you select this option, you'll see a list of all the headings in your story and you can simply pick one to create a link to that part of the story.
A similar ability has been added to for briefings. In the briefing builder, you'll see the Slide link option is no longer labeled as "coming soon." It is now activated and lets you pick a slide to link to in your briefing. You can even link to the cover slide.
Here's a video that shows all the new linking options in briefings.
More briefings updates
Over the last few weeks we've been busy adding new features and capabilities for briefings. The way text overflow is handled on slides has been improved, so you can now more easily see and interact with text when it spills over the bottom edge of a slide. Also, you are now able to navigate a briefing using the PageUp and PageDown keys. These are the keys that most Bluetooth slide remotes (also known as slide "clickers") use, so if you had a slide remote that didn't work before, be sure to try it again because it's very likely that it will now enable you to navigate your briefing from anywhere in the room! Finally, briefings are now available for anyone using an ArcGIS public account.
Table enhancements
Tables were added to ArcGIS StoryMaps a few months ago. Since then they have gained the ability to align text, and undo support has been added to all table actions, so it's easy to rollback any mistakes or changes you don't want to keep. We've seen many great examples of tables created by the storytelling community. The one shown below is from The Surprising State of Africa's Giraffes (arcgis.com), published by our very own StoryMaps team, and you can see how it utilizes the new alignment option to center the information in some of the cells.
Be sure to let us know what enhancements you'd like to see added to tables in the future by dropping us a note on the ArcGIS StoryMaps ideas board.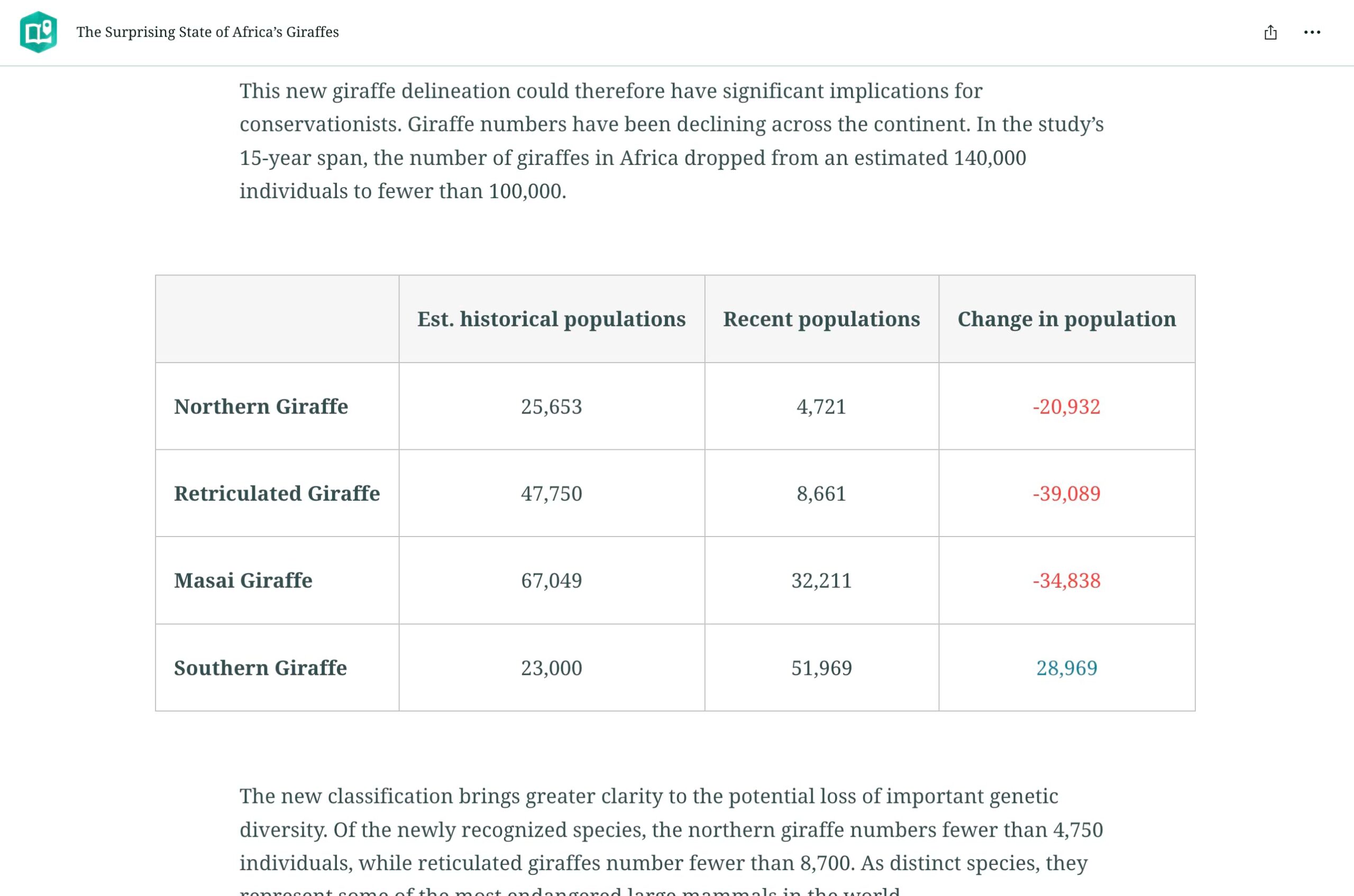 And more…
ArcGIS StoryMaps recently had a visual refresh of many elements in the design panel and theme builder to make options easier to understand and recognize quickly, and many messages throughout the product have been revised or consolidated for clarity or consistency.
In sidecar's floating panel layout, there has been a change to remove the space at the top of the narrative panel when the sidecar is the first block in the story and the cover is hidden. This option can be helpful when a story appears in a collection and the "hide cover" option is used.
For a full list of what's new in ArcGIS StoryMaps and what bugs have been squashed, check out the release notes.
Lastly, ArcGIS StoryMaps has updated to the latest version of the ArcGIS Maps SDK for JavaScript, which was released earlier this week. The new version of the SDK and the recent updates to ArcGIS Online include many new mapping capabilities such as time zone support for time aware layers, box plots, custom colors in pop-up charts, new color ramps, improved label placement, and much more. See What's New in ArcGIS Online (October 2023) and What's New in ArcGIS Maps SDK for JavaScript (4.28) for additional detail.
Thanks to Will Hackney for his contributions to this post.
Banner photo by beasternchen from Pixabay.