Greetings ArcGIS StoryMaps Enthusiasts,
We're thrilled to share that you can now use a tablet app to experience and interact with briefings in ArcGIS StoryMaps! Recently released in beta, briefings is a slide-based output of ArcGIS StoryMaps that helps you make data-driven decisions and provide meaningful context to your audience by infusing presentations with real-time data and dynamic maps. To complement your briefings, the new tablet app elevates how you view and consume briefings, offering unmatched portability, adaptability, and offline access to your briefings.
The ArcGIS StoryMaps briefings tablet app is now available in beta for Android and iOS. 
For the developers out there, the new briefings tablet app is built from the ground up using the latest version of ArcGIS Runtime for .NET and cross-platform app development framework .NET Multi-platform App UI (.NET MAUI).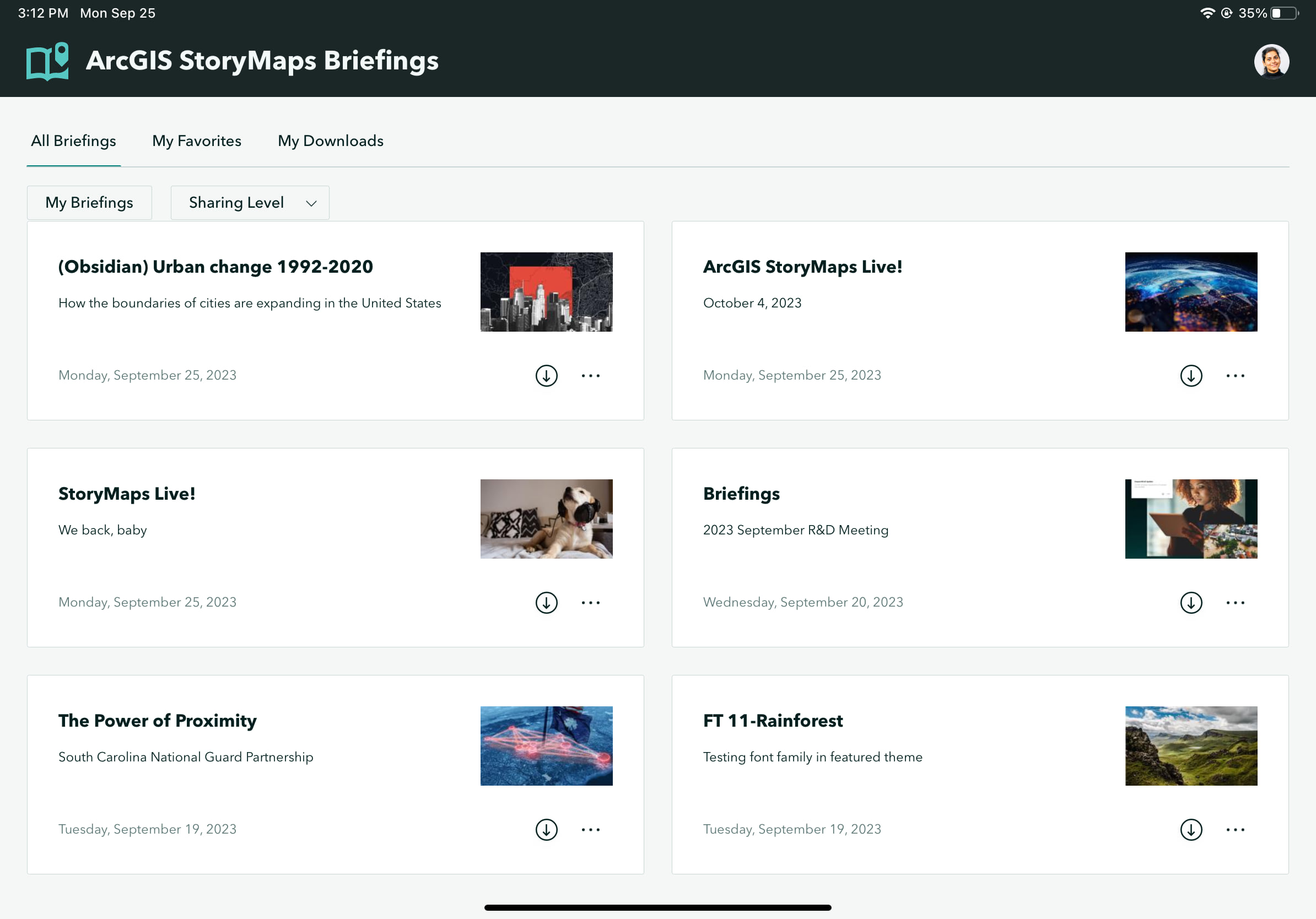 Crafting Your Story, One Slide at a Time
Briefings is a dynamic, shorter-form storytelling tool with a horizontal format that aligns with the structure of a presentation. Use briefings to enhance and expand your storytelling capabilities with slide-based presentations within ArcGIS StoryMaps that seamlessly integrate live maps, real-time data, multimedia, and more. Discover more about briefings in ArcGIS StoryMaps in this blog article.  
Your Briefings, Anytime, Anywhere
Having the right tool for your organization's briefings is critical to keeping your stakeholders up-to-date wherever they are. By downloading your briefings to the new tablet app, you can share information, no matter your location, even offline. Access briefings in ArcGIS StoryMaps anytime, anywhere with the briefings tablet app for Android and iOS.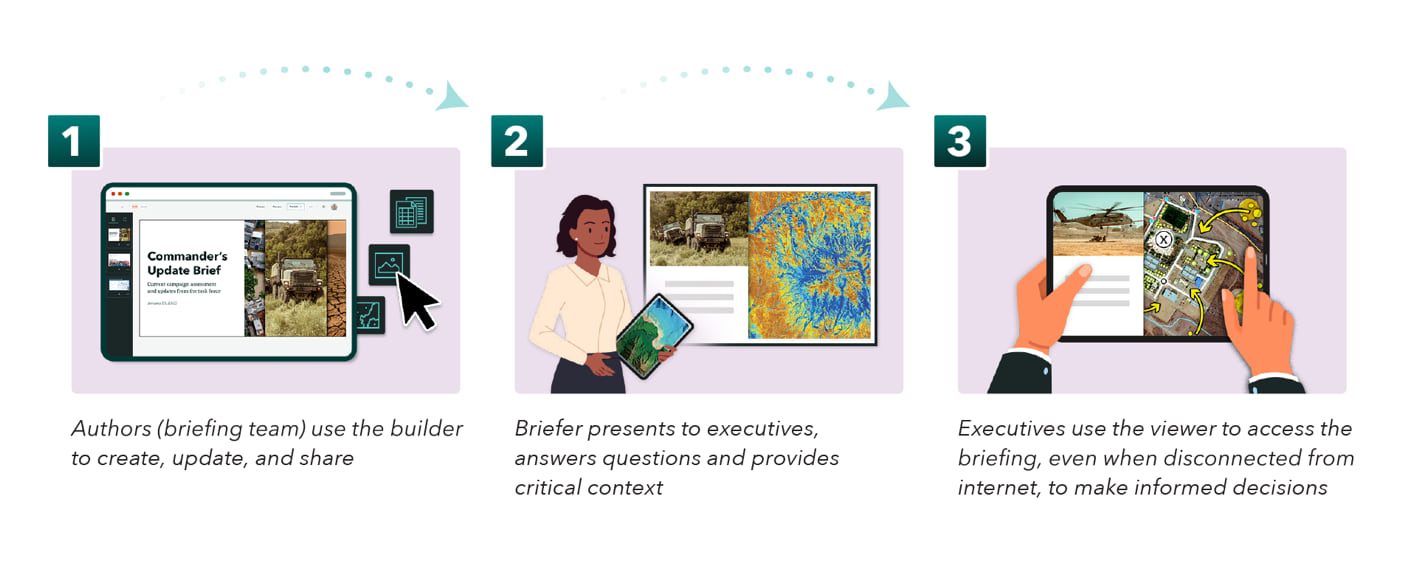 We've crafted two distinct experiences for briefings in ArcGIS StoryMaps to help you share important information when you need it most:
ArcGIS StoryMaps allows you to author briefings using our web builder. You and your audience can also view, share, and present your slides from the web app.
The ArcGIS StoryMaps briefings tablet app

enables you to access and share your briefings on the go from your tablet, providing a viewing, interacting, and presentation experience at your fingertips. Download your briefings to the tablet app and discover the power and convenience of offline presentations.


To get started, download the briefings tablet app from the app store for your device and sign in to your ArcGIS Online organization account. You'll immediately be directed to the gallery page displaying all the briefings accessible through your account. Use the tabs to view all briefings, your favorite briefings, and those you have downloaded. You can use the buttons below to further filter by the briefings you've authored and the set sharing level.
Please note that the minimum system requirements are iOS 14 version and Android 8.0 (API level 26).
Features in the Briefings Tablet App
The briefings tablet app empowers you to tell your story wherever you are, ensuring that your presentations are not bound by limitations. The beta release of the briefings tablet app primarily focuses on providing a seamless way to view and consume your briefings created with ArcGIS StoryMaps, delivering portability, adaptability, and more.
Key features include:
On-the-Go Briefings: Access your presentations on the move using your tablet device, ensuring you're always prepared.
Offline Access: Download and take your briefings offline, including text, images, videos, and other visual components, so you're not tied to a network or unable to access with limited connectivity.
Interactive Maps and Apps: Engage with maps and apps interactively using the briefings tablet app using touch and gestures, bringing your data to life.
What's Coming Next
We're committed to continuous improvement. We plan to implement the following exciting features over the coming months:
Offline Maps: Support for offline maps using mobile map packages, offline map areas, and express maps, providing even more flexibility and an interactive map experience when viewing your briefings.
ArcGIS Enterprise Support: Integration with ArcGIS Enterprise 11.2 for enhanced security and organizational integration.
Expanded Block Types: Introducing additional block types found in stories in ArcGIS StoryMaps, including swipe for maps, allowing for more interactive and engaging presentations.
Stay Tuned for More
Every couple of weeks in the app stores, we'll release additional features and bug fixes to enhance your experience of the briefings tablet app. The blog post you're reading now and the "ArcGIS StoryMaps Briefings Tablet App (Beta): Known Issues and What's Coming" Esri Community post are where you can access the latest on the briefings tablet app. You can also get updates directly in your inbox by subscribing to our newsletter.
We encourage you to take briefings for a test drive and let us know your thoughts. If you have issues or suggestions, please share your feedback through the in-app feedback form or in Esri Community.
Thank you for being an integral part of the briefings in ArcGIS StoryMaps journey. You can find additional resources on briefings in this ArcGIS StoryMaps collection. 


Stay ready, stay mobile, and keep telling your story with ArcGIS StoryMaps briefings–anytime, anywhere.