With so many events canceled because of the novel coronavirus 2019 (COVID-19) crisis, Earth Day celebrations this year felt uncertain.
Leading up to the 50th anniversary of Earth Day on April 22, the Earth Day Network, the Wilson Center, and the US Department of State have spent years building an Earth Challenge 2020 framework and app that would engage people in Earth Day issues such as air pollution, safe water, insect populations, food supply, climate change, and plastic pollution.
As a crucial component of Earth Challenge, the app was designed using AppStudio for ArcGIS so that anyone can play the role of citizen scientist, investigating issues on the local level to contribute data points scientists will use to address fundamental research questions. The app is especially relevant now that most Earth Day gatherings have been halted and students are home from school.
"Through this weird convergence of factors, the app is getting even more traction than we anticipated," said Dr. Anne Bowser, director of innovation at the Wilson Center, "We're scrambling to add lesson plans and similar resources to meet the needs of parents and kids who are home and need something concrete and meaningful to do."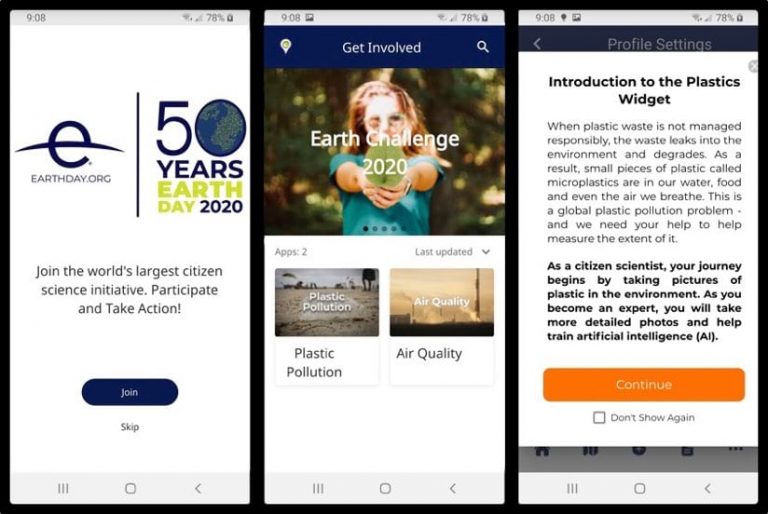 Work on Earth Challenge began in 2017 as a partnership between the Wilson Center, Earth Day Network, and the US Department of State, with the audacious goal of collecting, integrating, and then sharing one billion data points on planetary health.  The project is about public engagement through citizen science and also collecting and making available more citizen science data than ever before.
While many environmental initiatives have operated under the "How does this affect us?" narrative, citizen science and Earth Challenge are flipping the script to "What have we done to the planet?"
Using Citizen Science to Combat Plastic Pollution
Every minute a garbage truck sized amount of trash is dumped into the ocean, according to Oceana, an international advocacy organization targeting marine pollution. That is an estimated 17.6 billion pounds of plastic that leaks into the marine environment from land-based sources every year.
As plastic continues to accrue with largely unknown impacts, the Earth Challenge team hopes the app will help. Within the Earth Challenge app, users can learn more about plastic pollution and air quality.
Global understanding of the impact of plastic pollution has long been stunted by a lack of data. With more data, people can collectively see the extent and effect of plastic pollution, and Earth Challenge is publishing global top 10 lists of plastic pollution types to help.  In addition, a partnership with the United Nations (UN) Environment Programme is centered on understanding how citizen science data on plastic pollution can be used in monitoring progress against the Sustainable Development Goals (SDGs).
With global demand for plastic products rising yearly, society has only maintained a 9 percent recycle rate. Current data suggests that one of the largest contributors to plastic pollution is inefficient recycling systems. As a result, the toxic hand of non-biodegradable materials reaches into nearly every ecosystem on our planet.
In light of massive amounts of littering in Earth's ecosystems and poisoning in the bellies of many animal species, the need for a collaborative solution grows stronger.
Dr. Bowser explained how the Earth Challenge app has the potential to make a large impact, empowering scientists and citizen scientists to add and access data about sources of plastic pollution and affected areas.
"We don't have enough data to understand the health of our oceans through the indicator on plastic pollution that washes up on beaches," she said. "Citizen science is basically the way that we're going to get that."
Collecting Authentic Data
To answer significant environmental questions for Earth Day, scientists first need accurate data. For Earth Day 2020, app users will find a piece of plastic litter on the ground, take a photo, and upload it into the app.  Citizen science volunteers then label different pictures of plastic pollution by saying what's in them—for example, hard plastic (like a water bottle) or soft plastic (like a bag of chips).  In the fall, a more advanced version of the app will be launched in conjunction with a global beach cleanup campaign.
"Scientists can't move forward with any research without authentic data," Bowser said. "The lack of rigor, in terms of what most scientists would expect in a research design, impacts the meaningfulness of that data. Therefore, we wanted to create an app that has been reviewed by experts.  We are also working with partners to assess and document the quality of data, including data from our app and from other citizen science initiatives."
One of the scientists biggest concerns is that there isn't enough data to understand the extent of the plastic problem (or any problem, for that matter). For instance, what if scientists could closely monitor the degree to which plastic was polluting the oceans and where? Citizen science can help pinpoint the greatest needs for cleanup initiatives and additional efforts by identifying and filling data gaps. That's where the Earth Challenge app steps into its power.
The app offers a specific level of engagement called wander mode. In this setting, the user is contributing to valuable and essential scientific data.
In this wander mode, users participate individually by recording their encounters with plastic throughout their day, taking pictures of plastic and uploading them to the app. After uploading their images to the database, users can tell us what they did—leave, recycle, or throw away.  For instance, while hiking in Great Falls, Virginia a user sees a bunch of plastic in the water but can't get to it to clean it up—therefore the leave option would be chosen. In some cases, too, people don't have access to recycling facilities.
Reducing Harmful Human Impact
According to Bowser, by knowing the size of the human global footprint, people can begin to curate a more tactful and informed solution.
Bowser said her passion for confronting plastic pollution is rooted in the potential for citizen science, a long-standing tradition that is starting to mature, to elevate its impact. If everyone uses the Earth Challenge app or contributed to a partner citizen science project, Bowser thinks the effect will be "a culture where crowdsourcing and citizen science—merging informal and formal knowledge—and sharing information are the norm."
This Earth Day, the Earth Challenge app's call for citizen science is showcasing the power of unity. When students, scientists, and organizations work together to further environmental research, people can better understand how important it is to take action against plastic pollution and other critical environmental threats.
Learn how this same technology powers conservation in this conversation with Jane Goodall. GIS helps power field operations in organizations around the world.