Online hosting sites, such as Airbnb and VRBO, didn't set out to disrupt local real estate markets. However, research shows short-term vacation rentals are becoming a major driver of rising rents and home prices in cities around the world.
In Hawaii, and Honolulu in particular, affordable housing has been hard to find for a long time. To combat this scarcity, and to balance the demands of residents versus tourists, the Hawaii legislature recently passed a bill, awaiting the governor's signature, that requires hosts of short-term rentals to collect and pay lodging taxes. The Honolulu City Council just passed a bill that takes the more severe step of restricting the number of short-term rental units and fining violators up to $10,000 per day.
The state tax could raise considerable revenue as Honolulu is home to 800 legal vacation rentals and an estimated 8,000 illegal units. Restricting the number of short-term rentals should return some of these units to use by locals. To gain an understanding on these changes and how they impact citizens, city analysts and planners use geographic information system (GIS) technology. In Honolulu, GIS mapping and databases are available through the City and County of Honolulu's Land Information System (HoLIS).
"Honolulu (the City and County of Honolulu) has begun to look at changing the Land Use Ordinance (zoning codes) to address affordability," said Ken Schmidt, GIS administrator, City and County of Honolulu. "GIS helps quantify how this problem came to be and allows us to visualize ways we might address it."
Housing Demand Outweighs Supply
According to a 2015 report, 66,000 housing units will be needed in Hawaii by 2025 to meet demand, with nearly 26,000 of those dwellings required in Honolulu. A number of proposed zoning changes aim to address this looming housing deficit.
Proposals include restrictions on the square footage of residential units to combat monster homes; an easing of height restrictions on low-rise apartments to allow five-story walkups rather than the existing three-story limits; and a proposal allowing home owners to build and rent accessory dwelling units.
The Honolulu Department of Planning and Permitting used 3D visualization tools to examine and visualize the proposed low-rise apartment zoning change in the neighborhood of Mo'ili'ili. Honolulu worked with Esri, piloting the capabilities of ArcGIS Urban and CityEngine in a recent webinar.
"We've been working to demonstrate to planners what the changes to our zoning code would look like in 3D," Schmidt said. "Our planners eyes got really wide when they realized that they could quickly and easily change values in the zoning code and see what the difference in development would be."
Transit Improves Housing Outlook
Metropolitan Honolulu is the fourth most densely populated area in the US, with traffic that often ranks among the worst in the country. The constraints of the island, with its narrow coastal plains, steep slopes and cross-island canyon connections cause much of this congestion.
The 20-mile, 21-station Honolulu High-Capacity Transit Corridor Project aims to help alleviate the problem by introducing elevated rail to the region. The rail corridor, under construction now, would move 8,000 people per hour and give Honolulu residents an opportunity to rethink development patterns. The city has already embraced Transit-Oriented Development (TOD) as a strategy to increase the density of housing, jobs, and services around rail stations.
"We've been working with the TOD division to look at changes in zoning laws to provide incentives for development within a half mile of station locations," Schmidt said.
Schmidt and his team created a participatory environment that allows government, business, and community stakeholders to visualize TOD redevelopment scenarios and rezoning proposals.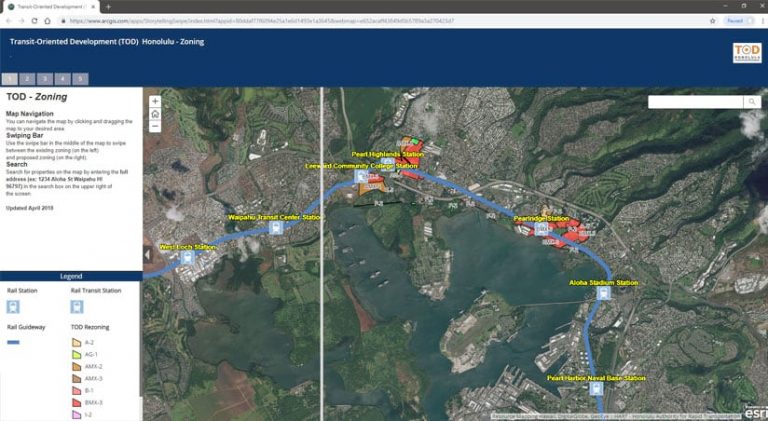 Encouraging Development
As Honolulu begins the build-out of the new rail line and associated development, officials are looking to improve the city's permitting process.
"Anybody who tries to get a building permit usually has some challenges," Schmidt said. "That's primarily due to the amount of volume as we have from 15,000 to 20,000 permit applications per year. Anything we can do to help streamline that process or make it easier is one of our major objectives."
The city was an early permitting innovator with a system called HONLine that allows home owners to quickly obtain permits for such things as fencing, solar panels, water heater replacements, or other minor upgrades to residential property.
"GIS plays an important role [in HONLine] because we have to check to see whether that property might be in a flood zone, along a coastline, or how it's zoned," Schmidt said. "The integration of the permitting system with our GIS was critical in our ability to be able to put those permits online."
Next, Schmidt and his team hope to tackle improved business workflows for new development by incorporating digital building information models (BIM) within GIS as part of the permit review process. Digital BIM files would replace the paper plans in use today. A new all-digital workflow would provide a means to streamline building code assessments and automate the detection and notification of any conflicts.
While ongoing development and redevelopment in Honolulu have considerable impact on the local economy, GIS provides the means to quantify it.
"Looking through our data we can see .2% of the total number of building permits accounted for more than 10% of the total value of all building permits," Schmidt said. "That small number of permits reflects 33 new apartment complexes built in the last year."
The impact of new apartments, on both the affordable housing issue and the overall city economy, is one of the factors driving the city to recently adopt the proposed walk-up apartment zoning change. Many more ideas are coming forth to deal with the state's housing crisis.
"A variety of different creative and innovative—and somewhat haphazard—proposals are coming forth," Schmidt said. "Each proposal needs to be analyzed using GIS to see potential impacts and to communicate the results to the public."