In 2021, wildfire burned through 7 million US acres—more than twice the annual average.
Indicative of this crisis' scope and impact on residents is the record 2.2 billion visits to the National Interagency Fire Center (NIFC) open data site that shares the near real-time location and size of fires across the country.
"There are always the questions, 'how close is it to my house and am I threatened?'" said Skip Edel, Fire GIS program lead with the National Park Service who also administers the NIFC ArcGIS Online implementation. With easy access to fire perimeter updates on a map, residents can now discover their risk themselves.
What's known as the "NIFC Org" is the result of an ongoing effort to connect more than 22,000 users involved in wildland fire operations across agencies via a cloud-based geographic information system (GIS). It offers  flexible reporting and visualization tools, providing opportunities to view and update operational details about almost every fire within the United States.
Prior to this digital transformation, with its mobile-first strategy, there were approximately 300 regular incident GIS users across agencies. Now, a complex mix of federal agencies, the Department of Defense, 50 state and 6 territory emergency response organizations, members of the National Association of State Foresters, and hundreds of local responder organizations each have access, changing every season depending on where fires are occurring.
"A large portion of the firefighters access NIFC Org using a smartphone or tablet," Edel said. "They love how they can draw in details on the map, make some notes, and then it shows up right away, helping them see their contribution to the overall effort."
Connecting with Key Collaborators
Edel and the teams at NIFC work across member agencies which include the Bureau of Land Management, the National Park Service, US Fish and Wildlife Service, the Bureau of Indian Affairs, and the US Forest Service. Collectively, they manage wildland fire on nearly 700 million acres of federal public land and support the wildfire work in all other jurisdictions.
The NIFC Org hosts the National Incident Feature Service (NIFS), an interactive, authoritative data feed that further connects an already tight community that works long hours together every fire season. Some firefighters spend more than six months of the year moving from fire to fire. This makes the NIFS, with its easy-to-understand standardized symbols, a valuable reference point and collaboration tool for the on-the-move workforce.
"Standards help anyone who's working on the fire line understand what you're trying to communicate," Edel said.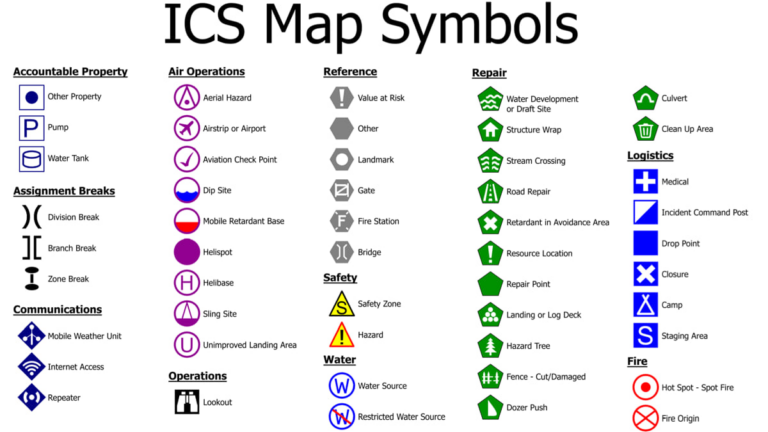 Firefighters have been using standard symbols on maps for more than 50 years to depict such things as origin point, medical units, and incident command posts. NIFC created the NIFS feed in 2016, shifting to cloud-based ArcGIS Online so more users could access the information. Since then, the free flow of data has led to even more coordination among wildland firefighters across federal, regional, and local jurisdictions. The shared data provides the overall context of the incident, the current and planned actions of the crews, and the status of a fire.
Fine-Tuning Details to Improve Impacts
Internally, firefighters can use the NIFC Org to see key details about their work assignments, such as drop points for supplies and rendezvous sites at the end of each day. Incident commanders look to it for an awareness of who is fighting which fires. News organization and insurance companies have a more abbreviated view, with details about the current status of fires through the NIFC open data site. For insurers, the awareness enhances risk abatement.
"Insurance companies are hiring their own engine crews to do their own firefighting," Edel said. "They might go out and prep a structure, take firewood away, cut down trees, put foam on the structure, and then either leave or stay and defend the structure."
For interagency wildfire operations personnel, seeing the real-time locations of fire resources—including air tankers, fire engines, and firefighters—on a live map is something that has long been envisioned and is now legislated. It will be accessible within the NIFC Org as stipulated by the Dingell Act as funds become available and technology allows.
Already, those fighting fires are seeing the benefits of mapping all available information. "When I show up on a fire in Idaho, everyone knows the fire perimeter, because that data comes directly from the people who are doing the work," Edel said.
For now, when members of the public access NIFC open data, they can only see the fire perimeter. Soon, they will also see containment detail, which indicates where firefighters think the fire is no longer in danger of spreading.
Mobile-First Workflows
The fact that the NIFC Org has scaled from 300 to more than 22,000 users within a five-year span speaks to the utility of the new digital workflows it makes possible. The old static map shared as a PDF and printed and posted on a big bulletin board at the fire operations center is still in use. But fire operations professionals are taking advantage of online mapping to decrease the time between collecting data on the fireline and GIS specialists providing an up-to-date map to inform critical decisions.
Fire personnel use such mobile applications as ArcGIS Field Maps and ArcGIS Survey123 to collect field data, even in areas without cellular service. Data and photos collected are then uploaded when cellular or Wi-Fi service is available.
The Incident Web Map Template helps personnel on the fireline collect data that makes its way into many data products that span the full chain of command. (Photo courtesy of the National Interagency Fire Center)
The administrators of the NIFC Org have worked out detailed workflows and rules of behavior for those that use these tools. But the ease of making and sharing a map, with minimal training, is at the heart of its rapid adoption.
"The ability to put data and information together, and get it out to people easily and quickly has been very useful," Edel said. "We don't restrict the public sharing of information during a fire. If you want to get a map out quickly to the public for an evacuation, for instance, we don't want any kind of process to hold you up."
A Plan to Add More Fire History 
In California, 2021 brought three of the 20 largest fires in state history.
Federal and state funds have been flowing in to address this disconcerting trend, in California and across western states, with increasing budget allocations for fire suppression. Most of those dollars go to operational resources, such as fire engines, but there is also an imperative for more data to support better decisions.
Edel now needs funding to create a single integrated, national dataset with incident history through the years showing who, what, and where details such as the incident location and the work of response teams. The idea is to fill in gaps about fire suppression efforts prior to modernization. For recent fires, he noted, "we can see every dozer line and everything we've recorded."
Fire data prior to 2016 exists in various formats. By bringing historical information into a digital space, on an interactive smart map, NIFC teams would have visualization, analytics, and an overall greater level of intelligence for mitigation plans. This data could also be used by the research community to dig deeper into trends and the cause and effect of fires.
"We still don't have a full view of landscape change through time," Edel said. "There's a lot of work to do to bring the data together."
Visit the NIFC Open Data Site for more resources about wildfires. Learn more about the use of GIS to prepare, suppress, rehabilitate, and manage wildland fire.