Editor's Note: For business executives and professionals seeking resources to respond to coronavirus, visit this site dedicated to business continuity.
When PwC asked CEOs in 2016 what they worried about most during a crisis, they said their top concern was the ability to quickly gather reliable information. The COVID-19 pandemic has heightened that anxiety for many business leaders. Nevertheless, forward-thinking companies are tapping innovative technology and reliable data to maintain business continuity for employees and customers during this global upheaval.
Specifically, two long-term business trends are driving effective responses during the coronavirus outbreak. The first is the availability of reliable data to help business leaders and front-line employees make informed decisions. Some have called this the democratization of data, and it's playing an important role during the pandemic.
The second trend is the use of location technology to understand employee safety and availability, manage virtual interactions with customers and partners, and promote business continuity. Prior to the COVID-19 outbreak, executives knew how important location was to business operations and strategy. Now location awareness—driven by technologies like GIS (geographic information systems)—is taking on a central role in the response to coronavirus.
Here's a look at how companies in several industries are using location-aware data and self-service apps to keep operations moving during the COVID-19 crisis.
In some ways, the business response to COVID-19 is a culmination of the long-term trend toward outfitting front-line workers, executives, and customers with reliable, real-time information.
---
Insurance Companies Make Adjustments
In locations where COVID-19 concerns have disrupted normal business operations, insurance executives are quickly empowering clients with self-serve tools that help them share useful data. Some insurers have deployed mobile apps that let policy holders perform virtual inspections of home damage or take photographs of auto accidents.
While anecdotal evidence suggests that auto-related incidents are down due to the stay-at-home policies of many states, houses remain vulnerable to inclement weather and even the ill effects of more people being home around the clock. To protect clients and insurance adjusters from coronavirus exposure, companies are using video and photo apps to process claims that might ordinarily require an on-site adjustor. Still, some incidents simply can't be addressed remotely. For those instances, managers are using GIS technology to see where adjustors are and dispatch them appropriately and efficiently.
A New Approach to Real Estate—Residential and Corporate 
Realtors are going virtual to ensure business continuity, too, since home tours are in limbo due to stay-at-home recommendations. Some companies are using a combination of drone footage, video- or photo-based home tours, and location intelligence on surrounding areas (local schools, grocery stores, demographics) to inform and accommodate buyers and sellers.
In the business world, real estate transactions are similarly challenging. While deal volumes appear to be down, transactions continue to close, Ed Hanley, president of Hanley Investment Group Real Estate Advisors, recently told RE Business Online.
Innovative real estate firms have put themselves in a strong position to navigate the COVID-19 reality, having strengthened their analytical abilities in recent years. Some are now offering 3D virtual tours through GIS technology. The immersive experience reveals details of an available space as well as a realistic view of the buildings and cities in which it is situated. Delivering that data quickly—through front-line brokers to interested parties—helps clients make sound investment decisions.
Managing and Caring for a Distributed Workforce
Organizations with employees spread across regions or countries are working hard to ensure worker safety while honoring customer commitments—whether customer means corporations, bank depositors, or even takeout diners. To do that, they're using data that can be captured in real time and shared throughout the organization.
As a baseline, companies like technology consultants, banks, and retailers are using GIS data to confirm the well being of employees and the availability of workers in specific areas. Some have gone further, practicing workforce optimization to ensure they keep customer promises.
For example, a California-based tech firm used GIS to create a mobile app in one day that allows employees to update their status and location. This information gives managers a real-time map of who is available and how resources can be deployed to address customer projects and ad-hoc requests.
Meanwhile, a regional bank is examining the use of location data to balance employee well being and customer commitments. With fewer staff available and service hours trimmed, bank managers will use GIS to analyze how to reassign employees to branches nearest their homes to minimize exposure to the virus and ensure that busier branches are staffed for high service availability.
In the restaurant industry, the pandemic has turned many businesses into takeout and delivery outfits nearly overnight. To deal with the reality of limited staff and in some cases increased orders, business leaders can use GIS to put real-time location insight in the hands of store managers. Through machine learning algorithms, a modern GIS predicts travel and arrival times, giving restaurant managers a real-time map of operations as well as early notifications when customer expectations might not be met.
Working through Tangled Supply Chains
The counterpart to knowing the status of employees is knowing the status of facilities, including manufacturing plants, supplier factories, distribution centers, and retail outlets. As the global economy endures a major slowdown, company execs want to know the status of raw materials, work in process, goods in transit, and available inventory. For some executives, it will be a career-defining exercise in business continuity.
For manufacturers that have identified and mapped tier 1, tier 2, and ancillary supply chain partners, GIS provides a real-time map of that information, giving them the location intelligence to maneuver through disruptions such as hurricanes, fires, or health epidemics. Car manufacturers have used GIS to coordinate responses to such events. The COVID-19 pandemic may be more dispersed and enduring than some natural disasters, but it presents similar challenge to executives and front-line personnel who must adjust business plans accordingly.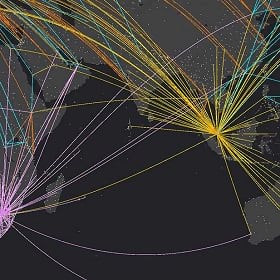 When seeking business continuity in the supply chain, a key piece of intelligence for executives and front-line decision makers is location awareness.
---
Enacting Contingency Plans
Owners of hotels, senior living facilities, universities, even vacant real estate could soon face an unprecedented request—to convert portions of their facilities to overflow space for hospital patients.
Many are consulting digital maps of their properties to prepare. These 'digital twins' of a property can reveal which spaces are already occupied, the location of critical utilities such as sinks and bathrooms, and capacity profiles. One university in New England is planning to use GIS technology for this purpose as it prepares for a government request that might come any day.
Other executives can gauge the potential that their properties may be called into service by cross-referencing data on the spread of COVID-19 with maps of their locations. Two trusted sources for tracking the outbreak are the World Health Organization and Johns Hopkins University, both of which are built on GIS technology.
The Lasting Effects of COVID-19 Contingencies
Although it may be difficult now to envision a return to everyday living and normal business, that time will come. What is easier to imagine is that today's emergency measures will become tomorrow's standard operating procedures.
Executives and decision-makers have prioritized employee and customer safety and business continuity during these unsettled days. In doing so they have turned to reliable, location-aware data to understand how to efficiently and safely keep operations running. In the future, those principles will likely carry companies through disruptions of much less consequence.
Additional Business Resources for Awareness and Action