In the fiercely competitive $20 trillion world of commercial real estate (CRE), leadership demands continuous innovation to meet clients' changing needs.
At JLL—the world's second-largest real estate brokerage by revenue—an innovative approach to data empowers the Fortune 200 company to address new client demands in an evolving economy. Today, JLL is as apt to advise the Department of Energy on solar power installations or partner with Bay Area Rapid Transit on a community-oriented headquarters as it is to lease office space.
Serving the real estate needs of clients across disparate sectors requires a keen sense of business advantages in specific locations throughout the world. To deliver this insight to clients, JLL professionals draw on deep industry experience, rich location data, and geographic information system (GIS) technology.
Through self-serve or full-serve GIS, JLL analysts, brokers, and clients access data on consumer trends, demographics, labor availability, transportation routes, and other key location information to guide pivotal real estate decisions.
Combining GIS Expertise with Accessibility at JLL
More than 3,000 JLL leasing agents, brokers, capital markets analysts, valuation team members, and technical professionals use self-serve GIS to incorporate data-rich maps into client presentations and analyses.
"Within a few clicks and running a few processes, you can get into some really good, high-quality data," says global GIS manager Tyler Barras, who runs the self-service side of the house.
A broker coordinator, for instance, can easily create a detailed map for a building tour, with demographic layers that add context to the area of interest.
"It's growing all the time," Barras says of the company's self-service user base.
JLL's full-serve GIS team acts as hands-on advisers, helping brokers harness location intelligence to serve clients. Managed by JLL's national director of GIS, Shannon Happ, the team supported more than 1,500 stakeholders in over 60 markets in 2022.
For instance, a Fortune 1000 company might request a demographic comparative analysis of several cities as it weighs where to expand. Happ's team can create a dashboard that displays population growth trends in those locations—then deepen the analysis by incorporating labor data. In a single, interactive view, the client sees labor pools, wage levels, competitors, and real estate options.
Through JLL's tiered approach to GIS, everyone in the company relies on one source of location data and accesses it in a way that best suits their role.
Maps Help Clients Justify Decisions with Data
Happ has been with the company since 2013, and Barras since 2016, but the drive to integrate GIS more comprehensively into the company's operations has accelerated in the last few years. The creation of JLL Technologies in 2019 signaled the company's determination to be a leader in the digital transformation of CRE.
"Our clients are getting smarter and expecting not just JLL but anybody in the industry to come with data to back up the recommendations we're making on their real estate," Happ says.  "They want to be able to justify their real estate decisions based off of data."
Smart maps—dynamic maps a user can interact with—offer a powerful means to shape a company's strategy by displaying complex data in a compelling and easily digestible format.
"Most of our clients want to back up the decision, but not go through millions of lines of data in an Excel spreadsheet," Happ says. "GIS is a great way to visualize that data."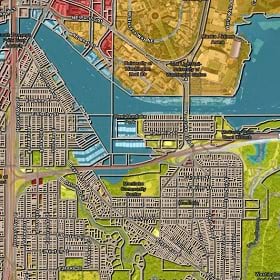 In any given quarter, thousands of JLL professionals advise clients on real estate deals of varied complexity. GIS technology equips them with data and insight to guide strategic decisions.
---
How JLL Structures GIS Teams for Success
Barras and Happ are frequent collaborators. While they share the same goal—empowering JLL professionals to solve client challenges and drive business growth with location intelligence—their teams are organized differently.
Happ oversees about 25 GIS analysts in JLL's research division, which assists brokers on client projects and business development. Some analysts are dedicated to primary markets like Los Angeles or New York. Others act as a "hub team," a quick-response unit which handles requests from brokers in smaller markets like Charlotte, North Carolina, that don't require a dedicated GIS professional.
Brokers' requests mirror the ever-changing landscape of CRE, responding, for instance, to the boom in e-commerce. The need for detailed accessibility studies to serve industrial clients has risen noticeably. Smart maps showing the location of intermodal facilities, rail lines, and highway access empower firms in their site selection process, enabling them to reduce transportation costs and optimize shipping.
Happ's team often reads between the lines of client requests to deliver insight they may not have thought to ask for.
"I want my team to make sure they're … true advisers, not just behind the computer and creating maps," Happ says. "I want them to have a voice and talk about what the data visualizations are showing."
A Single Source of Truth
Barras combines a lean team with automated workflows and processes to serve JLL's major global markets, including the Americas; Europe, the Middle East, and Africa; and Asia Pacific.
In addition to helping JLL employees who don't have a GIS background create story maps and dashboards, Barras is also building out the technology's capacity to serve as a single source of truth throughout the company. He maintains what is internally called the Geo Library—a curated source of location data that JLL employees can pull into maps and analyses, confident that it reflects the latest information on property types, demographics, and other market data.
"It just makes it so much easier for someone to find and access that data," Barras says of the technology. "The minute that someone makes a copy of it and uses it somewhere else, it's out of date. It's no longer connected to the source of truth."
At a company as large as JLL, getting everyone conversant in one technology is no simple feat. Through the ingenuity of self-service and full-service GIS, JLL has created a system of insight through which its professionals can advise clients worldwide.
"GIS is as much an art as a science," Happ says. "It's kind of limitless what we can do."