Executives have their minds and budgets focused on surviving future disruptions, according to an IBM survey of 3,000 CEOs. And they expect a trio of technologies to deliver the biggest impact to their businesses over the next few years.
Fifty-six percent of global CEOs told IBM pollsters they will aggressively pursue operational agility in the near term. Their objective: to be more resilient in the face of weather events, security incidents, and health threats. Asked which technologies will help them achieve their business goals, top executives singled out IoT, cloud computing, and AI.
Companies across the business community have already shown that the performance of all three technologies improves with the integration of location intelligence from a geographic information system (GIS). A modern GIS makes complex interconnected problems easier to understand, analyze, and solve by organizing data geographically. With geographic insight into their operations, executives are creating adaptive resilience in perilous times.
IoT Data Drives Pandemic Response
When the pandemic began to take hold last year, retailer Bass Pro Shops used IoT data to help safeguard employees and manage a national network of stores:
Versed in the capabilities of a geographic information system, or GIS, [chief security officer Jason] Jackson quickly saw how location intelligence from GIS could help Bass Pro Shops maintain business continuity and mount an agile response to the COVID-19 outbreak. Working with the company's GIS team, Jackson helped create dashboards that revealed the status of the company's operations across the country at a glance, along with valuable key performance indicators.
The dashboards provided an easy-to-understand view of IoT data—including data from Bass Pro's stores as well as from local governments and organizations like Johns Hopkins University, which tracked the virus's spread. The cloud-based infrastructure underlying IoT data ensured that key information was distributed widely, quickly, and accurately from a single source of truth.
The GIS dashboard helped Bass Pro Shops achieve operational agility, giving executives information they needed to guide decisions on safety, staffing, efficiency, and merchandising. As the health threat spread, some Bass Pro stores remained open to the public with decreased capacity due to social distancing rules, while others were limited to online ordering and curbside pickup.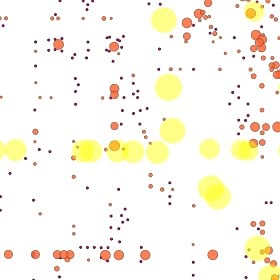 This new level of awareness—from data visualized on smart maps and dashboards—supported business strategy and helped executives target where to take action.
---
Demanding Faster Delivery
Amid the upheaval of COVID-19 lockdowns, many businesses were forced to shift from being customer destinations to becoming product distributors—a feat of business agility supported by AI technology, IoT data, cloud computing, and location intelligence.
As customers sought delivery and pickup services, businesses that had never offered those options created their own mini logistics networks to ensure that groceries, meals, and medicine arrived on time. In many cases, customer expectations for these services will outlast the pandemic, and companies will use AI-enhanced GIS to fine-tune customer service to compete in a more crowded market.
Prior to the pandemic, WhereNext noted the role of AI and location intelligence in addressing this challenge:
Ironically, in a digital economy, the physical connection between business and customer may be more important than ever. Consumers expect the speed of digital transactions to be mirrored in the physical world, with products and services delivered quickly and available for pickup in near real time. Executives who plan stores, restaurants, warehouses, and product pickup centers stand to gain from the creative use of AI and location intelligence.
Indeed, AI fed by location awareness, IoT data, and cloud computing—a combination often referred to as GeoAI—gives businesses a more granular view of GPS data and mobile orders. By creating a GIS dashboard showing the locations of delivery personnel, for instance, companies can see the status of orders across the network and adjust operations with the help of AI-based algorithms. The insight also runs in reverse. As customers from across the city head toward a store or restaurant for curbside pickup, the AI technology embedded in GIS distinguishes who will arrive early, on time, or late, enabling staff to adjust orders in the kitchen, a dark store, or the warehouse.
Even before the pandemic, customer expectations were rising for quick, convenient interactions. More than half of consumers in a 2019 Capgemini report said speed of delivery was a critical factor for which brands they patronize. Now, as the IBM survey shows, business executives are increasingly attuned to the need for resilience and are reliant on technology to stay nimble, meeting consumer expectations regardless of circumstances.
In the realm of delivery, planning, and operations, CEOs are building the adaptive resilience they need to respond to disruptive events. Their success will depend on how well they aggregate and clarify voluminous data streams so they can act quickly and precisely. In that pursuit, the use of AI, IoT, cloud computing, and location intelligence will distinguish the most agile companies from those that struggle to meet customer expectations.